Crypto traders are always looking for an edge over the competition, relying on RSI, MACD, and other methods to see patterns and read charts. However, charts don't show that over the past year, the usage of decentralized applications has doubled. And using blockchain data can help to identify the rising stars in the DApp space. Here's how to use DApp data to assess crypto tokens and stay one step ahead of the crowd.
Want to ask your questions PRO traders? Join BeInCrypto Trading Community on Telegram: discuss crypto projects, ask for technical analysis on coins and get answers to all your questions from PRO traders & experts! Join now
What is a DApp?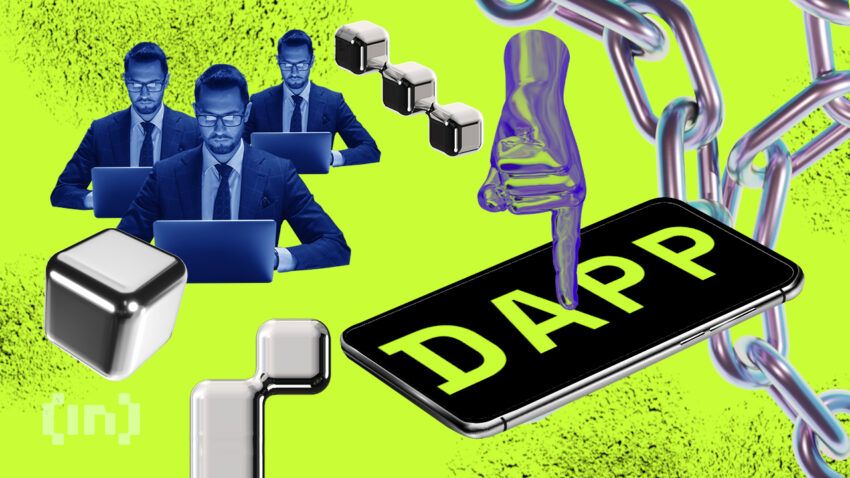 Ethereum was the first programmable blockchain, allowing developers to launch software on-chain. These pieces of software are called smart contracts, and one or more of these contracts together form a decentralized application (DApp).
Many DApps come with a token economy, adding utility to the ecosystem or giving users voting power. Tokens add functionalities to game economies, financial services, and marketplaces. In games, you can earn tokens to upgrade your character, while the native tokens of DeFi platforms can provide utility and governance options.
We can use live blockchain data to discover interesting tokens because they connect with DApps. Keep in mind that these methods aren't flawless. But they offer an alternative way to assess the value or momentum of a certain crypto token.
The market is moving towards DApps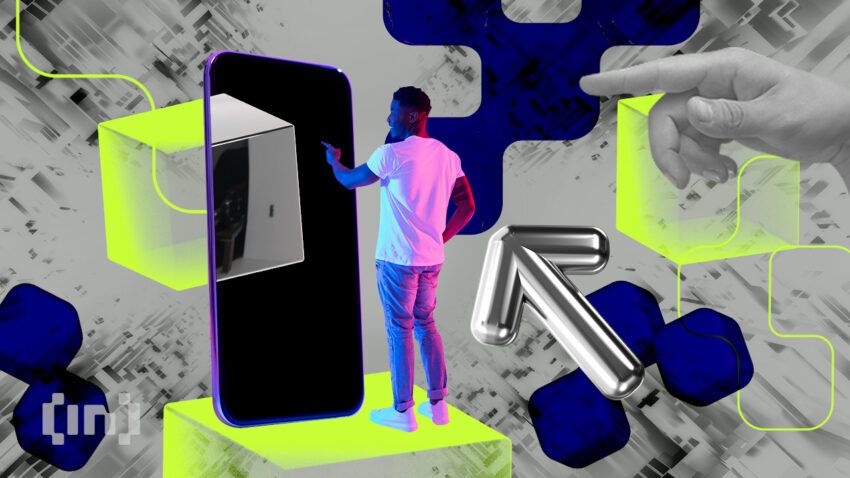 Many people have dipped their toes into crypto, but this often means they made an account on Binance and traded some coins. Nice, but that's one speculative element of the wider web3 industry. Traders can master trend analysis and learn to apply moving averages, MACD, and RSI trends on charts to determine a buying or selling opportunity.
But why rely on speculative measurements if you can add verified data into the mix?
Many have likely traded tokens like UNI, CAKE, SUSHI, and even more obscure cryptos like AXS and STG. Each offers utility within a DApp ecosystem and therefore holds value.
A couple of years ago, the value of a cryptocurrency was mainly driven by speculation. Nowadays, utility increasingly plays a role. And over the past year, the number of Unique Active Wallets (UAW) interacting with blockchain applications has doubled, according to the DappRadar Dapp Industry Report 2022.
Knowing how tokens function within a DApp's ecosystem allows investors to evaluate the best buying and selling opportunities on the crypto market.
Case study: Stargate Finance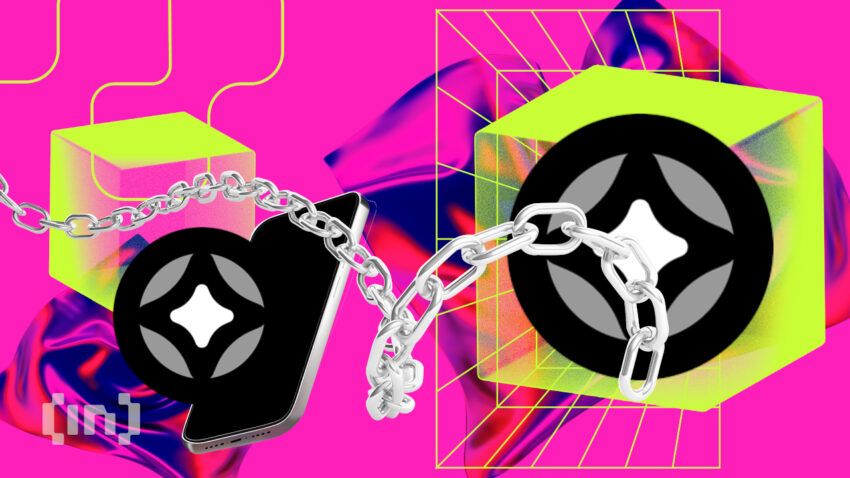 Let's take a look at Stargate Finance and its STG token. Stargate Finance is a DeFi product that allows users to bridge their crypto tokens from one blockchain to another. Below you see the Unique Active Wallets (UAW) data on DappRadar. You can compare UAW with the number of active users measured as individual wallets. With Stargate Finance, each UAW either adds liquidity or bridges tokens from one chain to the other. The chart below highlights three sudden increases in activity.
These increases might be triggered by a sudden event (such as the fall of FTX and issues with Solana) or point towards more adoption.
Greater adoption means STG holders will use the token to interact with the platform. So, the assumption would be that increases in UAW result in a price increase for the native STG token.
Let's give it a try.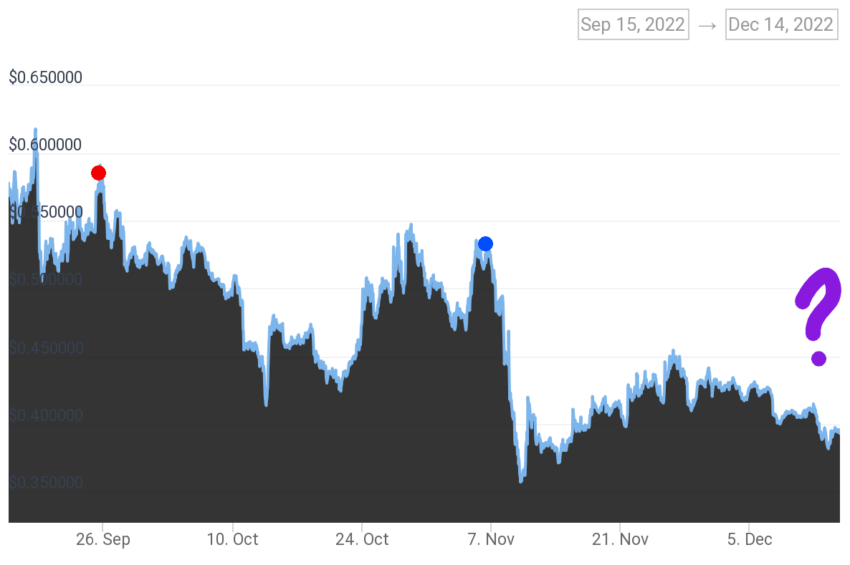 This simple analysis indicates that a growing user base (UAW) has at least some correlation with the token price. It looks like the price increase happens a few days after the increase in users.
Obviously, we can't determine the value of a token solely by the number of users. If that were the case, then DApps like Alien Worlds and Splinterlands — gaming DApps with more than 200,000 UAW per day — would not have tokens priced at $0.0158 and $0.0317, respectively. But this shows UAW data could help discover a momentum or opportunity for those interested in trading tokens.
What other DApp data could you use?
DApps fall into various categories, ranging from financial services (DeFi) to games and digital collectibles (NFTs). Not every DApp comes with an accompanying token, and the mechanics for every token are different for each DApp. As a crypto trader, you will need to assess each DApp individually to understand its tokenomics and, with it, the token utility.
Let's take a look at data from different types of DApps.
DeFi DApp data
Every blockchain ecosystem has its own favorite DeFi DApps. On the Ethereum blockchain, there is Uniswap, while PancakeSwap is the leading platform on BNB Chain. Every DeFi DApp comes with a token, often used to make governance decisions. The more influential the DeFi platform is, the more valuable holding its native token could be. For DeFi DApps, we see these data points:
UAW – the number of users trading tokens, providing or removing liquidity, staking, or interacting with smart contracts of the DeFi service.
Total Value Locked (TVL) – the total value of all digital assets locked into the smart contracts of the DeFi platform. TVL correlates strongly with the volatility of crypto prices.
Adjusted TVL (aTVL) – the total value of digital assets locked into smart contracts but calculated at a stable price on the first day of the time frame. This way, you can actually see tokens moving in or out of an ecosystem.
TVL can be applied to the entire DeFi ecosystem, to individual blockchains, and even to individual DeFi DApps.
Currently, the total TVL in the DApp ecosystem is $40.7 billion. But the aTVL is $50.16 billion because the crypto price drop from FTX hasn't been taken into account. This means that tokens remain in the DeFi ecosystem.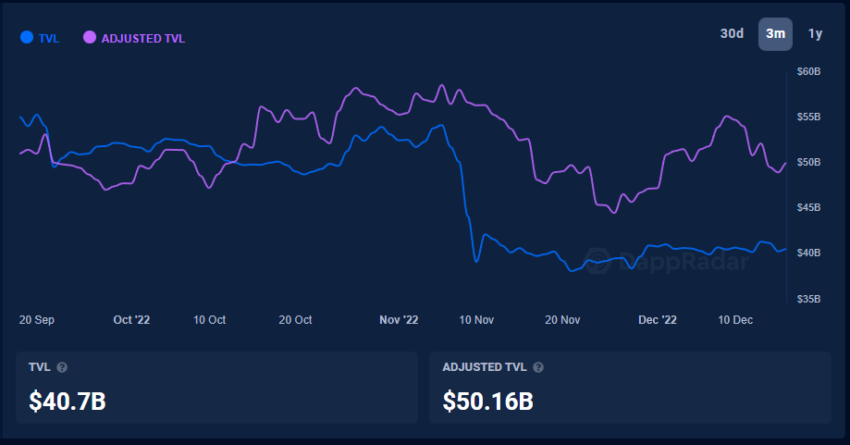 Game DApp data
Using data from blockchain games in your analysis does require you to understand what the data means. In Splinterlands, every battle, card purchase, or reward claim requires a connected wallet and a blockchain transaction.
This means that every UAW uses at least one of these functions. While in Axie Infinity, the game only connects to the blockchain when users trade their game characters or claim rewards. Automatically there are fewer touchpoints with the blockchain. Therefore you can't compare each game one on one, but you need to approach each DApp independently.
UAW – These gamers interact with smart contracts, but what this means is different for every game.
Transactions – The number of actions made within an ecosystem. Again, what this means depends on the game.
NFT trading volume – The value of the total amount of game items traded over a period of time.
NFT sales – The total number of actual sales happening over a period of time.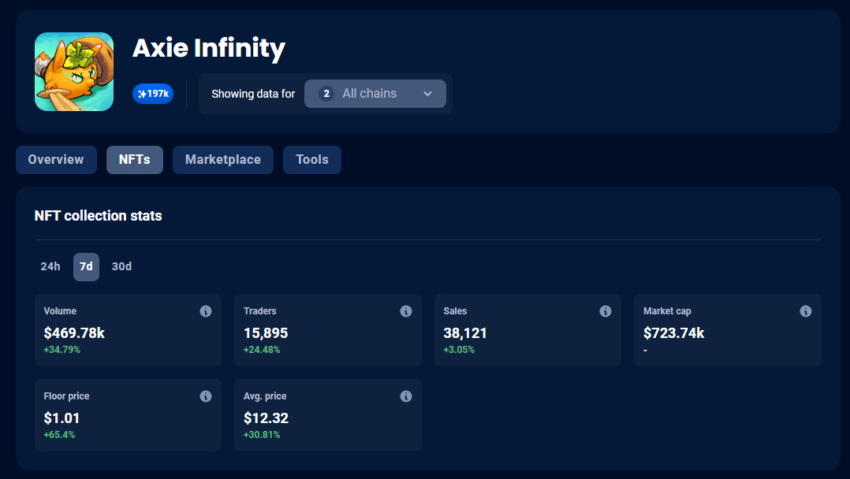 On DappRadar, you can find 15,000 DApps, many of which have their own token. This type of data is available through the DappRadar API. Of course, not every DApp has a strong correlation between usage and token pricing. But identifying which ones have at least some correlation can give token traders an edge over the competition.
Are DApps good investments?
DApps or DApp ecosystems like Uniswap (UNI), ApeCoin (APE), Axie Infinity (AXS), Aave (AAVE), The Sandbox (SAND), Decentraland (MANA), PancakeSwap (CAKE) and Ethereum Name Service (ENS) all sit in the top 100 cryptocurrencies by market cap. Adoption can be reflected in token prices depending on the tokenomics of any given DApp.
Among the DApps, some will rise, and some will fall. The same may be true about entire blockchain ecosystems. Keep in mind that investing in crypto tokens doesn't guarantee you anything. Therefore, doing your own research is always important. This includes making well-informed decisions using blockchain data.
Frequently asked questions
What is a decentralized application or DApp? 
A decentralized app or DApp is a computer application that runs on a decentralized computing system. These blockchain applications cut out the middleman and allow users to interact peer-to-peer without needing an intermediary.
What categories of DApps are there? 
DApps come in various categories, from financial services to games. DApps are categorized into games, DeFi, gambling, collectibles, marketplaces, social and more. Games, NFT collectibles, and DeFi are the most popular DApp.
What does Unique Active Wallets mean?
UAW is the number of Unique Active Wallets interacting with a DApp's smart contracts and thus performing a blockchain transaction, measured by DappRadar. It's the metric that comes closest to the number of unique users.
What is TVL? 
TVL stands for Total Value Locked. Total Value Locked is the total value in dollars of crypto tokens locked into smart contracts used in DeFi services. Fluctuating crypto prices heavily influence TVL. Therefore Adjusted TVL (aTVL) is better suited to measure the growth of a DeFi service. With aTVL, instead of calculating the TVL based on crypto prices, aTVL uses a fixed price. This way, aTVL can clearly show growth or decline in the DeFi space.
About the author

Robert Hoogendoorn is the Head of Content at DappRadar. He has been in content creation since 2004, working in the video games industry with and for game companies, press agencies, video production companies, and magazines. Emigrating to Turkey introduced him to crypto, while gaming brought him into Web3. Big believer in digital ownership, self-custody, interoperability, and digital identities.
Disclaimer
In line with the Trust Project guidelines, the educational content on this website is offered in good faith and for general information purposes only. BeInCrypto prioritizes providing high-quality information, taking the time to research and create informative content for readers. While partners may reward the company with commissions for placements in articles, these commissions do not influence the unbiased, honest, and helpful content creation process. Any action taken by the reader based on this information is strictly at their own risk.