Whether you're a seasoned trader or a total beginner, you need a user-friendly trading platform. This guide dives deep into the best crypto exchanges for day trading, comparing availability, trading, and depositing fees.
With any form of trading, research is your best friend. But in order to succeed, day traders especially require a reliable platform to interpret charts and analyze market trends. Since day trading demands considerable time and effort, a platform that streamlines certain processes can be invaluable. Here's what to know and where to utilize day trading strategies in 2023.
BeInCrypto Trading Community in Telegram: read reviews on the best crypto platforms & wallets, get the hottest news on crypto, read technical analysis on coins & get answers to all your questions from PRO traders & experts!
What is crypto day trading?
Crypto day trading is a strategic approach to cryptocurrency trading. This form of trading implies that trading positions open and close within the same day.
The term "intraday trading" is often used interchangeably with day trading, as it describes the process of initiating and concluding trades within a single day. The objective of day trading is to profit from small, minute changes in the market, which are quite common due to the volatility of cryptocurrencies and changes in market sentiment, as evidenced by the crypto fear and greed index.
With day trading, you don't have to wait for a bull run to take advantage of markets. Since crypto values are unpredictable, knowledgeable traders can benefit from this volatility. For example, while a 10% increase in value within a single day is unusual for typical stocks or commodities, such drastic jumps are commonplace in crypto. Consequently, day trading can yield substantial short-term gains.
Note that crypto day trading is not solely reliant on speculation. A sound understanding of market patterns and a robust day trading strategy are necessary to make the practice profitable.
Consider this BTC price chart for 2022/2023. While holding long-term might not have been the best strategy, day trading could have been more profitable.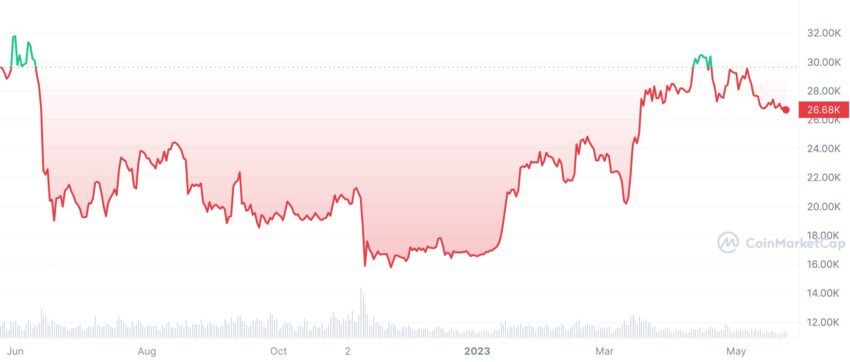 Remember: while day trading can be profitable, you should never begin trading without a comprehensive plan in place. Ensure you understand what you are doing, and never invest money you cannot afford to lose.
9 Best Crypto Exchanges for Day Trading
The best exchange will depend on your personal requirements and ability. Therefore, taking the time to analyze and understand these platforms can help you make an informed decision. Ultimately, this will enable you to capitalize on the opportunities offered by the rapidly evolving crypto market. Here are our top nine.
Supported assets
BTC & 54+
YouHodler is one of the best crypto exchanges for day trading because of its features and user-friendly approach to crypto trading. This platform is designed to help traders manage risk while optimizing their potential for high returns, which is particularly crucial in the volatile cryptocurrency market.
One of YouHodler's most significant features is its Multi HODL tool, a function not available on any other cryptocurrency trading platform. The Multi HODL feature allows traders to maintain 80% of their assets in YouHodler Savings Accounts, which are risk-free, and use the remaining 20% for trading experiments. This split offers a safety net for users, allowing them to engage in trading while still having the majority of their assets secured.
Traders using YouHodler's platform can customize their levels of risk and profit, giving them more control over their trading strategy. This means that traders can experiment with the 20% of their assets allocated for trading until they discover the right balance between risk and reward for their personal trading style.
YouHodler offers additional benefits to the average crypto trader, including no rollover fees and more flexibility. These features make it an attractive option for day traders looking to maximize their profits while minimizing their costs.
YouHodler also allows you to trade at extremely low fees. For instance, if you open and close a trade within 30 mins, you won't pay a trading fee.
Pros
Supports crypto-fiat currency and crypto-crypto conversions
High Loan-to-Value (LTV) ratio and weekly compound interest
Extensively monitored and safe platform
Offers flexible loan repayment options
Users are not required to undergo credit checks
Users can withdraw profit instantly
Cons
Does not offer the highest returns for stablecoins compared to other platforms
The minimum deposit is $100
Does not provide higher bitcoin lending returns
Binance
Best for altcoins trading
Availability
U.K., E.U. & 150+
Supported assets
BTC & 380+
Binance is considered one of the best crypto exchanges for day trading. As the largest cryptocurrency exchange on the market, based on trading volume, its high liquidity makes it highly attractive to traders.
The trading platform offers advanced trading order types, charting tools, deep order books, and high trade execution speed. It supports both basic crypto swapping and advanced trading mechanisms for speculative traders. Binance also supports copy trading, allowing users to subscribe and benefit from the best crypto day trading strategies, including algorithmic trading.
Traders can trade a variety of pairs on the spot market with margins of up to 10x. Binance also offers margined futures trading for numerous cryptocurrencies with leverage up to 20x.
Binance has an extensive range of products such as staking, saving accounts with interest, NFT marketplace, Launchpad, mining pools, swap mining, liquidity mining, crypto loans, dual investment trading, and many others. This gives day traders the tools they need to succeed and diversify their investments.
Users can deposit fiat or buy crypto directly with fiat using various methods, including credit/debit cards and bank transfers. Binance US allows traders to trade directly against the USD.
Binance also features a peer-to-peer trading platform, an OTC trading platform, Binance Smart Chain for building DApps, and APIs for institutional traders to customize their trading.
Binance Academy offers learning resources for those who want to learn about trading cryptocurrencies.
Pros
Binance offers competitive transaction fees
Supports a wide range of cryptocurrencies
Offers features like staking, savings, and more, allowing users to earn passive income.
Binance caters to institutional investors with specific products tailored to their needs.
Cons
Does not accept credit card deposits.
Not available in every U.S. state.
No customer support by phone
Availability
U.K., E.U. & 100+
Supported assets
BTC & 380+
Bybit is widely recognized as one of the best platforms for crypto day trading. It offers a wide variety of order types, including limit orders, market orders, stop limit orders, and trailing stop orders. This diverse selection provides day traders with more options for managing their positions than many other exchanges.
Bybit provides low fees across all markets, coupled with high liquidity levels. This ensures efficient and quick trade execution with minimal associated costs, which is crucial for the rapid transactions often involved in day trading.
Bybit stands out as a platform for experienced day traders seeking opportunities beyond basic buy/sell orders. It's one of the leading derivatives exchanges designed for those who want to trade with leverage using futures contracts. Futures contracts are agreements to buy or sell an asset at a specific future date and price, allowing traders to speculate on the price of an asset without owning it, hence profiting from both rising and falling prices.
Bybit sets itself apart by focusing on perpetual futures contracts, similar to traditional futures contracts but without an expiry date. This feature allows traders to hold their positions indefinitely. Notably, Bybit offers leverage of up to 100x on these perpetual contracts.
Pros
Bybit charges low commissions on trades, reducing the overall trading costs
Low minimum deposit requirement
No deposit fees
Bybit provides a demo account for traders to practice and get accustomed to the platform before risking real money
Cons
The platform may be complex for beginner traders to navigate due to its focus on more advanced features.
Only BTC accepted
Self-regulated
Only cryptocurrency payment methods
Supported assets
BTC & 50+
eToro stands as one of the best platforms for crypto day trading due to its ease of use. It offers an intuitive interface suitable for both beginners and experienced traders, accessible via web browsers and also available as an app.
eToro has integrated essential functions such as one-click trading, TipRanks research, and a professional-grade technical analysis tool. It also offers unique features like the 'Smart Portfolio', which provides ready-made investment strategies for day traders, and the opportunity to become a 'Popular Investor' to earn extra income by allowing others to copy their trades.
Moreover, eToro has a popular copy trading feature. This enables traders to copy the trades of other, more experienced traders on the platform.
The platform also provides a free demo account, allowing traders to explore the platform and its services without risking real money. This makes it an excellent platform for those wishing to try out the tools and services before making a real investment.
Pros
eToro has a solid track record and is a regulated trading platform.
It excels in social copy trading and cryptocurrency trading
The platform is highly user-friendly and easy to use
It provides a wide range of market options as a multi-asset broker
Cons
The range of traditional research materials and tools offered by eToro is limited
eToro does not support automated trading strategies.
The platform's mandatory stop-loss and take-profit requirements may limit some trading strategies.
Access to Trading Central research and tools is restricted to eToro Club members.
Cryptocurrency is offered by eToro USA LLC ("the MSB") (NMLS: 1769299) and is not FDIC or SIPC insured. Investing involves risk.
AvaTrade
Best for customer support
Availability
U.K., E.U. & 190+
Supported assets
BTC & 18+
AvaTrade is one of the best platforms for crypto day trading as it has an extensive range of markets. The platform offers cryptocurrency trading through CFDs. It's important to note that this enables traders to speculate on the price movements of cryptocurrencies without actually owning the underlying asset, which can be advantageous in terms of convenience and flexibility.
AvaTrade has also distinguished itself with a suite of proprietary mobile platforms, including AvaTradeGO and AvaOptions, as well as the full MetaTrader suite. This wide selection ensures traders have the ability to stay connected and manage their trades efficiently, which is crucial for the fast-paced environment of crypto day trading.
AvaTrade also prioritizes ease of use, which is vital for traders of all experience levels. Features like the AvaProtect tool offer traders volatility protection by allowing them to hedge their position with a forex option partially, adding an extra layer of security in the often unpredictable crypto market.
Day traders on AvaTrade can rely on 93 indicators available in the AvaTradeGo app. This is important for day traders who rely heavily on technical analysis to make quick, informed trading decisions.
In addition, AvaTrade offers an impressive selection of copy trading platforms, which enables users to leverage the strategies of more experienced traders.
Availability
U.S., U.K., E.U. & 150+
Supported assets
BTC & 229+
Trading fees
0.16% maker / 0.26% taker
Kraken CEO Jesse Powell founded the company out of a desire to build a secure, organized, and trusted crypto platform following the major security breach at Mt. Gox.
Kraken Terminal, based on Kraken's premium trading terminal, Cryptowatch, offers a professional charting and trading interface replete with features like real-time customizable charts, indicator panels, a watchlist displaying selected financial markets, and more. Its premium terminal, Cryptowatch, provides real-time crypto market data across 25 exchanges, including charting and investing services.
An advanced charting interface, trade history view, and trading on multiple exchanges via one terminal, including on mobile, are among its free features. Additionally, premium features include 24/7 alerts and integrations with platforms like Google Sheets and Zapier.
The breadth of coins available for trading is another advantage. More than 200 cryptocurrencies and seven different fiat currencies can be traded, with a commitment to add new coins in the future. Popular cryptos such as bitcoin, ethereum, and ripple are all available, along with a selection of crypto futures and indices that minimize the risk of one crypto falling in value.
The beginner-friendly Kraken App allows users to buy, sell, and convert crypto easily, while Kraken Pro provides a professional trading experience with advanced features.
Kraken's regulation and licensing add a layer of security and credibility. This secure environment is further enhanced as client funds are held directly by users in their bank accounts at Kraken partners, which are heavily regulated.
Pros
Supports over 220 different cryptocurrencies
User-friendly interface that simplifies trading
Offers high liquidity exchange
Cons
Fees tend to be higher for users not utilizing Kraken Pro
StormGain
Best for full-range services
Supported assets
BTC & 30+
Trading fees
10% on successful trades
StormGain has positioned itself as one of the top platforms for crypto day trading owing to a multitude of impressive features it offers. It is a cryptocurrency exchange and leveraged trading broker that also comes with a built-in multi-currency wallet, giving it an edge as an all-in-one platform. One of its key attractions is the cloud miner tool that helps you earn more cryptocurrency. Daily trading signals help traders make informed decisions, while the loyalty program offers additional benefits.
StormGain's trading platform offers a customizable, user-friendly dashboard that displays fluctuating assets. Its all-in-one apps for iOS and Android are recommended for access, but it also supports all major internet browsers. The platform offers advanced trading tools, including position and risk-management software, an institutional level of liquidity, and a 200x multiplier. Live chat and video tutorials within the platform serve as valuable resources, especially for beginners.
Commissions and fees at StormGain are competitive, with no trading commissions. They only take a 10% cut on profitable trades. Exchange service commissions range from 0.095% to 0.25%, which is quite competitive in the market. The platform also provides an option for trading with a multiplier of up to x500, although it should be noted that while this can lead to greater profits, it can also lead to significant losses.
StormGain's mobile app gives you all the functionalities you need to exchange, store, and trade cryptocurrencies at your fingertips. The app, available for iOS, Android, and Huawei devices, includes trading signals, push notifications, charts, and technical analysis tools. It also supports mobile crypto mining.
Deposits can be made directly from the platform using a credit or debit card, with a minimum deposit for crypto purchases set at $50.
Though it is not regulated, which is not uncommon in the cryptocurrency landscape, StormGain has maintained a reputation as a legitimate and safe platform.
Pros
Option to personalize interface layouts
Leverage capabilities that extend up to 300x
Professional-grade charting tools
Offers round-the-clock customer support
Includes a Crypto Cloud Miner tool
Provides interest on user deposits
Offers a zero percent swap for day traders
Features a rewarding loyalty program
Cons
It's not a regulated platform
Lacks support for converting cryptocurrency to fiat currency
Not available in the United States and Canada
BingX
Best for high leverage trades
Availability
U.K., E.U. & 70+
Supported assets
BTC & 500+
BingX solidifies its standing as one of the best platforms for cryptocurrency day trading with its host of versatile and user-friendly features that cater to both seasoned and novice traders. Its standout feature, copy-trading, empowers users to replicate the trading strategies of successful traders.
To further support newcomers to the crypto trading world, BingX provides an exhaustive Beginner's Guide. Furthermore, the Help Center serves as a prompt and efficient first line of support for queries, covering a wide spectrum of topics from changing passwords to account verification.
An innovative feature that BingX brings to the table is BingX Verify. This service helps users ascertain the authenticity of domain names, Telegram IDs, or email addresses, thereby adding an additional layer of security against potential scams.
BingX's inclusive approach to new traders is complemented by its compliance with regulatory authorities in Australia, the United States, and Canada.
The platform's Spot Trading feature allows users to trade popular digital assets swiftly, directly through the BingX website. Users can buy or sell crypto in real-time with the aim of securing a profit.
BingX also caters to those interested in derivatives trading, offering both standard and perpetual futures.
Pros
Multiple payment methods
Variety of crypto assets
Diverse trading options (spot, futures, and perpetual contracts)
Available on a mobile app
Professional trading interface
Copy trading
Extensive educational resources offered by BingX Academy
Premium customer support
Cons
High transaction fees
Lack of certain investment options (staking)
Availability
U.K., E.U. & 100+
Supported assets
BTC & 340+
Trading fees
0.08% maker / 0.10% taker
OKX emerges as one of the top choices for crypto day trading platforms.
Starting with educational resources, OKX provides an extensive range of learning materials that spans from beginner to professional levels.
One of the standout features of OKX is its provision for engaging with DeFi projects via liquidity mining.
Another unique feature of OKX is its loyalty program that rewards regular usage of its mobile app. Users can earn fractional amounts of Bitcoin daily by completing learning missions. These missions typically involve watching a video or reading an article, providing users with valuable insights while earning rewards.
However, there are certain limitations to using OKX. For U.S. investors, access to OKX is limited, although they can use OKCoin, OKX's sister exchange. This platform offers a simpler range of services, including buying and selling cryptocurrencies, trading, staking, and access to DeFi projects and initial coin offerings (ICOs).
In terms of security, OKX offers a multi-layered hot wallet system to ensure the safety of users' private keys. This includes online and semi-offline risk-management systems, semi-offline multisignature services, big data risk-reduction systems, and others. These mechanisms add a robust layer of security, making it virtually impossible for online attacks to compromise users' private keys. These offerings combined make OKX an excellent choice for those looking for a reliable and diverse crypto trading platform.
Pros
It accepts of a wide range of fiat currencies
Offers comprehensive educational materials
The platform provides a wide range of services and features
High staking APYs
Offers hundreds of trading pairs
User-friendly Buy/Sell dashboard
Provides speedy responses via online chat
Cons
Limited Availability (restricted in the U.S.)
Complex fee structure
Choose the best day trading exchange for you
Given the diversity of features across crypto day trading exchanges, it is important to consider individual trading goals, risk tolerance, and technical proficiency when choosing a platform.
From leverage options to copy trading and customer support, these day trading platforms offer varied services that cater to different trading styles. Whether it's the extensive educational resources of OKX, the ease of use of BingX, or the advanced trading interface of StormGain, all of the platforms listed in this guide are equipped with features designed to facilitate profitable day trading.
Frequently asked questions
What is the best crypto trading platform for day trading?
Is crypto day trading profitable?
Can I day trade on Coinbase?
Can I do daily trading on Binance?
Disclaimer
In line with the Trust Project guidelines, the educational content on this website is offered in good faith and for general information purposes only. BeInCrypto prioritizes providing high-quality information, taking the time to research and create informative content for readers. While partners may reward the company with commissions for placements in articles, these commissions do not influence the unbiased, honest, and helpful content creation process. Any action taken by the reader based on this information is strictly at their own risk.
Iulia Vasile is a seasoned professional in the cryptocurrency and blockchain industry, working full-time in the field since 2017. With a background in computer engineering, she...
Iulia Vasile is a seasoned professional in the cryptocurrency and blockchain industry, working full-time in the field since 2017. With a background in computer engineering, she...
READ FULL BIO
Sponsored Sponsored