As the cryptocurrency evolves and changes, Stablecoin assets like Tether (USDT) are needed to ensure that investors can safely take profits and hold a safe-haven asset during market volatility. However, the process of buying USDT can be confusing for beginners, as it can be difficult to find reliable information on how to do it easily.
If you're looking to buy USDT quickly and easily, we've got you covered. This guide will cover buying USDT from a beginner's standpoint, ensuring the process is as easy as possible and answer some questions you may have about stablecoins and USDT.
What is a Stablecoin?
A Stablecoin is a cryptocurrency that is pegged to the price of an underlying asset such as a FIAT currency like USD, EUR, or GBP. Stablecoins prices are equivalent to £1, $1, or €1 or whatever currency you're using.
Fiat-backed, cryptocurrency-backed and commodity-backed stablecoins are the main types of stablecoins. Stablecoins are pegged to assets such as the U.S. dollar. Crypto investors can invest in USDT to balance their portfolio and hold a safe-haven asset when markets are unstable.

Tether (USDT) has the widest adoption and largest market capitalization as it is backed by capital reserves.
Are Stablecoins Good Investments?
Due to the safety provided by stablecoins, many people hold and buy USDT, making it a good investment. Stablecoins do not serve the same purpose as most cryptocurrencies. As opposed to speculation, stablecoins are designed as a safe asset.
They can facilitate quick and cheap payments or money transfers on a global scale. This is most beneficial to remittances or cross border payments.
Stablecoins also provide a fast way to transfer deposits or withdrawals between fiat currencies to cryptocurrency exchanges. Virtually all major exchanges and crypto platforms use USDT.
Can I Make Money using Stablecoins?
Yes, you can! There are three main ways to make money using Stablecoins like USDT:
Earn interest on your stablecoins – This can be done by simply opening an account with a cryptocurrency exchange and depositing your assets into a Lend or Earn account.
Lend your stablecoins – You can lend your stablecoins to borrowers on DeFi platforms such as AAVE and on exchanges.
All three options provide you with yield rewards and generous earning potential. You can find more information on making money from Stablecoins and yield farms using our Learn section.
You can buy any amount of USDT as the price is pegged to the price of the currency. For example, if you invest $20 of USD into USDT, you will receive $20 worth of USDT.
Now that you're aware of some commonly asked questions regarding USDT, let's talk about how to buy it!
How to buy USDT?
There are many ways to buy USDT. Centralized exchanges, most often, offer USDT trading pairs directly with USD. Decentralized exchanges have many liquidity pools that pair tether with a multitude of altcoins.
That is because it is a straightforward way to trade into a stable asset, so as to retain one's purchasing power. When traders take profit, it is common practice to trade into a stablecoin on-chain, instead of converting into fiat.
Centralized exchanges are convenient for buying USDT because, they allow you to trade without the costly network fees that you see on-chain. Investors that regularly make large profits, like crypto whales, sharks, and dolphins are typically more willing to pay network fees than the shrimp and fish.
Albeit, the simplest way to buy USDT is directly from the company Tether (Tether Limited Inc.). Regardless, if you do not want to buy usdt directly from Tether, there are other ways to buy it.
Step 1: Sign Up for an Exchange
For this guide, we're going to use leading cryptocurrency exchange ByBit to purchase USDT. To start the sign up process, head to their website and select "sign up" from the top bar.
From there, fill in the information on the form to get started. You can either sign up with Email or mobile. For this guide, we're going to use an email address. Make sure you agree to the Terms of Service and enter a referral code if you have one.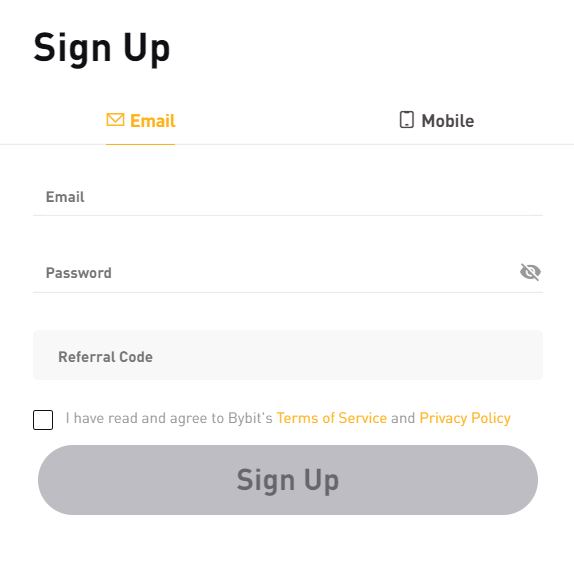 After you complete the form and select "Sign Up", you'll be asked to confirm whether you're a resident of any of these countries. The countries shown below are restricted, meaning you won't be able to use their service. if not applicable, simply select "No" to continue.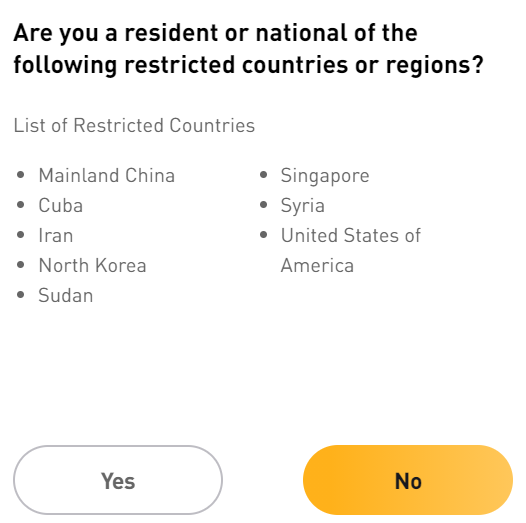 After you select the applicable option, you will be asked to enter the verification code that was sent to the email address that you signed up with. Simply head to your email account and find the 6-digit code in the email.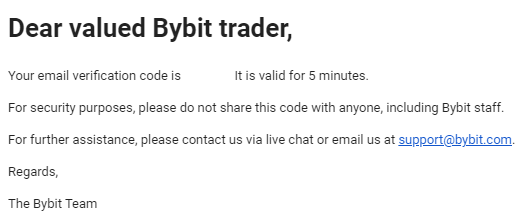 Next, head to the sign up screen and enter the 6-digit code you received via email into the form and select "Complete registration".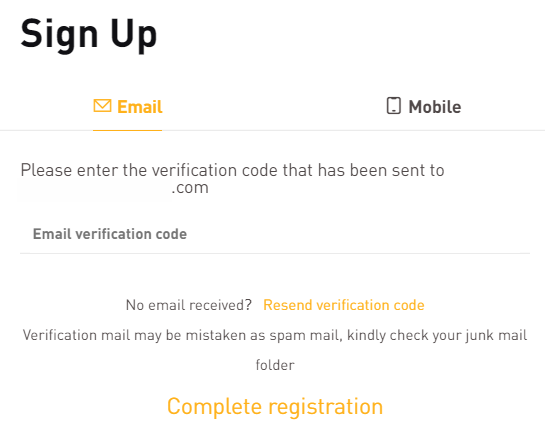 Congratulations, your account has now been created! From there, you'll be directed to a pop-up that will help you get started. To buy USDT, select the "I want to buy crypto" box and press "Buy Crypto".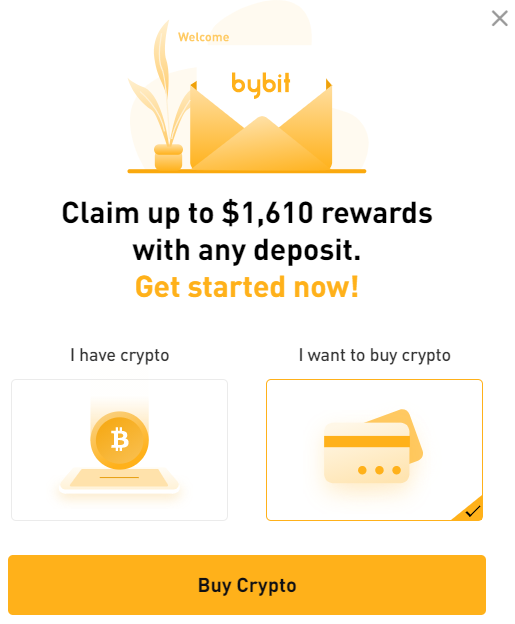 Before you make your first purchase, it's worth securing your account further by adding SMS verification and Google 2 factor authentication (2FA) to your account.
Simply head to your account by navigating to the top right of the page, select "Account & Security" and set it up.

Step 2: How to Buy USDT on Bybit
Now we've completed the sign up process, we can buy USDT using their FIAT gateway option. You can also navigate to this page by selecting "Buy crypto" from the top bar.
First, navigate to the left-hand side of the page to the Fiat Gateway section. To start, select the currency you want to use from the drop-down menu (Many major currencies are available on ByBit) and enter the amount you wish to buy in the box.
Next, navigate to the box underneath and select the USDT option from the drop-down menu.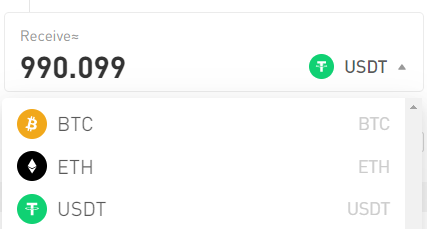 From there, you will see a selection of service providers that can handle your purchase for you. Simply select the appropriate provider for you, follow their purchase processes and complete your transaction.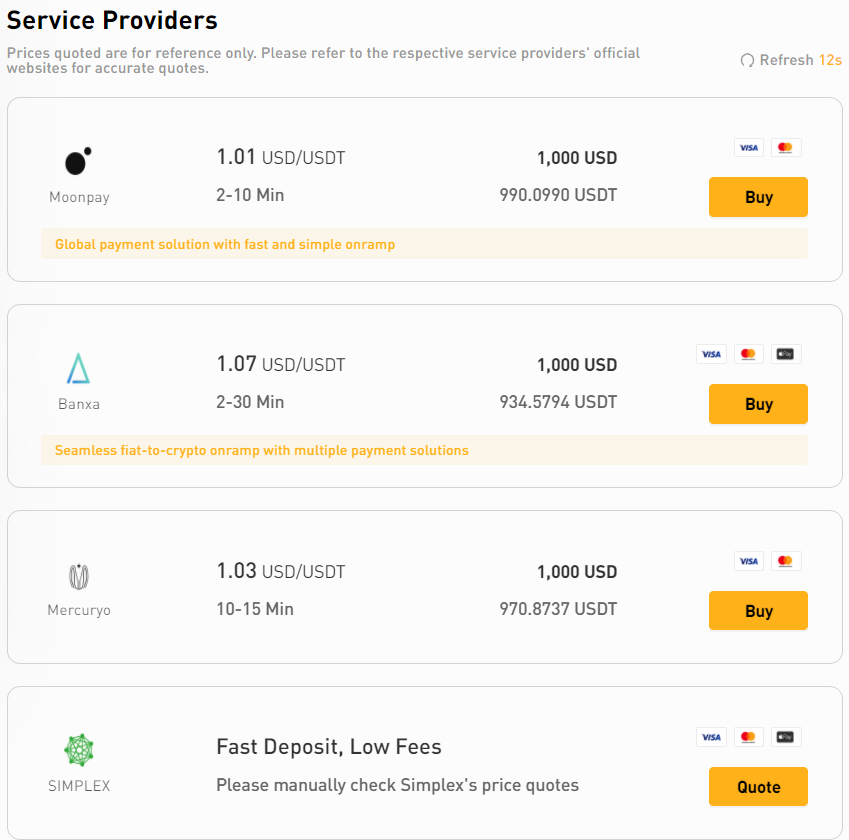 To complete your purchase, you will be redirected to the service providers website. Please be aware that will have to create an account and complete any necessary KYC verification before you can complete your purchase.
The providers listed all are trusted and vetted by ByBit, so you can ensure that your purchase will go through safely.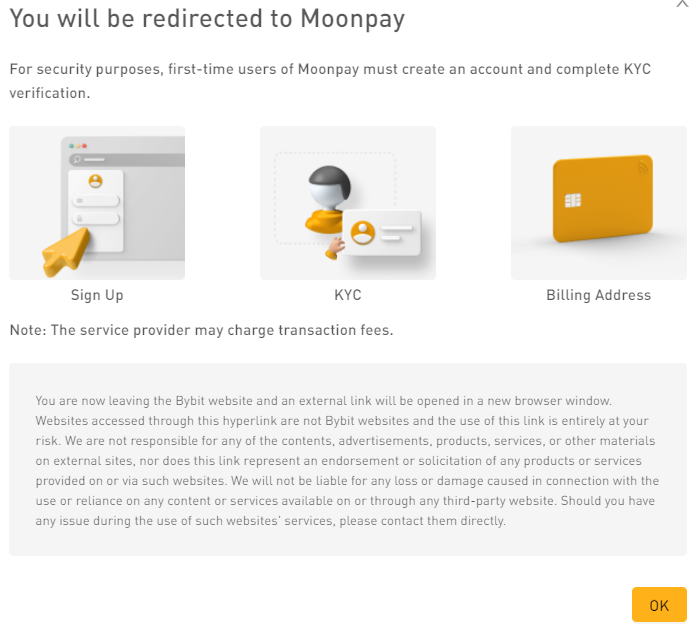 Once you have completed your purchase, you will receive email notifications from the relevant provider that you used and confirmation from ByBit that your USDT purchase is available on your account.
From here, we can start using our USDT to trade with, earn from or simply hold.
Step 3: Using your USDT on ByBit
Now you can use USDT in many ways. First, to locate your USDT and use your wallet, head to your account by navigating to the top right of the page and select "My Assets".
From there, you will taken to a screen that displays your USDT assets and how much you have. You can now either Withdraw your USDT to another exchange or wallet or use the Exchange option to exchange your USDT for another asset.

Generally, investors choose to use a wallet that's off an exchange, like a desktop or hardware wallet.
If you'd like to move your USDT off of ByBit, head to your wallet and select "Withdraw." Next, copy the wallet address of your external wallet and paste it into the ByBit pop-up. Input the amount of USDT you'd like to transfer, click "Withdraw" and finish any necessary verification or authentication processes.
You can also use the Exchange option to swap your USDT to selected assets such as Bitcoin (BTC) or Ethereum (ETH). Simply select the assets you want to swap, enter the amount you wish to exchange and then select Convert. Easy!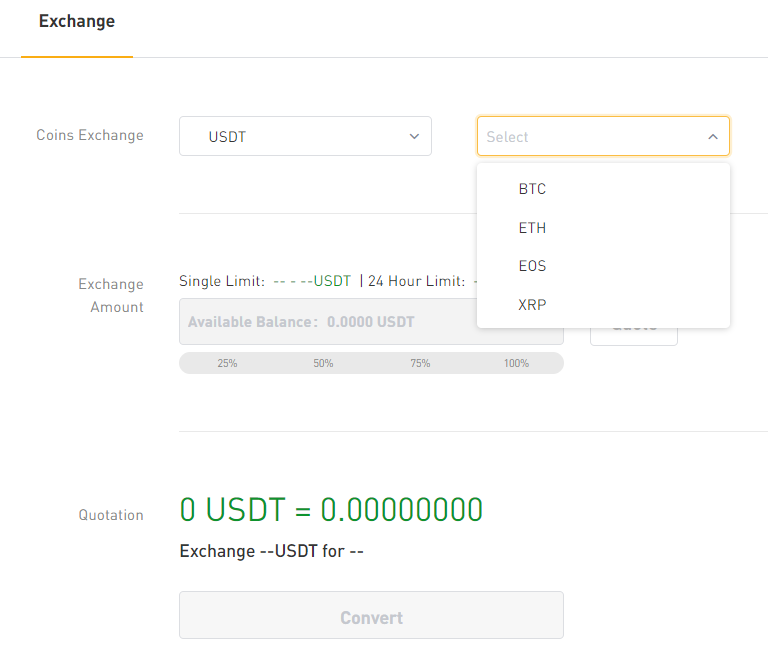 USDT: The MVP of crypto
That's it! you're now the proud owner of USDT! You've just learned how to buy USDT in the simplest way possible. Easy, right?
Now you have USDT, you can simply hold it or exchange it for another asset. You could even send it to another exchange or wallet and play around with some DeFi platforms and start earning on your assets.
It's entirely up to you. If you want to learn more about cryptocurrencies or what you can do with your USDT, simply head to our Learn section to find everything you need to know in one handy place. Good luck out there!
< Previous In Series | How to buy Cryptocurrency & NFTs | Next In Series >
Frequently Asked Questions
Why should you use stablecoins?
Disclaimer
In line with the Trust Project guidelines, the educational content on this website is offered in good faith and for general information purposes only. BeInCrypto prioritizes providing high-quality information, taking the time to research and create informative content for readers. While partners may reward the company with commissions for placements in articles, these commissions do not influence the unbiased, honest, and helpful content creation process. Any action taken by the reader based on this information is strictly at their own risk.