The best thing about a hardware crypto wallet is how disconnected it is from the internet! Therefore, you need not worry about malicious, online hackers. Yet, when you need to transact using your digital assets, the hardware wallet must connect to the internet. But that's just a basic explainer.
When traders think about cryptocurrencies, they focus more on how they can profit from the price swings. But, what happens when you've purchased a certain digital asset at a low price, but it refuses to rise? You keep them in your cryptocurrency wallet and wait. This is why a crypto wallet is important. And this is why you need to find the best hardware wallet for the job.
There is a lot more to a hardware wallet — types, uses, and security features — which we would discuss next. So sit tight and let us guide you through:
What are cryptocurrency wallets?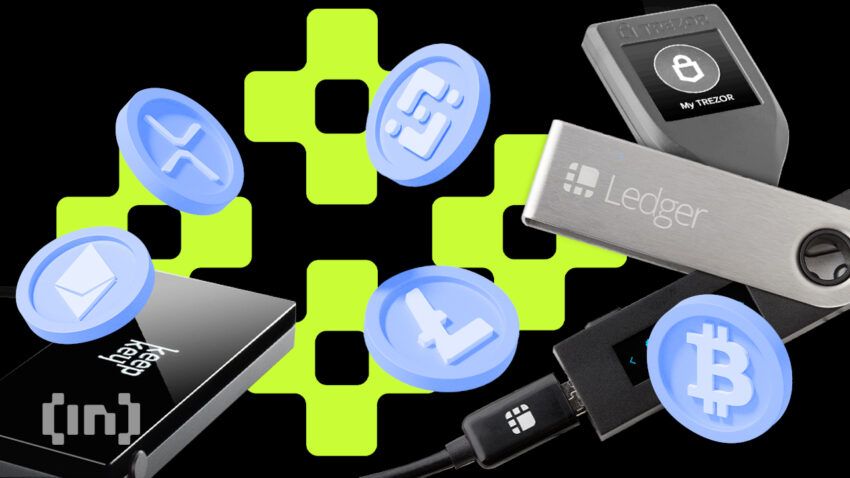 A cryptocurrency wallet is a program used for storing, sending, and receiving cryptocurrencies. Cryptocurrency wallets typically contain your public address and private keys. Traditional wallets help users to store cash physically. With cryptocurrency wallets, however, things are a bit different thanks to blockchain technology — which promises better security features.
It's worth noting that cryptocurrencies aren't stored in wallets, it's their private keys that are recorded there. Since cryptocurrencies have no physical form, they're stored digitally on a blockchain.
Wallet addresses, public, and private keys
To fully understand how a cryptocurrency wallet works, it's important to be familiar with wallet addresses, public keys, and private keys.
The address works the same way as your account number does. You can give out your account number to someone, especially if they're planning to send you some money — whether it's your employer, a friend or family member, a customer, etc. The same applies to your wallet address.
Wallets use a combination of letters (uppercase and lowercase) and numbers.

Another important concept that concerns crypto wallets and how they operate is the keys that control funds. Every wallet comes with both public and private keys.
The private key allows the crypto holder to access the funds in the wallet. It works the same way as the password on your online bank account. In the traditional banking system, your password is known to you alone. The bank might have access to your account number, but they can't access your password.
When you want to send funds online, you log in to your bank platform and use your password to initiate transactions. A private key does the same thing. It is linked to a specific wallet address and is used to gain access to the funds and ensure security.
The public key, on the flip side, is a hashed tool mathematically linked to the wallet address. The hash function here allows for a sequence of numbers and/or letters (in this case, called an input) to be encrypted into a new set of numbers and/or letters (known as the output). The hashed version of a public key is the wallet address used to publicly receive Bitcoins.
The broad categorization of wallets
Generally, cryptocurrency wallets can be categorized into hot, and cold wallets.
1. Hot wallets
Hot wallets are wallets connected to the internet. Most cryptocurrency exchanges use them due to their ability to fast-track transactions. The only problem with hot wallets is that they are much more susceptible to hacks because they're connected to the internet.
2. Cold wallets
Cold storage wallets are wallets used to store digital assets offline. Examples of cold wallets are hardware crypto wallets and paper wallets. Cryptocurrency exchanges use cold wallet solutions as a security measure to keep customer's funds safe. Due to their structure, they are less susceptible to hacks. In this guide, we'll be focusing on hardware wallets.
The best hardware wallets for storing crypto
1. Ledger Nano S: best hardware wallet for beginners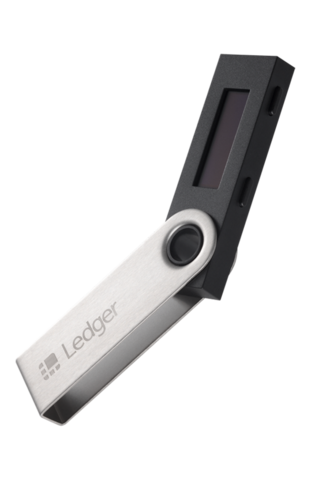 Ledger is a French blockchain firm and one of the most credible manufacturers of hardware wallets in the crypto space. The company has been around since 2014 and has made over a million hardware wallet sales in over 160 countries. Besides its wallets, the firm has also rolled out products like Ledger Vault for institutions that want to invest and store their cryptocurrencies securely.
The Nano S is a USB drive that works based on a smart card. It measures 39 x 13 x 4mm (1.53 x 0.51 x 0.16in) and is only 5.9g in weight. The Ledger Nano S supports over 5500 coins and tokens currently, including all the most popular ones.
To activate the wallet, you connect it to a computer via its USB cable. When you create a new wallet, you confirm your PIN, which you'll need to use whenever you access the wallet.
Supported coins:
Ledger supports a large variety of assets, including:
Bitcoin
Ethereum
Ripple
Tether
Bitcoin Cash
Litecoin
And many more…
Ledger Nano S Price: $79
Pros
The wallet features secure-ship technology
It has a simple setup process
Its supported coins are quite extensive
It integrates with several wallets
It's capable of running on third-party apps
The recovery process can be carried out without connecting to a computer
It's lightweight, so carrying it is easy
Cons
The software isn't open-source
It doesn't have Bluetooth capabilities
2. Ledger Nano X: best hardware wallet for experienced investors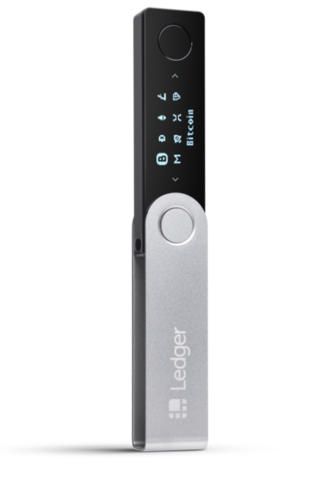 The Nano X is essentially an upgrade to the Nano S. It's a powerhouse for storing all your digital assets. With two chips complementing each other and the innovation taking out USB connection and replacing it with Bluetooth, this hardware crypto wallet has a legitimate claim to being the best in the world save for its weak user interface. One noticeable difference with the Nano X is that it can hold multiple cryptocurrencies at once. With the Nano S, you have to uninstall old apps to make way for new ones.
Supported coins:
Ledger supports a large variety of assets, including:
Bitcoin
Ethereum
Ripple
Tether
Bitcoin Cash
Litecoin
And many more…
Ledger Nano X Price: $149
Pros
The Nano X comes with Bluetooth functionality
Users can add coins to the app directly
It allows multiple coins and apps to function at the same time
Cons
The user interface could be a bit technical for beginners
Ledger Nano S vs. X
While the Ledger Nano S and X both support the same types of assets, they do have a few differences. For example, the X supports bluetooth connection, a larger screen, and support for up to 100 applications at once as opposed to the three on the S.
The Ledger Nano X is also double the weight at 34 grams, with an 8-hour battery and USB-C connection as well. It's certainly the better choice for users with a ton of crypto, while the S is better for newer holders without many assets.
3. Trezor One: best hardware wallet for ease of usage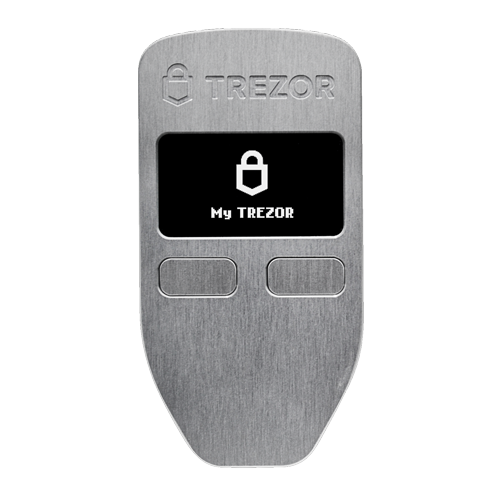 If there was ever a company to challenge Ledger's supremacy in the hardware wallet market, it would be Trezor for sure. Both firms have been involved in a tit-for-tat for years now, trading filings and jabs at every turn.
SatoshiLabs built Trezor One, and it was the first secure and legitimate bitcoin hardware wallet on the market. The wallets also bucked against the trend, looking more like calculators than the standard USB drive. The Trezor One only works with Android OS.
The Trezor One is perhaps Trezor's flagship device. When connected to your laptop, you'll need to enter a randomly-generated PIN. The number is generated randomly every time you connect. After the PIN, enter your passphrase, and you're ready to transact. Trezor's website shows that they support over 5000 coins. As expected, a lot of the popular picks are here.
While Ledger seems to focus on inclusiveness, security is Trezor's biggest play. Wallets designed by the firm have PINs that remain even if their host computers are compromised. Trezor's PINs also have in-built systems that prevent brute force attempts.
Also, after every incorrect attempt, the waiting time to log into a wallet is raised by a power of two. As expected, everyone gets a 24-word seed phrase when you set up. The Trezor One has had its run with scammers in the past, but it's still a great buy for anyone concerned about the security of their funds.
Supported coins:
Trezor supports a large variety of assets, including:
Bitcoin
Ethereum
Ripple
Bitcoin Cash
Litecoin
And many more…
Trezor One Price: $69
Pros
Very simple to use
Sleek design
Useful on all platforms
Greater security, thanks to a randomly-generated PIN
Cons
It's not a touch display. It works with buttons.
4. Trezor T: best hardware crypto wallet in terms of security
This wallet is to the Trezor One what the Nano X is to the Nano S. It comes with a larger screen, with a full touchscreen, so you get a smoother interface. To set this device up, you can connect to your phone or computer. Then, go to your browser and visit the manufacturer's interface to begin setup. Choose the Model T option on the site, and follow the prompt.
If you're backing up an old wallet, then click on the "create a backup in 3 mins" link. You'll have to enter your 12-word recovery seed, although this time, you'll simply need to input two random words from it.
Note that you'll need to be careful with where you store the seed. If it falls into the wrong hands, they could import your wallet and make off with your money. In terms of coins support, it supports more coins than the Trezor One.
Supported coins:
Trezor supports a large variety of assets, including:
Bitcoin
Ethereum
Ripple
Chainlink
Bitcoin Cash
Litecoin
And many more…
T Price: $219
Pros
Supports more coins
Comes with a touchscreen
Cons
Trezor One vs. T
The two Trezor models differ much more than Ledger devices do.
For example, the Trezor One only has a monochrome display, security input via your computer or mobile device, and is missing microSD card support.
This hardware wallet allows you to manage security on the device, offers a password manager on its microSD card, and an advanced form of authentication in FIDO2.
5. KeepKey: best budget hardware wallet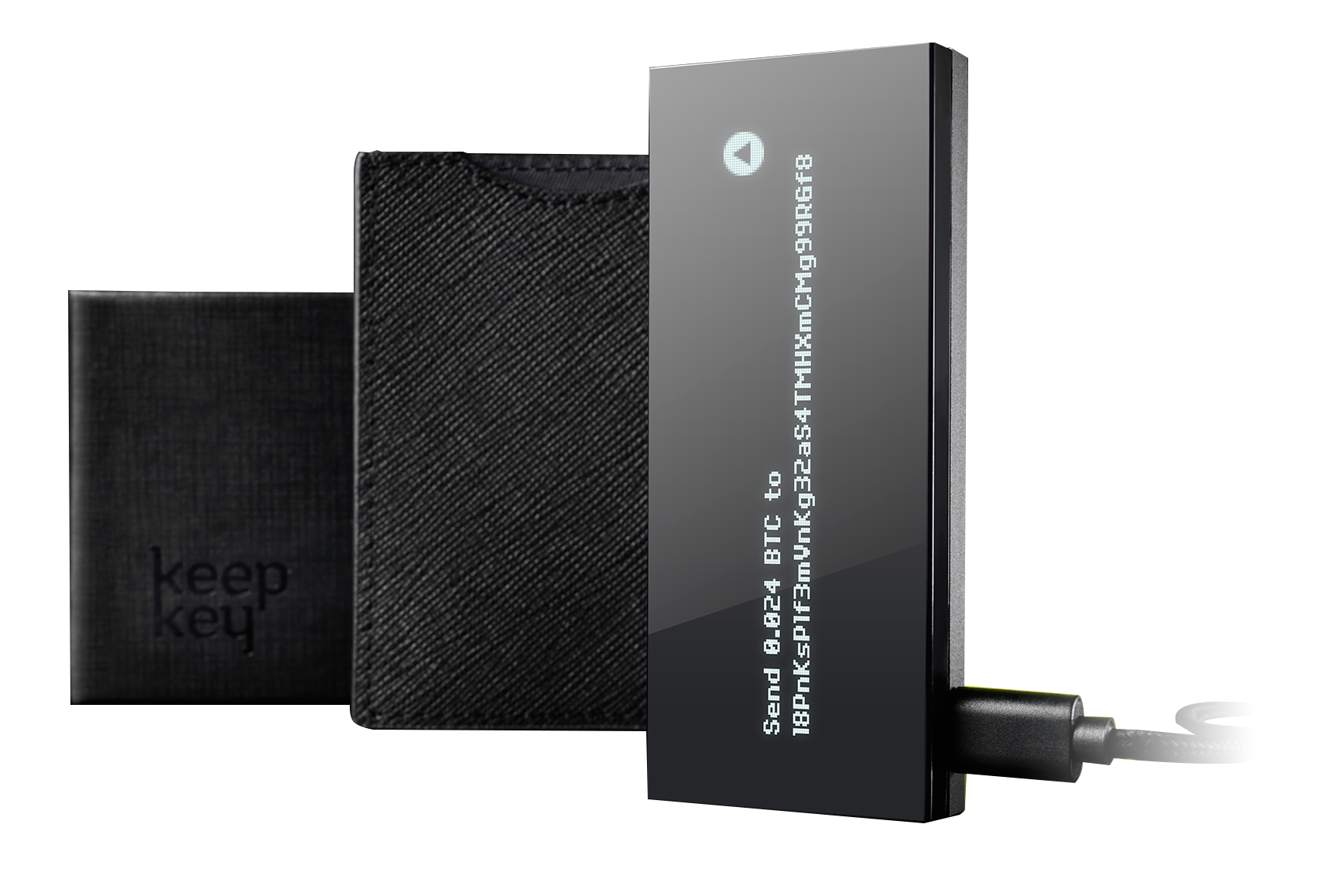 KeepKey was founded by Darin Stanchfield in 2015. The American company acquired a bitcoin custodian wallet called Multibit in 2016. A year later, it was acquired by Swiss cryptocurrency exchange ShapeShift.
The KeepKey wallet measures 8 x 93.5 x 12.2 mm. There's a 256×64 3.12″ OLED screen at the front that's protected by polycarbonate casing. There's just one button up top, which works to cancel or confirm transactions. To get started with KeepKey, download and install its app from Google Chrome, and insert the wallet into your PC. Open the Chrome app, although you'll need to update it if it's not running on the latest firmware version.
If you're running on the updated firmware, you will have access to the private key immediately. You'll also see the seed phrase just once, after which you'll need to commit it to memory or write it down. Make your PIN, and after confirming it, you get 12 randomly generated words to form your recovery sentence.
Note that KeepKey uses the "Recovery Cipher." This system scrambles the letters of your chosen word, so even if the computer gets compromised, your wallet is safe.
In terms of supported coins, KeepKey only supports 40+ coins. It also supports ERC-20 tokens, but that's a very limited count.
Supported coins:
KeepKey supports a large variety of assets, including:
Bitcoin
Ethereum
Bitcoin Cash
Bitcoin Gold
Litecoin
DASH
Dogecoin
ERC-20 Tokens
KeepKey Price: $49
Pros
Sturdy build with an interactive touchscreen
Integrated with ShapeShift
User-friendly design
Heightened security, thanks to the recovery cipher
Cons
You only get one chance to see the recovery seed
A much more limited coin compatibility score
Security laxity, as anyone can access the wallet without a PIN
6. CoolWallet S: best hardware wallet in terms of aesthetics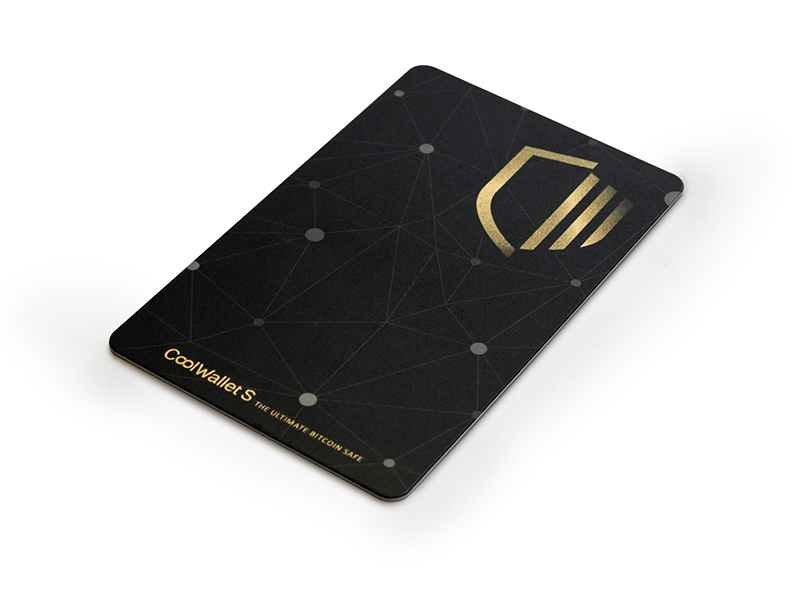 CoolWallet S was created by CoolBitX in 2015 as a hardware wallet that combines cold storage solutions. It provides a clean mix of security and portability, as it looks strikingly similar to a credit card.
This wallet is designed for investors on the move. You can send and receive bitcoin, check your balances, and exchange cryptos using its bluetooth-enabled, dual-device technology with the mobile app. The wallet has an e-paper display showing the bluetooth indicator and the battery level. Setting up the wallet should take 20 minutes max, but you need to download the CoolWallet app first on your mobile. Once that is completed, you'll have to pair the wallet with your mobile device via bluetooth before you're allowed to create a wallet.
CoolWallet S supports over 20 cryptocurrencies, including all the large-cap favorites and all ERC-20 tokens.
Supported coins:
CoolWallet supports a variety of assets, including:
Bitcoin
Ethereum
Ripple
Bitcoin Cash
Litecoin
ERC-20 Tokens
And many more…
CoolWallet S price: $99
Pros
Access to multiple wallets
Exchange integration
Secure AES-256 encryption
Portable and durable build
User-friendly operation
Cons
Small screen
Not open source
You need the app to control most of the wallet's features
Unpacking a hardware wallet
A hardware wallet uses a physical device or smartcard to store the user's private keys and act as more of a physical cryptocurrency wallet. They are beneficial for long-term hodlers due to the immunity to computer viruses. To use a crypto hardware wallet, the user has to connect to the manufacturer's web interface to initiate or verify transactions sent to their public keys.
How hardware wallets work
As we've cleared up, your cryptocurrencies are stored on the blockchain. The hardware crypto wallet simply stores the private key. So, since the blockchain is ubiquitous, you need a wallet to store them, and you need the private keys to access them. The private keys are stored on the wallet and are protected by a special PIN and a passphrase (optional).
Should you lose your hardware wallet, your assets are backed up by a seed phrase. Since you alone know the phrase, you can easily use it to move your private key from one hardware wallet to another.
Reiterating the best hardware wallet choices
Now that you're aware of the different hardware wallets, here's a chart summing up the devices, their prices, and their number of supported cryptocurrencies.
| | | |
| --- | --- | --- |
| Name | Price | Crypto Supported |
| Ledger Nano S | $79 | 5000+ |
| Ledger Nano X | $149 | 5000+ |
| Trezor One | $69 | 5000+ |
| Trezor T | $219 | 5000+ |
| Keepkey | $49 | 40+ |
| CoolWallet S | $99 | 20+ |
While storage can take various forms, it's obvious that hardware wallets are the cream of the crop. They provide both optimal security and ease of use. It also gives the investor total control over their digital assets rather than entrusting it to a third party like an exchange.
We recommend Ledger Nano X due to its wide coverage and bluetooth integration. There's also the fact that you can go through the entire recovery process without connecting to a computer. However, you should make sure you only get yours from the manufacturers directly.
Hardware wallet: not that hard to get!
If you are a serious investor who clearly understands the complexities of private and public keys, investing in the best hardware crypto wallet is imperative. Yes, you can pick one from the above-mentioned list but not before you are sure about the requirements.
Finding the best hardware wallet continues to be an important task, especially if you prefer cold wallets over standard mobile wallets or hot wallets. In the end, it is all about what you need and how often you plan on interacting with the blockchain.
< Previous in Series | Wallets | Next In Series >
Frequently asked questions
What hardware wallet is best?
Are hardware wallets worth it?
What if I lose my hardware wallet?
Are hardware wallets actually safe?
Disclaimer
In line with the Trust Project guidelines, the educational content on this website is offered in good faith and for general information purposes only. BeInCrypto prioritizes providing high-quality information, taking the time to research and create informative content for readers. While partners may reward the company with commissions for placements in articles, these commissions do not influence the unbiased, honest, and helpful content creation process. Any action taken by the reader based on this information is strictly at their own risk.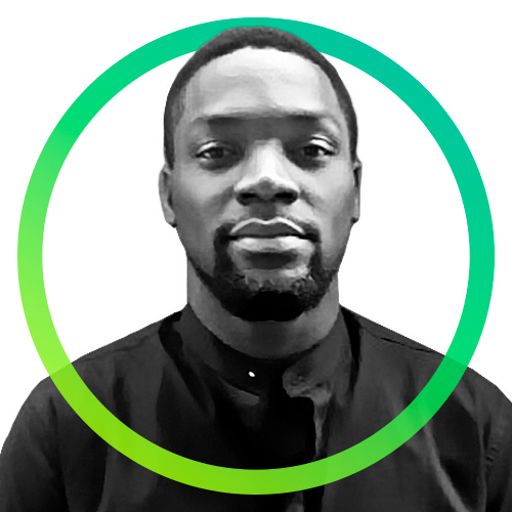 Based in the United Kingdom, Jimmy is an economic researcher with outstanding hands-on and heads-on experience in Macroeconomic finance analysis, forecasting and planning. He has...
Based in the United Kingdom, Jimmy is an economic researcher with outstanding hands-on and heads-on experience in Macroeconomic finance analysis, forecasting and planning. He has...
READ FULL BIO
Sponsored Sponsored