It seems that a new
DeFi
darling emerges every week now to enjoy surges in popularity, collateral lockup, and oftentimes boosts in token prices. At the moment, InstaDApp appears to be the
DeFi
flavor of the week.
Another day has yielded another all-time high for DeFi markets with the total value locked (TVL) hitting $2.47 billion yesterday. The momentum is still strong for all things DeFi, while the overall crypto market has been relatively lethargic. Since the same time last month, the decentralized finance ecosystem has grown by 125% in terms of TVL. Cryptocurrency market capitalization, meanwhile, has remained flat, oscillating between $260 and $270 billion as the big players struggle to break through resistance zones. DeFi is currently yielding greater investment rewards as trading can be arduous when markets are flat, and volume and
volatility
low, which has definitely been the case for
Bitcoin
since the halving. Speculators and investors are constantly on the lookout for the next big thing, and this week, InstaDApp appears to be winning the race.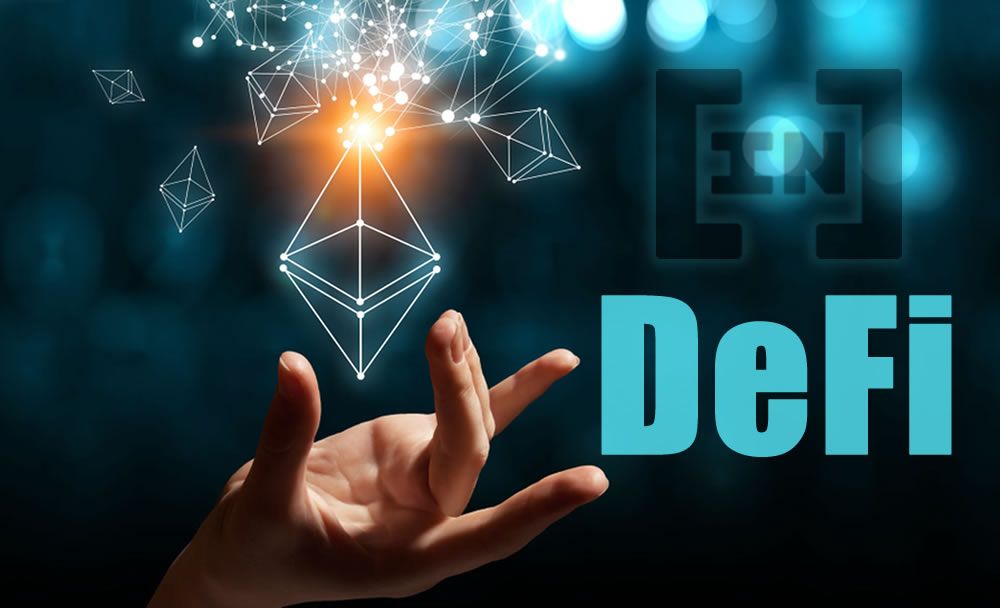 InstaDApp DeFi Collateral Surges
InstaDApp is currently ranked fifth in terms of TVL, recently surpassing
Aave
. This month alone, TVL on the platform has surged a whopping 275% from around $50 million to an all-time high of $187 million. In late June, the TVL figure was even lower (around $6.5 million) which would show another tenfold increase, clocking in a 2,700% bump in less than a month.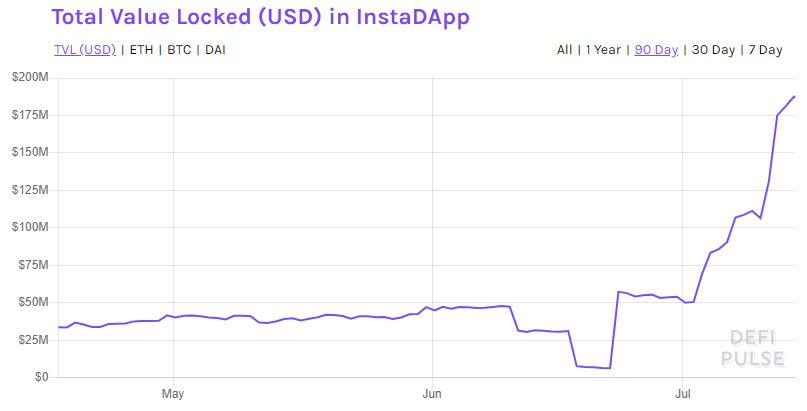 The amount of
Ethereum
locked up in smart contracts on InstaDApp is currently just below 300k ETH, its second-highest level to date.
Dai
is the one to watch though, as the amount of the dollar-pegged
stablecoin
locked into the InstaDApp platform has jumped from less than $200k this time last month, to over $100 million today. DTC Capital head, Spencer Noon [@spencernoon], commented on the
collateral surge
;
"The #1 tool that helps #DeFi yield farmers do their jobs better is hands-down @Instadapp. Total Value Locked: *6/21: $6.4 million *7/13: $183.8 million (+2754%) The *free* platform that @sowmay_jain @smykjain & team are building is fueling an agricultural revolution"
InstaDApp is a smart
wallet
with a user-friendly interface that has been built on top of popular DeFi projects such as MakerDAO, Compound, dYdX,
Kyber
, Oasis, and Uniswap. It allows users with little technical knowledge to perform more advanced actions such as leveraging or saving by buying or selling crypto collateral in a single transaction. The platform offers features such as the option to lend assets or add liquidity to Uniswap pools and 'Bridge' which allows users to migrate debts between
Maker
Vaults and Compound Finance. The platform was launched on the Ethereum mainnet in December 2018, and updated to version 2 in April 2019. Unlike its DeFi brethren, InstaDApp has yet to launch its own native token. InstaDApp Founder and CEO, Sowmay Jain [@sowmay_jain], noted that the platform is increasingly being used to farm tokens for deposit into
high-yield smart contracts
on other DeFi platforms.
Farmers are innovating on Instadapp. Minted 7M DAI from Maker at 0% interest to deposit on Compound. Soon coming up with more cross protocol recipes.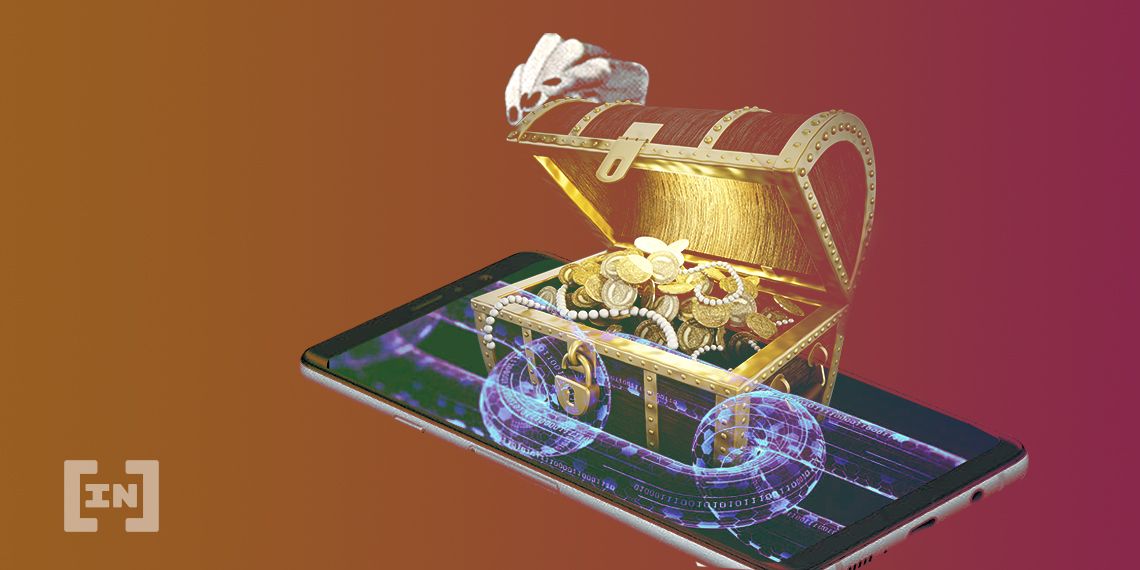 The recent
addition of new platforms
, such as Uniswap V2, to InstaDApp, appears to be driving the momentum at the moment. On Sunday, the platform
tweeted
that wrapped Bitcoin (
wBTC
) positions can now be refinanced between Maker and Compound. The proposal to increase the wBTC collateral factor to 40% was
recently passed
by Compound governance, this allows it to be used to borrow other crypto assets. Earlier this month, InstaDApp introduced a system called 'Debt Swap' to take advantage of the liquidity farming frenzy that has propelled DeFi to new heights. The protocol now enables the switching of Compound stablecoin debt from USDT to DAI in a single click, resulting in greater
COMP
earnings. The
announcement
elaborated;
The Debt Swap recipe allows you to move your Stablecoin debts within the Compound protocol giving you access to the best interest rate at any given time.
InstaDApp has continued to innovate as DeFi has grown, enabling greater earning potential for crypto holders. The results can clearly be seen in the four-digit surge in collateral on the platform, and it doesn't even have a native token yet.
Compound Tops $1 Billion in Loans
In a related development, Compound Finance is continuing to go from strength to strength, building upon the success of its COMP token distribution incentive. According to the Compound
market overview
, crypto loans have topped a massive one billion dollars on the platform.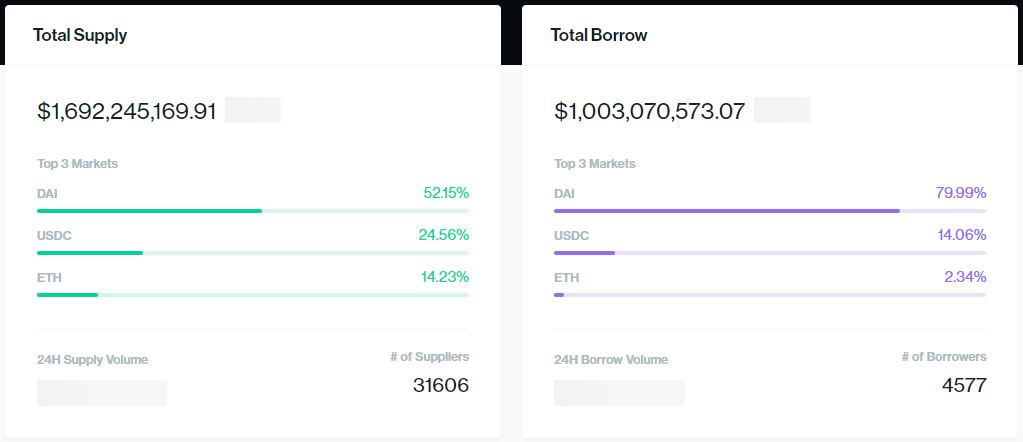 The largest market by far at the moment is Dai, which represents 80% of all crypto loans. There are also many more liquidity lenders than borrowers with around 31,600 adding to the collateral compared to 4,580 taking out loans. Compound is still the most popular DeFi platform according to DeFi Pulse, which is reporting its market share at around 28%. This has fallen from over 50%, however, as other protocols such as Synthetix, Balancer,
Aave
, and now InstaDApp have started attracting crypto collateral. TVL on Compound hit a new high on Sunday at just under $700 million. Since the COMP token launch began on June 15, TVL on the platform has surged 680% propelling it into first place to overtake
MakerDAO
. COMP token prices are around $163 according to
Uniswap.info
, having declined 18% since the beginning of the month. Liquidity has remained stable for the past couple of weeks, hovering around $620k per day. DeFi momentum is showing no signs of slowing down, despite the lethargy of the general crypto markets. Ethereum, which underlies it all, has retreated again dropping below $240 as prices weaken and it fails to break resistance. ETH has not done a great deal this year in terms of price, while some of its DeFi siblings have surged by triple digits in recent weeks. Since DeFi, DApps, and smart contracts are all powered by Ethereum, it is only a matter of time before the giant awakens from its two-year slumber. DeFi is unlikely to be the sole wakeup call, however, as the much-anticipated
proof-of-stake and ETH 2.0 features
are slated to start rolling out this year.
Disclaimer
All the information contained on our website is published in good faith and for general information purposes only. Any action the reader takes upon the information found on our website is strictly at their own risk.