OpenSea volume declined further in August due to an overall bearish crypto market which has impacted global NFT market sales negatively. 
OpenSea has become the dominant non-fungible token (NFT) marketplace in the past four and half years. The platform for buying, holding, and selling digital collectibles and its competing marketplaces have been hit hard by the negative outlook of the crypto market this year which has affected all areas of the industry.
After reaching a peak of approximately $5 billion in January, OpenSea sales fell sharply in August when it generated only $502 million — an 89% decline within seven months. 

While January 2022 remains the platform's all-time high, OpenSea reached a then-high of $3 billion in August 2021. Last month's figure was an 85% decrease year-over-year and was a 5% dip from the previous month's $529 million. 
Top collections on OpenSea drop significantly in sales
The top collections on OpenSea include but are not limited to, Bored Ape Yacht Club (BAYC), Otherdeed for Otherside, Mutant Ape Yacht Club (MAYC), CryptoPunks, and Moonbirds. From the table below, the only NFTs not in the top 10 digital collectibles by all-time sales are Ethereum Name Service, ABC, y00ts, DigiDaigaku Genesis, and CLONE X – X TAKASHI MURAKAMI.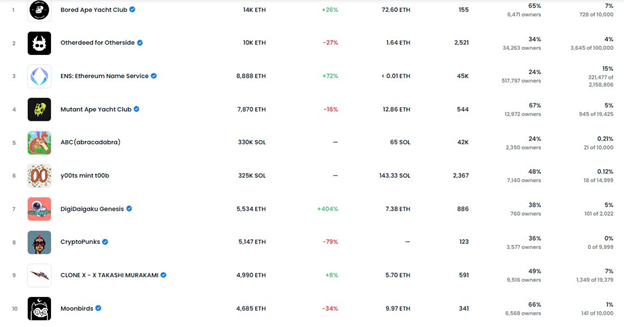 Bored Apes, the top collection on OpenSea saw its number of unique buyers reach its second-lowest point last month.
Despite an increment in average sales value from less than $110,000 in June and July to $132,598 in August, total transactions remained below 500, and this corresponded to sales falling below $60 million for the second month running.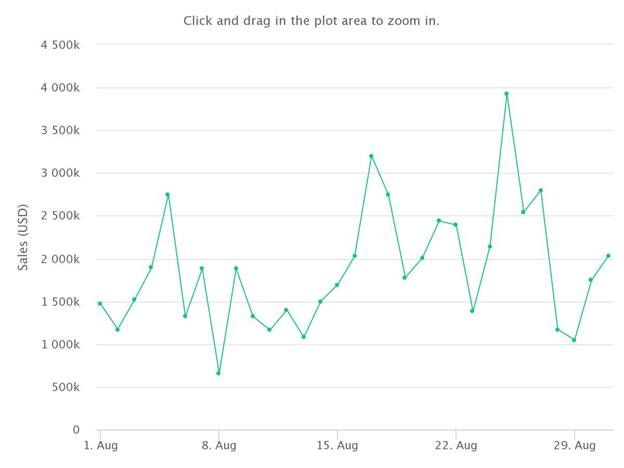 CryptoPunks remains a top NFT collection but has waned in sales volume throughout 2022. The collection has not surpassed $150 million in monthly sales this year with $124 million being its peak in January. Volume fell to a 19-month low in August with approximately $25 million.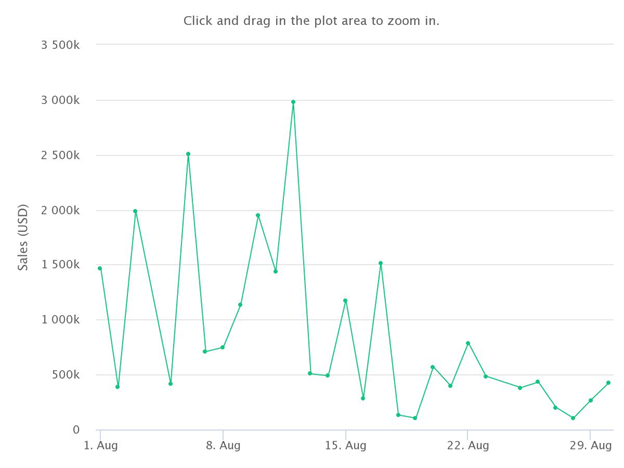 After breaking numerous records in its first month as a tradable NFT in May with around $944 million in sales, Otherdeed from the Otherside Metaverse has also taken a nosedive in monthly volume.
Few projects in the NFT world begin their journey with more than 20,000 unique buyers and have an average sale value of more than $20,000. After going trudging through the bear market the past four months, Otherdeed sales fell below $30 million in August — a 97% decrease.
Within the same period, Moonbirds and Mutant Ape Yacht Club fell by 96% and 90% from their respective peaks. 
OpenSea volume correlates to NFT global market sales
There has been a consistent decline in monthly volume on NFT marketplaces and the same pattern has reflected in global NFT sales. 
As OpenSea recorded $502 million in August, global sales fell by 7% from July's $682 million to about $634 million.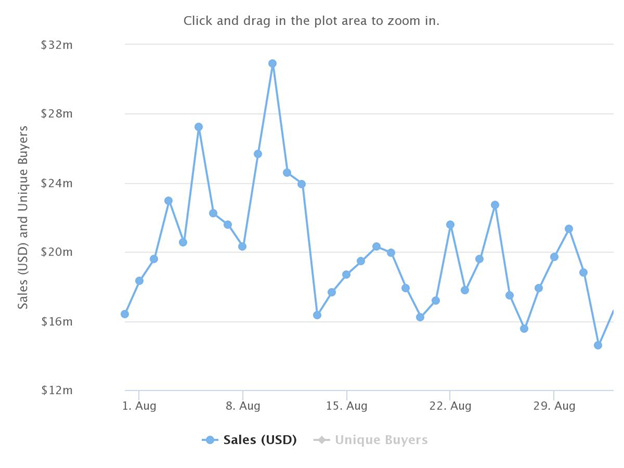 OpenSea continues holding lion's share of volume
Despite declining by more than 80% in volume from this year's peak in August, OpenSea still leads the way in the ranks of NFT marketplaces with the most monthly volume. 
The total volume recorded for NFT marketplaces was $613 million. With roughly $502 million in volume, OpenSea controlled 82% of the non-fungible token market in August. 
Magic Eden took second place with around $66 million. Other competitors such as LooksRare, Solanart, Foundation, and Nifty Gateway recorded relatively smaller volumes.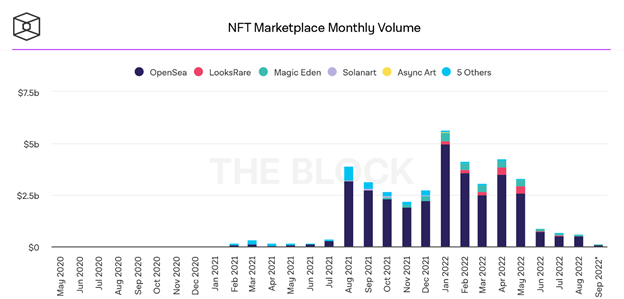 X2Y2 moving up the ranks
Within the last 30 days (at the time of publishing), X2Y2, an NFT marketplace that launched this past February has surpassed OpenSea in volume. X2Y2 had a volume of approximately $340 million from 80,000 transactions and 19,000 users.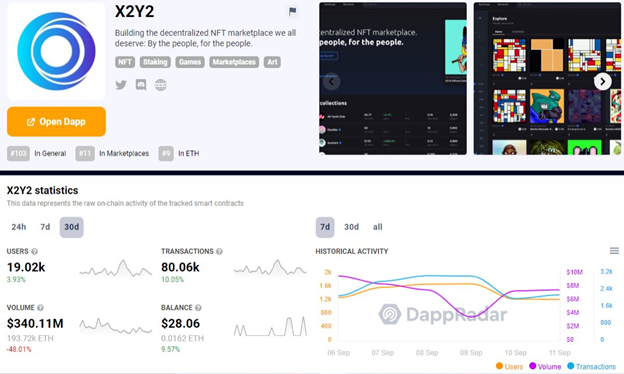 Within the same period, OpenSea generated around $334 million from 265,000 users in around 1.6 million transactions.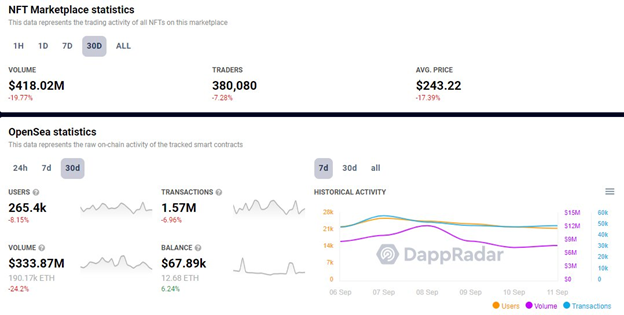 Much of X2Y2's volume comes from the launch of Tokenomics 2.0 which has reduced transaction fees to 0. This was done strategically to encourage the listing and trading of high-quality digital collectibles on the platform as well as reward active users for their loyalty.
For the time being, OpenSea remains the king of NFT platforms but time will tell if X2Y2 or another marketplace on Solana or similar chains will dethrone it from being the go-to place for millions of collectors. 
Will the NFT bears carry on? 
Parsa Abbasi, the founder of LivelyVerse, weighed in on the future of the NFT market. 
He told Be[In]Crypto, "We cannot deny the fact that it is a bear market, and the bear market affects the whole crypto space. NFTs, too, are a part of this space. Besides that, there are other reasons. For one, the season and owners seeing losses rather than profits could be one reason. Still, we should never forget that in financial markets, herding behavior is widespread. When stocks, tokens, or NFTs start to bring money to investors, other people bring money in with no other reason than hoping for a profit too – and that is what causes the market crash." 
He concluded, "In my opinion, people should invest their money in valuable things and viable projects and make investment decisions based on logic. I believe that digital apes are not a good choice. It should be something that is a store of value. As the crisis and downturn are ahead, investors are turning their attention to bonds. So it is expected that money does not stay in NFTs. After all, it could be a stress test for non-fungibles where we will see if they could be a store of value — or not."
Disclaimer
In line with the Trust Project guidelines, this price analysis article is for informational purposes only and should not be considered financial or investment advice. BeInCrypto is committed to accurate, unbiased reporting, but market conditions are subject to change without notice. Always conduct your own research and consult with a professional before making any financial decisions.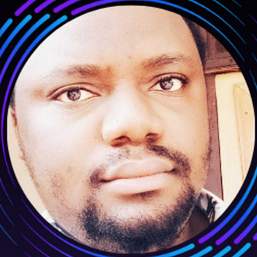 As a writer, researcher, and analyst of centralized and decentralized financial instruments (stocks, commodities, metals, and cryptocurrencies), he started experimenting with...
As a writer, researcher, and analyst of centralized and decentralized financial instruments (stocks, commodities, metals, and cryptocurrencies), he started experimenting with...
READ FULL BIO
Sponsored Sponsored