Bakkt was once the biggest story in the cryptocurrency world. It was supposed to bring in 'institutional money' to the industry. Since launch, however, it has faded into irrelevance.
What happened to Bakkt? That's the question trader TheBoot (@TheBootMex) recently asked his followers as they struggled to remember what the hype was all about.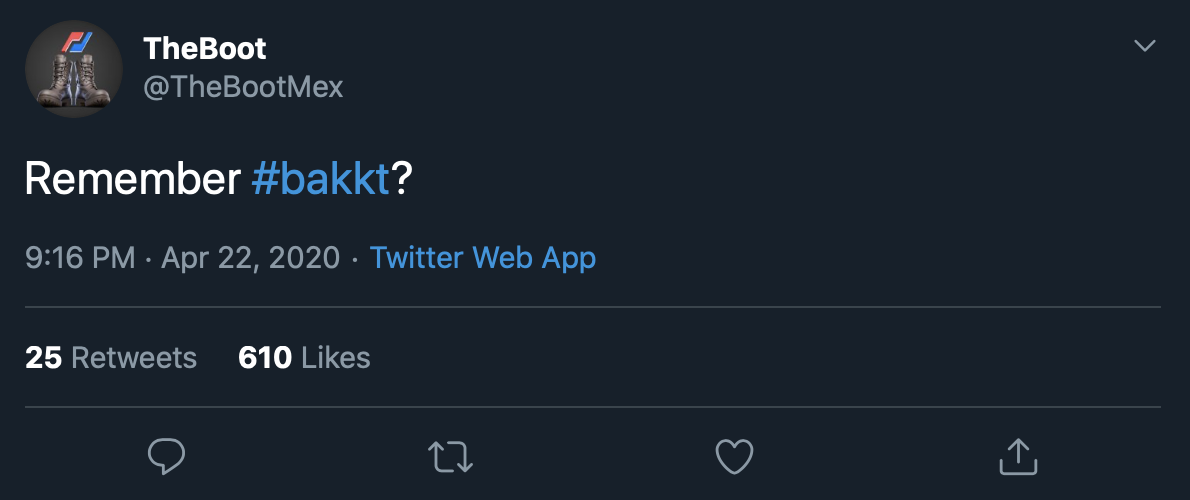 Expectations were always high for the exchange. It was, after all, supposed to be the first exchange that would offer futures settled in real BTC. However, enthusiasm for the exchange has all but entirely disappeared in the past few months. Although starting with a bang, Bakkt has since faded into relative obscurity.
The Story with Bakkt
If you have been in the cryptocurrency space for some time, you may remember the hype surrounding Bakkt. Many were hoping that it would be the salvation that would lead us out of the bearish winter of 2018/19. Yet, the launch was not what many had hoped. In fact, it was the exact opposite—Bakkt was blamed for
a price crash the next day
after a massive long squeeze. The situation thereafter didn't get much better. Trading volume was anemic throughout October 2019,
as BeInCrypto reported then. 
However, we were told that this was 'just the beginning.' In November, there were hints that Bakkt was testing
a consumer app
for
Bitcoin
retail traders. The hype was that Bakkt would bridge retail and the institutional world. That app, by the way, is still in limbo to this day. With anemic trading volume, many began to wonder what a
futures
exchange really brought to the industry anyway. Prominent cryptocurrency YouTuber Chico Crypto took aim at Bakkt for being
"Wall Street's attack on Bitcoin."
Then, we found out more bad news: reading the fine print, it seems like Bakkt wasn't even settling futures contracts in real BTC either. In fact,
only 63%
of Bakkt futures were actually backed by Bitcoin. Suddenly, Bakkt's main selling point began to fall flat.
The 2020 Surge that Never Came
Bakkt tried to pick up momentum by offering
cash-settled Bitcoin options trading
by the end of 2019. However, the options trading platform soon became a ghost town. By late January, there had not been a single options trade
in over a week. 
While Bakkt's actual usefulness as an exchange was dwindling, its former CEO Kelly Loeffler was reaping major publicity. In fact, she was appointed as U.S. senator of Georgia in December 2019 after a vacancy opened up. The cryptocurrency space, naturally, believed that perhaps they would now have a blockchain warrior in the halls of power. Except, that's not what happened at all. In March, it was exposed that she had dumped
millions of dollars worth of stock
after a secret COVID-19 meeting in January. She had been a senator for less than a month and had already used the position to shamelessly enrich herself. Loeffler's actions are essentially symbolic of what the story behind Bakkt is all about. Here was an exchange that promised the world: connections with the Intercontinental Exchange (ICE), physically backed Bitcoin futures, and a consumer-driven app that would bridge retail demand and financial markets. Yet, what we got was an exchange with anemic trading volume and a CEO who merely used the platform to springboard her questionable political career. In the end, the hype surrounding Bakkt was far too extreme before there were any actual deliverables—and when the 'deliverables' finally came, everyone shrugged. It was a big nothing, and it's a lesson for the entire cryptocurrency space.
Disclaimer
All the information contained on our website is published in good faith and for general information purposes only. Any action the reader takes upon the information found on our website is strictly at their own risk.