Web3 sex has arrived. A tech entrepreneur and ex-sex worker has created a platform that uses the blockchain and stablecoin payments to ensure total privacy.
Proof of Peach is a new creator-driven platform. It is specifically designed to serve the needs of sex workers and their admirers using blockchain anonymity.
CEO and co-founder Crass Kitty says the platform is built by sex workers for sex workers. And, she says, Proof of Peach is a more ethical way to create and consume the content.
The platform aims to disrupt the risks of the adult industry by using crypto as payment, and by deploying NFT tech.
Says Crass Kitty, "This an adult content platform that allows content creators to publish their content behind NFT-token-gated walls. Admirers can view the content behind the NFT they buy. Once you get the free NFT, we can attach the content that you purchase to your wallet and to the NFT. If you transferred the NFT to a different wallet, all of the content you purchase will go with it."
Web3 sex work expertise
Crass Kitty says she is probably one of the few people in the world that has a history as a sex worker and who has also worked in tech. "I was one of the first 10 team members at NEAR Protocol. The accumulation of my experiences has led me here."
Crass Kitty has packed a lot into her past lives. For example, earlier this year she launched Degenerate Ape Academy. The project netted millions.
Crass Kitty has been a cam girl and a stripper. She also worked at FetLife as a product manager in credit card payment processing. "I'm intimately familiar with like all of the ins and outs of this industry, both from a crypto perspective, but also from the needs of a sex worker's perspective."
Crass Kitty and her business partner started building Proof of Peach in July, and launched in September. They recruited some well-known creators onto the site, including No Face Girl, VickieJay and Alix Lynx.
"We launched with seven creators and now we're up to 20, about two months in. So there has been sustainable growth."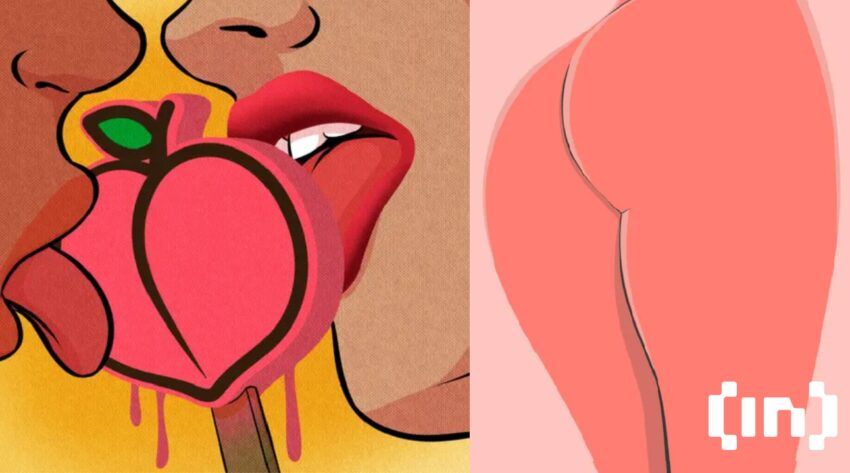 Anonymity
The company is about to launch a referral program for creators to recruit other creators. They have also launched comments, likes and tips. These are paid in USD Coin (USDC). That is how everything is paid for on the site.
However, they have no idea who their customer are. One thing about anonymity is that you can't harvest demographical information. "It's pretty anonymous because they just connect with a wallet. Admirers and creators do have to upload an ID and take a selfie to get on our platform, to make sure they are over 18. But we don't ever see that data. The third party provider scans it and it doesn't get attached to your wallet. And then they dump that information within a short time span – it's just to verify age."
The platform doesn't track user data either, but the founders presume most admirers are from the U.S. or Europe.
Creators and the blockchain
The biggest goal for the platform at the moment is onboarding more creators. "We currently do calls with each of our creators once a month. Then we try to create products based on like actual real-world problems. For example, in the adult industry, if you have a photographer, you need to pay them. So we have built payments directly into the app. If you are working with a photographer and makeup artist and agent, you can add their wallet as a payment split. Every time the creator's content is purchased, the platform splits out the payments for people that the creator has delegated them to. It is solving a real-world problem with blockchain technology."
Another example of how the blockchain can be used to protect both the creator and the admirer is when the admirer wants to buy custom content from the creator. A fan can put in a request for particular content, and how much they are willing to pay. The funds are held on the blockchain, and a timer is set. If that timer runs out, they get their funds back. If the creator gives the admirer a video, then the funds go through to the creator.
Web3 Sex vs Web2
The advantage of the platform over competitors like OnlyFans is that on OnlyFans, admirers rarely see free content. However, on Proof of Peach, the platform creates a feed featuring all of their creators, that anyone with the NFT token see.
Says Crass Kitty, "It is kind of like a Twitter feed of racy visuals. And it's a lot more anonymous and safer for you as a user. For example, we're not tracking your data. We're not tracking where you're from. We're not tracking anything other than if you are over 18. And that's it. Additionally, you can do everything on our site with a brand-new Solana wallet. You don't have to have any crypto in it, because we cover all of your transaction fees. So, you can mint the token for free."
It's a brave new world out there. You do what you want with this information.
Got something to say about Web3 sex or anything else? Write to us or join the discussion in our Telegram channel. You can also catch us on Tik Tok, Facebook, or Twitter.
Disclaimer
Following the Trust Project guidelines, this feature article presents opinions and perspectives from industry experts or individuals. BeInCrypto is dedicated to transparent reporting, but the views expressed in this article do not necessarily reflect those of BeInCrypto or its staff. Readers should verify information independently and consult with a professional before making decisions based on this content.