Investments in Ethereum-based decentralized finance (
DeFi
), a much-vaunted sphere of digital assets, has been increasing at a staggering rate, up over 200% from the same time last year.
DeFi
services include lending,
decentralized exchanges
, derivatives, payments, and assets. Considered an overall indicator of the health of the space, the $650 million locked up in DeFi accounts for 2% of the total Ethereum supply.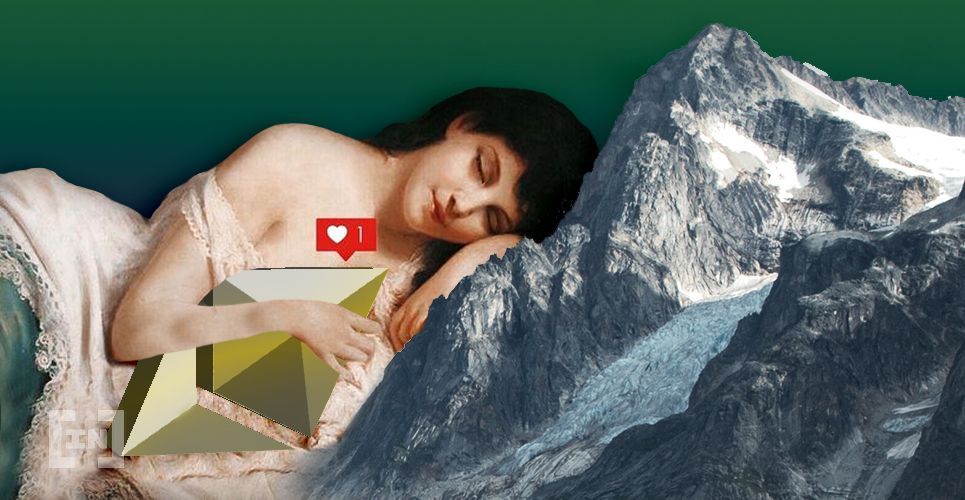 DeFi Still Growing Exponentially
Although the cryptocurrency market may appear to be stagnating, the
fundamentals are looking stronger
than ever, and the number of investments pouring into it is only increasing. The latest figures from the decentralized finance analytics platform, DeFi Pulse, shows that the amount of funds locked into the market is near its all-time high of more than $650 million. This is more than a 200% increase from the same time last year when it was roughly $220 million. In 2017, this value was at $10 million.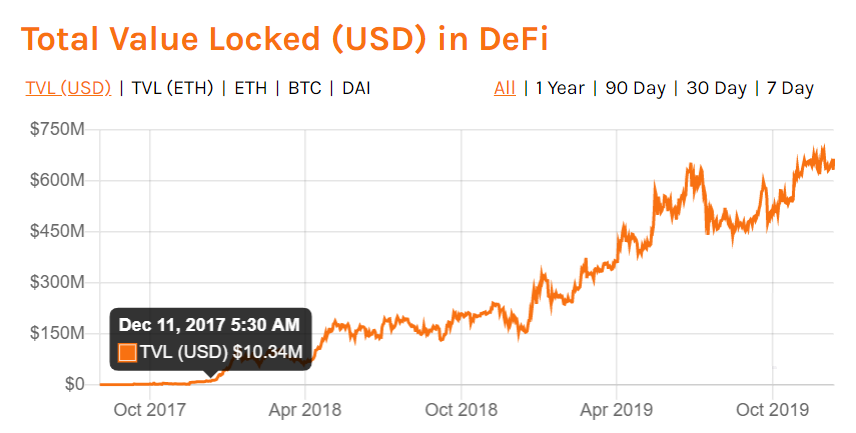 The MakerDAO ecosystem, which includes the cryptocurrency collateral
DAI
stablecoin
, accounts for the majority of the locked funds, at $333 million. The project recently announced that it would begin accepting
collateral in different assets
, with Basic Attention Token (BAT) being the first such token to be accepted. Previously, only ether could be used as collateral to secure DAI. Derivatives platform, Synthetix, comes in second, with $165 million locked in. The platform gives investors exposure to several different assets, including bitcoin, gold, and fiat currencies via the Ethereum blockchain. The platform is expected to add stocks and indices soon.
Ethereum's Role
Even as DeFi continues to gain steam, well-known Bitcoin proponent, Peter McCormack has tweeted about grading cryptocurrencies. While referring to Ethereum, McCormack stated that centralized systems or SQL would be better:
1/ How I grade crypto:
1. Legit (Bitcoin)
2. Interesting (Monero)
3. Centralised/SQL would be better (ETH)
4. Misguided (potatoes on the blockchain)
5. Blockchain scams (HEX)
6. Just a scam (OneCoin)

Some maxis will hate this as only (1) is not a scam. I see it differently.

— Peter McCormack 👑 (@PeterMcCormack) December 10, 2019
McCormack expected the tweet to attract flak — which it did, and said that it was more important to ask the right questions as opposed to 'making excuses.' ShapeShift founder and CEO, Erik Voorhees, responded to the tweet, making a justification for the Ethereum network by saying that DeFi would be illegal if it were an SQL database:
Defi would be illegal as an SQL database. It exists only because Ethereum exists.

— Erik Voorhees (@ErikVoorhees) December 11, 2019
In a separate response, Voorhees went on to say that he was earning interest on his assets without the involvement of a central party. Vitalik Buterin himself has said that there is a spectrum of decentralization, and not all applications require decentralized systems. It is important to note that Buterin is strongly behind the development and proliferation of decentralized systems — just not the fact that every idea requires a decentralized solution.
Santander Released Bonds on Ethereum Blockchain
As further proof of the growth in Ethereum usage, the Santander Bank recently became the first financial institution to manage all aspects of a
bond on a public blockchain
. The bond was settled in September and raised $99,000 in quarterly interest. Santander has shown a great deal of interest in distributed ledger technologies and has committed 20 billion euros to digitize its information technology systems. On-chain metrics of Ethereum have also been
on the rise
, with the hash rate exploding in the last six months and active addresses being at a 10-month high.
Disclaimer
All the information contained on our website is published in good faith and for general information purposes only. Any action the reader takes upon the information found on our website is strictly at their own risk.