Bitcoin's hash rate has been soaring in recent months, as has the asset's strength versus the wider cryptocurrency market. Network data suggests that the computing power mining the network has increased 30 percent in the last month alone.
According to data from
Blockchain.com
, the Bitcoin hash rate reached an all-time high of more than 98.5 exahashes per second. Not only does this represent a more than 30 percent increase in the last 30 days, but it has also surged by around 200 percent since what is widely held to be the bottom of the 2018 bear market in December of last year.

Bitcoin's Reasonable Hash Rate
Hash rate refers to the number guesses an individual or network of machines can make at a hash each second. A hash is data converted into a string of text using a cryptographic algorithm. In the case of cryptocurrencies like Bitcoin, the hashes being guessed are of the transaction data stored in a block waiting to be added to the chain. If the miner successfully guesses the hash of the block, it adds the transactions to the chain and receives a reward in fees and from the network itself. Hash rate is important because it gives a measure of the amount of computing power enforcing the network's rules. Providing the network is sufficiently distributed (no one actor controls too much of the hashrate), a higher hashrate generally means a more secure network.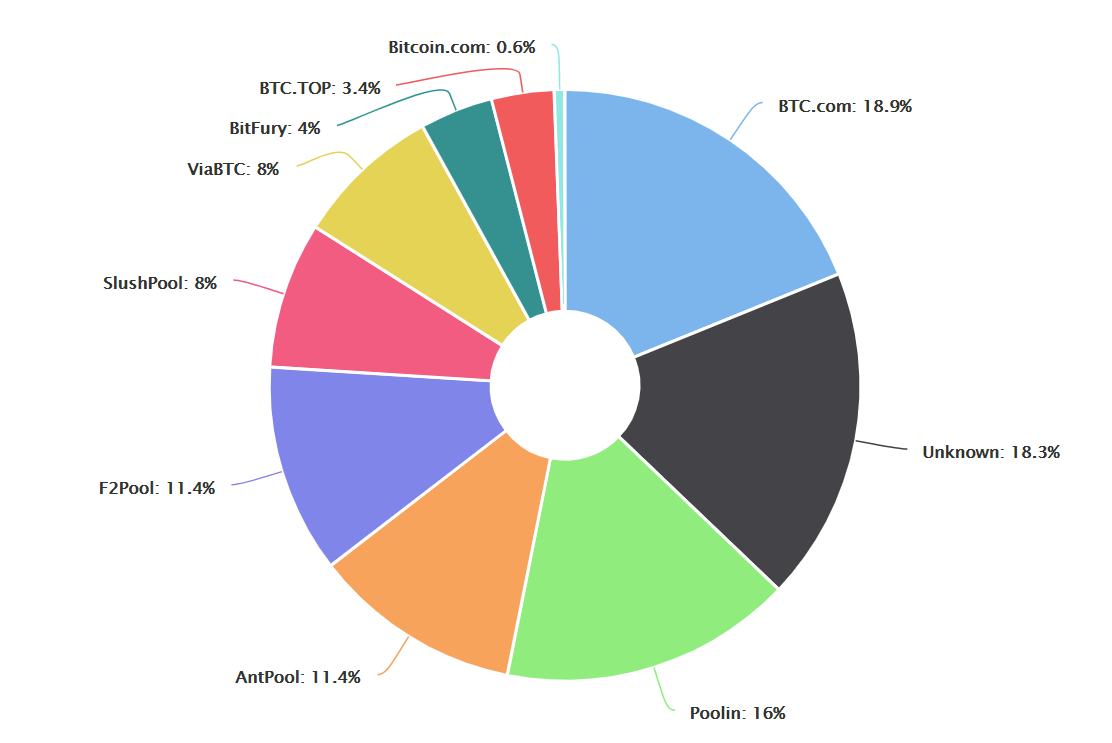 As evidenced in the above data from Blockchain.com,
Bitcoin's hashrate
is currently well distributed. No single entity appears to control more than the mining pool BTC.com's 18.9 percent. Multiple other pools control a considerable share of the total hashrate. Cryptocurrency analysis Twitter account @themooncarl describes the recent increases in hashrate as "almost parabolic," adding that the network is growing in strength.
The #Bitcoin hash rate is starting to look almost parabolic.

It's up 30% this month and even 10% only this week!!

The #BTC network is growing stronger! pic.twitter.com/Gl8t3ajdRK

— The Moon 🌙 (@TheMoonCarl) September 12, 2019
Meanwhile, senior market analyst at eToro Mati Greenspan commented that Bitcoin's
security
was no longer reliant on Chinese miners.
Hashrate is up nearly 6x since 2017 highs. We could lose all China miners tomorrow and bitcoin would be just fine. https://t.co/qh9c6QH8Dd

— Mati Greenspan (tweets ≠ financial advice) (@MatiGreenspan) September 10, 2019
Better Bitcoin Mining Hardware
One reason behind Bitcoin's new hashrate all-time high could be the recent launch more powerful mining hardware. The Antminer S17e and the Antminer T17e, two units from the mining hardware manufacturing giant Bitmain, launched simultaneously earlier this month. The firm claims that the S17e is capable of producing 64 TH/s and the T17e clocks 53 TH/s. This makes them the most powerful miners to date. Similarly, Ebang Communication just launched the EBIT E12+, itself capable of producing 50 TH/s.
Introducing the new #AntminerS17e & #AntminerT17e, 2 new miners that offer the best value for mining. The S17e has a 64 TH/s hash rate and 45 J/TH power efficiency, while the T17e has a 53 TH/s hash rate and 55 J/TH power efficiency. Visit https://t.co/OsXNHnIb8c to learn more! pic.twitter.com/x6Hd32iy0a

— Antminer_main (@Antminer_main) September 6, 2019
However, cryptocurrency market analyst @hasufl provides a reality check to the bullish optimism surrounding Bitcoin's higher hash rate. @hasufl states that if hash rate increases because of better technology, not increased numbers of miners themselves, it's false to say that the network is more secure since any would-be attackers also have access to the same improved systems with which they could comprise the network.
Two important caveats to that:

1) hashrate is higher because the bitcoin price is higher – making Bitcoin a more attractive target to attack

2) hashrate is higher because there are better ASICs – that attackers also have access to https://t.co/pgfJbNhs3P

— Hasu (@hasufl) September 11, 2019
What do you think about Bitcoin's soaring hashrate? Do you think the price will follow its lead? Let us know below. 
---
Images are courtesy of Twitter, Shutterstock, Blockchain.com.
Disclaimer
All the information contained on our website is published in good faith and for general information purposes only. Any action the reader takes upon the information found on our website is strictly at their own risk.
A former professional gambler, Rick first found Bitcoin in 2013 whilst researching alternative payment methods to use at online casinos. After transitioning to writing full-time...
A former professional gambler, Rick first found Bitcoin in 2013 whilst researching alternative payment methods to use at online casinos. After transitioning to writing full-time...
READ FULL BIO
Sponsored Sponsored