An increase in the number of tokens staked in the Lido protocol has seen the dApp surpass MakerDAO in terms of total value locked towards the end of March 2022.
Lido has seen its total value locked (TVL) exceed other decentralized protocols such as MakerDAO, Anchor (ANC), Aave (AAVE), Convex Finance (CVX), Uniswap (UNI), Compound (COMP), Instadapp (INST), and PancakeSwap (CAKE). The Lido protocol managed to begin the last week of March with approximately $18.23 billion in TVL, according to Be[In]Crypto Research.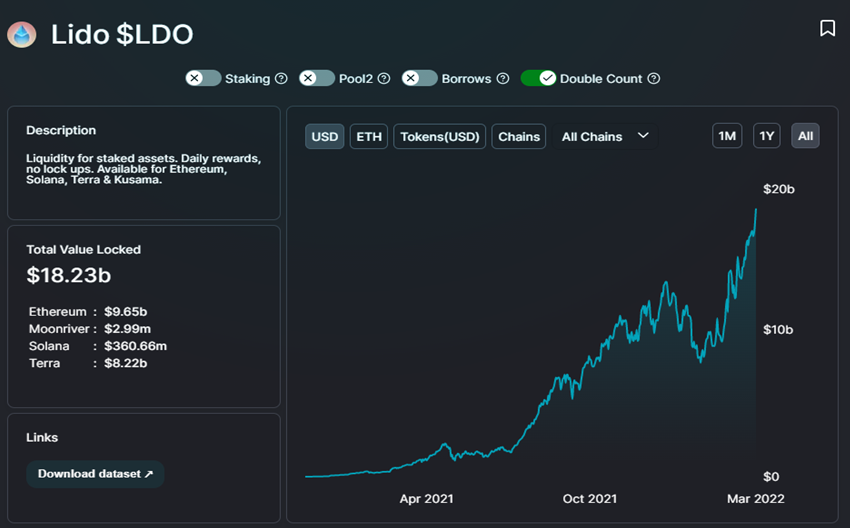 Lido opened the third month of 2022 with a TVL of $13.83 billion. An increase in the popularity of the protocol has placed it behind only Curve (CRV) in the total value locked rankings.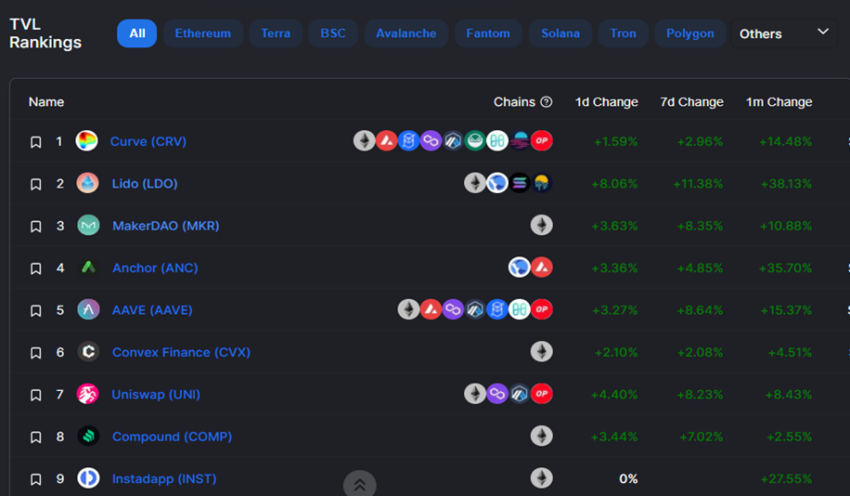 Lido TVL continues to surge in 2022
Lido was launched as an ERC20 token and become a part of the Ethereum ecosystem in 2020. In less than two years, Lido has experienced substantial growth in total value locked. When Be[In]Crypto Research conducted a study on the protocol at the beginning of March when Lido surpassed Aave, the total value locked was $13.98 billion.
In the third week of March, there was a 14% increase in the aforementioned value which saw the protocol surpass the $16 billion milestone.
Lido saw a spike of $31.8% in its opening day TVL which has seen the dApp surpass MakerDAO.
The current success Lido is enjoying comes from an increase in the number of coins staked in its protocols on the Ethereum Network, Terra, and Solana.
On March 23, the total value locked of Lido on Ethereum was $8.3 billion, the TVL of Lido on Solana was $297.76 million, and the value locked on Terra was $7.83 billion.
On March 28, there was been a 16% spike in TVL on Ethereum to $9.65 billion. Solana also saw a spike of 21% to $360.66 million, and Terra saw a slight appreciation of 4% to $8.22 billion.
MakerDAO TVL stumbles
Maker (MKR) has a market capitalization of more than $2 billion which categorizes the token as a medium-cap digital asset. However, its total value locked has fallen behind Lido in the last week of March 2022.
On March 28, 2022, the total value locked (TVL) in MakerDAO was $17.5 billion. This was an 8.69% increase in the value locked in MakerDAO at the beginning of March. On Tuesday, March 1, 2022, TVL in MakerDAO was $16.1 billion.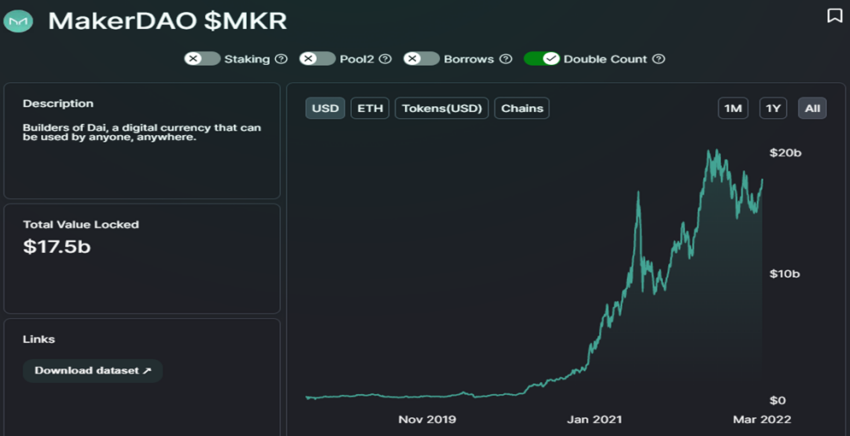 The end of February saw MakerDAO's TVL hit $15.02 billion. This figure was relatively lower than the protocol's TVL by the end of January 2022 which was $15.63 billion.
Launched on Ethereum as an ERC20 token, MakerDAO has not enjoyed the potential liquidity that could come from being deployed on other networks such as Terra, Solana, Avalanche, Cardano, TRON, and others.
This explains why growth in TVL has been smaller when compared to Lido which ensures liquidity from a broad range of investors on several blockchain networks.
Disclaimer
All the information contained on our website is published in good faith and for general information purposes only. Any action the reader takes upon the information found on our website is strictly at their own risk.