Despite a plunge in the total value locked in decentralized finance (DeFi) in 2022, Lido Finance continues to see a spike in TVL since March 1, 2022.
Lido Finance has been an essential part of the decentralized finance market in 2022. According to Be[In]Crypto Research, the protocol has gained 18% in TVL since the first day of March. On that day, Lido had a TVL of $13.83 billion, and this rose to approximately $16.43 billion on March 23, 2022.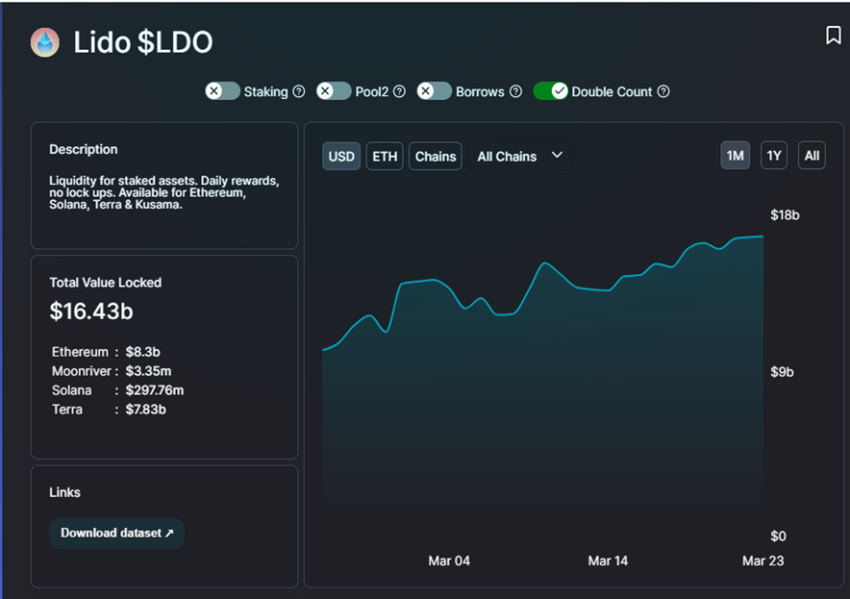 Lido is a liquidity staking protocol with an aim of growing the staking economy. Lido works by allowing users to stake their assets for staking rewards daily. There is no minimum as to what a user can stake and they can stake any amount of tokens they wish.
With Lido, several users are using their tokens as collateral for yield farming and lending among others. Some of the applications and services that have been integrated with Lido include but are not limited to 1inch, SushiSwap Onsen, Anchor Protocol, Ledger, MakerDao, Curve, and StakeEther.
What contributed to the increase in Lido's total value locked?
The chains with the most value locked in Lido Finance are Ethereum, Terra, and Solana.
For Ethereum, on March 22, 2022, data from Wu Blockchain (which tracks activity on the Ethereum Chain) pointed out that Three Arrows Capital has inflowed approximately $22.43 million, the equivalent of 7,500 ETH from FTX and Deribit.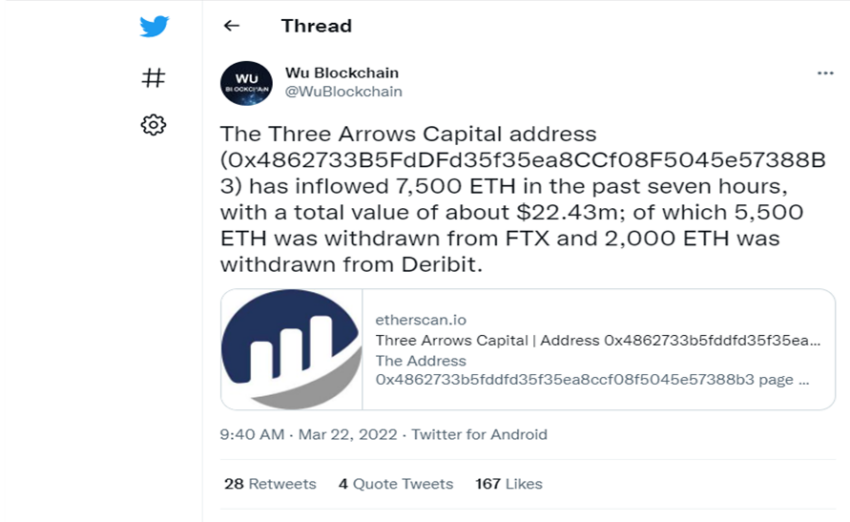 On the same day, through a third-party Ether wallet, the "Curve stETH pool" on Lido received 36,401 ETH worth approximately $110 million from Three Arrows Capital.
This automatically qualified the Singapore-based hedge fund manager to receive a minimum of 36,401 stacked Ether (stETH) tokens from Lido.
The purpose of this is to reduce slippage to the barest minimum when those tokens are unstaked for real Ether in addition to staking rewards.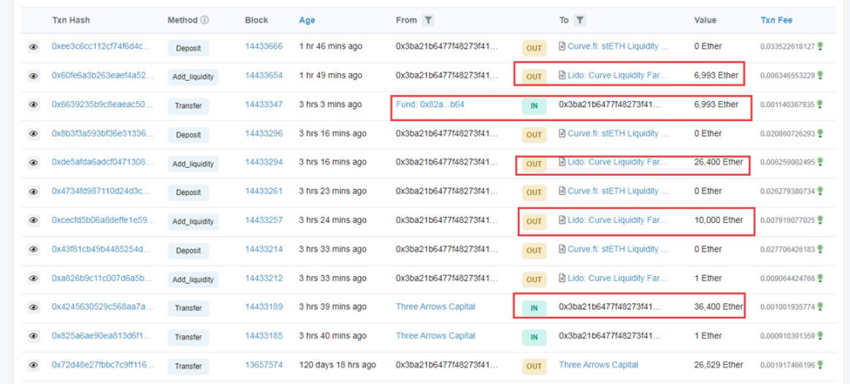 As of writing, Ethereum controls 50.17% of the total value locked in Lido which is worth $8.3 billion.
For Terra, the total number of stakers has increased from 223,733 on March 13 to 229,934 on March 23, 2022.
Terra controls 47.6% of the total value locked in Lido which is worth $7.83 billion.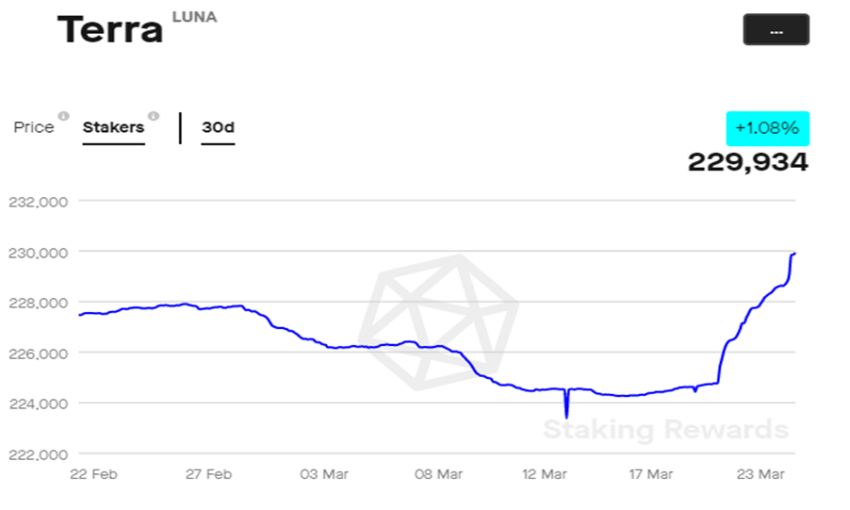 For Solana, the total number of stakers has increased from 311,419 on March 18 to 492,779 on March 22, 2022, a 58% spike in four days. Solana controls 1.1% of the total value locked in Lido which is worth $297 million.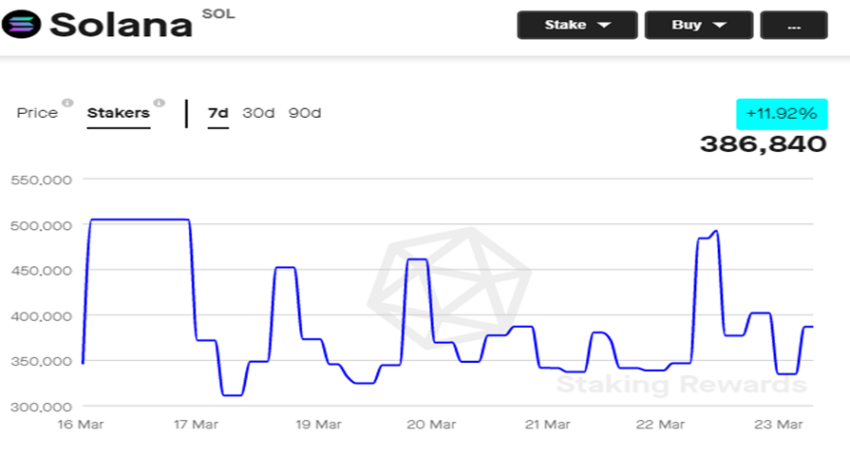 Activities on the aforementioned chains are largely responsible for the spike in total value locked in Lido.
What is the effect of the new TVL on LDO?
LDO opened on March 1, with a trading price of $1.96 and increased by 99% to reach a yearly high of $3.91 on March 22, 2022.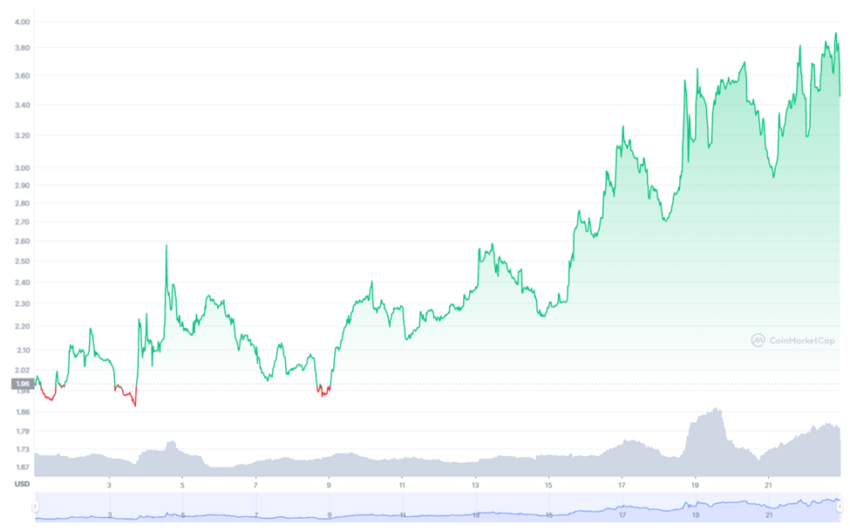 LDO continues to see at least $3 million as daily trading volume since Jan. 1, 2022, and trades between $2.69 and $3.91 in the last seven days.
Disclaimer
All the information contained on our website is published in good faith and for general information purposes only. Any action the reader takes upon the information found on our website is strictly at their own risk.