Decentralized trading protocols process billions of trading volumes daily, indicating just how popular they have become. While these numbers are staggering, DeFi protocols generally have complex user interfaces that likely deter their widespread global adoption. This is where the new Telegram trading bot, Unibot, comes in. This guide covers everything you need to know about Unibot and how it improves crypto's user experience.
Invest in Unibot token on the most popular exchanges with low fees
BingX
Up to 150x leveraged trading, copy trading and over 600 spot coins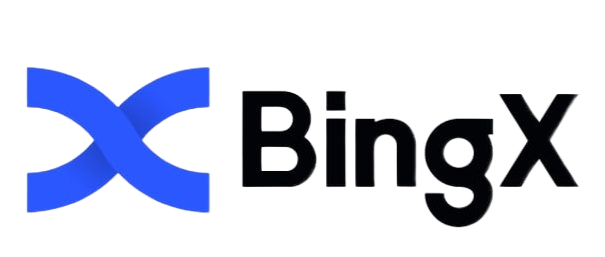 Explore BingX
On BingX's official website
Limited time offer
Bonus up to $5,000
MEXC
No spot trading fees, great liquidity for futures with 0 maker fees

Explore MEXC
On MEXC's official website
Limited time offer
Bonus up to $1,000
GateIO
Over over 1,700 cryptocurrencies available for trading

Explore GateIO
on GateIO's official website
Limited time offer
Reward up to $100
What is Unibot?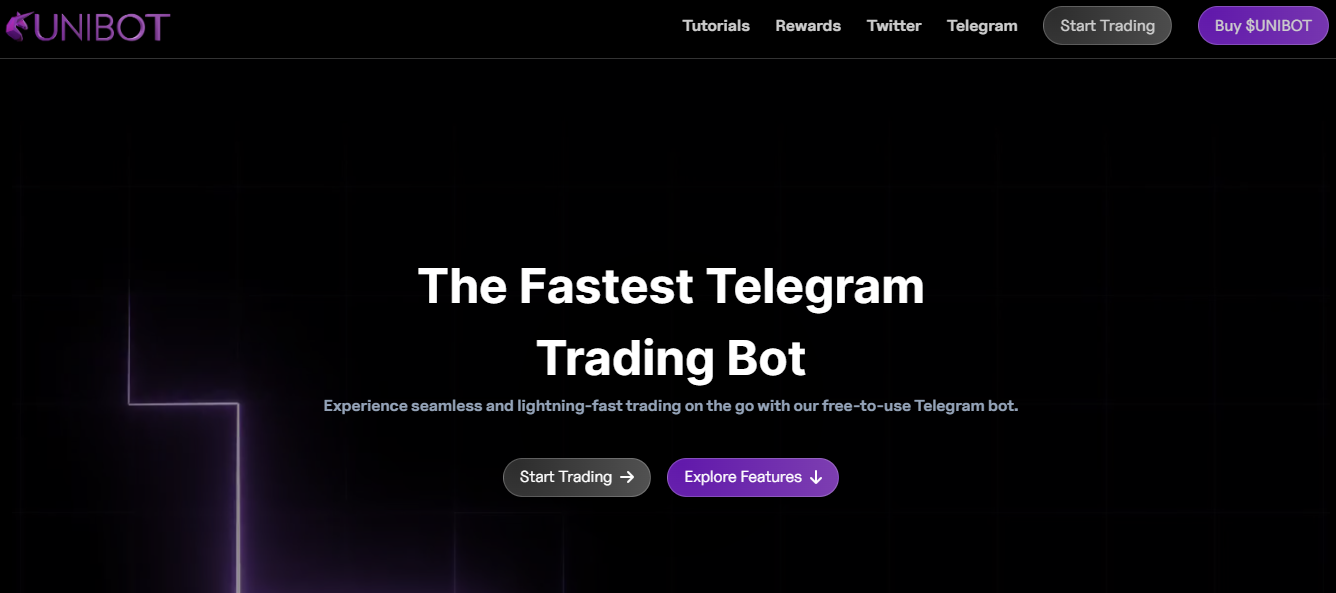 Unibot is a trading bot that allows DeFi users to buy and sell tokens on Uniswap V3 directly from their Telegram apps. The bot leverages Telegram to offer fast trades and a revenue-sharing opportunity for UNIBOT token holders. Telegram is a prominent instant messaging service popular in the web3 community, hosting many crypto telegram groups.
More specifically, Unibot is a Leveraged Liquidity Provision (LLP) platform that Diamond Protocol designed for Uniswap V3. It has become immensely popular since launching in May 2023, recording a decent rise in users and trading volumes in just a short span of time. A previous employee of Apple, called Ayden, founded the trading bot with a partner that hasn't been publicly named.
Unibot performance
As per Dune Analytics data, the bot has 1,458 daily active users. Each user makes an average of 26 trades. The bot's lifetime trading volume is presently $159.4 million, while the daily trading volume is $4.3 million.
The graph below illustrates user growth since the project's launch.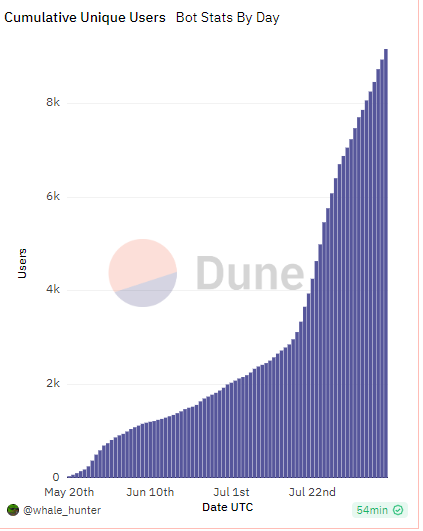 The 30-day moving average holder annual percentage yield (APY) is 21.75%. The annualized "earnings per share" is $39.41. Revenue has been rising as fees increase. As of August 8, 2023, cumulative fees surpassed the 5,000 ETH mark, as shown in the following graph.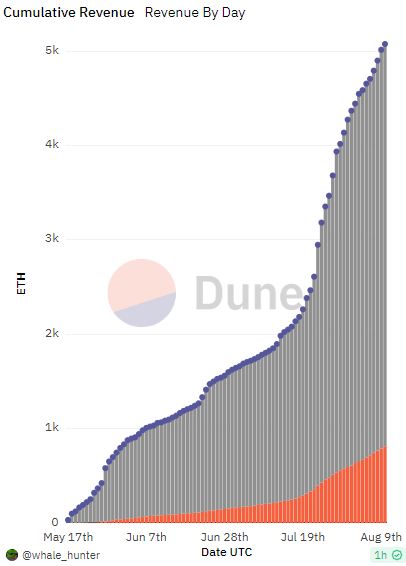 "[It] seems like this emerging niche of public trading bots could really pick up steam in crypto. Picked up a bag of UNIBOT to put some chips on it,"

Market Analyst Fabian D: Twitter
How does Unibot work?
Liquidity provision
Unibot uses a unique liquidity provision model that enables liquidity providers (LPs) to provide one token and borrow the volatile one from the pool. This approach to providing liquidity is different from the conventional method that requires LPs to supply both tokens of the trading pair.
Unibot's liquidity provision model is beneficial since it gives LPs a hedging effect. That means it permits LPs to short (sell) the volatile token they have borrowed, creating liquidity provision positions with diverse profit possibilities under varying market conditions.
Moreover, LPs could potentially enjoy high APRs through their liquidity positions by borrowing liquidity from the Unibot pool and leveraging the high liquidity in Uniswap V3. Unibot supports Uniswap V2 as well.
Uniswap V3 is the current version of Uniswap, one of the best decentralized exchanges in the crypto space today. The decentralized exchange (DEX) enables users to trade digital assets and supply liquidity to earn returns.
Trading
You can purchase and sell Ethereum tokens on Unibot from your wallet on Telegram. The bot enables you to import your personal wallet. Alternatively, once you register, you can use the three wallets it automatically creates.
Unibot will execute trades on your behalf using token pool contracts. All you have to do is select the wallet for the trade and create an order. Token pool contracts are identifiers for specific trading pairs on Uniswap V3.
Main features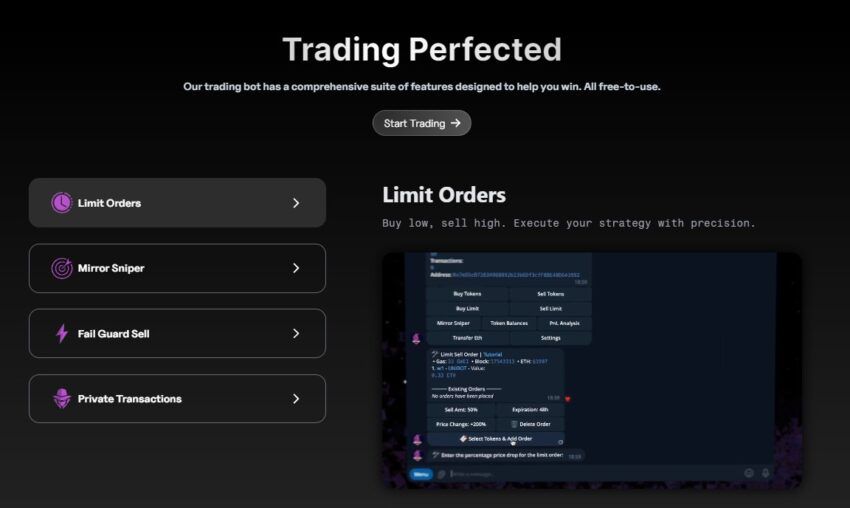 Limit orders
You can buy and sell tokens using limit orders. Limit orders automatically execute at the price you have specified. This feature allows you to use common crypto trading strategies like buying low and selling high.
Private transactions
Using private transactions, you can protect your trades from miner extractable value (MEV) bots and minimize the risk of a sandwich attack. MEV bots are software programs that identify and exploit profitable opportunities on Ethereum. They use various strategies like sandwiching or arbitrage. Sandwich attacks trap users' trades between two transactions, allowing the bot to manipulate them.
Mirror sniper
This feature permits you to copy the trades of successful wallets, allowing you to trade like a pro. Mirror sniping can help beginners potentially profit from the strategies of more experienced traders.
Multi-wallet swaps
You can manage multiple wallets and execute swaps simultaneously on all of them. This feature offers users efficiency and flexibility.
Method sniper
Through this function, users can buy tokens immediately after they are launched. You can add up to five token addresses for sniping.
Fail guard
The fail guard feature enables you to test your order in advance to see if it will fail. This option helps you save on gas fees while maximizing your order's selling or buying potential.
How to set up and use an Unibot account
Download the Telegram app if you don't have it already. You can download the messaging app on your phone or computer.
Open the Unibot website on your browser.
Click the "Start Trading" button in the top right corner of the home page. In this example, we will use the Telegram desktop app. You can follow the same steps on your smartphone.
Click "Open Telegram Desktop." You'll be redirected to Unibot on your Telegram app.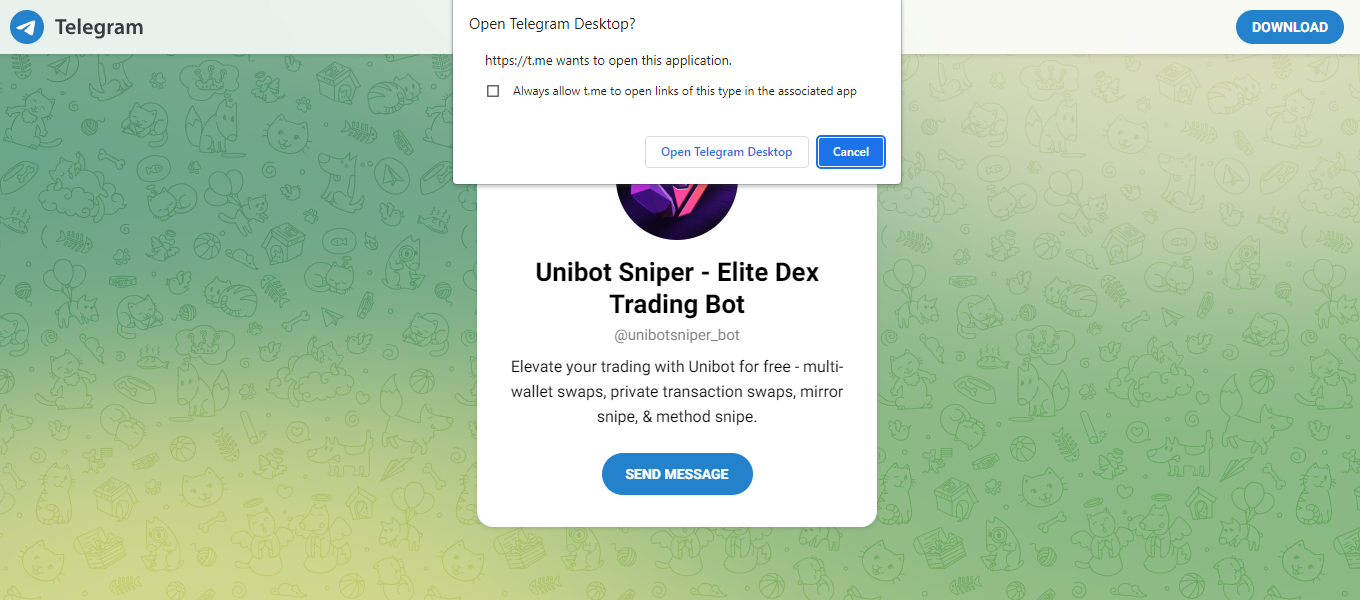 Launch the bot by clicking "Start."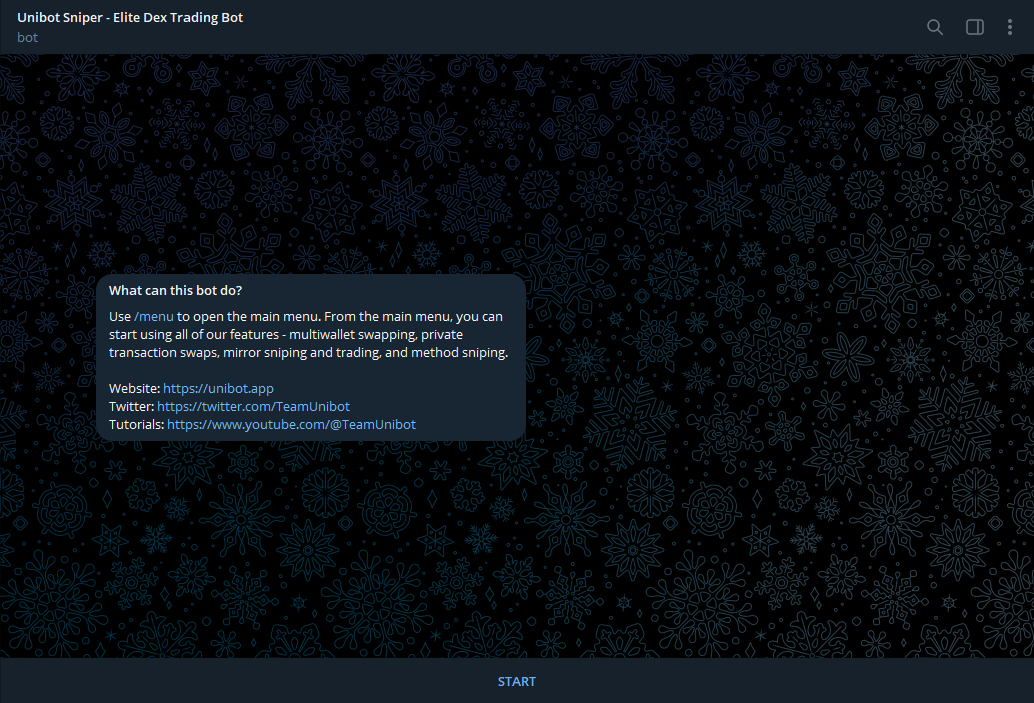 A welcome message will appear, and the bot will give you three wallets you should fund with ETH to begin trading. Alternatively, import your existing Ethereum wallet(s) and use it to replace any of the Unibot wallets. To replace and import a wallet, go to the settings option.
You'll also see a list of features at the bottom of the welcome message.

Copy the address of any of the three wallets and paste it into your Ethereum wallet to transfer ETH. So, for instance, you can paste the address on MetaMask if you have an ETH balance.
Once the transaction is complete, refresh Unibot to view the new balance.
How to buy tokens on Unibot
Pick the wallets you want to purchase tokens for.
Choose the amount you want to buy or create a custom one. The buy amount is the amount of ETH you want to spend. Also, activate private transactions and fail guard.
To create a custom amount, click "Custom" and type the amount of ETH you wish to spend.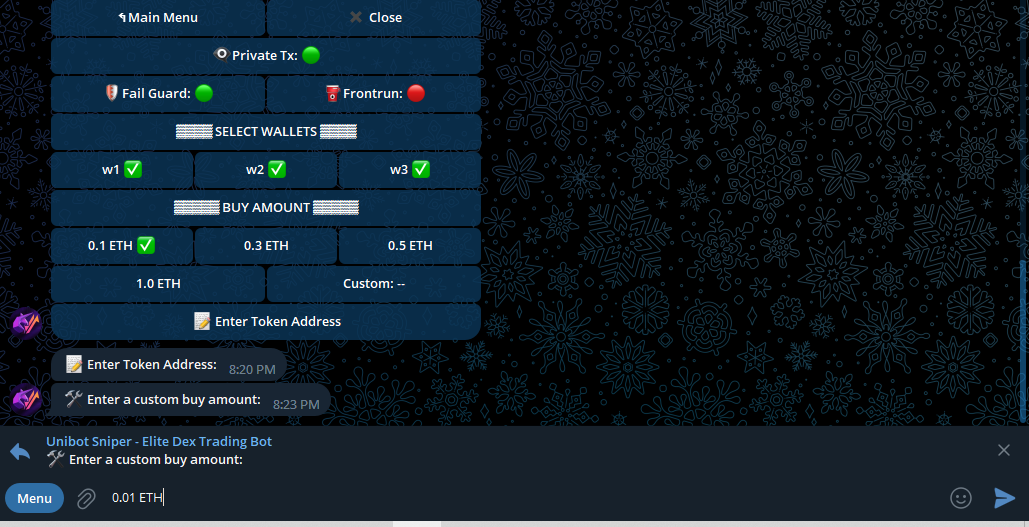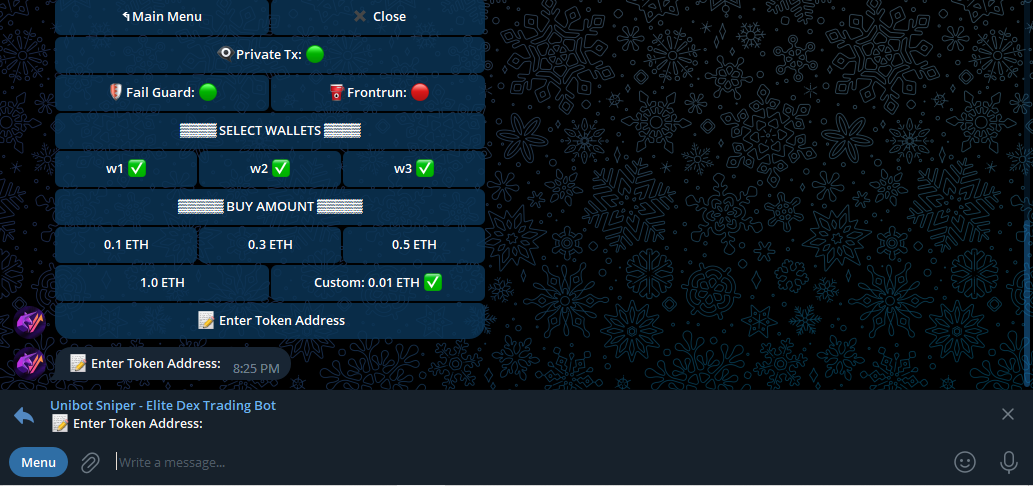 You can enable the front-run button if you want Unibot to place your trade ahead of other buys of that token.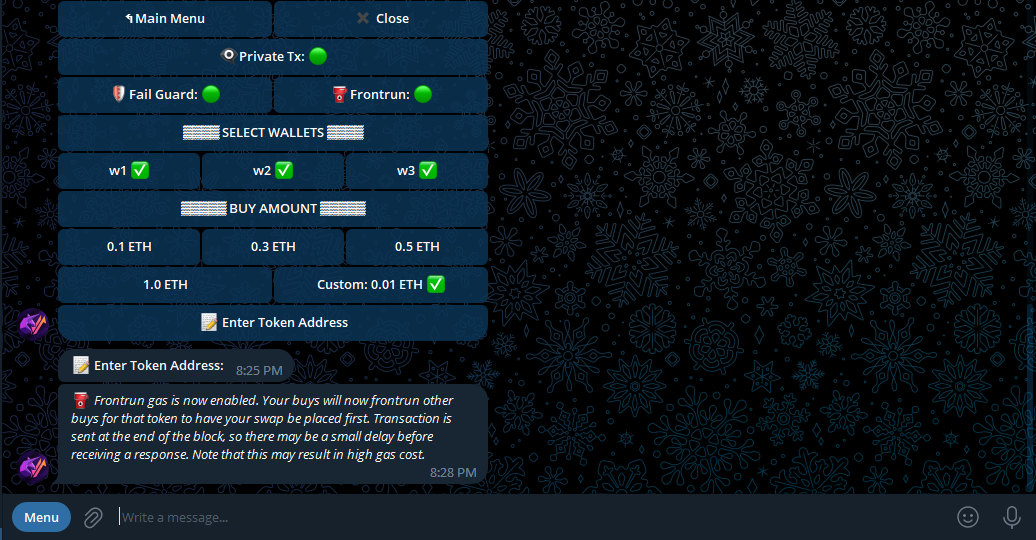 Next, enter the contract address of the token you want to buy. For instance, copy and paste the contract address of WBTC if that's the token you wish to purchase. You can find the token's contract on Etherscan.

Hit enter to swap ETH for WBTC.
Once the transaction is complete, Unibot will post a message with the transaction details, including the gas fees spent.
How to sell tokens on Unibot
Open Unibot on Telegram.
Type /menu and hit enter to view Unibot's features.
Go to "Sell Tokens" to sell the tokens you previously acquired.

Enable private transactions, fail guard, and front run if you wish.
Select the percentage of token holdings you wish to sell. For example, 50% means you'll sell half of your bag.
Next, pick the wallet or wallets holding the WBTC you want to sell. To illustrate, type "1,2" if you're going to sell the WBTC in wallets 1 and 2.
Send the message.
Unibot will execute the trade almost instantly and post the transaction results. Additionally, it will indicate the gains you made via the sale.
How to use Mirror Snipe
From the main menu, select "Mirror Snipe."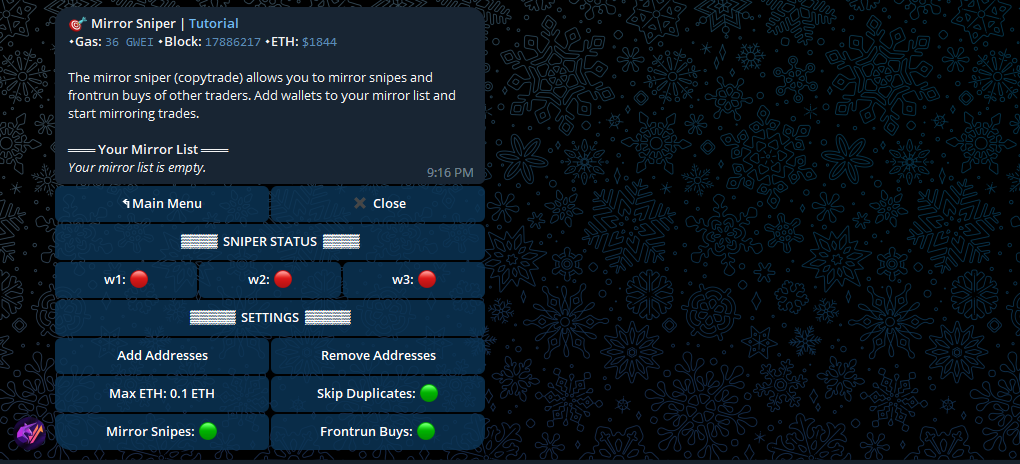 Click "Add Addresses" to add the wallets whose trades you want to copy.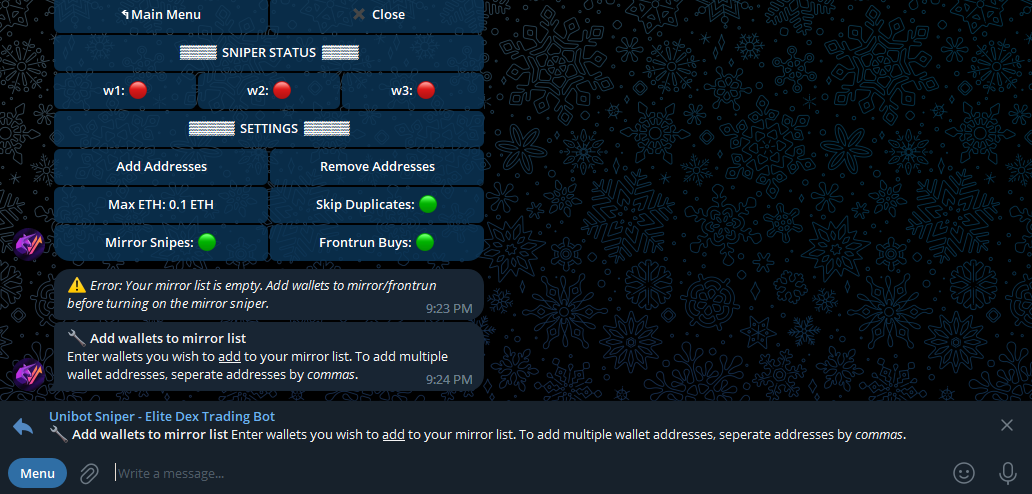 Paste the address and send the message.
Next, select a wallet. Also, take note of the "Max ETH." The transaction will spend up to this amount. You can edit this amount after selecting a wallet.
The bot will automatically mirror the trades the added address(es) make.
UNIBOT tokenomics explained
The native token of Unibot is UNIBOT. It has a maximum supply of 1 million tokens with a daily burn rate of 0.1%. The project added 100% of the token's supply to the circulating liquidity at launch.
UNIBOT holders get 40% of transaction fees on the bot and 1% of the tax fees UNIBOT trades generate. Moreover, they enjoy a 20% reduction on fees for swapping tokens on Unibot. Only users with ten or more UNIBOT tokens can receive these perks.
Under the revenue-sharing model, token holders can only claim rewards once the total is 0.1 ETH or more. As of mid-August 2023, the cost of 1 UNIBOT token is $172.33, according to CoinMarketCap data. Furthermore, its market cap is $172.3 million, making it one of the most valuable Telegram bot coins.
The graph below displays UNIBOT's price action since its launch.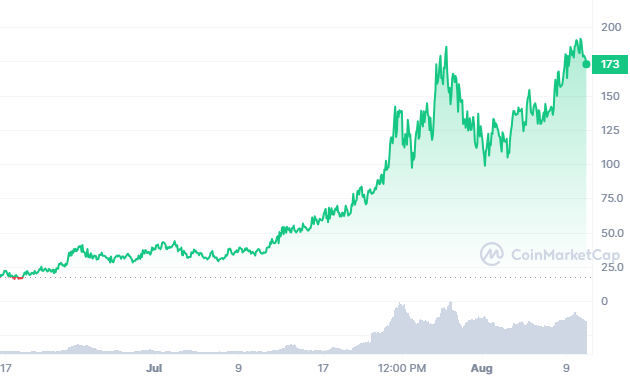 Did you know? Each UNIBOT trade attracts a 5% tax that goes to the tax pool? Once the tax pool hits the threshold of 200 UNIBOT, the project converts the coins to ETH and distributes them. 1% of this tax is allocated for liquidity provision, while 1-2% goes to token holders. 2% of the tax takes accrues to the team and takes care of operating expenses. The tax pool balance presently stands at 46.79 UNIBOT.
Benefits of using Unibot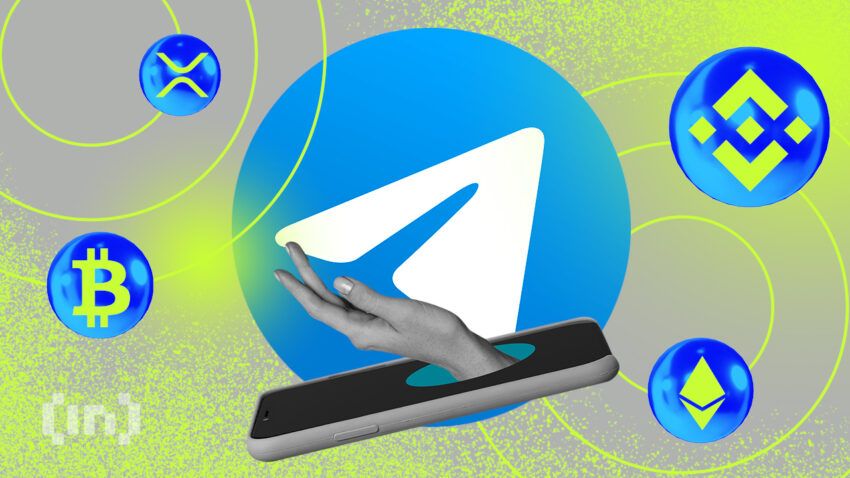 Free to use
Unibot doesn't charge a subscription fee for you to use it. The only cost you incur is Ethereum network and tax (for UNIBOT trades only) fees.
Fast trades
Unibot offers near-instant trades thanks to its robust infrastructure and advanced algorithms.
User-friendly interface
It leverages a familiar and easy-to-use messaging app that makes DeFi trading less intimidating.
Suitable for beginners
The friendly user interface and the mirror snipe feature make Unibot suitable for trading beginners. Also, the bot recommends trading strategies like frontrunning, which traders can enable with a simple click of a button.
Token holder incentives
Unibot incentivizes users to hold UNIBOT through a generous revenue-sharing model and reduced swapping fees.
MEV protection
Private transactions protect trades from MEV bots, keeping them safe from sandwich attacks. This feature ensures that users can trade without worrying that someone will manipulate their transactions for their own gains.
Drawbacks of using Unibot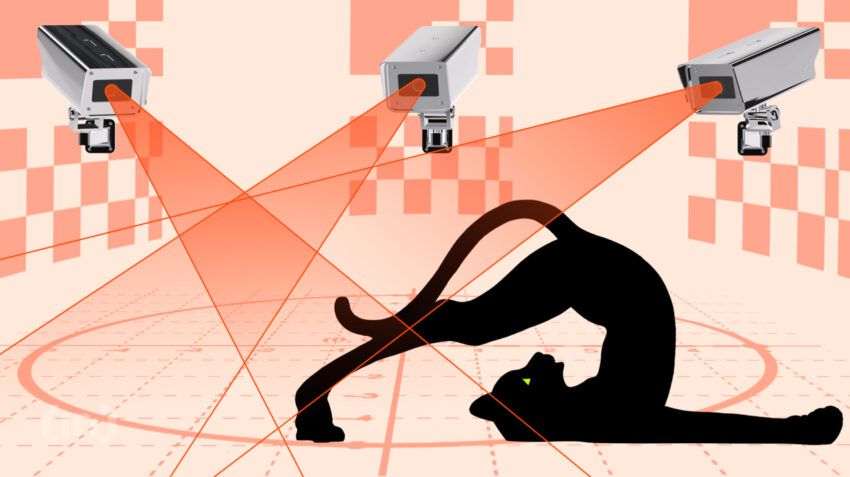 Security issues
Security company Quantstamp conducted a security audit of Unibot in 2022, discovering 34 issues. 2 of the 34 security problems were high-risk. Unibot has since resolved 27 of those issues, including all the high-risk concerns.
Limit for claiming revenue
UNIBOT token holders cannot claim their revenue until it accumulates to 0.1 ETH.
Custodial wallets
Unibot assigns users custodial wallets whose private keys are stored in the cloud. Therefore, using these wallets could put users' funds at risk of theft.
Tax fees
Besides network fees, traders must pay a 5% tax on each UNIBOT trade. This extra fee could make trading UNIBOT expensive when combined with Ethereum's gas fees.
Unibot: a DeFi supercharger?
Unibot could appeal to DeFi newbies looking for an easy and fast way to swap tokens. By leveraging Telegram, Unibot gives users a familiar interface that makes DeFi trading less complex. However, users must stay vigilant due to unresolved security issues on the platform. Also, traders should take precautions by importing non-custodial wallets to Unibot instead of using the platform's recommended custodial wallets.
Revenue sharing is another enticing selling point for Unibot. Nevertheless, token holders should be aware that holding UNIBOT is a risky investment like any other. As a result, carrying out thorough research before purchasing UNIBOT tokens is crucial.
Frequently asked questions
Can I use Unibot for free?
How many Telegram bot coins are there?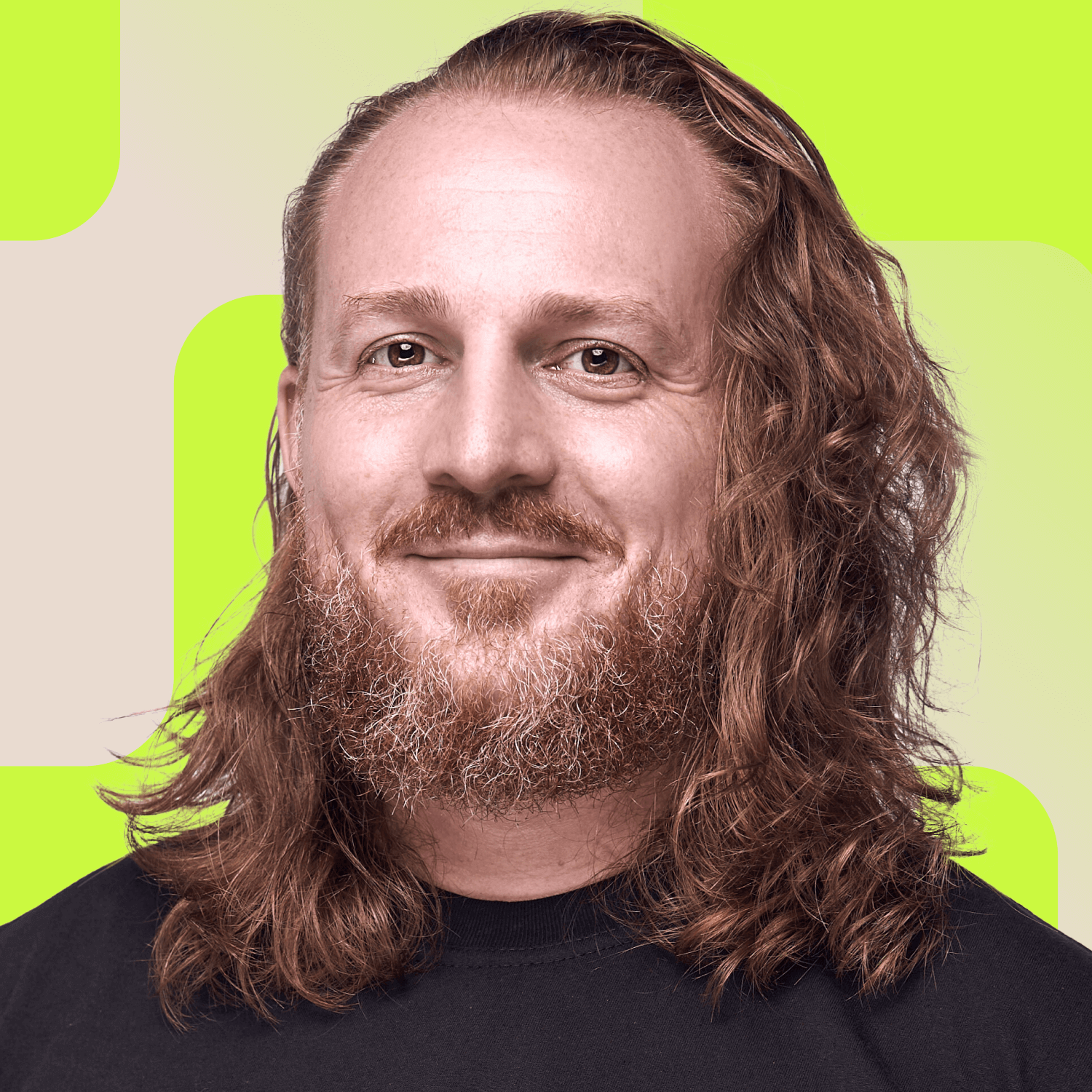 Alex Lielacher is the founder & CEO of Rise Up Media, a content marketing agency that works with bitcoin businesses that are changing the world. He first came across bitcoin...
Alex Lielacher is the founder & CEO of Rise Up Media, a content marketing agency that works with bitcoin businesses that are changing the world. He first came across bitcoin...
READ FULL BIO
Sponsored Sponsored