The crypto space may have been through a bit of a slowdown of late, along with the rest of the financial markets, but the enthusiasm surrounding it is certainly not waning. In fact, it continues to be on an uptrend, reflecting the ever-growing number of events targeted at the burgeoning sector.
But let's face it — whether you are a crypto enthusiast, a savvy investor, a blockchain geek, or someone just new to the asset class, it is becoming increasingly tougher to keep up with all the events, conferences, and summits. With that in mind, we have compiled a list of some of the most popular events you might want to mark in your crypto events calendar for 2023.
Want to get all hottest crypto news and know what PRO traders do in a rough time? Join BeInCrypto Trading Community on Telegram: read news, ask technical analysis and get answers on all your questions from PRO traders!
Top crypto events in Europe in 2023
Paris Blockchain Week
When: Mar. 20-24, 2023
Where: Paris, France
Website : https://www.parisblockchainweek.com/pricing?
Get an additional 15% discount on a Standard, Investors or Whale ticket to Paris Blockchain week 2023 using the promo code MBEINC15
Paris Blockchain Week returns 20th – 24th March 2023 at a new venue, the world's largest museum and home to some of the most iconic art collections – le carrousel du LOUVRE. Paris Blockchain Week is one of the most influential global events in the blockchain industry where some of the greatest minds meet in person.
It's where business leaders, investors, entrepreneurs and developers gather to ideate and drive progress. World renowned speakers from the best blockchain and Web3 companies share their stories and insights on the market and its prospects. The Fourth Edition is set to welcome 10,000+ attendees, 400+ speakers, 300+ sponsors, 60% C-level+ executives, 400+ media partners and journalists.
Top speakers:
Joseph Lubin (Co-founder of Ethereum, CEO & founder of ConsenSys)
Alexis Ohanian (Founder of Seven Seven Six)
Silvio Micali (Founder of Algorand)
Jean-Noël Barrot (French Minister for Digital Transition and Telecommunications)
Stephane Kasriel (Head of Commerce and Financial Technologies META)
Tim Draper (Founder of Draper Associates)
Denelle Dixon (CEO of Stellar Development Foundation)
Yat Siu (CEO of Animoca Brands)
Amar Amlani (head of EMEA Digital Assets, Goldman Sachs)
Brad Garlinghouse (CEO of Ripple)
Steve Huffman (CEO, Reddit)
Paolo Ardoino (CTO of Bitfinex & CTO of Tether)
Jeremy Allaire ( Co-Founder, Chairman and CEO of Circle)
Eden Shochat (Equal Partner, Aleph VC)
Robby Yung (CEO, Animoca Brands)
Ryan Selkis (Co-Founder & CEO of Messari)
Zebu Live
When: Oct. 4–5, 2023
Where: London, UK
Website: zebulive.xyz
Get an additional 15% discount on a ticket to Zebu Live 2023 in London using the promo code BeInCrypto_ZL15
Zebu Live invites 200+ speakers and over 3000 crypto, NFT, and DeFi professionals to London for an unmissable two-day immersive experience. The event's primary focus? To bring the changemakers of web3 together with TradFi, legacy, and web2 organizations, furthering mainstream blockchain adoption.
Attendees enjoy unbeatable networking sessions, an NFT gallery, workshops, start-up pitch competitions, and of course, luxe London after-parties. The main stage will be live-streamed to 10,000+ people worldwide through YouTube. Events speakers include:
Ashumi Sanghvi – Metaverse Alchemist, Founder & CEO, Mad Global
Filippo Chisari – Web3 Adoption and Enablement
Nico Fara – Founder & Leader of The Fashion Dao™ & Chief Metaverse Officer™
Adriana Hoppenbrouwer-Pereira – Co-Founder, The Fabricant
Nikita Cikaluk – Rug Radio "Origensxyz" & "We" In Web3 Host
Jean-Charles Gaudechon – CEO, Onefootball
Nikita Fadeev – Partner and Head of Fasanara Digital, Fasanara Capital
Oliver Linch – CEO, Bittrex Global
Olaoluwa Dada – COO, Niyo
Oliver Yonchev – Co-Founder & CEO, Flight Story
NFT Show Europe
When: July 14–15, 2023
Where: Valencia, Spain
Website: www.nftshoweurope.com
NFT Show Europe is a strong contender for the title of the "biggest crypto art and blockchain event in Europe." And that despite the fact it is the inaugural edition of the event that took place just a few months back. However, it was a smashing hit among participants and attendees, which has set the bar even higher for the organizers as the event prepares to make a comeback next summer.
The event serves as a platform for artists, businesses, digital art collectors, and the broader crypto community to share their views on NFTs, metaverse, blockchain, and basically all thing crypto. Art exhibits were one of the prime attractions in the inaugural edition as they showcased many different art forms, such as AR and digital collectibles. There were also huge collections of interactive and glitch art in addition to the talks, debates, meetups, and side events.
The list of prospective speakers is expanding and as of press time, features big industry names such as:
Hide Uehara (Square Fenix)
Sam Hamilton (Decentraland)
Irina Karagyaur (Polkadot)
Laurent Perello (Tron Dao)
Doru Borsan (Neotech.Finance)
Meta Mori (first Bored Ape VTuber)
David Moreno (W3ST)
Blockchain Expo Europe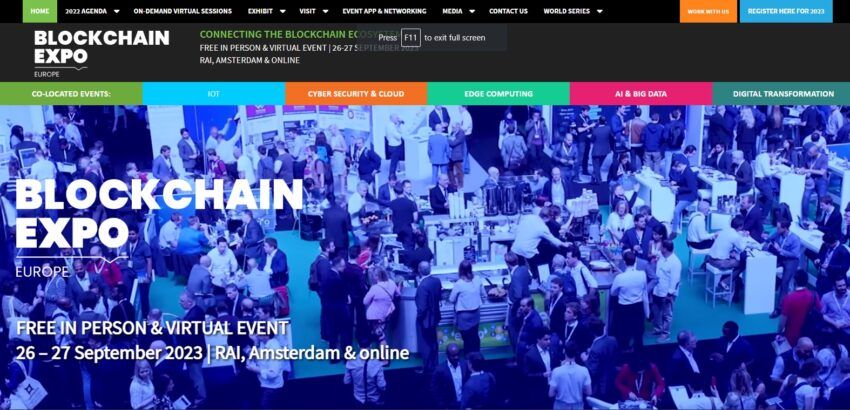 When: Sept. 26–27, 2023
Where: RAI, Amsterdam and online
Website: www.blockchain-expo.com/europe
The European chapter of the Blockchain Expo will take place next year in September as an in-person and virtual event. Just like in the past editions, the expo this year will bring together key industries from all over the world across six co-located events. These are IoT, AI and big data, cybersecurity and cloud, edge computing, and digital transformation.
Judging by past track records, the organizers are expecting a turnout of over 7,000 attendees. And as always, there will be plenty of solution-based case studies, live demos, and networking opportunities, along with other top-level content.
The list of speakers for the 2023 edition is yet to be finalized.
Top crypto events in Asia in 2023
WOW Summit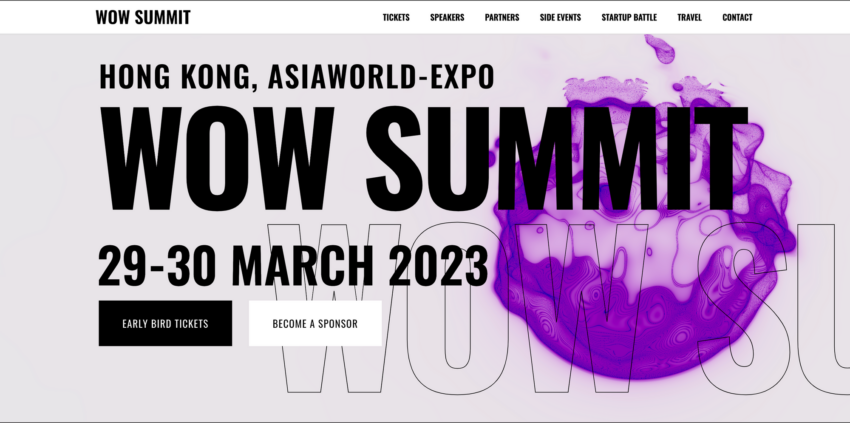 When: March 29–30, 2023
Where: AsiaWorld-Expo, Airport Expo Blvd, Chek Lap Kok, Hong Kong
Website: wowsummit.net/hong-kong-mar-2023/
Get an additional 20% discount on a ticket to WOW Summit 2023 in Hong Kong using the promo code WOWBIC
WOW Summit has been in many countries and now it is coming to Hong Kong in the APAC region with rapidly developing Web3. After opening borders and lifting the Covid restrictions its government decided to hold this event to make Hong Kong a leading hub in Web3 and Virtual Assets space. The organizers have developed a program for everyone: entrepreneurs, digital artists, startups, developers, investors and government.
Join the summit to meet industry leaders, meet and greet new outstanding startups in the industry, find relevant projects for collaboration, funds and VCs, explore new NFTs, discuss the latest Web3 news!
On the WOW Summit you will hear speeches from:
Yat Siu, Co-Founder & Executive Chairman at Animoca Brands
Dave Chapman, Executive Director of BC Group
Angelina Kwan, Chief Executive Officer at Stratford Finance Limited
Whaleshark, Founder of WHALE and E1337
Gillian Howard, Founder & Fair Director at Digital Art Fair
Alessio Quaglini, CEO & Co-Founder of Hex Trust
Minh Do, Co-Chief Operating Officer at Animoca Brands
More speakers will be joining! Keep an eye on the program of the event on its official website.
World Blockchain Summit Dubai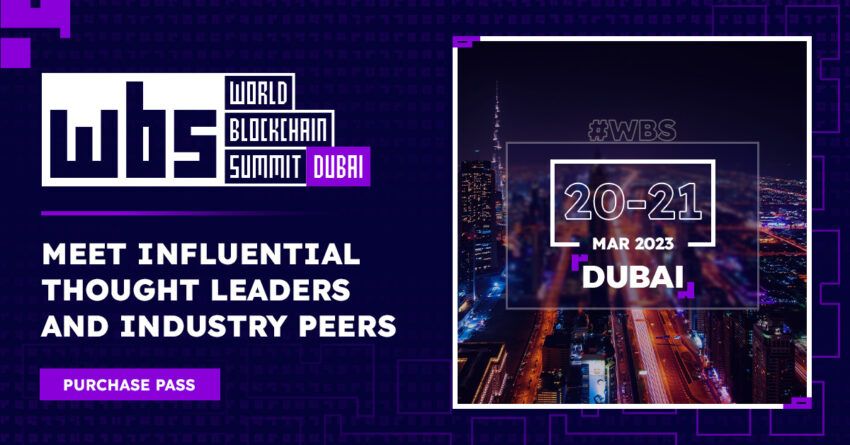 When: March 20–21, 2023
Where: Atlantis The Palm, Dubai, UAE
Website: https://www.worldblockchainsummit.com/
Get an additional 15% discount on a ticket to World Blockchain Summit Dubai using the promo code BEINCRYPTO15
The World Blockchain Summit Dubai is the premier Blockchain and Crypto event in the Middle East. WBS Dubai is the flagship event of the World Blockchain Summit Global series that takes place in 11+ countries around the world. We have successfully organized 23 global editions in several countries such as Dubai, Singapore, Germany, Netherlands, Taiwan, Malaysia, India, Mauritius, etc.
We bring together government officials, institutional investors, family offices, hedge funds, asset allocators, crypto-entrepreneurs, IT leaders, and global media to LEARN, BUILD and GROW!
The conference gathers over 4000+ delegates and will take place over two days on the 20th & 21th of March 2023. In addition to the conference, we will also be hosting exclusive networking events, after-parties, and networking dinners over an exciting two days.
The speaker lineup for the Dubai event 2023 includes:
Sunny Lu, Co-founder/CEO, Vechain Foundation
Helen Hai, Executive VP Binance, Head of Binance Charity, Binance
Max Kordek, CEO and Co-founder, Lisk
Reece Merrick, Senior Director, Global Strategic Partners, Ripple
Dr Hoda Alkhzaimi, Co-chair, The world economic forum global cyber security future council on cyber security and President, Emirates Digital Association for Women
André Jr. Ayotte, Partner (Africa), Modus Capital
Joseph Collement, General Counsel, Bitcoin.com
Alex Zinder, Global Head, Ledger Enterprise
Irina Karagyaur, Founder, BQ9
Dina Sam'an, Founder and Managing Director, CoinMENA
Herve Francois, Partner – Private Equity, Blockchain and Digital Assets, Investcorp
Uldis Tēraudkalns, CEO, Nexpay
David Palmer, Chief Product Officer and co-founder of Vodafone's Digital Asset Broker (DAB) platform
Michael Sung, Chairman/CEO, FreeFlow Finance
Alex Chehade, Executive Director and General Manager of Binance, Binance
Johnson Yeh, Founder/ CEO, Ambrus Studios
Dr Sid, Dubai Government Advisor, Government of Dubai
Feroz Sanaulla, Partner, Roland Berger
Michael Sung, Chairman, FreeFlow Finance
Saqr Ereiqat, Co-founder, CryptoOasis
Jean-Charles Gaudechon, CEO, One Football Labs
Mona El Isa, Co-founder and CEO, Avantgarde, Enzyme
Nena Dokuzov, National representative in European Blockchain Partnership, Republic of Slovenia
Mirko Maccarrone, Director, Web 3 LIGHTBLUE
Erwin Voloder, Senior Policy Fellow, European Blockchain Association
Token2049 Singapore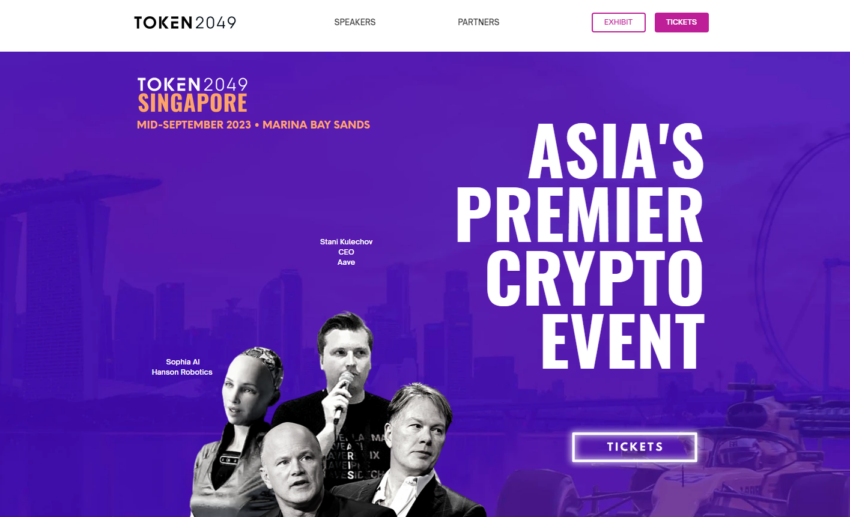 When: Mid-Sep., 2023
Where: Marina Bay Sands, Singapore
Website: www.asia.token2049.com
Mark your crypto events calendar for 2023 as the Asian chapter of the global premier crypto event Token2049 prepares to make a comeback in September. The event serves as a hub for crypto pioneers, developers, investors, thought leaders, and other industry stakeholders to meet, debate, and discuss key topics affecting the broader crypto space
The two-day event will be packed with activities such as workshops, meetups, hackathons, networking events, and so on.
The 2022 edition of the event saw many big names in the speaker lineup, including the likes of Binance Head of Investment Bill Qian, Polygon Co-founder Sandeep Nailwal, and Tezos Co-founder Kathleen Breitman, among others. Speakers for the 2023 edition have not been finalized yet.
Top crypto events in North America in 2023
Consensus 2023 by CoinDesk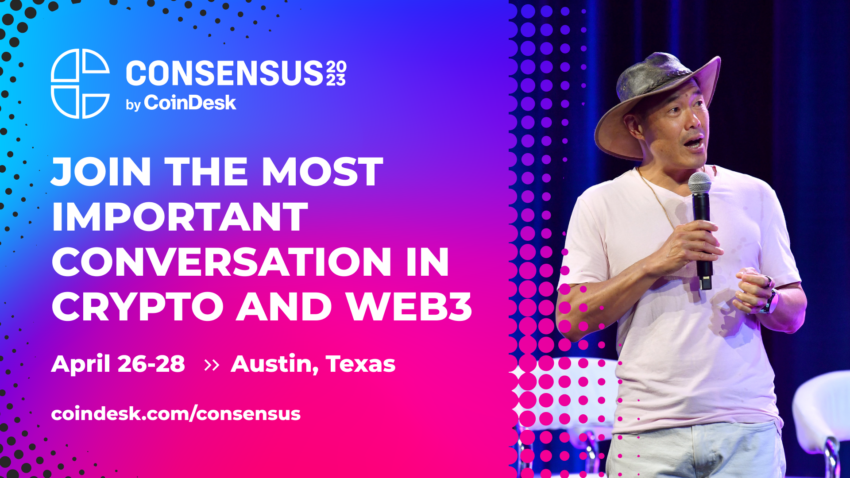 When: April 26–28, 2023
Where: Austin, Texas, USA
Website: https://consensus.coindesk.com/
Get an additional 10% discount on a ticket to Consensus 2023 by CoinDesk event in Austin using the promo code BEINCRYPTO
Consensus, the world's largest, longest-running and most influential crypto and Web3 event, is returning to Austin April 26-28!
Since 2015, Consensus has served as grounds for calibration, collaboration and resolution for thousands of professionals and builders from around the world forging the future of finance and the new digital economy.
There has never been a more important time to bring together all sides of the crypto, Web3, blockchain and metaverse communities than now. In the wake of the most tumultuous year in crypto history, it's a time to rebuild.
Consensus 2023 is a call to action for developers, investors, founders, policymakers, brands and more to come together and find solutions to crypto's thorniest challenges and finally deliver on the technology's transformative potential.
Top Speakers:
Jenny Johnson, President and CEO,Franklin Templeton
Daniel Alegre, CEO, Yuga Labs
Christy Goldsmith Romero, Commissioner, U.S. Commodity Futures Trading Commission
Yat Siu, Co-Founder and Executive Chairman, Animoca Brands
Chelsea Manning, Security Consultant, Nym Technologies
Illia Polosukhin, Co-Founder, NEAR Protocol
Cynthia Lummis, U.S. Senator, WY, U.S. Senate
William Shatner, Actor
Caitlin Long, CEO, Custodia Bank
Edward Snowden, President, Freedom of the Press Foundation
Bitcoin 2023
When: May 18–20, 2023
Where: Miami Beach, Florida
Website: www.b.tc/conference/bitcoin2023
Get an additional 10% discount on a ticket to Bitcoin 2023 event in Miami using the promo code BEINCRYPTO
Bitcoin 2023 is scheduled to make a comeback in Miami Beach next May. As always, the event promises to celebrate the world's first and most popular cryptocurrency with a large gathering of "bitcoiners" over three days of educational content, discussions, and workshops, among other activities.
Some of the most prominent names to have already been featured in the speaker lineup include:
Michael Saylor (Chairman & CEO at MicroStrategy)
Lyn Alden (Financial Analyst)
Stacy Herbert (Partner at El Zontle Capital)
Zoltan Pozsar (Managing Director at Credit Suisse)
Alex Gladstein (CTO at Human Rights Foundation)
OBI Nwosu (CEO at Fedi)
Blockchain Expo, North America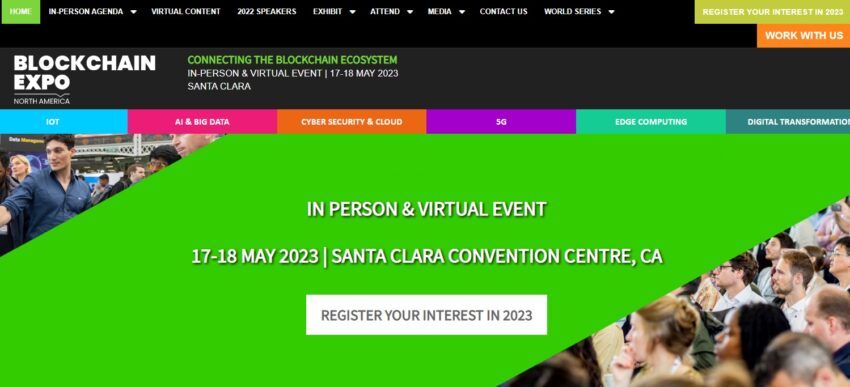 When: May 17–18, 2023
Where: Santa Clara Convention Center, California
Website: www.blockchain-expo.com/northamerica
Over 5,000 attendees are expected to participate in the event, including CTOs, heads of innovation and technology, IT directors, telecom providers, and developers.
There is a high-profile speakers lineup featuring 250 experts sharing their knowledge and insights about the industry. The event will include solo presentations, panel discussions, fireside chats, networking events, and so on.
The lineup of speakers for the upcoming edition is not final yet. Although, you could check out the 2022 speakers for a gist of what to expect.
ETH Denver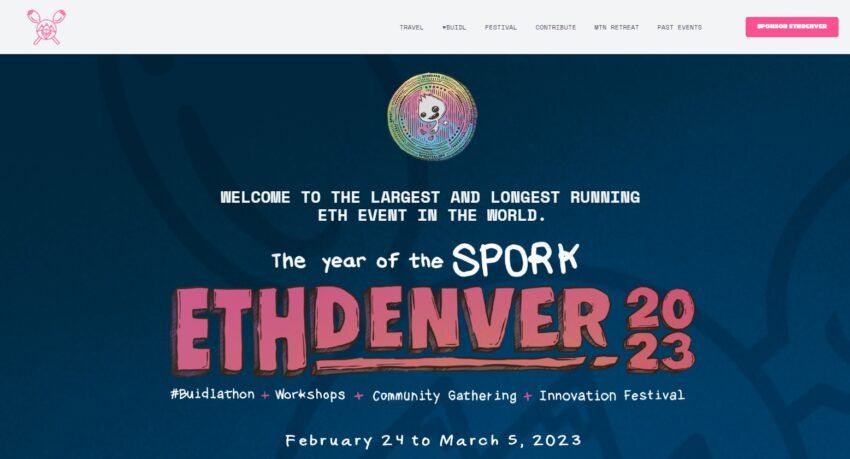 When: March 2–5, 2023
Where: Denver, Colorado
Website: www.ethdenver.com
While the main event will kick off on March 2, the side events will start much earlier. BuildlWeek, the crypto and blockchain education-focused leg of the broader event, will take place from Feb. 24 to March 1. It is open to the public and will include tech demos, panel discussions, and workshops; all designed to empower and educate.
The main event will begin on March 2 and it will include the world's largest #BUIDLathon (or hackathon) targeted at the Ethereum ecosystem (among other activities). Following #BUIDLathon, the third leg will start with a mountain retreat from March 6–9.
Mark your calendar already
So, what are you waiting for? Start marking your crypto events calendar for 2023 already. However, do note that given the sheer high number of crypto events taking place globally, this list is far from being exhaustive. But we promise to continue updating it as more and more events confirm their schedules and other details.
What are cryptocurrency events?
Cryptocurrency events are basically events that focus primarily on cryptocurrencies and blockchain along with their offshoots such as NFTs, DeFi, metaverse, and so on.
Where can I find upcoming crypto events?
Please refer to the list abobe to familiarize yourself with some of the most popular crypto events scheduled for 2023. We will be periodically updating the list with more events.
What are the best upcoming crypto events in 2023?
A few examples would be: MetaWeek Dubai , NFT Show Europe, Token2049 Singapore, Blockchain Expo 2023,  Blockchain Expo 2023 North America, Blockchain Economy Dubai Summit, Crypto Expo Dubai 2023, Future Blockchain Summit, Devcon Bogotá, World Blockchain Summit.
Disclaimer
All the information contained on our website is published in good faith and for general information purposes only. Any action the reader takes upon the information found on our website is strictly at their own risk.
At Learn, our priority is to provide high quality information. We take our time to identify, research and create educative content that is useful to our readers.
To maintain this standard and to continue creating awesome content, our partners might reward us with a commission for placements in our articles. However, these commissions don't affect our processes for creating unbiased, honest and helpful content.