The crypto space may have been through a bit of a slowdown of late, along with the rest of the financial markets, but the enthusiasm surrounding it is certainly not waning. In fact, it continues to be on an uptrend, reflecting the ever-growing number of events targeted at the burgeoning sector.
But let's face it — whether you are a crypto enthusiast, a savvy investor, a blockchain geek, or someone just new to the asset class, it is becoming increasingly tougher to keep up with all the events, conferences, and summits. With that in mind, we have compiled a list of some of the most popular events you might want to mark in your crypto events calendar for 2023.
Want to get all hottest crypto news and know what PRO traders do in a rough time? Join 
BeInCrypto Trading Community on Telegram
: read news, ask technical analysis and get answers on all your questions from PRO traders!
Top crypto events in Europe in 2023
Blockchain Economy London Summit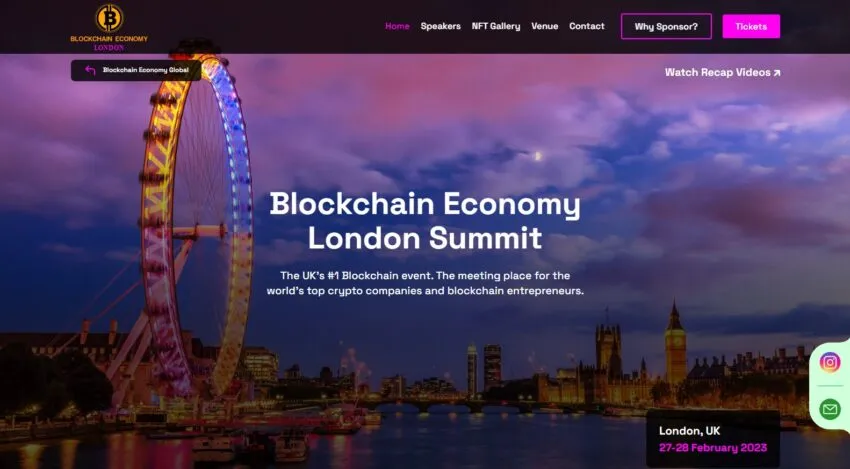 When: Feb. 27–28, 2023
Where: 11 Ordnance Crescent, London SE10 0JH
Website: www.blockchaineconomy.london
The sixth edition of the Blockchain Economy Summit will kick off on Feb. 27, 2023, in London, the financial capital of the world. The two-day summit will see some of the world's top blockchain entrepreneurs and cryptocurrency companies flocking over to the city to partake in a wide range of events to explore the potential of blockchain, digital assets, web3, NFTs, the metaverse, and more.
Some of the noteworthy speakers attending the event include:
Dr. Lisa Cameron, U.K., Member of Parliament, Chair of the Crypto and Digital Asset APPG
Lex Sokolin, Head Economist at ConsenSys
Ilyas Vali, Co-Founder of rLoop
Ben Armstrong, Founder of BitBoy Crypto
Delphine Forma, Senior Compliance Manager at BitMEX
Daniel Antcliff, Head of Strategic Partnership at Gate.io
NFT Show Europe
When: July 14–15, 2023
Where: Valencia, Spain
Website: www.nftshoweurope.com
NFT Show Europe is a strong contender for the title of the "biggest crypto art and blockchain event in Europe." And that despite the fact it is the inaugural edition of the event that took place just a few months back. However, it was a smashing hit among participants and attendees, which has set the bar even higher for the organizers as the event prepares to make a comeback next summer.
The event serves as a platform for artists, businesses, digital art collectors, and the broader crypto community to share their views on NFTs, metaverse, blockchain, and basically all thing crypto. Art exhibits were one of the prime attractions in the inaugural edition as they showcased many different art forms, such as AR and digital collectibles. There were also huge collections of interactive and glitch art in addition to the talks, debates, meetups, and side events.
The list of prospective speakers is expanding and as of press time, features big industry names such as:
Hide Uehara (Square Fenix)
Sam Hamilton (Decentraland)
Irina Karagyaur (Polkadot)
Laurent Perello (Tron Dao)
Doru Borsan (Neotech.Finance)
Meta Mori (first Bored Ape VTuber)
David Moreno (W3ST)
Blockchain Expo Europe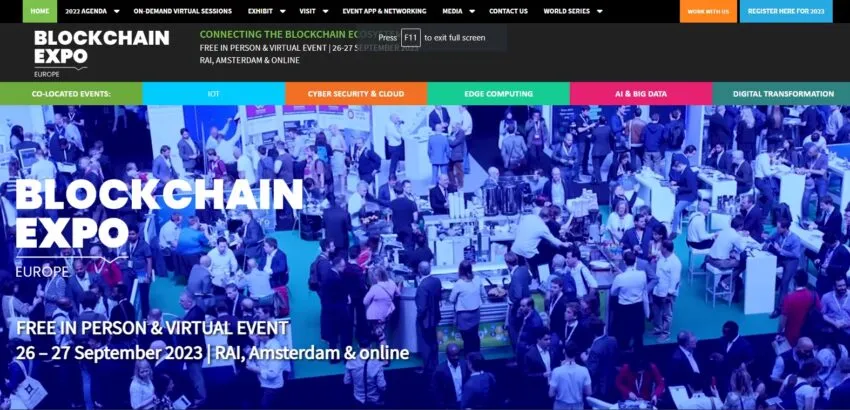 When: Sept. 26–27, 2023
Where: RAI, Amsterdam and online
Website: www.blockchain-expo.com/europe
The European chapter of the Blockchain Expo will take place next year in September as an in-person and virtual event. Just like in the past editions, the expo this year will bring together key industries from all over the world across six co-located events. These are IoT, AI and big data, cybersecurity and cloud, edge computing, and digital transformation.
Judging by past track records, the organizers are expecting a turnout of over 7,000 attendees. And as always, there will be plenty of solution-based case studies, live demos, and networking opportunities, along with other top-level content.
The list of speakers for the 2023 edition is yet to be finalized.
European Blockchain Convention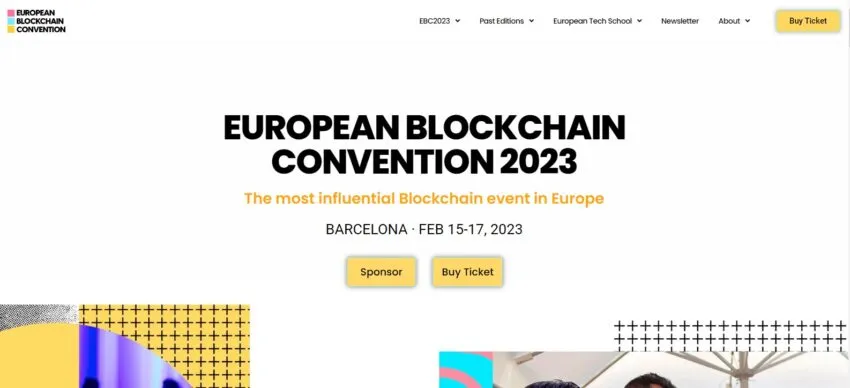 When: Feb 15–17, 2023
Where: Barcelona, Spain
Website: www.eblockchainconvention.com
The three-day convention expects to attract over 3,000 attendees, including startup founders, developers, investors, and corporate giants. The action-packed event will include keynotes, panel discussions, lively debates, workshops, and fireside chats on the current state of the blockchain and crypto industry, as well as the challenges that lay ahead of it in the coming days.
The speaker lineup includes (among others):
Dotun Rominiyi, Director of Emerging Technology at London Stock Exchange
Stani Kulechov, Founder & CEO at AAVE
Matus Steis, Token Design at Lead Outlier Ventures
Dr. Thomas Nägele, Managing Partner at NÄGELE Attorneys at Law
Tim Grant, Head of EMEA Galaxy Digital
Marc Schaumburg, Executive Producer at Sony Pictures Entertainment
Top crypto events in Asia in 2023
Traders Fair Thailand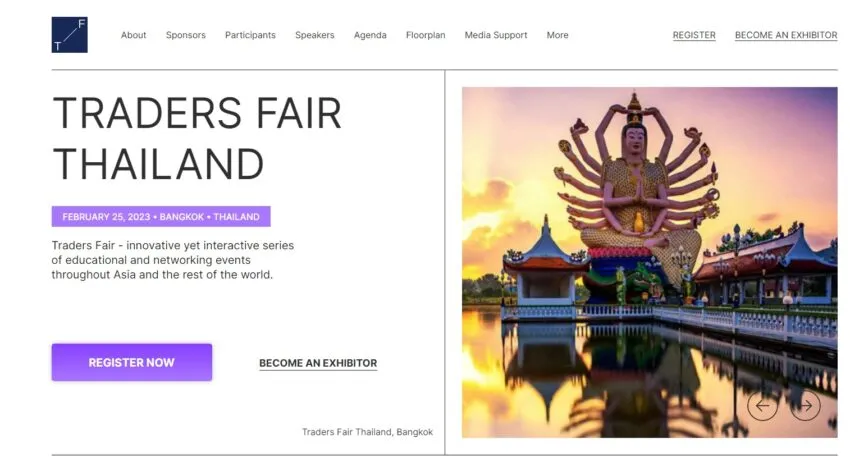 When: Feb. 25, 2023
Where: Bangkok, Thailand
Website: www.tradersfair.com/thailand
While Traders Fair is not a crypto-exclusive event, it has been increasingly offering more and more blockchain and crypto-focused content. The Fair started off in 2018 as a series of financial events in Asia and has since expanded globally. It is an interactive series of educational and networking events participated by entrepreneurs, businesses, banks, top government officials, and innovators, among others.
Overall, Traders Fair Thailand hosts around 30 events and over 500 speakers. The speaker lineup for the 2023 edition includes:
Phitsanukhom Chaiyavet, Founder of Thai Forex Elite
Krisharlan Testhong, Founder of Mixer "the future of investing"
Warunyuu Samana, Founder of TW INFINITY TRADE CO., LTD
Tipok Terasopon, Founder of Forex Risk Way
Smithi Charoenmin, Founder Nayarm Trader; Project Manager Hashpay co. Ltd
Kuekul Srisirivilai, Guru Forex — Option Trading
Utis Jamnongsatr, Founder of FX Trade Review
Token2049 Singapore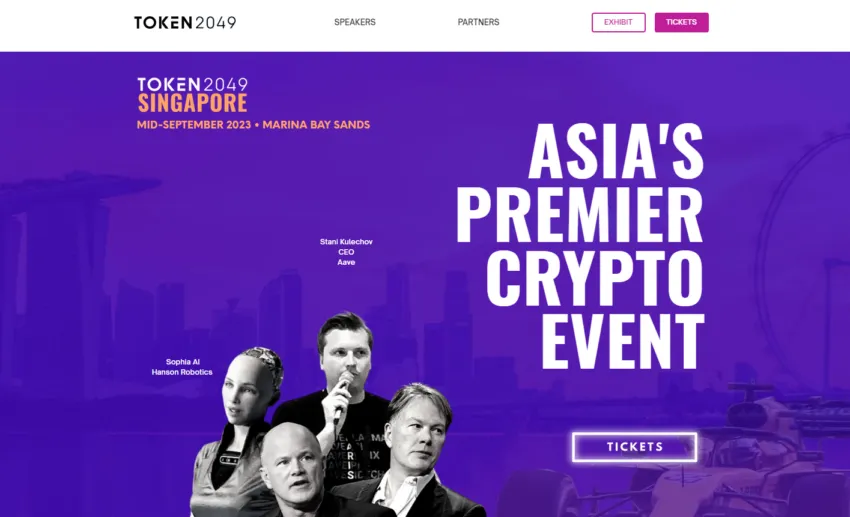 When: Mid-Sep., 2023
Where: Marina Bay Sands, Singapore
Website: www.asia.token2049.com
Mark your crypto events calendar for 2023 as the Asian chapter of the global premier crypto event Token2049 prepares to make a comeback in September. The event serves as a hub for crypto pioneers, developers, investors, thought leaders, and other industry stakeholders to meet, debate, and discuss key topics affecting the broader crypto space
The two-day event will be packed with activities such as workshops, meetups, hackathons, networking events, and so on.
The 2022 edition of the event saw many big names in the speaker lineup, including the likes of Binance Head of Investment Bill Qian, Polygon Co-founder Sandeep Nailwal, and Tezos Co-founder Kathleen Breitman, among others. Speakers for the 2023 edition have not been finalized yet.
Blockchain Economy Dubai Summit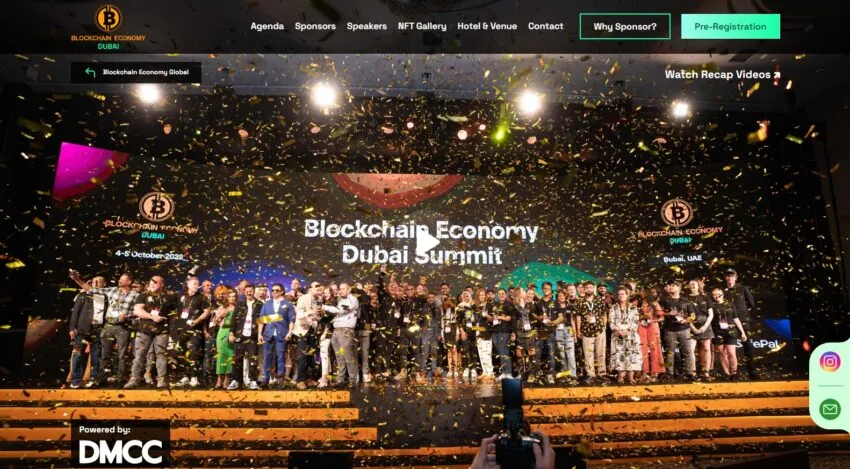 When: March 8–9, 2023
Where: Dubai, UAE
Website: www.beconomydubai.com
Blockchain Economy Summit pitches itself as the "world's largest blockchain conference network." Its mission is to bring together experts and the key players influencing the crypto space to discuss, brainstorm, and redefine the future of finance and financial technology.
The seventh edition of the event will take place in Dubai in March 2023, and it expects to attract the world's best crypto companies and blockchain entrepreneurs.
Some of the notable speakers for Blockchain Economy Summit 2023 include:
Ramia Farrage MC, Senior Producer and Presenter, Forbes
Ahmed Bin Sulayem, Executive Chairman and CEO of DMCC
Vas Modinos, Services Solution Lead at Microsoft. CEO and Founder of Blockready
Sumit Ghosh, CEO and Founder of Chingari
Ivan Liljeqvist, Founder of Moralis, Entrepreneur and Software Developer
Benjamin Bilski, German Serial Tech Entrepreneur, Founder & CEO of NAGA, Forbes 30 Under 30
Top crypto events in North America in 2023
Blockchain Expo, North America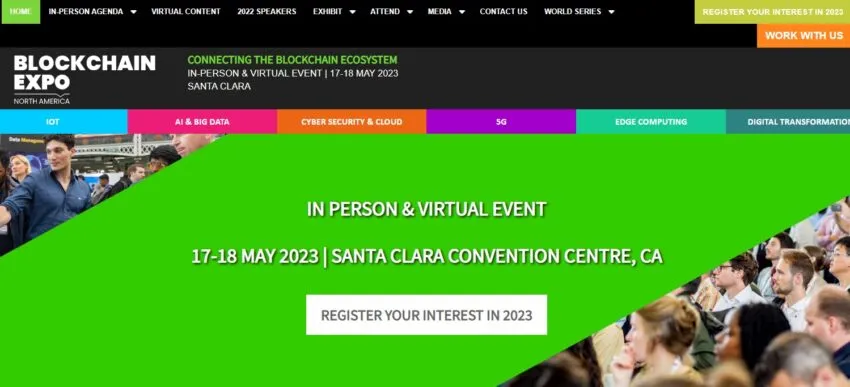 When: May 17–18, 2023
Where: Santa Clara Convention Center, California
Website: www.blockchain-expo.com/northamerica
Over 5,000 attendees are expected to participate in the event, including CTOs, heads of innovation and technology, IT directors, telecom providers, and developers.
There is a high-profile speakers lineup featuring 250 experts sharing their knowledge and insights about the industry. The event will include solo presentations, panel discussions, fireside chats, networking events, and so on.
The lineup of speakers for the upcoming edition is not final yet. Although, you could check out the 2022 speakers for a gist of what to expect.
ETH Denver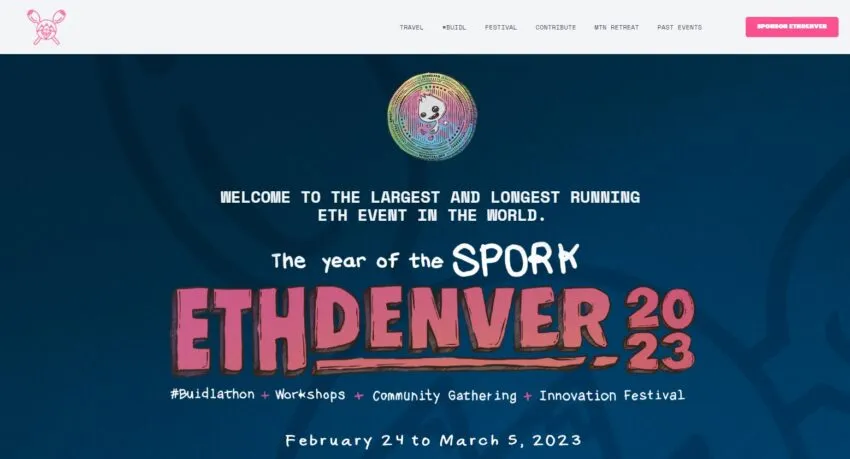 When: March 2–5, 2023
Where: Denver, Colorado
Website: www.ethdenver.com
While the main event will kick off on March 2, the side events will start much earlier. BuildlWeek, the crypto and blockchain education-focused leg of the broader event, will take place from Feb. 24 to March 1. It is open to the public and will include tech demos, panel discussions, and workshops; all designed to empower and educate.
The main event will begin on March 2 and it will include the world's largest #BUIDLathon (or hackathon) targeted at the Ethereum ecosystem (among other activities). Following #BUIDLathon, the third leg will start with a mountain retreat from March 6–9.
Bitcoin 2023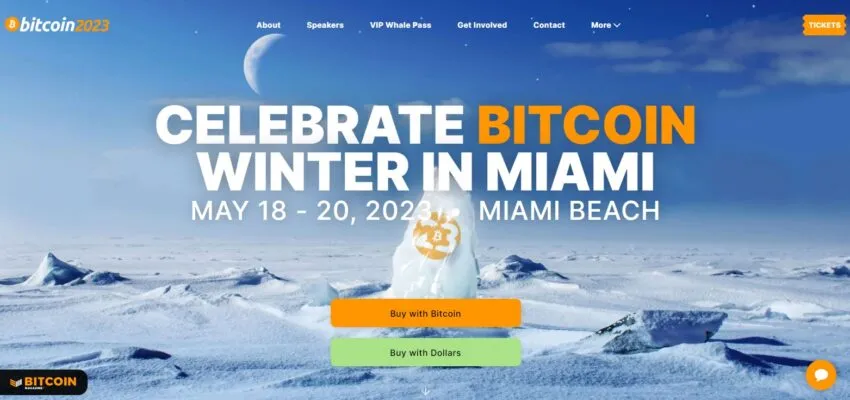 When: May 18–20, 2023
Where: Miami Beach, Florida
Website: www.b.tc/conference/bitcoin2023
Bitcoin 2023 is scheduled to make a comeback in Miami Beach next May. As always, the event promises to celebrate the world's first and most popular cryptocurrency with a large gathering of "bitcoiners" over three days of educational content, discussions, and workshops, among other activities.
Some of the most prominent names to have already been featured in the speaker lineup include:
Michael Saylor (Chairman & CEO at MicroStrategy)
Lyn Alden (Financial Analyst)
Stacy Herbert (Partner at El Zontle Capital)
Zoltan Pozsar (Managing Director at Credit Suisse)
Alex Gladstein (CTO at Human Rights Foundation)
OBI Nwosu (CEO at Fedi)
Mark your calendar already
So, what are you waiting for? Start marking your crypto events calendar for 2023 already. However, do note that given the sheer high number of crypto events taking place globally, this list is far from being exhaustive. But we promise to continue updating it as more and more events confirm their schedules and other details.
What are cryptocurrency events?
Cryptocurrency events are basically events that focus primarily on cryptocurrencies and blockchain along with their offshoots such as NFTs, DeFi, metaverse, and so on.
Where can I find upcoming crypto events?
Please refer to the list abobe to familiarize yourself with some of the most popular crypto events scheduled for 2023. We will be periodically updating the list with more events.
What are the best upcoming crypto events in 2023?
A few examples would be: MetaWeek Dubai , NFT Show Europe, Token2049 Singapore, Blockchain Expo 2023,  Blockchain Expo 2023 North America, Blockchain Economy Dubai Summit, Crypto Expo Dubai 2023, Future Blockchain Summit, Devcon Bogotá, World Blockchain Summit.
Disclaimer
All the information contained on our website is published in good faith and for general information purposes only. Any action the reader takes upon the information found on our website is strictly at their own risk. At Learn, our priority is to provide high quality information. We take our time to identify, research and create educative content that is useful to our readers. To maintain this standard and to continue creating awesome content, our partners might reward us with a commission for placements in our articles. However, these commissions don't affect our processes for creating unbiased, honest and helpful content.