Spin.fi — the first and the largest limit order book DEX on the NEAR Protocol — is launching a governance token. The decentralized trading platform plans to expand across several blockchain networks and become the go-to spot for institutional-grade trading and investments. Here's everything you need to know about the Spin.fi platform.
What is Spin.fi?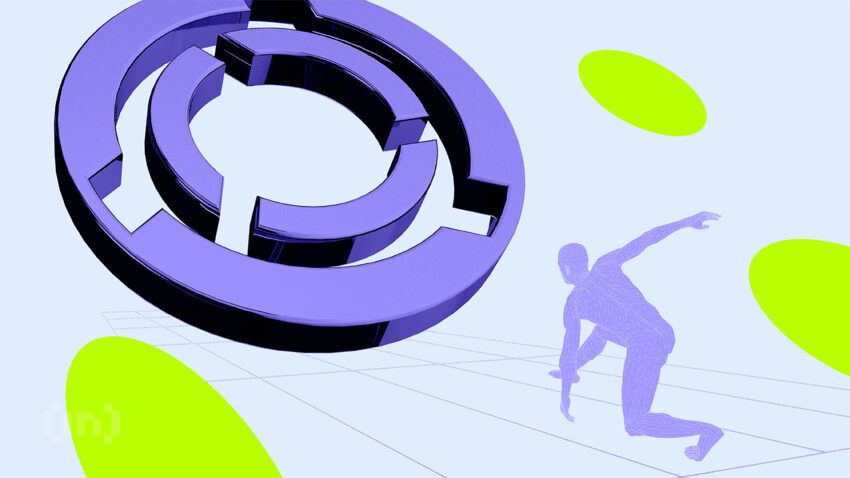 Spin.fi is a decentralized trading and investment platform on the NEAR Protocol. It has recently launched on Polygon zkEVM.
The platform stands out as the first and the largest limit order book DEX on NEAR Protocol. It's also the first DEX in the ecosystem to release Perpetual Futures and DeFi Option Vaults.
Spin has also launched its own NFT collection (Freaky Elves, NEAR's top collection both by trading volume and by floor price growth).
The order book model employed by Spin offers several advantages. It enhances the user experience compared to automated market maker (AMM) systems, provides flexible liquidity, caters to institutional traders, ensures secure and transparent on-chain verification, enables pricing of different instruments, and allows for interoperability with trading robots.
The leading order book decentralized exchange (DEX) allows users to trade assets directly with each other. Spin has also introduced three on-chain products for individual users:
Spin Strategies (also known as DeFi Option Vaults), which are Automated Investment Products (AIPS). Traditional traders familiar with grid trading might find these new features appealing. The platform promises minimum slippage and accurate pricing.
Spin's development plan includes launching new derivative products and expanding its support for additional blockchains. Spin aims to offer institutional-grade trading services to investors in a decentralized manner. Spin.fi is also the first large protocol outside the L2 ecosystems to move to Polygon zkEVM.
As of June 2023, Spin.fi is in the top 10 DApps on the NEAR Protocol and Aurora. Spin.fi has over 16,000 users, $20 million in lifetime spot trading volume, and $30 million in lifetime perpetual trading volume.
Spin.fi team
The Spin team comprises experienced professionals with a deep understanding of derivatives trading, asset management, and decentralized finance (DeFi).
The team's primary goal is to onboard users from centralized finance (CeFi) to DeFi while providing them with a user experience that rivals traditional centralized exchanges (CEX) but on the blockchain. Spin aims to build an institutional-grade trading and investment infrastructure on Polygon zkEVM.
Tokensoft SPIN token sale
A SPIN public token sale is planned for July 2023. Round A and the Public Round of the sale will be held on Tokensoft, a large fundraising platform that has hosted sales for the likes of Tezos, The Graph, Moonbeam, and Synthetix.
This sale offers individuals a chance to be part of a groundbreaking decentralized trading and investment platform. The SPIN token plays a crucial role in the ecosystem, providing economic support and offering benefits to investors, traders, and market makers.
By taking part in the token sale rounds, individuals can become part of the Spin community, contribute to its expansion, and have the opportunity to earn significant returns.
Spin token utility
The SPIN token is a governance and utility token on the Spin platform. As the native token of the ecosystem, the SPIN token offers a wide range of utilities for all types of users, as follows:
Investment: SPIN is an investment, incentive, yield-boosting, and governance instrument that forms the economic foundation of the Spin ecosystem.
Passive income: Investors receive 50% of the platform's fees as a reward, along with game theory mechanics.
Incentives: Market makers receive rewards based on their trading activity, liquidity they provide, spreads, and uptime.
Staking rewards: Staking SPIN provides extra benefits to all user segments, boosting their yield in various programs. The amount of SPIN staked determines the multiplier users receive in Spin's incentive programs. For example, stakers can earn more SPIN tokens for trading with up to a 3x multiplier, depending on their trading results and staked SPIN amount. The same principle applies to market makers and vault investors.
Vault rewards: Vault investors earn additional SPIN rewards apart from their returns extracted from investing in Vaults. For instance, NEAR covered-call Vaults investors receive options premiums and escSPIN as an incentive.
Governance: SPIN holders can participate in Governance by proposing and voting on decisions regarding features, utilities, incentives, and more.
Spin.fi tokens
To increase demand and reduce selling pressure, Spin has three tokens at the core of its economy:
SPIN: The main token that can be staked by users to receive a share of protocol revenue in USDC as a reward, along with escSPIN as an incentive.
escSPIN: This token is escrowed and serves as a reward token. Users can vest escSPIN to convert it into SPIN, thereby decreasing selling pressure. escSPIN can also be staked and offers the same rewards as SPIN.
Spin Points (SPs): Users receive SPs proportionate to their staking time of SPIN and escSPIN. SPs increase the user's share in the distribution of Spin's income pool, boosting their overall yield. If a user cancels their staking, their SPIN or escSPIN Spin Points will be burnt proportionately.
SPIN tokenomics
With the SPIN token release, the project aims to secure $3.5 million in funding to expand on Spin's development and continue its roadmap.
Here are some figures on SPIN's tokenomics:
Maximum supply: 1,000,000,000
Initial circulating supply: 48,500,000 (4.85% of the total supply)
Public sale token supply: 70,000,000 (7% of the total supply).
Initial market cap: $2,425,000
Fully diluted market cap: $50,000,000
SPIN token distribution:
DAO treasury: 12.5%
Liquidity for exchanges: 5%
Incentive pool: 20%
Advisors: 5%
Spin Digital: 20%
Seed round: 12.5%
Strategic round: 12%
Private round: 5%
Public sale: 7%
Airdrop Stage 1: 0.5%
Airdrop Stage 2: 0.5%
Users can trade the SPIN token on the Ethereum, NEAR Protocol, and Polygon zkEVM blockchains.
Important note: The Spin Token Generation Event (TGE) will occur before the token sale to facilitate the bridging of the token to the NEAR Protocol. Public sale vestings are calculated based on the Token Listing Event (TLE) or when the token becomes available for trading.
Here is the schedule for the release of the SPIN token:
SPIN token sale rounds
The Spin token sale consists of three rounds, each offering a unique opportunity for participation.
Priority round: This round is exclusively available to Freaky Elves holders on Spin (NEAR Protocol), providing dedicated community members with an early advantage. However, there is a maximum check size per account.
Round A (Invite only): Conducted on Tokensoft (Ethereum), this round invites select participants to contribute to Spin's journey. You can apply here.
Public round: Taking place on Tokensoft (Ethereum and Polygon zkEVM), the Public Round ensures broader access to the Spin token sale, promoting inclusivity and widespread participation.
The public sale token supply represents 7% of the total supply, representing 70,000,000 SPIN tokens.

Spin Rave Event
Before launching, the team is hosting a Spin Rave event, which is a unique token sale incentivization event.
All users who purchase an allocation in the SPIN token sale (any allocation, any round, any blockchain) are entitled to receive a reward from Spin's partners in the NEAR and Polygon ecosystems. The rewards pool exceeds $10,000, with over 20 projects involved.
What is the potential of the SPIN token?
The SPIN token holds significant potential within the Spin.fi ecosystem. Firstly, it serves as a versatile utility and governance token. Secondly, the SPIN token offers various functions and benefits for different user categories. Investors can stake their SPIN tokens and receive 50% of the platform's fees as a reward. Traders and market makers are also incentivized with SPIN tokens based on their trading activity and liquidity provision. Vault investors not only enjoy returns on their investments but also receive additional rewards in SPIN tokens.
The ecosystem, built on NEAR Protocol and Polygon zkEVM, represents a significant shift in trading and investment, leading the way in DEX innovation. As the token sale approaches, more information will be shared on official social media channels: Twitter, Discord, Medium, and Telegram.
Frequently asked questions
Disclaimer
In line with the Trust Project guidelines, the educational content on this website is offered in good faith and for general information purposes only. BeInCrypto prioritizes providing high-quality information, taking the time to research and create informative content for readers. While partners may reward the company with commissions for placements in articles, these commissions do not influence the unbiased, honest, and helpful content creation process. Any action taken by the reader based on this information is strictly at their own risk.
Iulia Vasile is a seasoned professional in the cryptocurrency and blockchain industry, working full-time in the field since 2017. With a background in computer engineering, she...
Iulia Vasile is a seasoned professional in the cryptocurrency and blockchain industry, working full-time in the field since 2017. With a background in computer engineering, she...
READ FULL BIO
Sponsored Sponsored