Reserve Rights token (RSR) has become a leading asset in developing countries with high inflation. Launched in May 2019, it has significant backing from top investors and remains a strong asset to invest in.
If you wish to learn about Reserve and its RSR token, keep reading. We're going to cover all relevant information about the project.
What is RSR coin?
The Reserve Right token is the governance and utility token for the Reserve project. The asset ensures the stability of the Reserve token (RSV). RSV is a stablecoin that functions as a stable fiat currency, with various forms of collateral backing it.
The Reserve project is a flexible pool of stablecoins that includes the native stablecoin RSV, USDC, and DAI. It reduces risk through diversification and decentralized governance. Simultaneously, it protects users' assets, acts as a cross-border transfer asset, and serves as a means of payment with merchants.
The RSR coin serves two distinct purposes for the Reserve Project. Primarily, it ensures the price stability of the Reserve token (RSV). Specifically, it guarantees the collateralization rate and peg of the RSV. The RSR coin also serves as the governance token for the project. It gives holders the power to vote on proposals that can directly affect the project.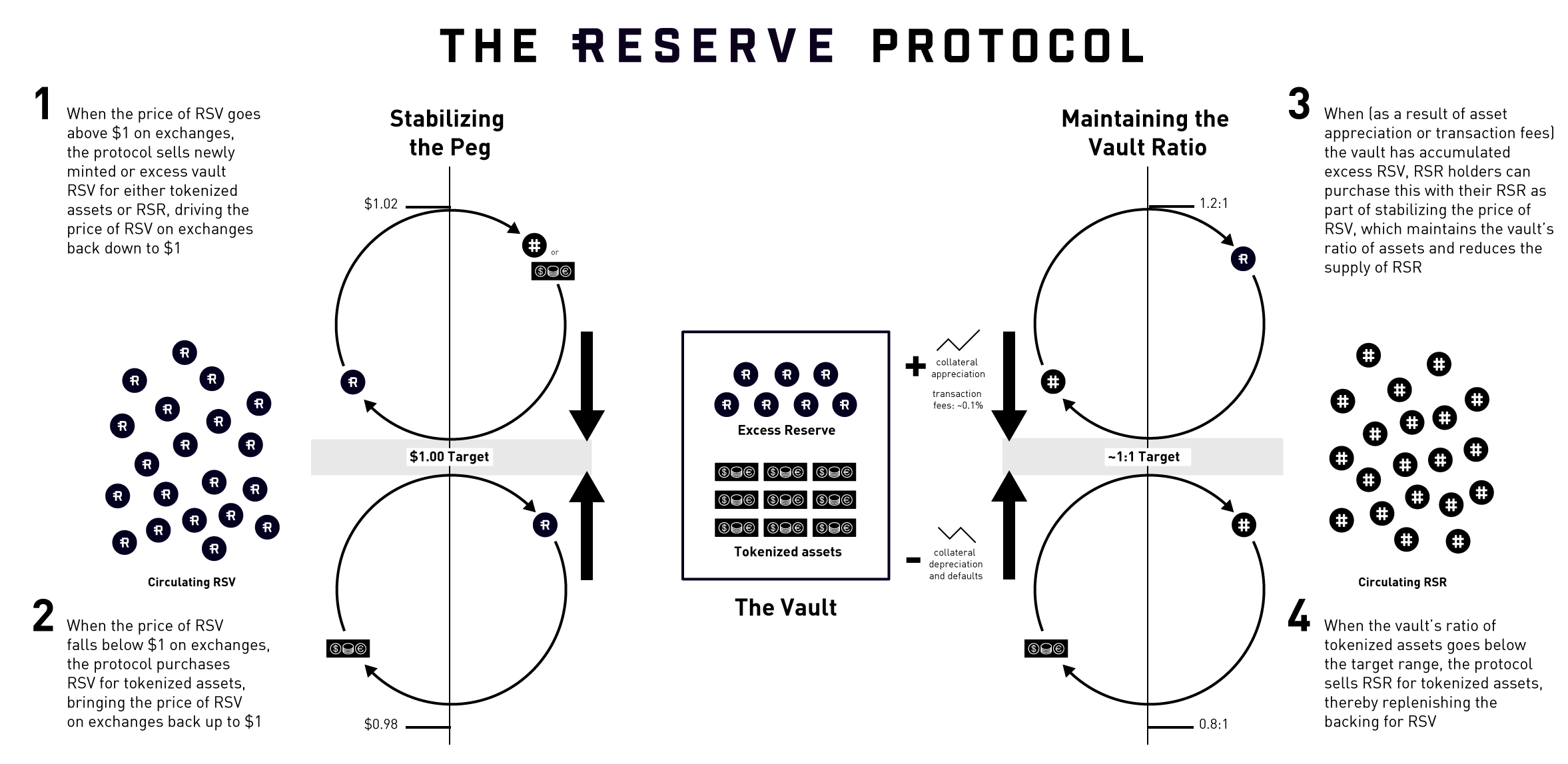 RSR also ensures a stable price by working with RSV and utilizing unique RSR "Tokenomics". It does this by using a system of arbitrage opportunities to keep the price stable at $1.
For example, if the price of RSV falls below the dollar, arbitrageurs can buy back $1 worth of tokens. Alternatively, if the price exceeds $1, arbitrageurs can purchase tokens and sell them until the $1 peg is reclaimed.
RSR current has a circulating supply of 13,159,999,000 RSR coins and a max. supply of 100,000,000,000 RSR coins.
Is RSR coin a good investment?
The RSR coin is a good investment, due to increasing inflation rates worldwide and the gradual devaluation of global currencies. Users are looking for alternative currencies to help bring stability to their finances.
RSR has seen mass adoption in Venezuela and Argentina, regions severely affected by hyperinflation. Analysts expect that as more countries face inflation, they will embrace stablecoins and alternative platforms. This may lead to a rise in price and value for RSR. Overall, Reserve Protocol provides a stable store of value, medium of exchange, and standard of deferred payment to the market.
Also, due to the increase in interest in stablecoins of all kinds in the crypto space, the adoption of them is increasing rapidly, with more platforms using them every day to help bring balance and stability to their operations.
Being a stablecoin that has real-world adaptation and interest from affected countries, RSR coin has proven itself to be a leading asset and one that is bringing tangible benefits and value to users around the world.
What is RSR worth?
At press time, the RSR coin is worth $0.021, with a market cap of $277.5 million. The current all-time high for RSR was on Apr 16, 2021, reaching a price of $0.117 USD.

How can I buy RSR coin?
Reserve Rights (RSR) is a popular token that currently maintains excellent liquidity on many leading exchanges and platforms. You can purchase and trade it on many of the most well-established cryptocurrency exchange platforms, including Binance, Huobi Global, and FTX. You can trade RSR against various popular cryptocurrencies, including Bitcoin (BTC), Tether (USDT), and Ethereum (ETH). Of course, you can also trade it against the U.S. dollar (USD) on multiple platforms.
Frequently asked questions
What is the Reserve Rights Token (RSR)?
How does the Reserve Rights Token (RSR) function within the Reserve ecosystem?
What are the potential benefits of holding Reserve Rights Token (RSR)?
Disclaimer
In line with the Trust Project guidelines, the educational content on this website is offered in good faith and for general information purposes only. BeInCrypto prioritizes providing high-quality information, taking the time to research and create informative content for readers. While partners may reward the company with commissions for placements in articles, these commissions do not influence the unbiased, honest, and helpful content creation process. Any action taken by the reader based on this information is strictly at their own risk.