Plant vs. Undead is a play2earn blockchain game. It offers NFTs and other game assets that can generate an income for players, like other games of its kind. The game is still under development and the team promises to build on the current version.
However, many players from all around the world already play the game every day, generating Plant vs. Undead (PVU) tokens in farming mode.
Here's the most complete guide about how to play Plant vs. Undead in 2021.
What is Plant vs. Undead?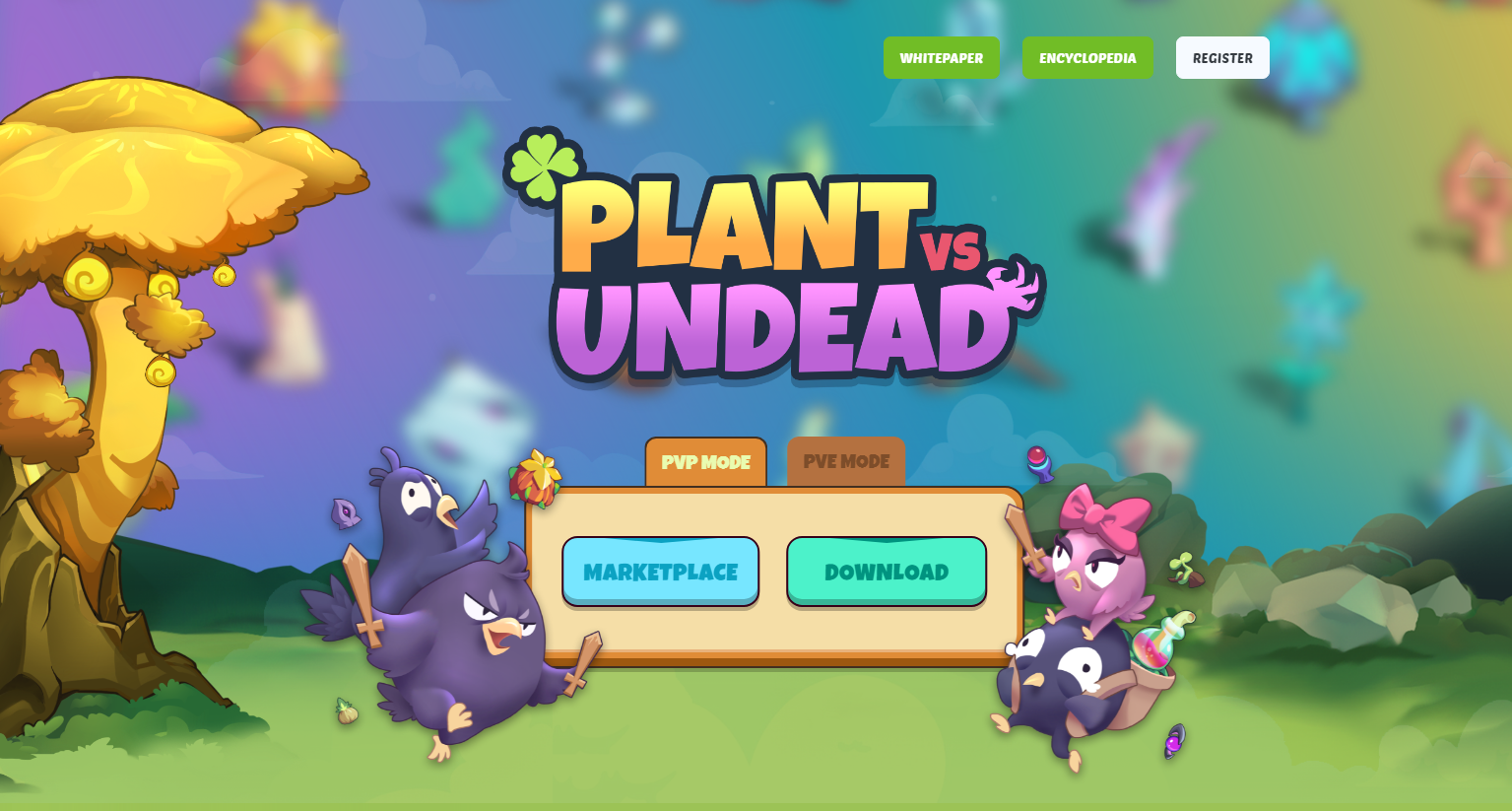 Plant vs. Undead is a blockchain game similar to a multiplayer tower defense game. The goal is to protect plants and the mother tree from the undead — an army of zombies that arrive when a meteorite strikes the planet.
In many aspects, Plant vs. Undead is similar to Plant vs Zombies, but it involves non-fungible tokens (NFTs) acting as the game's assets.
The most important aspect of the game is that the user needs to own plants to protect the mother tree. These plants are NFTs that can be purchased from the marketplace. There are eight plant types in the game and there are several game rounds to successfully plant them in the farming mode. The goal is to build a plant farm that can resist undead attacks.
Players who enjoyed Plant vs. Zombies, Balloon Tower Defence, and competitive player-vs-player (PVP) defense games will find Plant vs. Undead challenging and addictive.
Plant vs. Undead: Farming Mode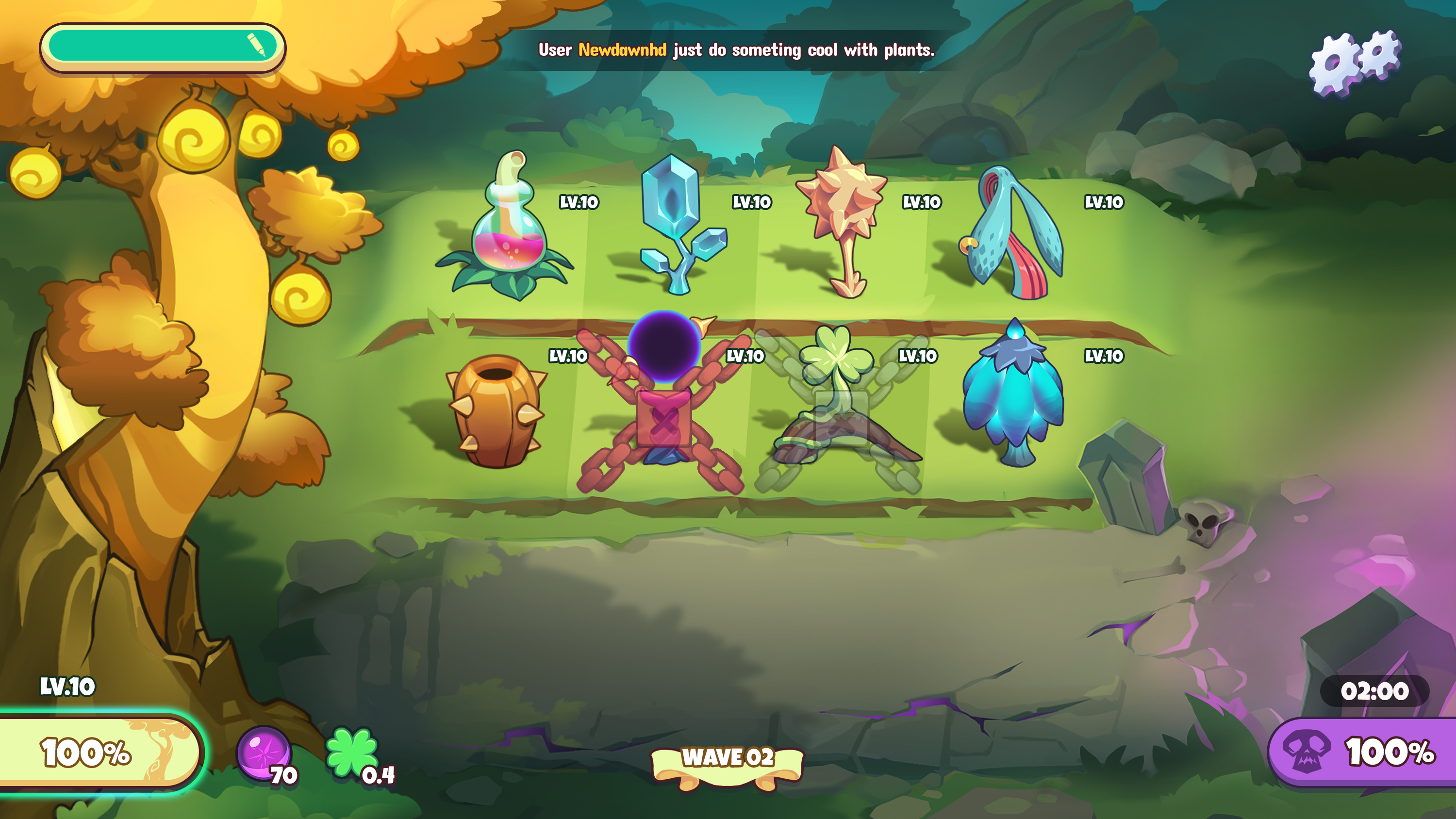 The game lets each player strategically position their plants to defend the mother tree. If successful, players receive Light Energy (LE) or energy points. Players use this to upgrade and reposition the plants, and purchase additional tools to upgrade the plot. You can also exchange LE tokens for PVU tokens, which is tradable on several crypto exchanges.
Plant vs. Undead is a game still under development, but users are free to play it and explore features such as the farming mode, NFT marketplace, seed watering, and daily quests. You earn Light Energy (LE) through daily tasks, which include watering other players' plants, and harvesting your plants.
Plant vs. Undead is an easy to play decentralized application (DApp) and it only costs a few PVU tokens to start playing. You need those funds in the wallet you use to connect to the blockchain game to be able to buy the plants and start farming them. Having game assets that can be traded on the NFT marketplace is a great opportunity for avid gamers.
Since this is a Binance Smart Chain (BSC) based game, players need a BSC compatible wallet to play it and a small amount of BNB in their wallet to cover any transaction fees.
The game currently focuses on two modes: PVP mode (on Factory Chain) and PVE mode (on BSC). You cannot switch assets between the two modes, as each game needs different assets: FUSD for PVP mode and PVU for PVE mode. We will show you how to connect to PVE mode and start farming plants in Plant vs. Undead.
What is Plant vs. Undead (PVU) token?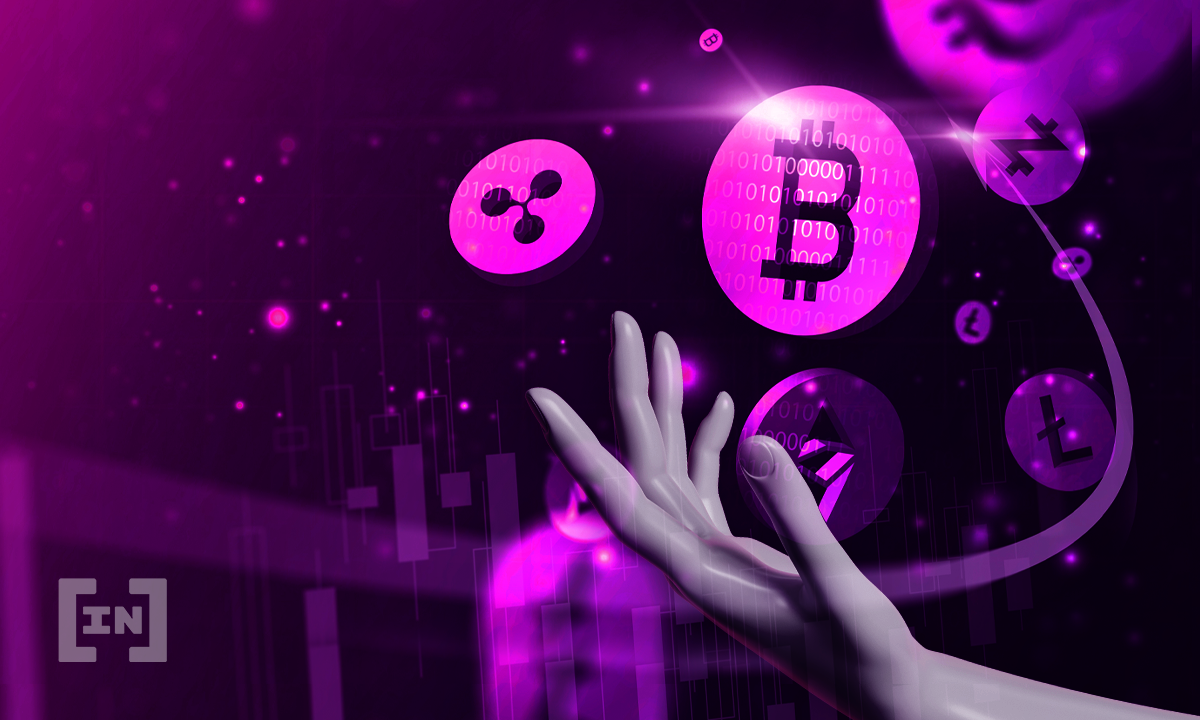 The Plant vs. Undead (PVU) token is a BEP20 token on Binance Smart Chain (BSC). The token fuels the economy of the game.
To start playing, players need to start a new farm by purchasing plants and planting them on a plot of land. Plants need water to grow. Plants can be purchased from the NFT marketplace using the PVU token.
Players also need Light Energy (LE) tokens for tools that help their plants grow. They can trade LE tokens easily for PVU tokens. After a while, plants reward players with more LE tokens as they grow.
For the first farming round, players need to purchase at least one NFT plant, which at the moment costs a few PVU tokens. For pots, water, and other tools, users require LE tokens.
There will be two game modes for Plant vs. Undead — survival and multiplayer. However, the latter is still under development and the most popular game mode is the farming mode. For the survival mode, players earn PVU from each wave of the Undead. The multiplayer mode gives rewards to players for each winning round. Top leaderboard players receive more rewards.
As of November 2021, the price of a PVU token is around $0.25. Almost 37 million PVU are in circulation (12%) and the total supply is 300 million PVU.
Plant vs. Undead: Light Energy (LE) token
In Plant vs. Undead, you can exchange PVU tokens for LE tokens, with which you can buy tools for farming. Examples of tools are pots (for the plants), water, scarecrows, and other features that are still under development.
Currently, players are rewarded with LE tokens for growing plants. Each NFT plant rewards players with a specific amount of LE tokens after 120 hours. LE tokens can then be exchanged for PVU tokens, which can be traded on PancakeSwap DEX, Gate.io, and LBank.
The farming mode gameplay has received constant upgrades. That's why some features may work differently by the time you read this guide.
Plant vs. Undead roadmap and developments
The game is still under development and not all features are available yet.
As of November 2021, seeds are no longer available in Plant vs. Undead. Some players discovered a way to cheat the game, and that's why the team decided to eliminate the feature. All new players need to purchase NFT plants to start playing.
According to the roadmap, the Plant vs. Undead game should be launched by the end of 2021. This version should enable the survival game, arena mode, and play-to-earn PVU rewards.
New plants, mother trees and land should also become available by Q4 2021.
The roadmap extends to the end of 2022 when the games will get improvements based on the feedback received from the community. There is a player-versus-player (PvP) tournament and players can earn up to 1 million PVU tokens in rewards.
How to play Plant vs. Undead
Step 1. Connect MetaMask wallet to PancakeSwap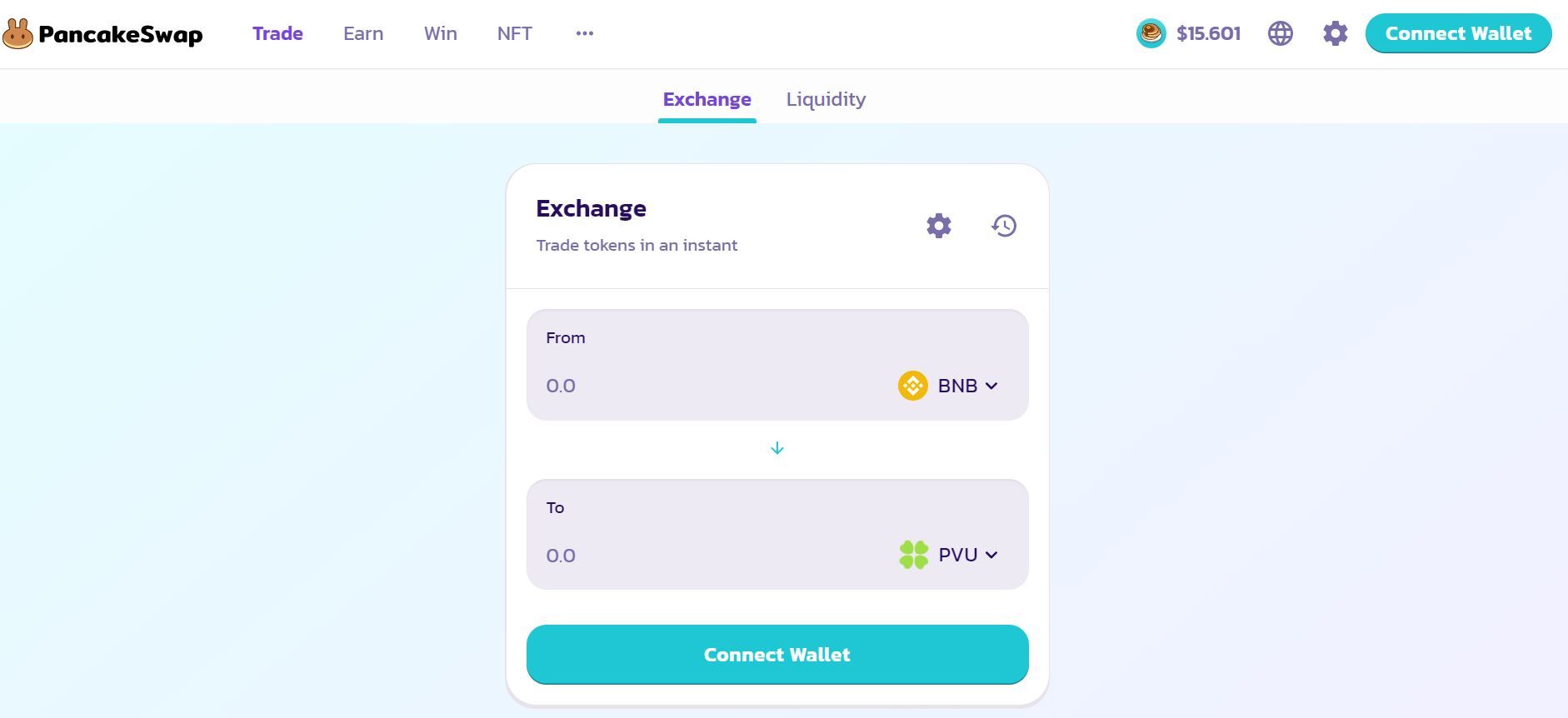 You will need some PVU tokens to be able to buy the NFTs from the game's marketplace, such as plants, mother tree, and land, which you will need for the farming mode in Plant vs. Undead. You will need to use the MetaMask wallet and connect it to PancakeSwap, using the Binance Smart Chain (BSC) network.
All transactions on Binance Smart Chain (BSC) required BNB fees. That's why you should have a small amount of BNB in your MetaMask wallet.
You can use a part to buy the PVU tokens, and the rest you will need later to pay the network fees when you purchase assets in the game. We recommend you have a minimum amount of 0.05 BNB in your wallet for future network fees.
Step 2. Get PVU tokens on PancakeSwap
Use some BNB to purchase some PVU tokens on PancakeSwap. You will need PVU to buy NFT plants from the marketplace, to start farming in Plant vs. Undead.
A few PVU tokens will be needed to be exchanged into Light Energy (LE) tokens. Perhaps it's a good idea to login to the Plant vs. Undead marketplace and to see the current costs for an NFT plant in the game.
Remember that 1 PVU = 105 LE.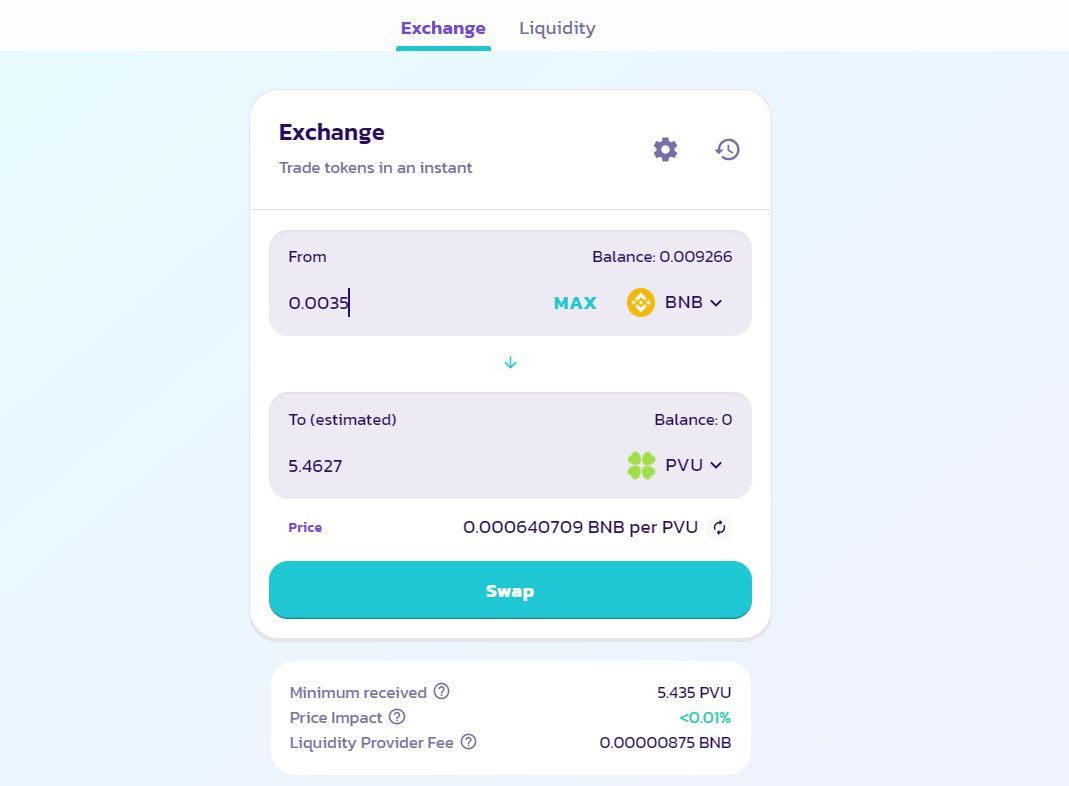 After you confirm the transaction, you can disconnect the wallet from PancakeSwap and register in the game.
You might not be able to see the funds in MetaMask wallet after you purchase the PVU tokens. In this case, you will need to import the address of the token, to be able to see the funds in your wallet. It might not appear automatically.
The smart contract address is 0x31471e0791fcdbe82fbf4c44943255e923f1b794.
Step 3. Connect wallet to Plant vs. Undead Marketplace
Go to plantvsundead.com and select PVE Mode and then Marketplace.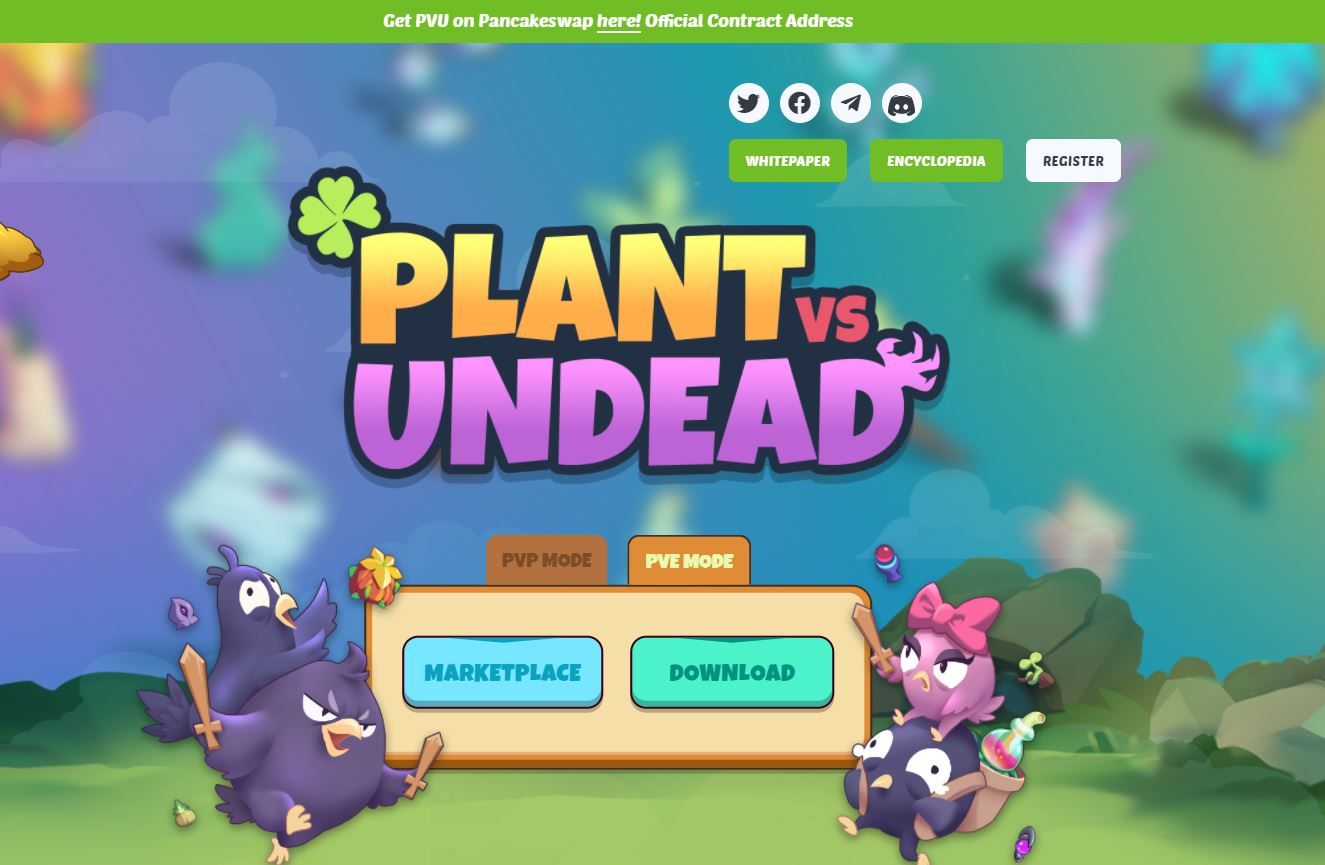 On the new page, Metamask will ask you to connect the app.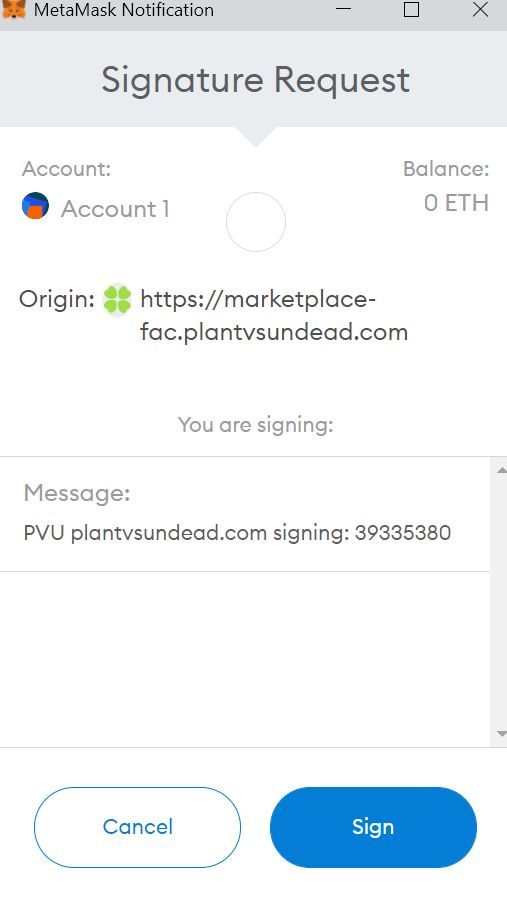 After you connect to Plant vs. Undead for the first time, you will see the dashboard.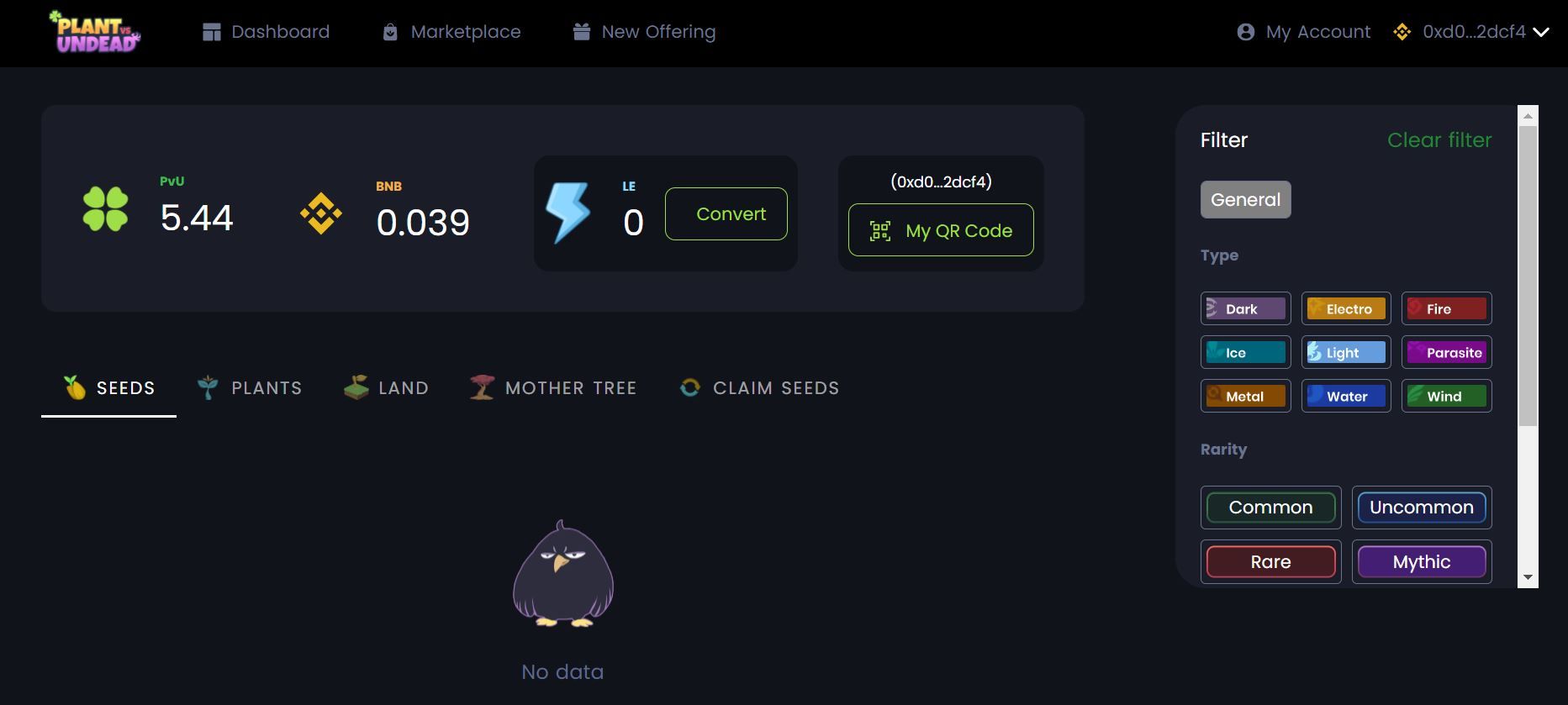 Step 4. Buy NFTs from the marketplace to start farming
Since the game removed the seeds feature, all players need to invest in a few plants, a mother tree, and land if they want to expand. New players will be able to claim a land plot for free when first starting the game. The land can be claimed after you enter the game, so you won't find it here in the marketplace.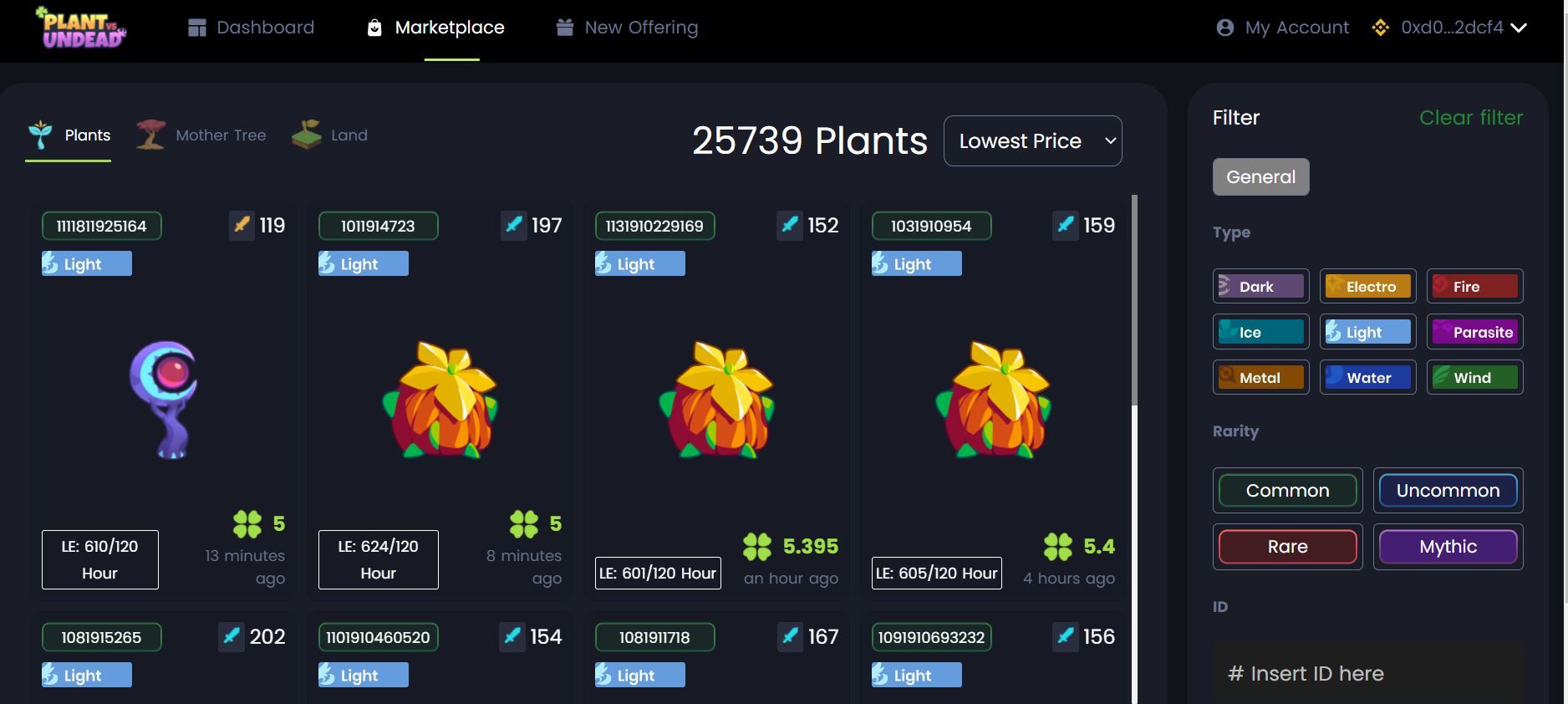 Note that these NFTs in Plant vs. Undead are paid in PVU. The game is no longer fully free to play, as it used to be, before it got all the attention.
As more players join the game, the prices go up. Players can also fill their lands with saplings or sunflower mama. Depending on how many slots remain free after buying an NFT plant. For example, if you already bought 2 NFTs, buy 3 saplings, and 1 sunflower mama to fill your land.
To start playing, you will need at least 1 NFT plant. Having at least one NFT, will also allow you to exchange your LE tokens back to PVU tokens.
Step 5. Convert PVU tokens to LE
Using the same interface, go to My Account and you will be able to swap some PVU tokens into LE tokens. The LE tokens can be later used to purchase tools for farming.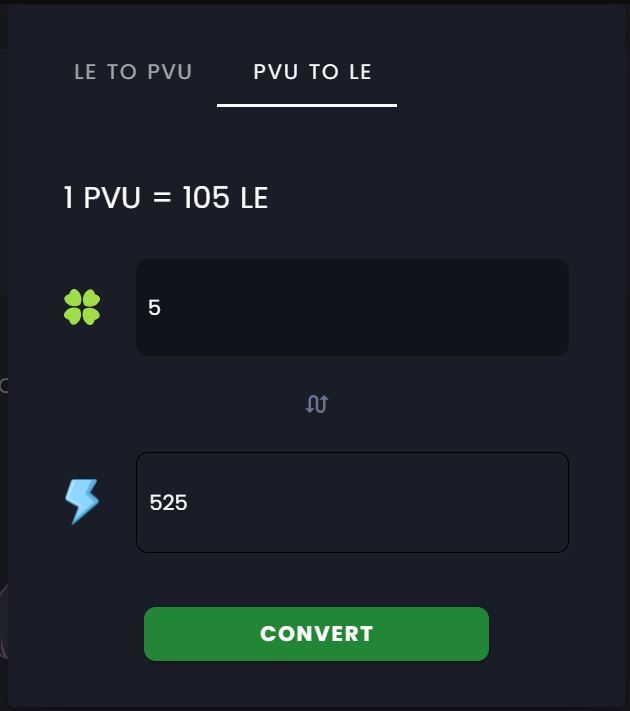 Once you click Convert, your MetaMask wallet will prompt you to confirm the transactions, and you will see the BNB fee amount.
Remember that all transactions and conversions within the game are blockchain transactions and will incur a transaction fee, which will be paid in BNB.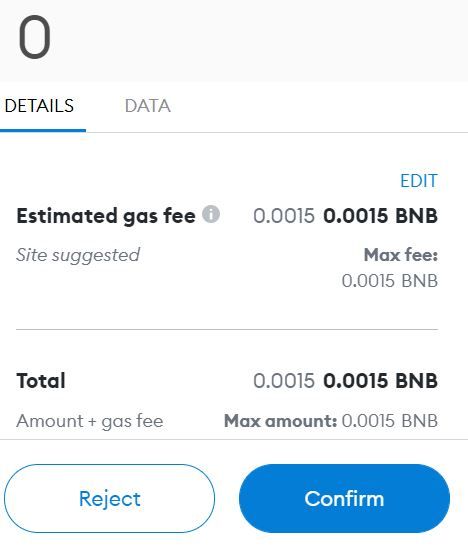 Step 6. Install android emulator to play Plant vs. Undead on desktop
Since the game is still under development, the game can only be accessed using the APK available on the website. The team is working to get the desktop version out. If, by the time you read this, that version is available, good for you. You can skip this step.
If the APK is the only option available on the website, then this is the only way to play it on your computer.
Install an Android emulator to be able to run the APK application. We are using NoxPlayer, an Android emulator that allows players to run Plant vs. Undead on a desktop.
Install the software on your device.
Step 7. Install Plant vs. Undead on your device
Head back to the Plant vs. Undead website.
Click on the PVE mode and click Download > Android. You will be able to download the Plant vs. Undead application APK.
This is where you will need the Android emulator, from step 6, to run the APK.
Open the emulator, in our case NoxPlayer, and install the APK. There is a special button to install APKs in the lateral right of the Nox application.
Then, after you open the app, it will ask you for a QR code to log in.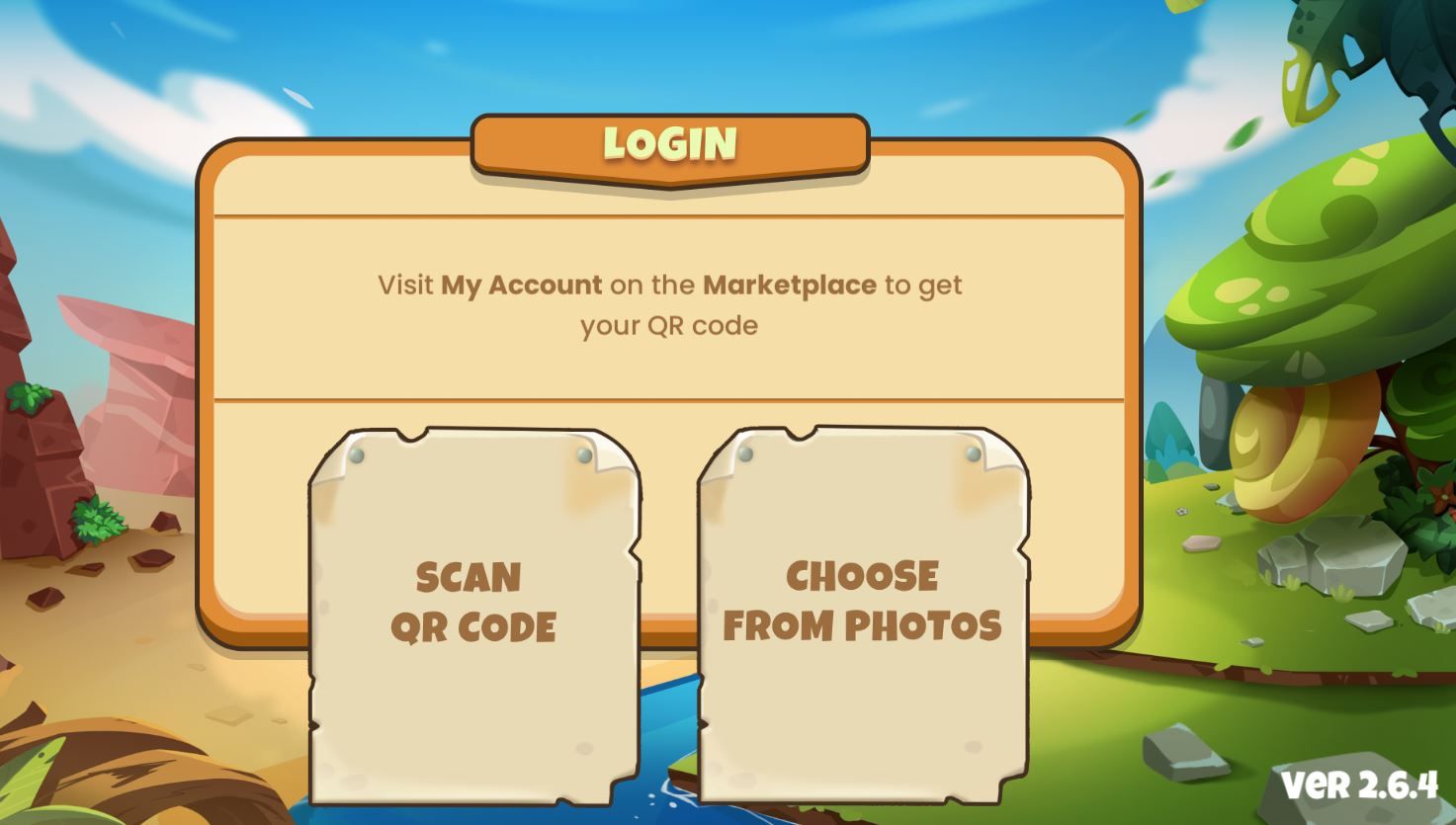 Step 8. Log into your Plant vs. Undead account
Follow the instructions and get the QR code from the Marketplace account, on your browser. It's the same place where you purchased the plant NFTs and converted the PVU tokens to LE tokens.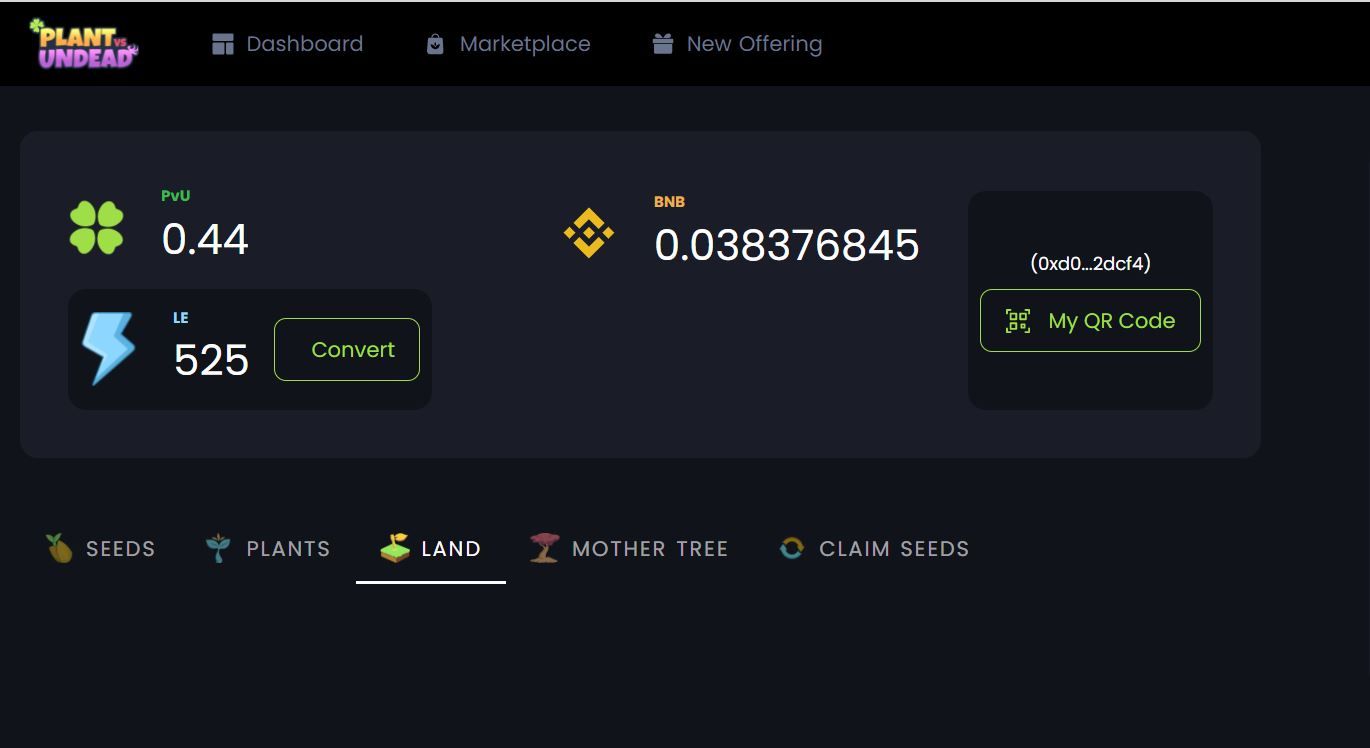 If you're on a desktop already, you can screenshot the QR code you get from there, and then place that photo in your Android emulator's files, using drag and drop.
Then go back to the game and select Choose from Photos. Select the QR code capture and you will be able to log into your account.
Step 9. Claim land in Plant vs. Undead
As a new player of the game, you are entitled to a new land. To claim it, click on the hamburger menu on the top left. Click on Inventory (the third option) and then claim your land NFT.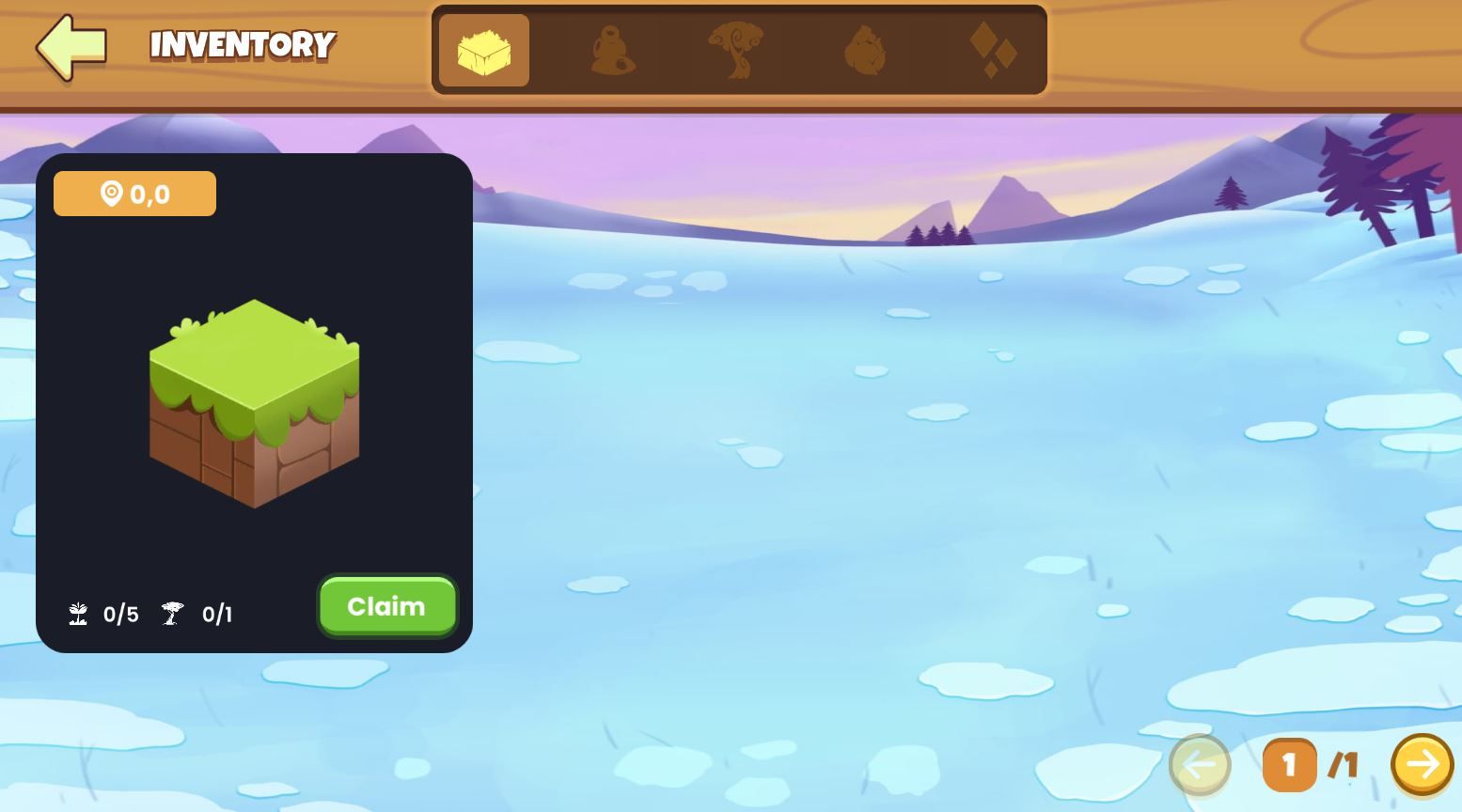 After you purchase other NFTs from the marketplace, you will see them here, in your inventory.
This free land received by all new players allows you to have 5 NFT plants.
Step 10. Create a farm and start farming
After you've claimed your first land in the game, go back and click on New Farm. Then you will be able to choose the land you've just claimed to start the farming mode.
You will also need a plant to start farming. If you already have a plant or mother tree, you will see it in your inventory.
You will need pots and water for your plants. These are the tools that can be purchased using the LE tokens.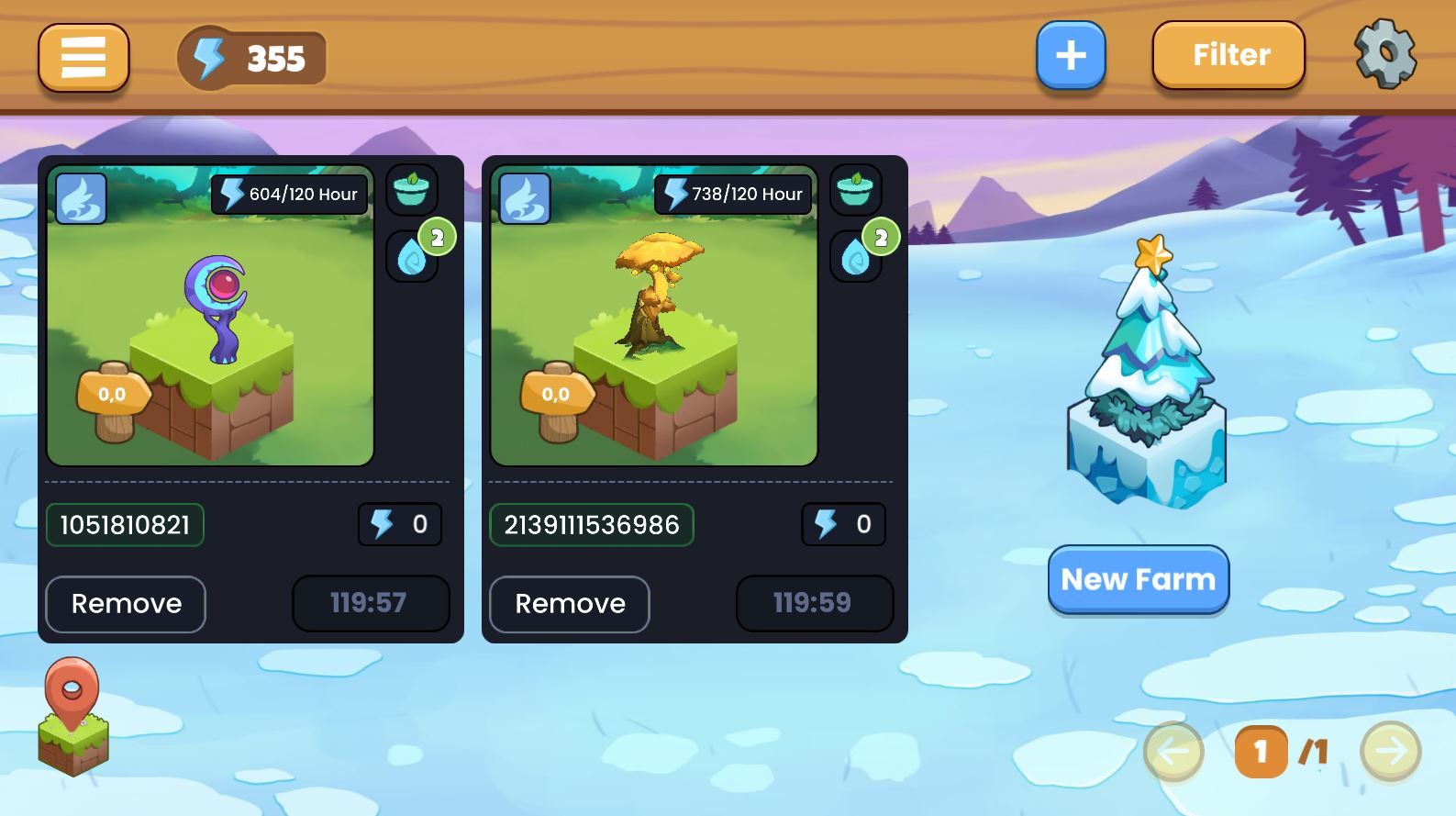 Now, you will see a timer under each plant. That's the time left until you can collect the LE reward for each plant. Don't forget to water your plants, and then, to come back to collect the LE rewards.
Remember that the game is still under development and that there will be some hiccups along the way. Don't panic and try again. It will eventually work. Enjoy the farming mode in Plant vs. Undead!
If you need any real-time tips or answers to how the game works, or how to navigate the many new updates, you can always address your questions on the official Discord channel of Plant vs. Undead. Use the Guide PVU Chat, where all the moderators will try to help you.
Beware of potential scammers that send you a DM and pretend to act as developers. They are only trying to gain access to your MetaMask wallet. Don't answer any of those DMs.
Is playing PVU profitable?
Plant vs. Undead is the latest game to follow Axie Infinity as one of the more exciting NFT blockchain games. Both games make use of their own cryptocurrency and NFTs. And, both have generated a good amount of positive buzz. But, which one should be your first choice?
Let's take a look at the similarities and differences between the two games.
Game design of Plant vs. Undead and Axie Inifinity
Both games are part of an evolving, ever more popular market of NFT-based games. Axie Infinity was the first of the two to be released. It came out in May 2018, and it is produced by a Vietnam-based studio called Sky Mavis.
The concept of Axie Infinity is simple. Users need to raise "axies", creatures resembling the axolotl. The axies can later be used in battle. The NFT cards representing them need to be purchased and can be traded or sold on a secondary market.
The game was very popular. A CNBC report claimed that the game had become a veritable phenomenon in the Philippines. By the spring of 2021, it may well have been the most popular NFT game in the world.
Unsurprisingly, Axie Infinity spawned rival games vying for the lucrative "Best NFT-game" crown. One of them is Plant vs. Undead, which also is highly popular in the Philippines. It is, clearly, inspired by the famous Plant vs. Zombies mobile game franchise. The purpose of the game is for users to build gardens of plants that can fight the evil army of the undead.
You can win money in both Axie Infinity and Plant vs. Undead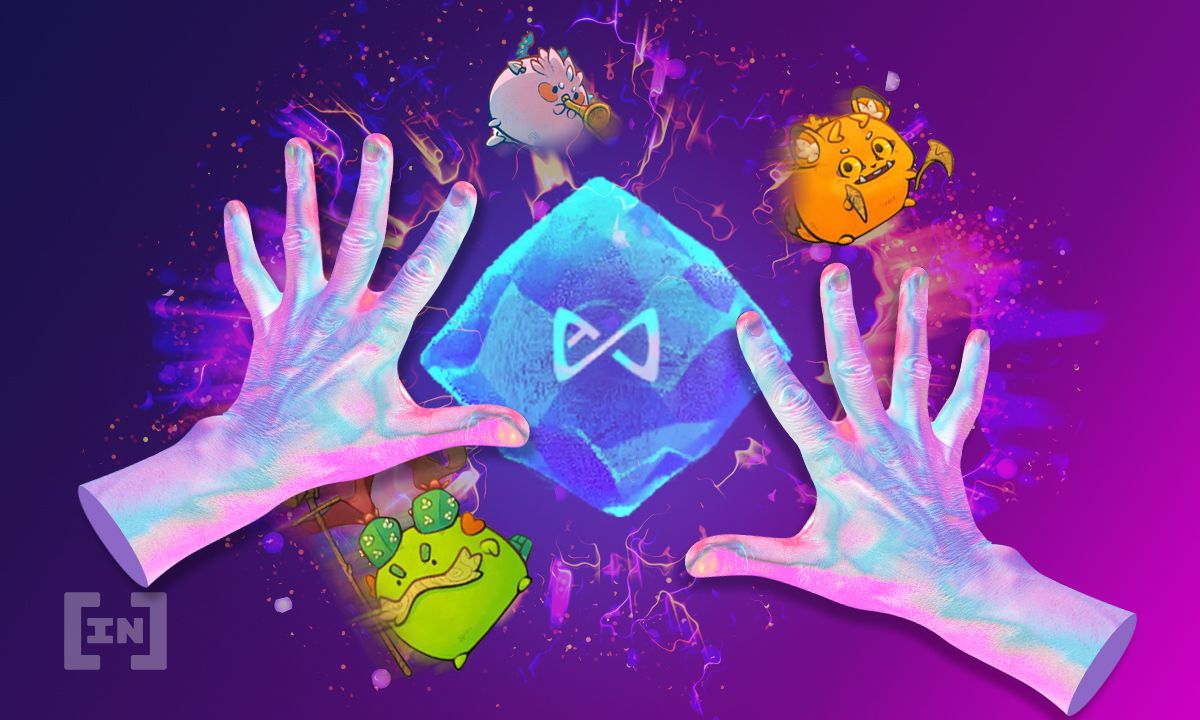 As news reports have suggested, the two games are immensely popular in countries like the Philippines. One of the selling points is the fact that users can win money from both games.
In Axie Infinity, the main method to earn money is through the game item known as Smooth Love Potion. This is an element needed in breeding the Axie that we mentioned earlier. Breeding and selling rare axies on the marketplace is another excellent way to increase your capital.
In Plant vs. Undead, the game's economics allow users to earn money in a few ways. They can become gardeners and farm plants. They can take part in competitions, or sell their NFTs on the secondary market. New features involving a survival mode and multiplayer games have also been announced.
Investment and profitability
Both games require an initial investment. However, at the time of writing, many claim to have earned profits from the game. Both have a fast-growing network of users.
Because Axie Infinity has been around for a longer time, it may cost more to get started. The price for an axie is, on average, around $350. It may take slightly over $1000 to assemble a competitive team.
Excited users, however, report that they can earn around $500 per month. This, of course, involves good planning and a fair deal of luck on the game's marketplace.
Plant vs. Undead, being a newer game, will require a smaller initial investment. You will need 5 PVUs to get started. These cost around $15–20 at the moment. The initial investment should be smaller than $100.
There is less data on the profitability of the game. Still, given the high number of users and many available modes, it is likely possible to make a good profit from the game.
The NFT-based game market shows no signs of slowing down. Both Axie Infinity and Plant vs. Undead have made a name for themselves. Surely, others will follow. Research the games, enjoy them, and stay on top of the latest developments to turn a profit.
Enjoy being a gardener in Plant vs. Undead
Plant vs. Undead is still at the very beginning of its development, and the gameplay will become more accessible in the future. New versions of the game will also be released in the future. The game still has bugs, and you will probably encounter some while going through the process of playing for the first time.
While Plant vs. Undead isn't a free-to-play game anymore, as it was advertised at the beginning, it's still cheap to start playing the game. It will probably cost you less than $20 in BNB to buy the necessary PVU tokens and pay for the gas fees. However, as more players join the game, the prices for the NFTs go up and so will the price of the PVU token.
Frequently asked questions
How do you play Plant vs. Undead NFT?
What is Plant vs. Undead token?
Is Plant vs. Undead free to play?
What is NFT in Plant vs Undead?
Disclaimer
In line with the Trust Project guidelines, the educational content on this website is offered in good faith and for general information purposes only. BeInCrypto prioritizes providing high-quality information, taking the time to research and create informative content for readers. While partners may reward the company with commissions for placements in articles, these commissions do not influence the unbiased, honest, and helpful content creation process. Any action taken by the reader based on this information is strictly at their own risk.