In 2021, non-fungible tokens (NFTs) truly entered the mainstream economic lexicon, with funds pouring in record numbers. However, fake NFTs and NFT scams are an unfortunate, but natural, consequence of the ballooning interest. Financial prosperity breeds opportunities, but also issues.
NFT scams resemble the kinds of crypto scams that were active in the most bullish periods for bitcoin and altcoins. Sadly, numerous people fell victim to these scams, with nearly $14 billion lost to crypto scams yearly.
This, however, should not dissuade you, as you can learn how to spot a scam. Here, we will look at the 7 most common NFT space scams. We will pick their methods apart, provide examples, and help you to understand how to protect yourself.
The state of crypto scams
First, we need to address the elephant in the room — crypto scams are nothing new. Blockchain-related activity isn't any different. Simply put, illegal activities exist wherever profits can be made. Why have they become of particular notice in NFTs? There are numerous reasons.
NFTs, perhaps more than any other blockchain-based concept, have succeeded in spreading to the mainstream public. There were around 280,000 buyers and sellers of NFTs in 2021 and about 185,000 unique wallets. Many of these are new to the world of crypto, making them likelier victims of fraud.
Global NFT sales jumped to over $4 billion at the beginning of the new year, while Google searches for "NFT scam" hit an all-time high right at the beginning of 2021. All types of commerce, unfortunately, involve the existence of scams.
It's important to note that an NFT containing an image is not your actual ownership of that image. You can't reproduce it or use it commercially. Instead, you are taking ownership of the record of your purchase on the blockchain. Another person can buy the record of the purchase associated with the image.
This makes it difficult to regulate the NFT market in the same way that the classic art market might be. Stealing a Van Gogh painting will attract legal penalties. Art dealers seek originals. And even the swanky, classic art world is, generally, made up of a small, tightly-knit community.
NFTs can support digital artists by creating scarcity and allowing buyers to own unique digital files.
But solving certain issues remains important. These include the resource cost of transactions on the blockchain. The multitude of hustles and scams also needs to be addressed. By better understanding them, we can learn to protect ourselves.
Some well-known NFT scams

The Oct. 2021 release of 10,000 "Evolved Apes" was one of the most famous NFT rug pulls or scams. This fake NFT project was quite typical for this space in many ways. Cartoonified ape designs are particularly common among NFTs following the success of Bored Ape Yacht Club.
Buyers received a unique ape design. It also had used in a proposed blockchain fighting game where apes could battle each other. Winners would receive cryptocurrency rewards, and the NFTs were funding a game that was supposedly in the development stages.
Unfortunately, the developer, who went by the pseudonym of "Evil Ape," disappeared shortly after selling the NFTs. By that time, he had earned 798 Ethereum (around $2.7 Million at the time). Purchasers had no way of responding to what had happened. The Evolved Apes game did not exist. Those who bought the scam NFTs were left merely with a JPG as a souvenir of their investment.
Another popular scam was Mercenary. This was a medieval-themed NFT-game with play-to-earn features and a new cryptocurrency token, Mercenary Gold. The launch was in 2021. The Mercenary scammers paid for advertising on Twitter through crypto news outlets. It raised people's interest.
It was all a hoax though. Those behind Mercenary Gold escaped with at least $760,000 from their NFT scam. They were also accused of other scams. The owners removed themselves from social media and have seemingly disappeared.
More ape scams
Big Daddy Ape Club looked to be a parody of the aforementioned and much more successful Bored Ape Yacht Club project. Celebrities like Jimmy Fallon and Paris Hilton expressed interest in the Bored Ape Club. None of them endorsed Big Daddy Ape Club, as advertising may have led some to believe.
Scammers behind Big Daddy Ape Club persuaded customers to "mint" their fake NFT for a premium price of 1 Solana. This was approximately $135 at the time. In the end, the NFT could not be minted. The Solana tax, however, would be deducted.
The NFT scam targeted over 9,041 people. This netted them more than $1.3 million. The website SolRarity points to the fact that this isn't the first this group has scammed people in the crypto world. This is likely the third fraud perpetrated by the person or persons behind Big Daddy Ape Club, based on the wallet activity.
7 most common NFT scams
NFT pump-and-dumps
Unfortunately, pump-and-dump schemes have become somewhat predictable in crypto and now in the NFT markets. Pump-and-dump schemes refer to when a group buys up NFTs or currency, artificially driving demand up. After they succeed, the scammers sell off when prices rise and leave others with no assets.
It is also common for cryptocurrency trading to engage in wash trading — the buying and selling of assets by the same person. This can drive up the price. The asset is attractive to naive traders who believe that the price will rise or that they have just landed an amazing deal.
NFT projects have also faced accusations of pump-and-dump practices. For example, The Athletic alleged that members of teams of SoRare NFTs football players bought the NFTs for the purpose of hiking interest. Even the record sale of Beeple's digital work faced the same NFT scam accusation. Various publications allege that the buyer, who goes by the pseudonym of Metakovan, purchased the work with a view to finance a pump-and-dump scheme involving their own token, B.20.
Large NFT projects can be involved
One of the first NFT applications was the CryptoKitties. The NFTs are on the Ethereum blockchain. After their launch in late 2017, these were hugely popular NFTs. One of the most sought-after cats sold for $155,000 worth of Ethereum. Six months later, the prices had dropped by 95%.
How do you avoid this fake NFT project scam?
Firstly, you should check the history and wallet records for the project. OpenSea and any NFT marketplace will allow you to see the total number of transactions and buyers that have purchased NFT collections. EtherScan allows you to see all transactions on the Ethereum blockchain.
Also, make sure to follow the project on social media. Check their Twitter, and join its Discord server. A project should have a lot of investors and collectors to ensure it has good liquidity, artistic value, and a long-lasting community.
Plagiarized NFTs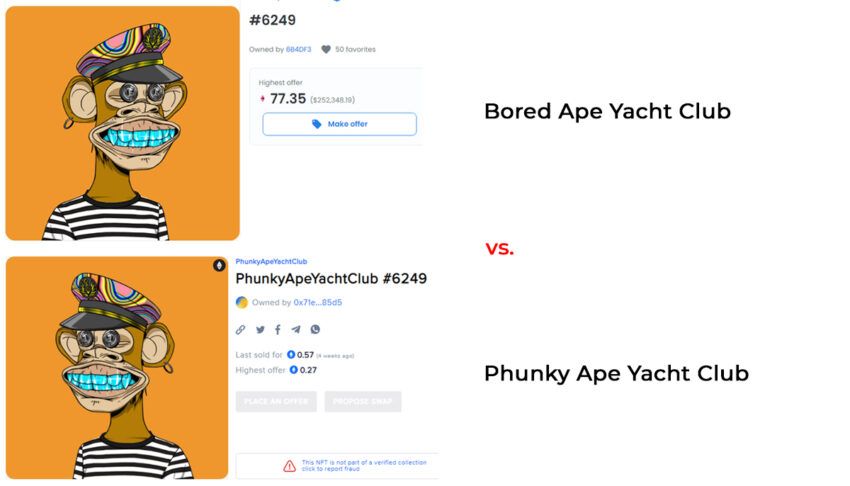 These fake NFT scams are becoming consistently more popular. However, there has been an increase in the reports of NFT theft. Artists have had their work copied. This was made into NFTs and sold to people who think they are getting the real deal.
DeviantArt is a popular online community with over 70 million members and half a trillion pieces of art. Many artists claim that they were the victims of theft. DeviantArt has launched a new tool to scan public blockchains and third-party marketplaces. It alerts its members of possible fake NFT art fraud. Since August 2021, it has sent over 50,000 alerts about possible NFT violations.
NFTs and intellectual property
Remember that minting an artwork as an NFT does not mean you have intellectual property. OpenSea's user-friendly software makes it easy for anyone to turn any image or photo into an NFT. Scammers or bad actors can easily steal the work of artists and create fake OpenSea accounts where they sell counterfeit artwork. Your NFT will be worthless if the community discovers what the scammer is doing. Furthermore, if this happens, there will be no way of getting your money back.
Do your research before buying NFTs from any marketplace.
The blue checkmark next to an artist's profile picture in OpenSea and other NFT marketplaces is a sign that they are verified. Find the artist via Twitter, their website, or any other social media channels if there is one. Ask the artist directly if the artwork is theirs and if they have the correct user profile. Ask others in the Discord channel to verify the information.
Phishing scams
You will need to sign up for a crypto wallet to buy your first NFT. MetaMask is the most popular Ethereum wallet to collect NFTs.
MetaMask customers were targeted recently in a phishing scam that involved phony ads asking for their private wallet keys and 12-word security phrase. It's not the only attempt to obtain your security information, either. Fake NFT malicious pop-ups are also available via Telegram, Discord, and other public forums.
A phishing attack can get your personal information and drain your digital wallet. Ozzy Osbourne's "CryptoBatz," a collection of 9,666 digital bats, was subject to this. Just two days after tokens were issued, supporters were being targeted with a fake NFT phishing scam. This scam drained cryptocurrency from wallets. It worked by making use of a link posted by the official Twitter account of the NFT projects.
What should you do to be protected from such a scam?
Keep your private information private! You will need your seed phrase to create a hardware backup of the crypto wallet, or to recover your wallet. You should not enter any information in the MetaMask popup or any other popup! For any cryptocurrency transactions, always go to the verified website and never use pop-ups, links, or your email.
Never give out your seed phrases to anyone!
Fake crypto influencers
The popularity of NFTs has led to numerous celebrity endorsements. These celebrities profit in a variety of ways. However, because NFT trades are done online, there is a finite amount of information that the public has regarding the marketing for the project. Certain scams involve fake endorsements. Before the public realizes that the supposed celebrity brand ambassador is not actually involved, many people are likely to have lost their money.
In Oct. 2021, there was a lot of interest in social media posts about notorious rapper 6ix9ine's NFT Trollz collection. The creation of the avatar would provide royalties to the NFT holder, with 5% returned to the original owners of Trollz tokens on every trade.
Questions concerning legitimacy immediately popped up. It claimed that $100,000 would go towards various charities. Many buyers of the NFTs now claim that none of that happened. The discussed royalties never materialized either. None of the philanthropic work that the project promised even started.
To avoid these scams, first of all, make sure to research the project. Is the celebrity endorsement the real deal? Is the project likely to live up to its promises?
Outbidding scams
Bidding scams are most common in the secondary market. They occur when someone has already bought an NFT and is looking to resell it. Bidders may look to change the cryptocurrency used after you list your NFT sales. This is a red flag! Naturally, $5 won't be the same as 5 BTC.
Double-check the currency and refuse to accept lower offers than you are willing to pay.
Scam websites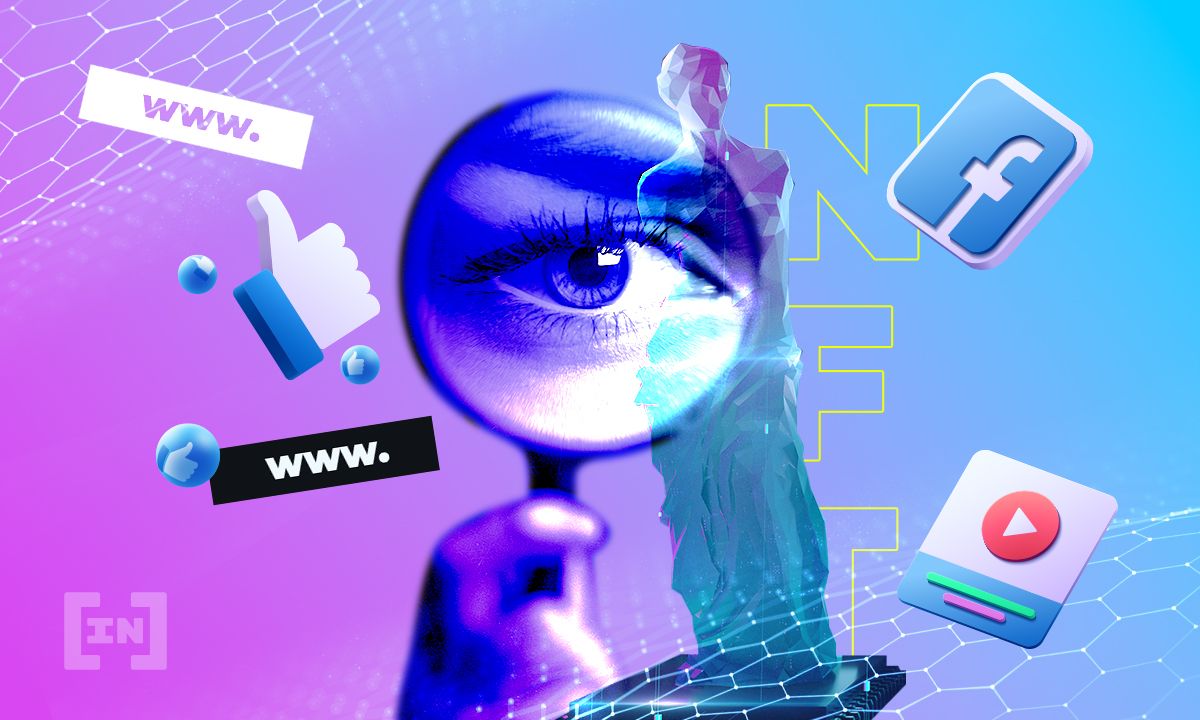 Once purchased, these NFTs go missing. It is because the contract that exists on the blockchain is different from the actual artwork. When you upload original art onto a platform like OpenSea, this will be purchased using cryptocurrency such as Ethereum. This is a smart contract.
The smart contract is actually what gets minted on the blockchain. The blockchain actually has the smart contract minted. The content that is not part of the smart contract. NFTs only refer to the ownership of assets. The asset itself can be anything.
It is therefore important to make sure that the centralized platform that you are using is trustworthy. Make sure that you don't end up simply buying a link to an image. What is stored on the URL can always be changed, leaving the buyer, essentially, with nothing.
To avoid being scammed, when you purchase an NFT, ensure that you also own the tangible or digital asset, such as a JPEG or MP3 file or PDF file.
Technical support scam
Unlike most of the fake NFT scams, this scam is pretty straightforward. It involves the scammer masquerading as a customer service executive for various NFT projects. The idea is to establish contact with you and then ask for sensitive personal information. Many of these scams occur on Discord, Telegram, or Reddit. These are forums that are very popular with crypto supporters. Providing the security phrase to your wallet can mean losing all of the assets available on it.
If you receive direct messages from the founders of such projects, approach this with incredulity. The majority of NFT projects won't channel users directly through the likes of Discord or Telegram.
With that in mind, if you would like to talk more about NFT scams, we have our BeInCrypto Trading Community group on Telegram to share ideas and experience to make your life easier.
Pay close attention when buying NFTs
Nobody wants to miss out on a potentially revolutionary idea. Blockchain technology or NFTs are of interest to many people because of this. Naturally, people also don't want to miss out on the proverbial next big thing.
Crypto fortunes do exist. Scammers, however, are aware of just how many are hopeful that they will be the next to get rich. Scammers play upon these instincts and use various tricks to profit from those involved in the NFT marketplace.
You can certainly avoid scams. Always be cautious. Make purchases only when you are certain of the information. Secondly, make sure that you research the project. Lastly, make sure that you maintain the security of your information.
NFTs can be hard to keep up with, so why not join BeInCrypto's Discord server to ensure you're on top of everything?
Frequently asked questions
How do I know if my NFT is real?
Disclaimer
In line with the Trust Project guidelines, the educational content on this website is offered in good faith and for general information purposes only. BeInCrypto prioritizes providing high-quality information, taking the time to research and create informative content for readers. While partners may reward the company with commissions for placements in articles, these commissions do not influence the unbiased, honest, and helpful content creation process. Any action taken by the reader based on this information is strictly at their own risk.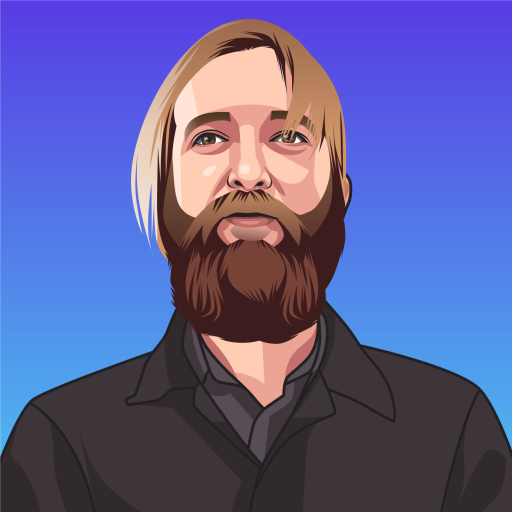 Eduard Banulescu is a writer and musician originally from Bucharest, Romania who is currently active on a number of various projects. Eduard's been working in an official...
Eduard Banulescu is a writer and musician originally from Bucharest, Romania who is currently active on a number of various projects. Eduard's been working in an official...
READ FULL BIO
Sponsored Sponsored