Gala Games is a decentralized play-to-earn gaming platform with a native token: GALA. In a literal sense, the platform is game-changing: Gala is transforming how we play games and use in-game assets. But should you invest in GALA, the platform's native token? This GALA price prediction breaks down everything you need to know.
Instead of offering far-reaching figures and urging you to buy in, this GALA price forecast begins with fundamentals. Next, we consider the tokenomics of the GALA crypto, its social presence, network activity, gaming popularity, and other insights. Finally, a mid and long-term technical analysis helps us understand possible price action concerning the on-chain and social insights.
GALA price prediction using fundamental analysis
Gala is a consortium of blockchain games in which fun, ownership, and positive interactions take priority. The ecosystem launched in 2019 and was founded by Michael McCarthy and Eric Schiermeyer.
Here is Gala's official Twitter handle.
Schiermeyer and McCarthy have over 40 years of experience in tech and social gaming combined.
Recent and ongoing developments
Here are a few points to keep in mind when considering the GALA token's fundamentals.
1. GALA is ERC-20 and BEP20 compatible and can be stored in multiple ERC-20-friendly wallets. This is helpful if you are thinking of holding long-term.
2. GALA's market cap was the highest in November 2021, when we were at the end of the bull run. It was standing at $5.19 billion. Now it is less than $192 million.
3. Its modus operandi involves multiple computers working as nodes to make the entire ecosystem decentralized. GALA crypto is used as a game milestone and node managing incentive. Node managers also get unique NFTs in return.
4. Games, NFT collections, and utility tokens are packed into a single ecosystem.
5. Last reported, Gala has almost 1.3 million active users, and many more AAA-rated games are in the works.
6. Its NFT marketplace has sold over 26,000 NFTs, The most costly was being flipped at $3 million.
7. Gala now has a presence on both Ethereum and Binance Smart Chain.
8. Gala's own mainnet — Project Gyri — will soon exist.
9. The Gala gaming ecosystem offers a diverse selection of games, including Mirandus, Spider Tanks, Fortitude, Town Star, and more.
What are the red flags?
NFT volumes and transaction count have steadily declined in 2022. The trading volume went down 75% compared to Q2, 2022.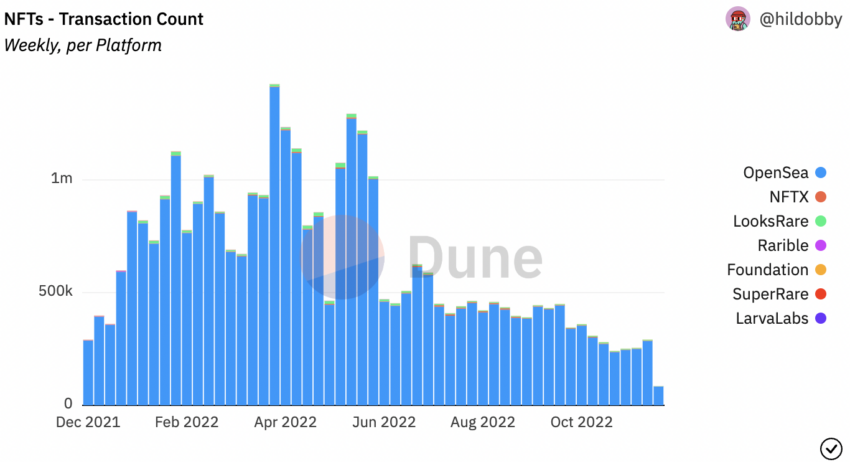 This pattern may work against Gala Games in the short term.
Between May and June 2022, $1.4 billion was poured into the metaverse space. Yet, investors should remain cautious. Most metaverse tokens have lost more than 80% of their value in the current bear market. For some, though, this might be an opportunity for value buying.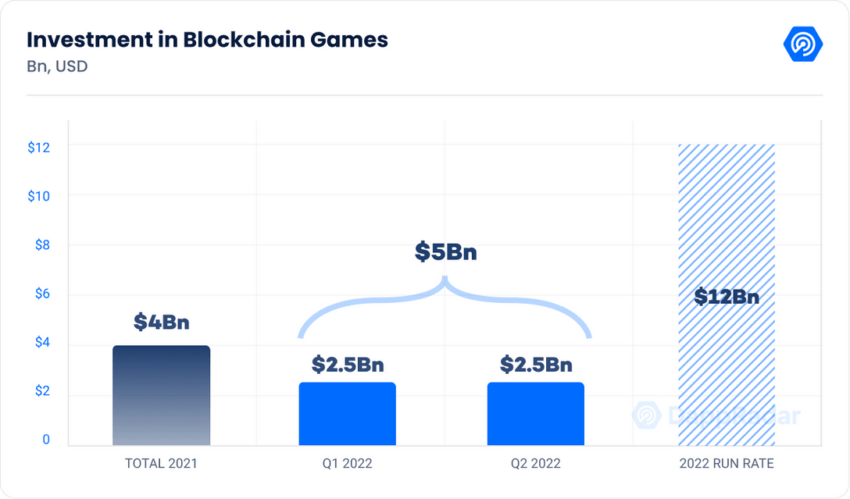 Finally, by May 2022, Blockchain Games saw an investment inflow of 5 billion, already beating the $4 billion figure in 2021.
Gala Games is rapidly developing its ecosystem. However, we must consider the bear market and focus on the GALA price prediction model to assess the opportunities.
Gala tokenomics and trading activity for price forecasting
The total supply of GALA is 50 billion. At present, 6.98 billion GALA tokens are in circulation. The network automatically distributes tokens to node operations and the Games Conservatorship. Also, the yearly halving cycle keeps the inflation rate in control.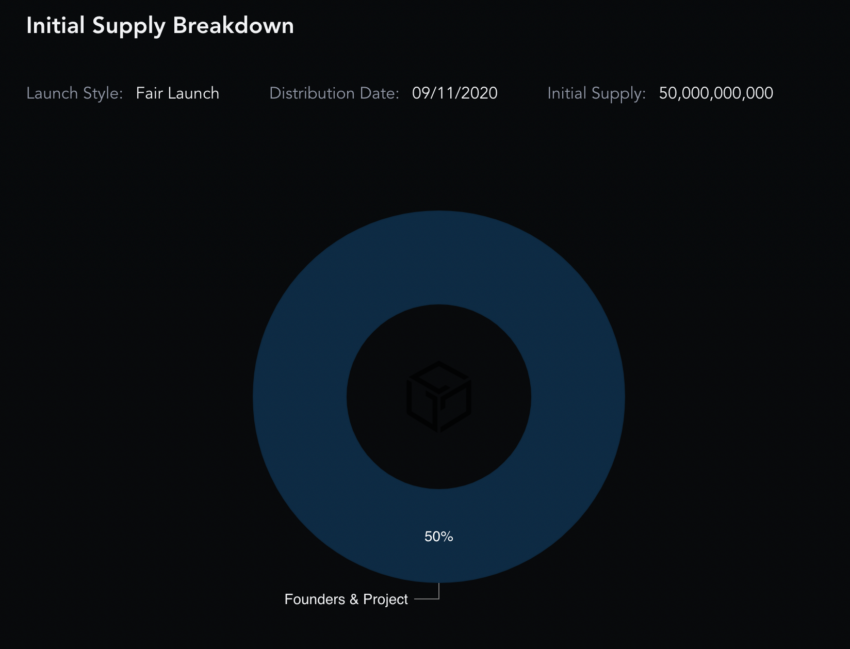 Hence, GALA is disinflationary, which could be a positive for the price action if network adoption increases.
The trading volumes and market cap of GALA directly connect with the valuation of gala tokens. Here is how this works and may work in the future:
While the prices of GALA tokens have changed over time, let us take the highest token price for reference.
GALA's all-time high price was $0.8376 on Nov. 26, 2021.
The same-day trading volumes were as high as $4.70 billion, and the GALA market cap was $5.19 billion.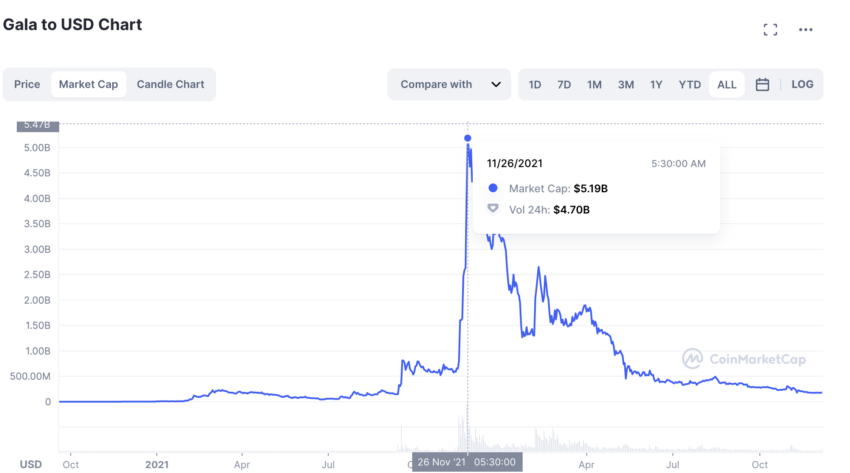 Now, if we take the ratio of trading volumes and market cap, we get 0.90. (November 2021)
This is quite close to the price GALA was trading at that day.
With a trading volume of $157 million and a market cap of $191 million, the ratio is 0.82. (December 2022)
However, GALA tokens are currently trading at $0.02744.
As per trading volumes and market activity, there is significant room for GALA's current value to increase.
GALA price prediction using network activity and token summary
Despite the bear market, addresses holding GALA tokens have grown between September and December.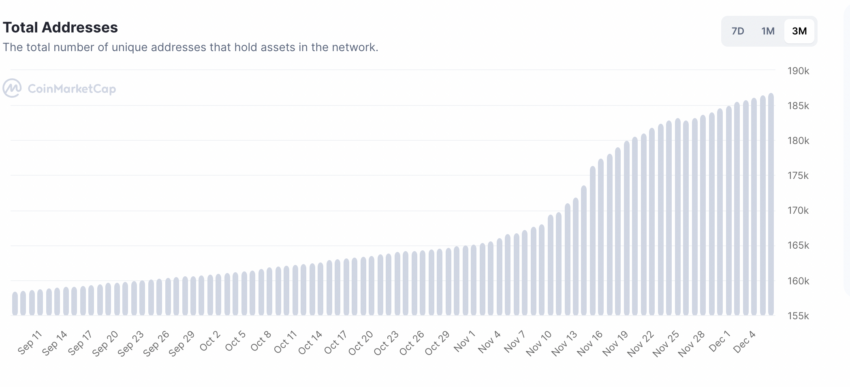 Among the positives are the widespread spot trading markets with decent liquidity and high confidence scores. As expected, the GALA-USDT pair is the most popular. Also, GALA is a DEX-tradable token, with SushiSwap supporting it currently.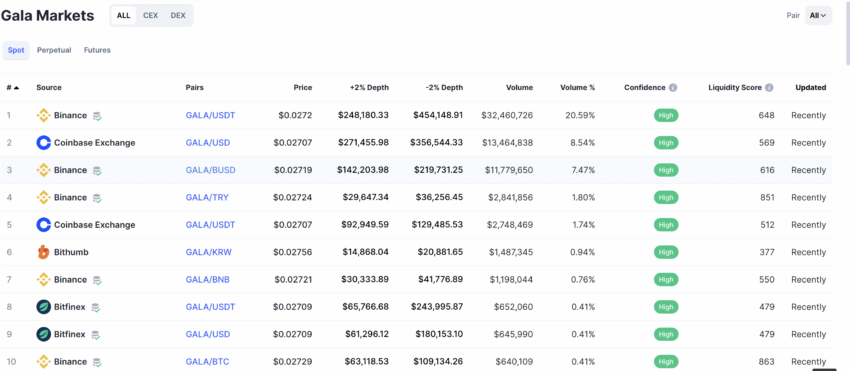 However, neither the token summary nor the deep dive presents the best picture. As of now, only 7% of GALA holders are in profit. Only 18% of token holders have been hanging on to GALA for over a year. Plus, the top 100 GALA holders handle 85.69% of the circulating supply.
This might lead to selling pressure if whales choose to dump their GALA tokens.

A seller-heavy market doesn't look good short term, but holding patterns suggest tokens are slowly being accumulated.
Prices of GALA tokens and social activity
Price increases often follow spikes in social mentions. Therefore, any sentimental driver can amplify GALA price prediction models, offering a price boost.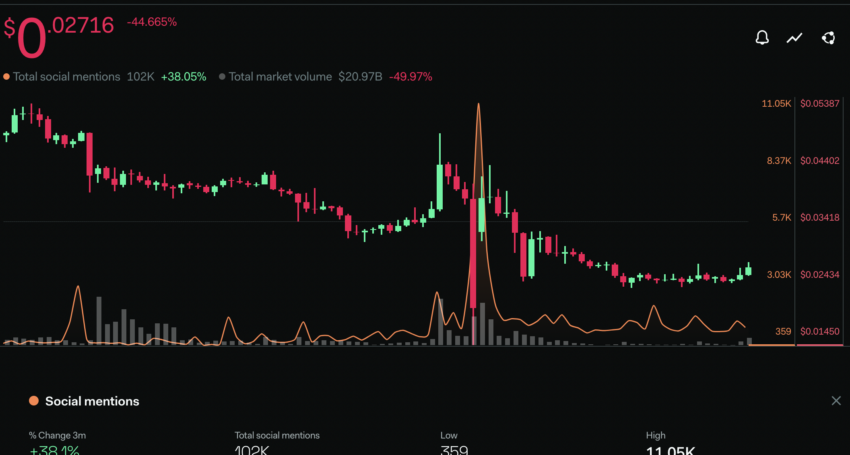 Also, GALA has seen a 38.1% increase in social mentions over the past three months. Active Reddit users have declined during the same period. However, Reddit subscribers have skyrocketed.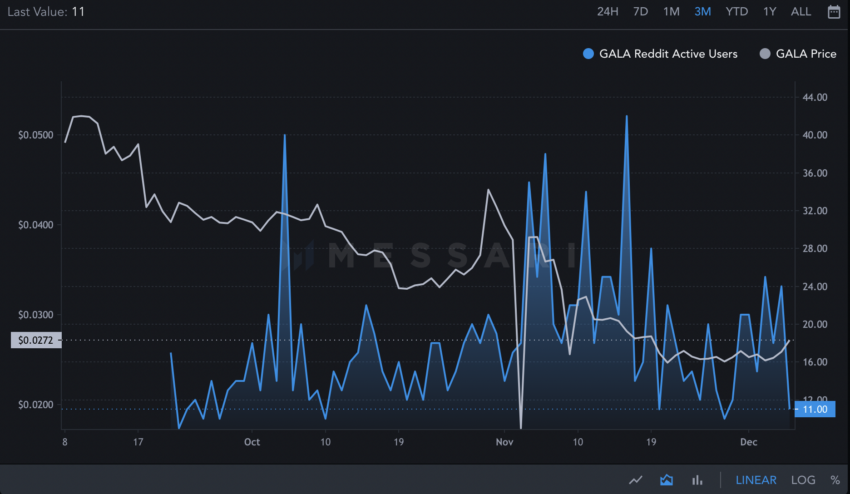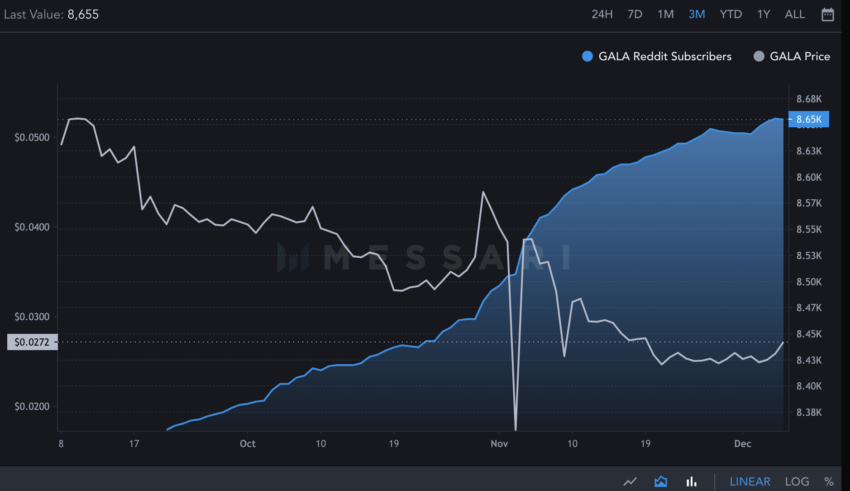 Social patterns suggest people are subscribing to GALA platforms to stay updated with token developments.
GALA price prediction using technical analysis
Here is a bird's eye view of GALA's daily chart. There has been an extended range-bound move at GALA's counter from May 2022 onwards. However, before that, GALA made a swing-high pattern, with lower highs marked by circles.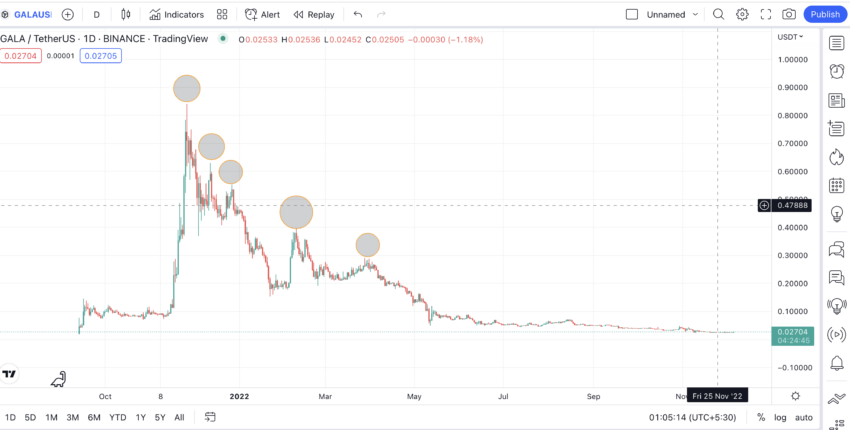 The current range-bound move is similar to when GALA started trading. Hence, we can expect a rise, similar to the current pattern, albeit in an inverted manner. We get a rough price prediction model if we draw the bar patterns from the start and superimpose the same onto the current price action.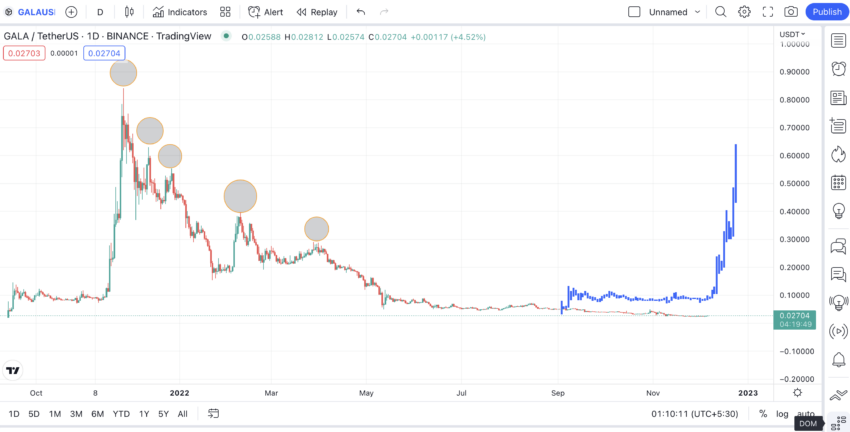 If we can find the pattern and calculations for the first foldback, we can extrapolate the same for the upcoming cycles.
Price changes between highs and lows
Outlook: Moderately bullish
We will now calculate the time taken between the highs to see if we can find a pattern.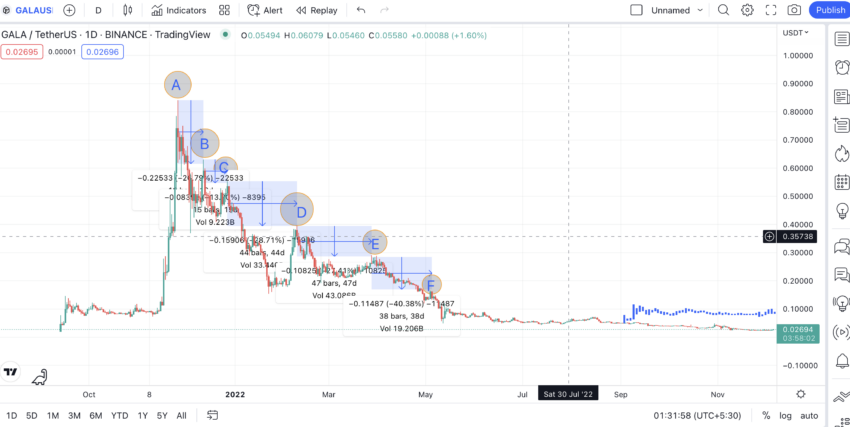 Point A to Point B = 16 days and a 27% drop; Point B to Point C = 15 days and a 13% drop; Point C to Point D = 44 days and a 29% drop; Point D to Point E = 47 days and a 27% drop; Point E to Point F = 38 days and a 40% drop
Average from Point A to Point C: 16 days and a 20% drop
Average from Point C to Point F: 43 days and a 32% drop
If GALA respects the foldback/mirror pattern, the next part of the foldback should start roughly midway between May (the last high or Point F) and December. The ideal start would be September.
On Binance, the GALA-USDT trading started in September 2021. The ideal point would be when we identify a higher high formation, however small it is.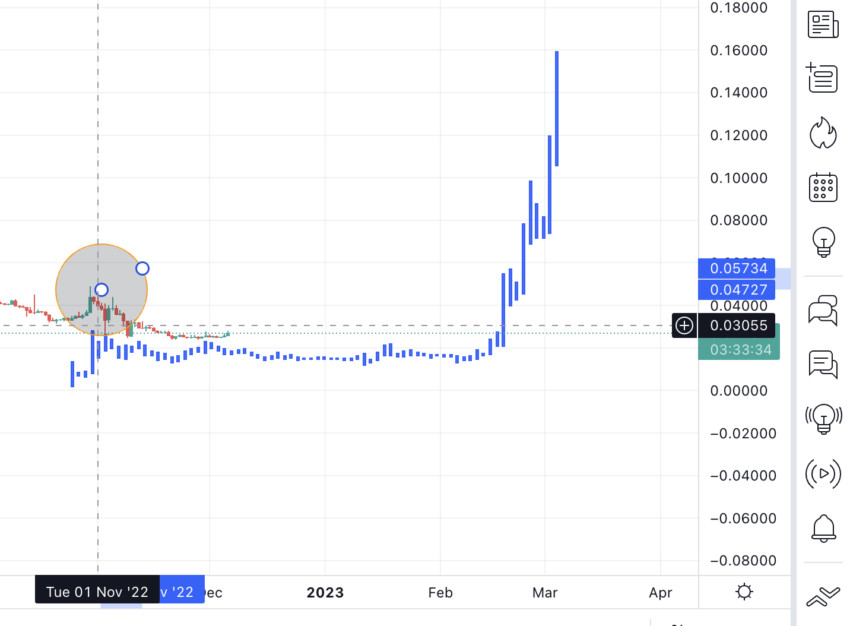 GALA's counter experienced a minor price surge on Nov. 1, 2022. From Point F to Nov. 1, there are 180 bars (approximately). Hence, if the foldback pattern is respected, the next high should be in May 2023.
Gala (GALA) price prediction 2023
Outlook: Moderately bullish
Now it is established that GALA will make a high in May 2023, let's determine what that level could be.
As we are predicting a foldback pattern, the nearest point to replicate is Point F. We know that the drop from Point E to Point F was 40%. Hence, a recovery in the mirrored pattern would mean a gain of almost 67%. Hence, from Nov. 1 levels, GALA may have a high of $0.07928 in sight.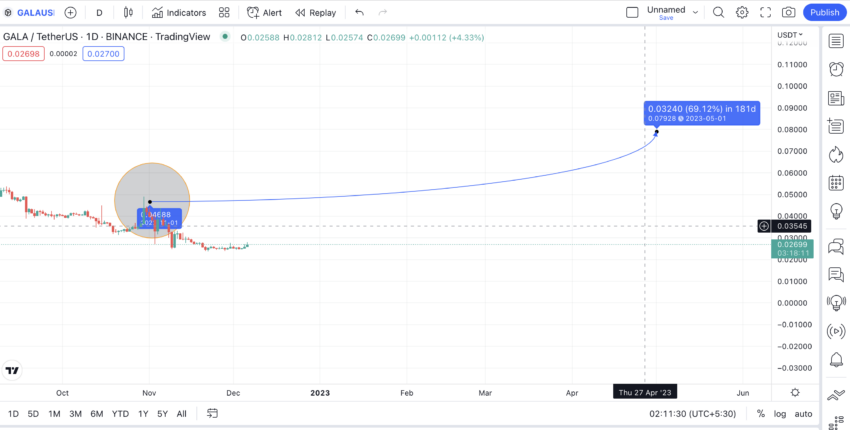 The low could be $0.02379, which it already seems to have touched, as we see a rounded bottom being formed.

Also, the rounded bottom formation is close to the 50-day moving average, acting as a resistance. For a short-term breach, GALA cryptocurrency should first breach the 50-day moving average line in yellow.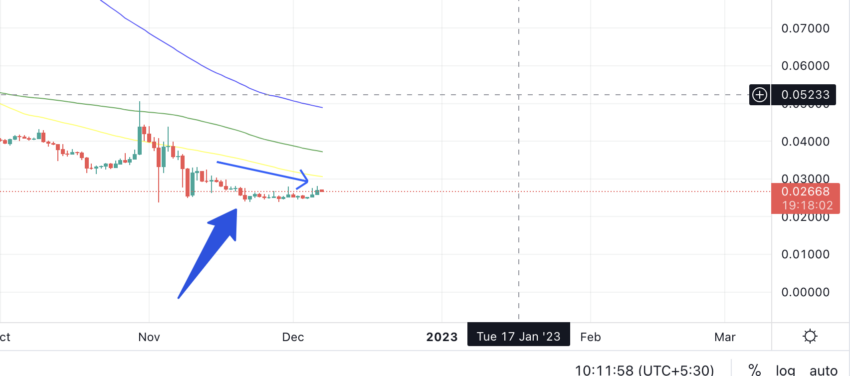 There is also a notable positive and upward-moving RSI. If you check the Relative Strength Indicator for momentum, you will see that GALA is making a higher high. A bullish divergence is visible if we create a path on the price and RSI charts.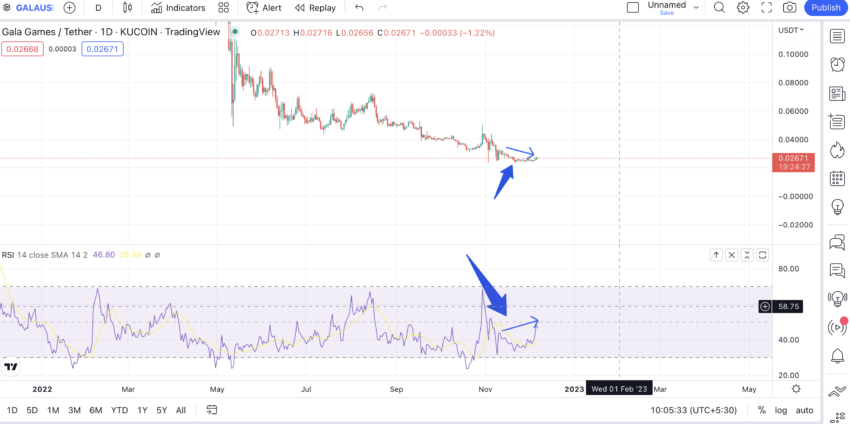 Hence, we might soon see a trend reversal at GALA's counter.
Metaverse Index for short-term view on GALA
Even though Gala Games operates as a separate ecosystem, we can correlate its price with the Metaverse Index. This will show us how metaverse-related tokens are moving in the short term.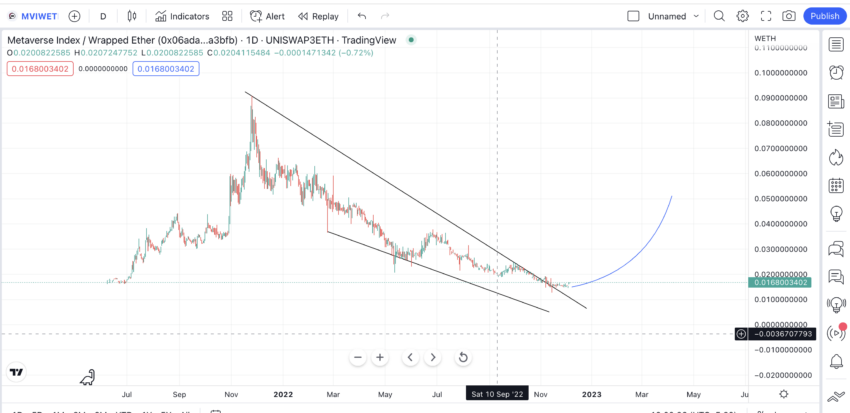 Here is a Metaverse Index-wrapped ETH pair in Uniswap. You can see a falling wedge and a possible breakout at the upper trendline. If this pattern holds, GALA should stay true to its projected price.

Projected ROI from the current level: 199.75%
Gala (GALA) price prediction 2025
Outlook: Bullish
Let's say the first high in 2023 is $0.07928 (as per forecast). If we follow the foldback principle, the next step includes applying Fib levels to the projected price. With Fib levels, finding the key levels to breach will become easier.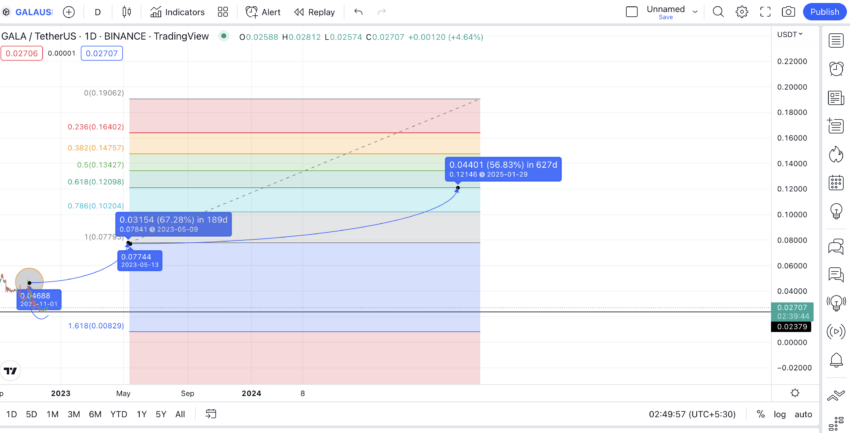 Now extrapolating and considering that GALA follows a linear growth pattern, the price projection for 2025 could be $0.12146. We can determine the lows by using the Fib retracement metric to see where GALA's prices can drop.
If we take the drop from Point A to Point F, we get almost 80%. Hence, for the corresponding pattern or mirror image, the lower highs could be between 70% to 80% of previous highs. We will use this while calculating the long-term lows for GALA.
We have used this calculation as part of the GALA price prediction table.
Projected ROI from the current level: 359.37%
Gala (GALA) price prediction 2030
Outlook: Very Bullish
We have seen that GALA price surges were relatively high at the beginning. Per our projections, there should be an increase of 60% on average per year or two years. This is a realistic price prediction considering some GALA holders may want to sell and take profits at some point.
To predict the price point of GALA tokens in 2030, a weekly chart can help us consider a broader timeframe. If we place the Fib levels on the highs of 2025, GALA could reach $0.80 by mid-2030. This would be close to the all-time high of $0.83.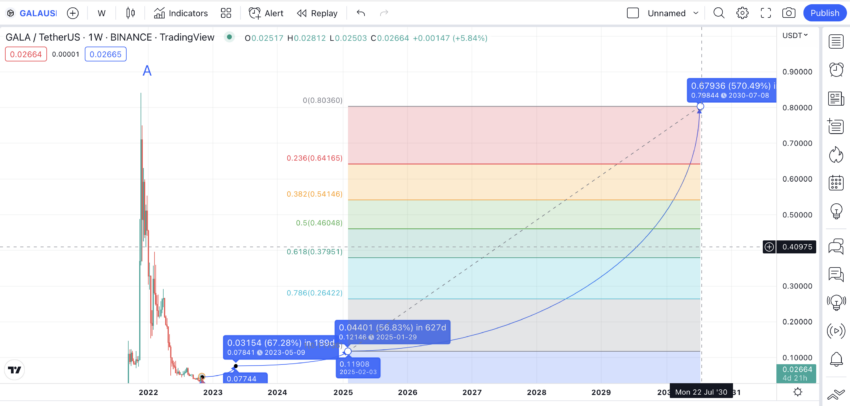 This assumes linear growth in Gala's mainnet activity (when launched), network adoption, and the significant popularity of Gala games.
Projected ROI from the current level: 2922%
Gala (GALA's) long-term price prediction (up to 2035)
Those who plan to hold GALA further than 2030 may be in luck. Here is a table that shows GALA's projected price journey up to 2035:
| | | |
| --- | --- | --- |
| Year | | Maximum price of GALA | | Minimum price of GALA |
| 2023 | $0.07928 | $0.02379 |
| 2024 | $0.10017 | $0.07019 |
| 2025 | $0.1214 | $0.08498 |
| 2026 | $0.1456 | $0.1019 |
| 2027 | $0.2185 | $0.1433 |
| 2028 | $0.3387 | $0.2370 |
| 2028 | $0.5249 | $0.3674 |
| 2029 | $0.6561 | $0.4592 |
| 2030 | $0.7873 | $0.5511 |
| 2031 | $0.94476 | $0.6608 |
| 2032 | $1.1809 | $0.8260 |
| 2033 | $1.417 | $0.990 |
| 2034 | $1.62 | $1.13 |
| 2035 | $2.11 | $1.477 |
For some intervals, the price spike is muted. We are factoring in future bear cycles and market downturns.
As per the GALA price prediction 2040 model, this extrapolated table places prices at $5. But that's close to two decades away: a lot can change in that time!
How accurate is the GALA price prediction?
The GALA price prediction model considers historical price action. Also, this forecast attempts to confirm a short-term trend and then extrapolates the same to longer timeframes. The growing popularity of metaverse and play-to-earn games make GALA crypto a desirable option. This is especially true when the crypto market looks to a broader trend reversal in 2023.
For this GALA price prediction to hold, the network must continue to experience high user inflow. Like any other ecosystem, the Gala network will directly impact the GALA token and its future price.
Frequently asked questions
How much will GALA be worth in 2025?
Is GALA a good investment?
What will GALA be worth in 2030?
Disclaimer
In line with the Trust Project guidelines, the educational content on this website is offered in good faith and for general information purposes only. BeInCrypto prioritizes providing high-quality information, taking the time to research and create informative content for readers. While partners may reward the company with commissions for placements in articles, these commissions do not influence the unbiased, honest, and helpful content creation process. Any action taken by the reader based on this information is strictly at their own risk.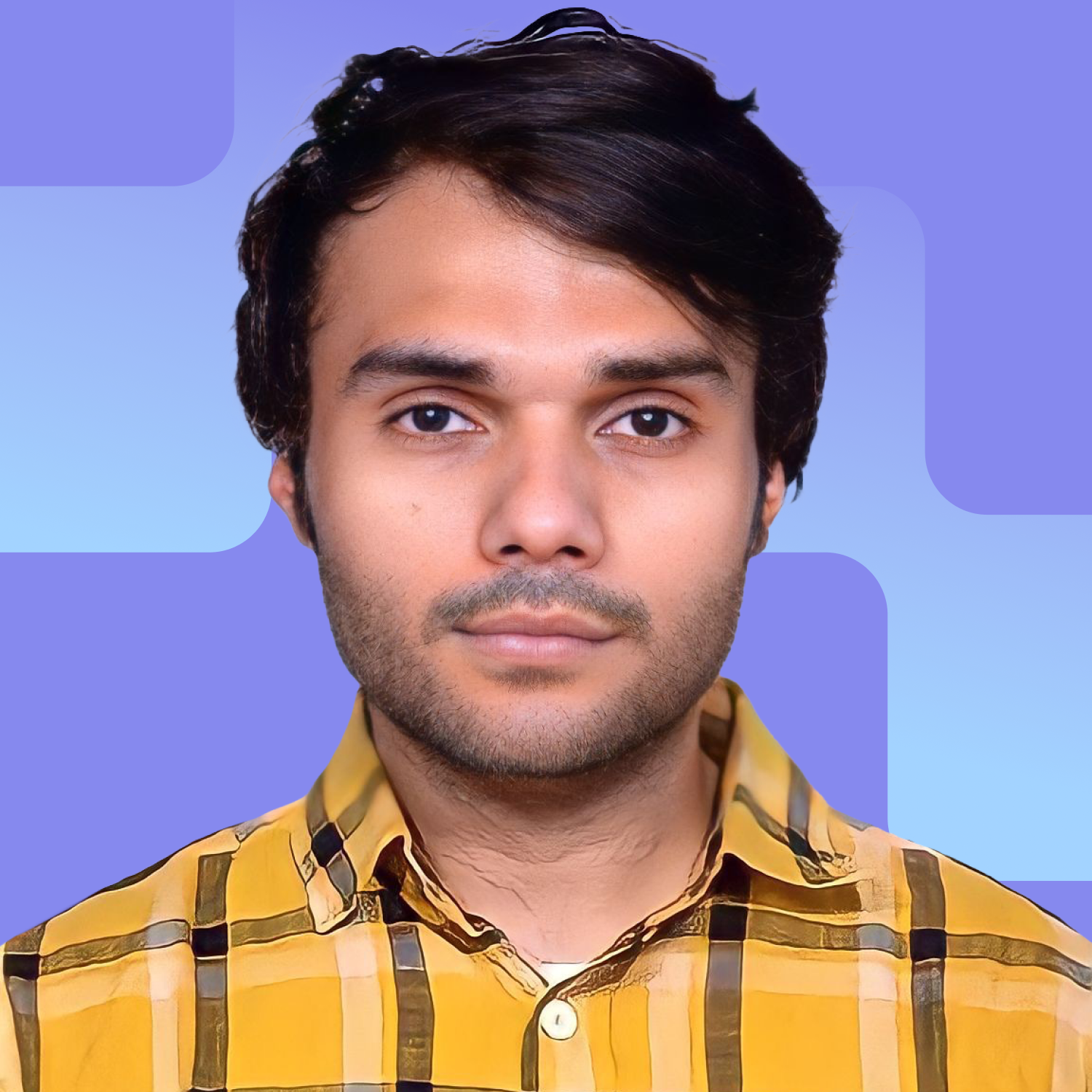 Ananda Banerjee is a technical copy/content writer specializing in web3, crypto, Blockchain, AI, and SaaS — in a career spanning over 12 years. After completing his M.Tech in...
Ananda Banerjee is a technical copy/content writer specializing in web3, crypto, Blockchain, AI, and SaaS — in a career spanning over 12 years. After completing his M.Tech in...
READ FULL BIO
Sponsored Sponsored