The growing buzz and understanding around the potential of the NFT market has increased interest in blockchain gaming. There has undoubtedly been a significant shift in which passive hobbies turned into multi-billion dollar businesses in just a few years. The opportunity to win crypto and mint your own NFTs in games has revolutionized the industry. DeFi Kingdoms takes this a step further by transforming the world of fantasy and RPG into a DeFi protocol featuring tokenized resources. Read on to discover the world of Gaia and learn the mechanics of the blockchain-based game in this comprehensive DeFi Kingdoms guide.
Want to get all the hottest news and reviews on the best crypto projects? Join BeInCrypto Trading Community on Telegram: read news, discuss NFT games, ask for technical analysis on coins and get answers to all your questions from PRO traders & experts! Join now
What is DeFi Kingdoms?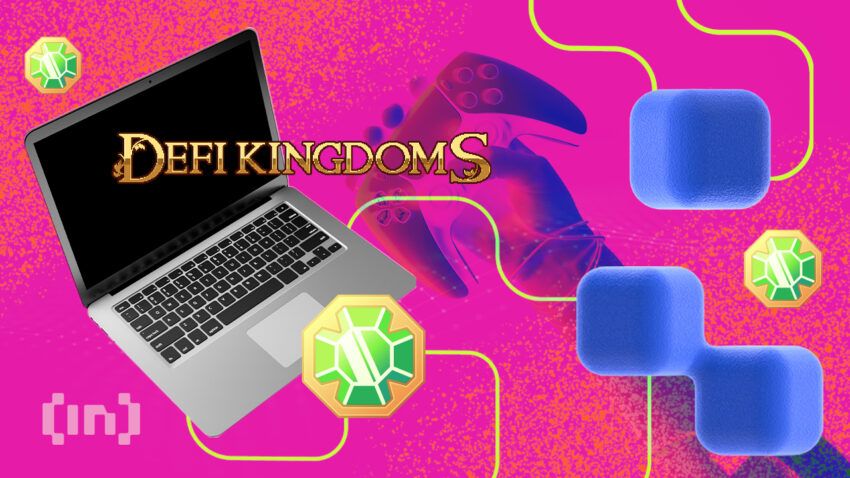 DeFi Kingdoms is a prominent DeFi play-to-earn (P2E) RPG game with a medieval twist. Powered by the Harmony One blockchain, the game features charming pixelated characters who spend their days exploring taverns, banks, and gardens. All the while, they summon new Heroes. These Heroes are utility-based NFTs that earn resources and combat enemies while giving players that competitive edge to earn real money. DFK uses the UniswapV2 Protocol, which caters to both liquidity providers and traders.
DeFi Kingdoms guide: How to play the P2E game?
To get started, visit the DFK website and click on "Start Playing." The game is playable direct from the browser or through Metamask's mobile application. After connecting your wallet, you can create your Hero character, which is minted into an NFT. These pixelated art Heroes come with two sets of genes for appearance or game attributes. Furthermore, gene mutations are also possible, resulting in rarer abilities and classes. In addition, Heroes possess a variety of stats that help them in the game, including stamina, agility, mana, and wisdom.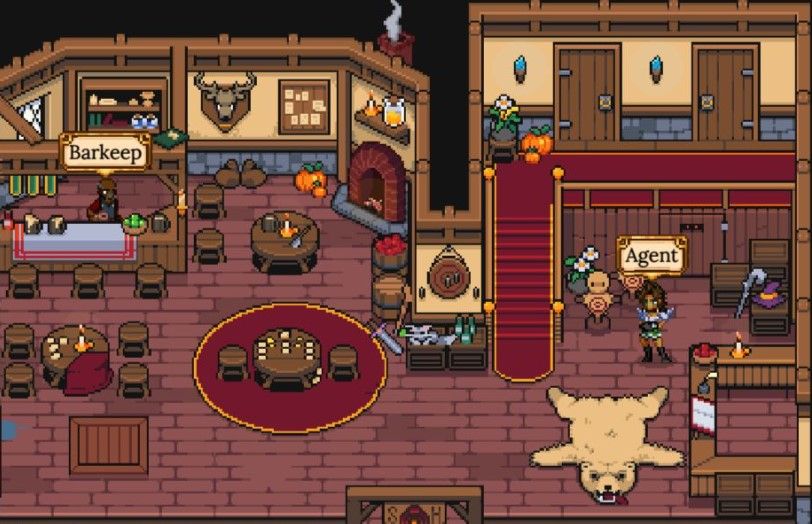 Summoning
One of the main attributes of the game is summoning. Heroes are summoned by approaching the Arch Druid at the dimension Portal by combining the genes of two existing heroes. Producing an extremely rare and valuable Hero can be profitable if traded. Here, Heroes feed a Summoning Crystal with "Gaia's Tears" and jewels. Apart from summoning, Heroes can also go on quests to acquire rewards and experience.
Locations
There are several key locations in the game. Each serves an important purpose:
Marketplace: swap coins and buy items
Bank: stake coins with no risk
Garden: pool tokens
Tavern: buy, sell, rent NFT Heroes

Serendale
DeFi Kingdoms is a cross-chain game with multiple realms in its gaming environment. Each realm (world) provides unique opportunities for players. Serendale 1 is the original realm launched on the Harmony network. But in October 2022, it closed and converted into an Outpost, allowing players to onboard bridge tokens from any chain into a realm of their choice. This realm utilizes the JEWEL currency.
Crystalvale
DeFi Kingdoms: Crystalvale is the first expansion and lives on the DFK Chain, an Avalanche subnet. In this realm, the CRYSTAL token is used as the in-game currency. In addition, new classes of Heroes are introduced in this realm, and an overall new digital environment is available to explore.
What is DeFi Kingdoms JEWEL?
The DeFi Kingdoms JEWEL is used as both the in-game currency and governance. When the Serendale project launched on Harmony, so did the JEWEL token. This token functions similarly for Serendale as CRYSTAL does for Crystalvale. However, JEWEL is used to pay gas fees where Crystalvale transactions take place on DFK Chain.
JEWEL is currently valued at $0.29 and ranks #3258. It has a market capitalization of $18,749,934 with a circulating supply of 62,752,130.00. The token has a max supply of 500 million and a total supply of 320,111,120.
JEWEL token uses
Staking
Liquidity pools
In-game purchases
Tokenomics
10 million tokens were pre-minted and distributed as follows:
5 million (Development fund multi-sig safe)
2 million (Marketing fund multi-sig safe)
2 million (Initial liquidity)
1 million (Founders fund multi-sig safe)
Multi-sig wallet treasury
The project's funds are secured in multi-sig wallets at Harmony One. Four members of the core team will control the wallets, and transactions will require three out of four signatures in order to execute. This ensures the system won't be hacked, is 100% transparent, and no one team member retains more power. You can view the wallet address of these funds in the Tokenomics section of the DFK docs.
Price history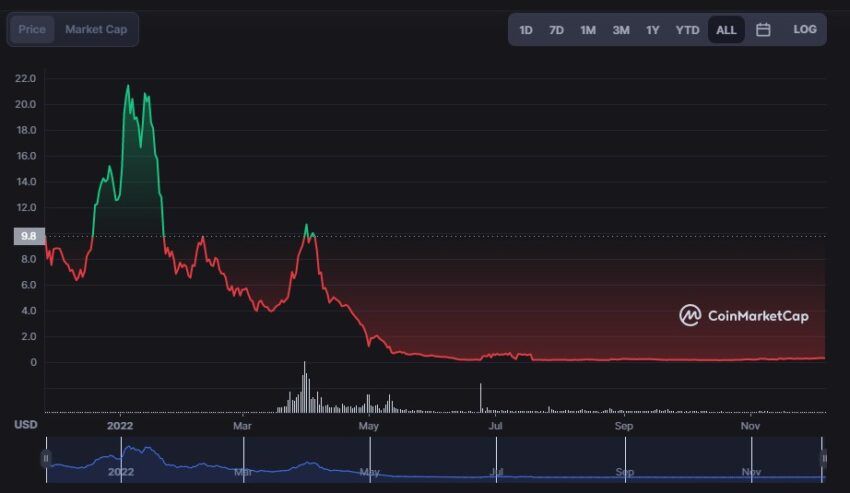 DeFi Kingdoms JEWEL is currently in decline at the time of writing; however, the last 30 days show a 2% overall increase. Due to 2022's bear market, JEWEL has plummeted a total of 95.9% since its all-time high of $22.52 on Jan. 5, 2022. It wasn't until June 3, 2022, that JEWEL experienced its all-time low of $0.11.
Where can I buy JEWEL?
The JEWEL token is not available on all common exchanges. However, you can choose to buy it on the below listed centralized exchanges (CEX) or decentralized exchanges (DEX). Alternatively, by swapping JEWEL with ETH via your blockchain wallet, players can purchase the token directly from the DeFi Kingdoms website (which serves as a DEX).
Centralized exchanges
Decentralized exchanges
DeFi Kingdoms NFTs
The NFTs in the game are the Heroes. These characters have a certain degree of rarity and can evolve and improve over time as experience is gained through quests and battles. Some other ways you can earn them include converting jewels to Heroes or by summoning a Hero. In the Tavern, you can talk to Agent Selina to buy, sell, or rent your characters for money. However, to buy other NFTs in the game, go to the Marketplace and talk to Trader Zada.
DeFi Kingdoms guide: Can you earn money playing?
There are a number of ways in which one can earn money while they play DeFi Kingdoms. What's more interesting is that the project still plans to launch more features in the future. Currently, you can earn crypto through the following:
Heroes: Trade, breed, or rent Heroes in the marketplace
Swap: Swap tokens with the Trader
Garden: Stake LP tokens and earn JEWEL or other rewards
Bank: Stake JEWEL for rewards or for xJEWEL
Professions: Send Heroes on quests to earn rewards
Who is behind DeFi Kingdoms?
Kingdom Studios is the company behind the creation of DeFi Kingdoms. The team launched Serendale on Aug. 22, 2021. The names of the team players are disguised with clever nicknames, including:
Beetle Dude (Director of Application)
Bolon Soron (Community Director)
brbrbr (Data Analyst)
Cabby (Pixel Artist)
Dreamer (President)
Hubert Cumberdale (Game Director)
DeFi Kingdoms guide: a move to Avalanche AVAX
The project originated on the Harmony One blockchain, but now it has deployed its Crystalvale expansion on its own Avalanche (AVAX) subnet, the DFK chain. This transition allows for more validators on the network to reach a consensus. Because of this transition, DFK can run its own proprietary blockchain.
On its launch day, the Avalanche chain experienced a 30% spike in transactions. This expansion led to the introduction of another token, $CRYSTAL which remains unique to DFK's Avalanche subnet. Avalanche is now part of one of the largest GameFi projects in the crypto sector and may soon become more popular by allowing projects to create their own subnets.
Is DeFi Kingdoms safe to play?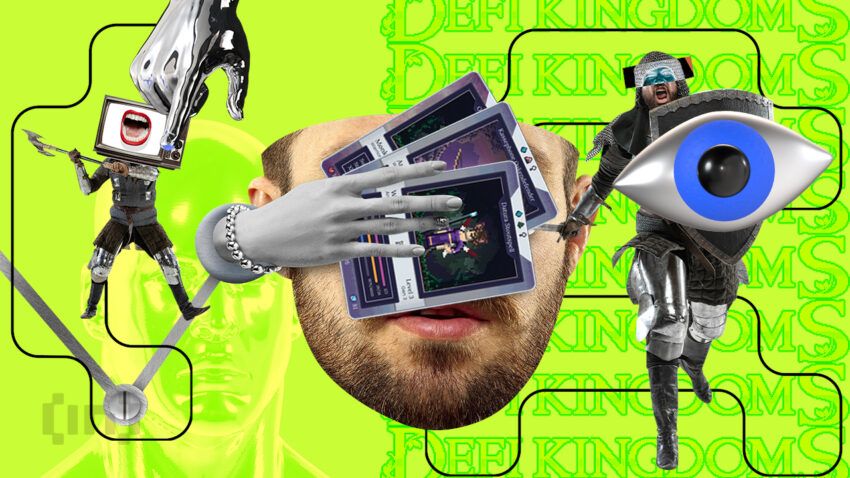 DeFi games and projects that run on a blockchain are generally safe. This is due to the underlying technology that governs the ecosystem. Blockchain integrates data encryption with private and public keys to ensure maximum security in transitions. Furthermore, the game is built on Harmony One, a proof-of-stake blockchain with sharding. This helps in reducing node validation times and delivers better performance.
DeFi Kingdoms and future plans
Overall, the DeFi Kingdoms project has been a great success so far. Of course, its recent integration with the Avalanche blockchain has opened up new opportunities for play-to-earn gamers. Aside from that fact, a pixelated RPG game that offers NFT assets is still an original concept in DeFi gaming. So, these types of games are still in their latent period. As for the future, DeFi Kingdoms plans to introduce additional features, including players vs. player mode, players vs. environment, NFT pets, guilds, and resource gathering.
Frequently asked questions
Is DeFi Kingdoms on mobile?
Yes. DeFi Kingdoms is available on mobile. However, you need to access it through the MetaMask mobile browser. Next, you will be able to connect this wallet to the website. Our BeinCrypto DeFi Kingdoms guide covers everything you need to know about playing on mobile.
How do I play DeFi Kingdoms?
Register and install a MetaMask wallet, Deposit Harmony One tokens (for gas fees) into the wallet to swap for JEWEL. Then visit DeFi Kingdoms site and click "start playing". Create a character and profile and you're ready to play. We cover everything you need to know in our DeFi Kingdom.
Is DeFi Kingdoms a play-to-earn game?
Yes. DeFi Kingdoms is an NFT P2E game. Players create and trade Hero characters that serve as NFTs in the game. You can also earn money by winning rewards through gameplay.
Is DeFi Kingdoms free?
Yes. The game is free to play and get started. However, remember that anything done on the blockchain will require gas fees. So, always have a small amount of in-game currency available in your wallet.
What blockchain does DeFi Kingdom use?
DeFi Kingdoms is considered a cross-chain blockchain game. It utilizes the open and fast layer-1 Harmony blockchain which is hosted on the Ethereum network. In the Crystalvale expansion, the game introduced its own blockchain DFK Chain which handles transactions in Crystalvale. We cover the mechanics of the game in our DeFi Kingdoms guide.
Disclaimer
All the information contained on our website is published in good faith and for general information purposes only. Any action the reader takes upon the information found on our website is strictly at their own risk.
At Learn, our priority is to provide high quality information. We take our time to identify, research and create educative content that is useful to our readers.
To maintain this standard and to continue creating awesome content, our partners might reward us with a commission for placements in our articles. However, these commissions don't affect our processes for creating unbiased, honest and helpful content.