XRP is a highly popular asset created by Ripple labs, it has positioned itself as a frontrunner in the race for digital payments and is looking to become the future of international banking. Due to the recent peak in interest, many buyers want to know how to buy XRP.
At BeInCrypto, we believe that every buyer should have the opportunity to invest fairly in Cryptocurrencies, so we've created a helpful walk-through for those looking to understand Ripple more, answer some important questions and guide you through the processes.
Before we go straight into a guide on how to buy XRP, let's answer a few important questions surrounding Ripple.
Can I still buy XRP?
Good news — yes you can. Although Ripple has faced recent controversy following the infamous Ripple lawsuit involving the SEC, investors can still purchase Ripple from many major exchanges such as StormGain, Binance and Kraken.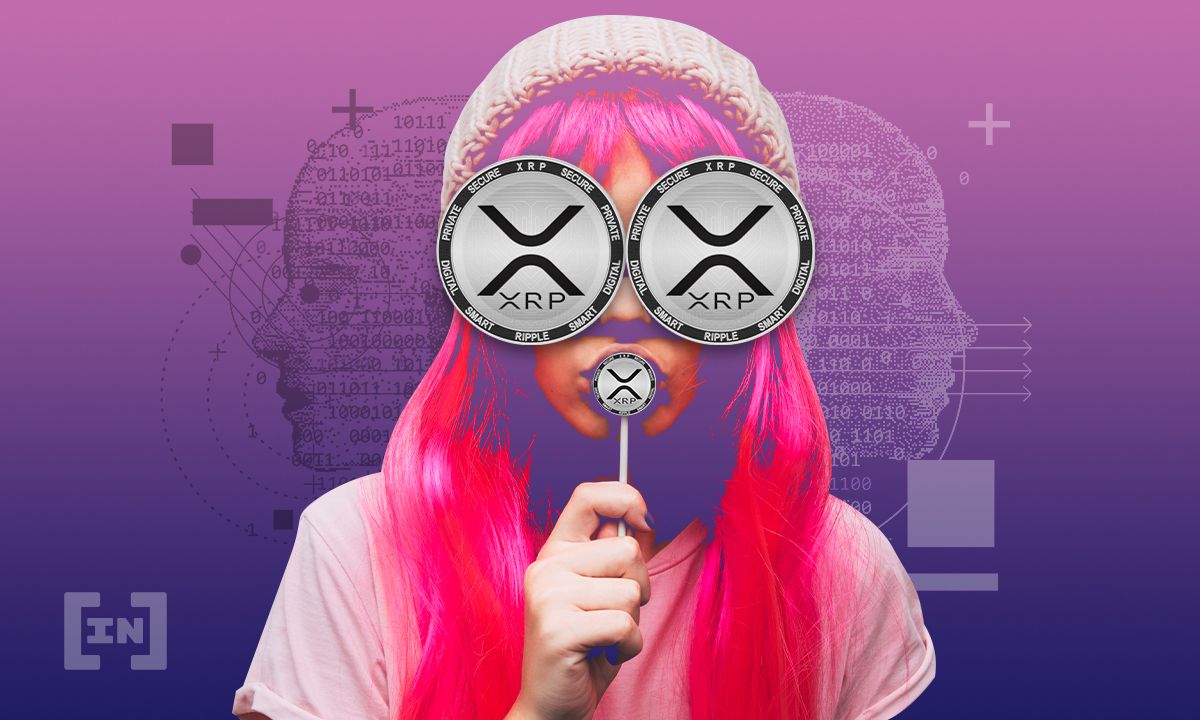 Despite the Ripple lawsuit, exchanges have allowed users to continue purchasing XRP, and due to recent developments involving the lawsuit, there have been rumours that more exchanges are looking to allow users to buy XRP.
How do I buy XRP right now?
You can buy Ripple from all major exchanges such as StormGain and Binance alongside many minor exchanges. You can also exchange existing Cryptocurrencies you may own to Ripple by swapping your assets to XRP or trading XRP on an exchange.

It should be noted that due to the lawsuit, some exchanges such as Coinbase delisted XRP from their platform. If you wish to purchase XRP, please check with the individual exchange.
Where is the best place to buy XRP?
The best place to buy Ripple is on any reliable exchange that supports trading and purchases of XRP. We suggest a popular, well-established exchange such as StormGain, Binance, or KuCoin, as these handle a majority of Ripple purchases alongside high users' confidence scores on the platform.
Is XRP a good investment?
Ripple is one of the top 10 cryptocurrencies by market cap. Although, the only cryptocurrency company in the top 10 startups in America is Ripple Labs, the outcome of the SEC lawsuit against the company may cause a bearish trend. However, the biggest financial organization in Australia, CommBank, announced that it would use ISO 20022 and Ripple's XRP for cross-border payments.
Regardless of Ripple's future in the US, there is potential for XRP adoption outside of the US. According to the most recent development, Wall Street financial giant JP Morgan has partnered with Al Fardan Exchange LLC, one of Ripple Labs' major partners in the United Arab Emirates. With Al Fardan Exchange and JP Morgan forming a partnership, it's possible that both banking behemoths would eventually look into Ripple services.
On the contrary, on November 29, Coinbase stated that it would stop supporting Stellar (XLM), Bitcoin Cash (BCH), Ethereum Classic (ETC), and Ripple's XRP. Coinbase claims that because of their low usage and lack of support in its wallet software, XRP and the other three blockchain networks mentioned above will delist, as of January 2023.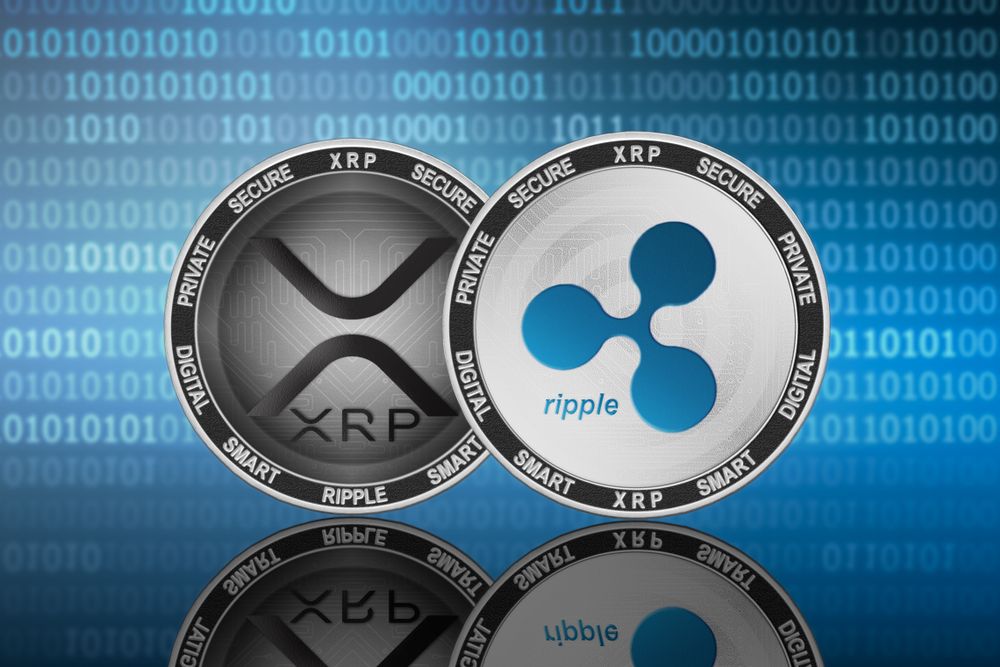 Ripple has partnerships with large banks, an extremely strong community and a working product that can establish itself as a global payments solutions for banks and financial institutions. However, it's worth noting that XRP isn't a store of value like Bitcoin. It's more of a payment and transaction token that is designed for fast, decentralized payments.
Getting started on StormGain
Now we've covered some basics regarding Ripple, it's time to move on to the guide, which will cover 4 key sections on how to buy XRP.
For our guide, we're going to use StormGain to buy XRP, as it offers quick and easy purchases of Ripple and is a trustworthy and reliable platform for trading Cryptocurrencies.
Signing up for an exchange
Our first step is to sign up for an account on StormGain, which is a quick and easy process.
First, head to StormGain.com and click on "Start now" or "Get Started" to open an account.
2. On the registration page, enter the email address, phone number and password you wish to use for your account.
Enter a promo code if you have one, agree to the Terms Of Service and then click "Continue".
You can also create an account using your Apple or Google account. For this guide, we're going to use the standard sign-up process.
3. Congratulations, you've just signed up for your StormGain account! From here, you can either practice using a demo account or proceed to your real account.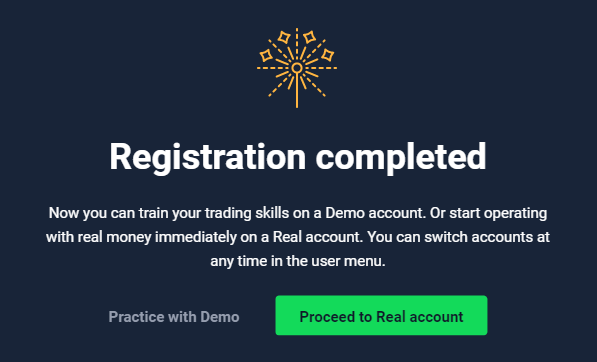 Enabling security on your account
In this section, we're going to cover how to properly secure your account on StormGain using email and phone number verification.
Users can also enable 2FA authentication using SMS or Google Authenticator.
First, Login to your account, click on your profile via the StormGain logo on the top-menu and then select "Profile and settings".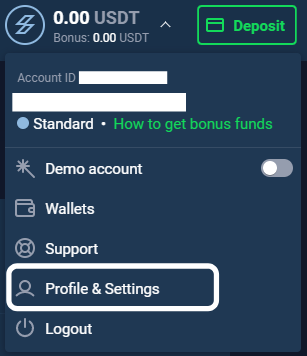 2. Next, select the "Verify Email" and "Verify phone number" options to receive verification codes.

3. Once selected, you will receive an email requiring you to confirm your email address and an SMS message delivered to your device. Enter the "SMS Code" into the box and then select "Apply" to complete the process.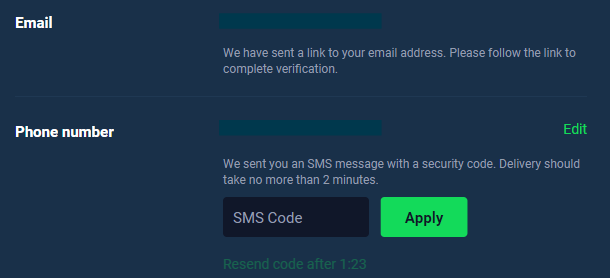 4. Once both have been confirmed, you will see two green ticks next to your phone number and email.

5. You should enable 2-factor authentication on your account to further increase security. Select either of the two options, follow the instructions and complete the processes to activate 2FA.

Securing your account and your XRP is very important, so it's good to take the time to complete all of the relevant security options. Now we've fully secured our StormGain account, we can move onto buying XRP
Our next step is buying XRP on StormGain. StormGain allows you to pay using either bank transfer or via debit/credit card, so we're going to cover both methods.
Other exchanges may require you to add and verify a payment method and then complete the purchase. On StormGain, you can buy XRP after completing the basic security requirements. You only require a credit/debit card to buy XRP, making the purchase process quick and easy for users.
In the next section, we're going to cover how to buy XRP using a Credit/Debit card on StormGain.
Buying XRP with a Credit/Debit card
Buying XRP with a Credit/Debit card is the easiest and quickest way to complete your purchase, and is highly recommended for beginners in the Crypto industry.
This method only requires a valid bank card and a verified account, meaning your purchase of XRP can be completed in as little as five minutes.
When purchasing XRP using a Credit/Debit card, you buy the asset at the given price when the purchase confirms. This means that you receive the amount of Ripple calculated when you entered how much you wanted to buy. If you wish to buy XRP at a different price, using a bank deposit maybe your best option.
However, if you wish to buy XRP at market price, using a Credit/Debit card is the quickest and easiest way. When paying by card, you receive your XRP instantly on your account.
Buying XRP on StormGain
First, from the top menu on StormGain, select "Deposit".

2. Next, select XRP from the drop-down menu and then select your payment method. There are two credit card providers that allow you to buy XRP, both of which offer safe and secure purchases.
Both credit card providers have different terms and conditions, so ensure that you read these carefully and take note of the fees and terms offered by the provider. To complete your purchase, you may also have to sign up to an account and provide personal information to the credit card provider.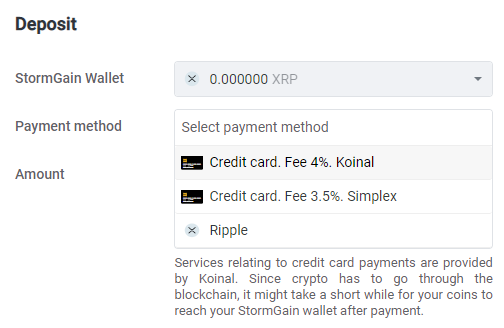 3. Select the currency you want to use and then enter the amount you want to spend in the amount section, then select "Deposit" to continue with your purchase. You can also use the three denominated price boxes if you're unsure of how much to spend.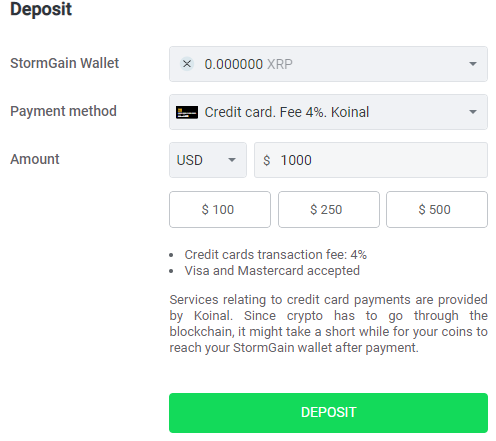 4. From here, you go to the payment page, where you can fill in your details and complete your purchase. Both providers offer different services, so you may require different information to buy XRP.
Both will require details such as card information and personal information such as an address, email and phone number to complete your purchase.
5. The amount of XRP you will receive will also been shown as a estimated amount.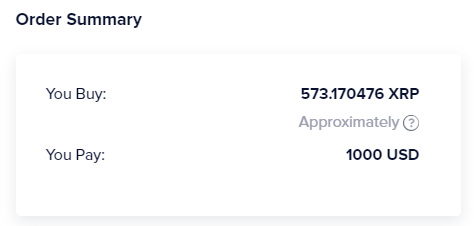 6. Congratulations, you've just purchased XRP using your debit/credit card!
After buying XRP using a credit/debit card, you will be sent an email confirming your purchase and receive a notification when your XRP is available on your StormGain account.
Next, we're going to cover how to buy XRP using the more advanced options available on StormGain.
Buying XRP using an exchange
On StormGain, there are other options for buying XRP, which involve converting stablecoins like USDT to XRP using the "Fast Exchange" option or trading via the exchange.
Stablecoins like Tether (USDT) are tokens that are pegged to $1, and allow you to use your dollars or other currencies on Binance. Due to their popularity, XRP commonly trades against dollar-based Stablecoins. Swapping to Stablecoins is a quick and easy process.
As always, we're going to cover both options. The convert function is the easiest way to purchase XRP, as it involves a simple swap interface. However, you will have to buy USDT or another Cryptocurrency before using this function. We will cover this in the next section.
First, we need to deposit the USDT Stablecoin onto our account. To do this, follow the same instructions as above for purchasing with a debit/credit card and buy USDT instead.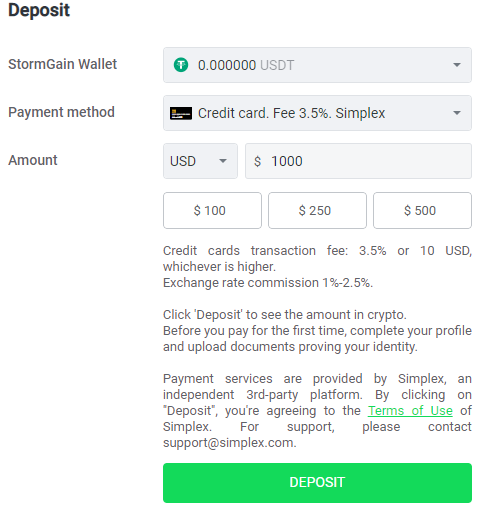 2. When completing your purchase, you will be shown the amount of USDT you will receive from your purchase. Simply select the best option for you, press continue, sign up for an account with the payment provider and complete your purchase.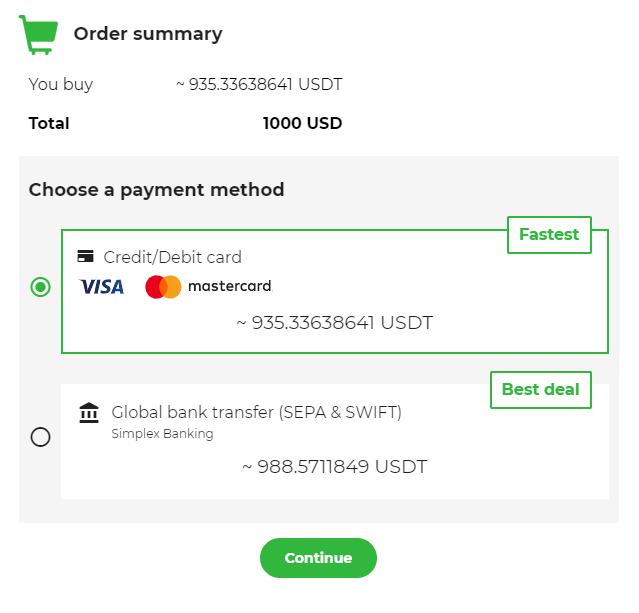 3. Once your purchase of USDT completes, you receive an email notifying you of your purchase. The USDT funds will then appear in your StormGain account under the "Wallets" section of your profile.
Now we have deposited USDT on our account, we can use this to use either the "Fast Exchange" option or trade our USDT for XRP via the Advanced exchange
First, let's cover the Fast Exchange option as this is the easiest and quickest option for trading our Stablecoins to USDT. This also allows you to wait for any price changes in XRP, as you can choose when to complete the swap.
Buying XRP using the Fast Exchange tool
First, select "Exchange" from the top menu of StormGain.

2. Once selected, you will be shown the Fast Exchange tool. From here, you can convert your USDT into XRP using the interface.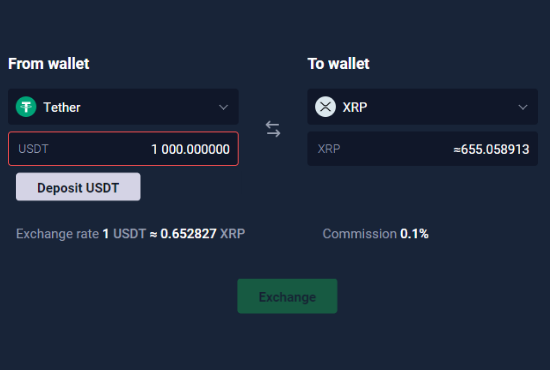 3. Enter the amount of USDT you want to swap for XRP in the USDT box. Then you are shown how much XRP you wil receive for your swap. To complete the swap, simply press "Exchange" and your coins swap.
All done! Once converted, your XRP will now be available on your account wallet for you to trade, hold or send to an external wallet.
Next, let's cover how to buy XRP using the "Advanced" option, which is essentially an exchange tool to buy XRP. Although using an exchange may be daunting, it's an easy, simple process to learn and complete your trade.
Buying XRP using the Advanced Exchange tool
First, select "Exchange" from the top menu of StormGain and then select the Advanced option. Once you've selected the advanced interface, select the "XRP/USDT" option to buy XRP.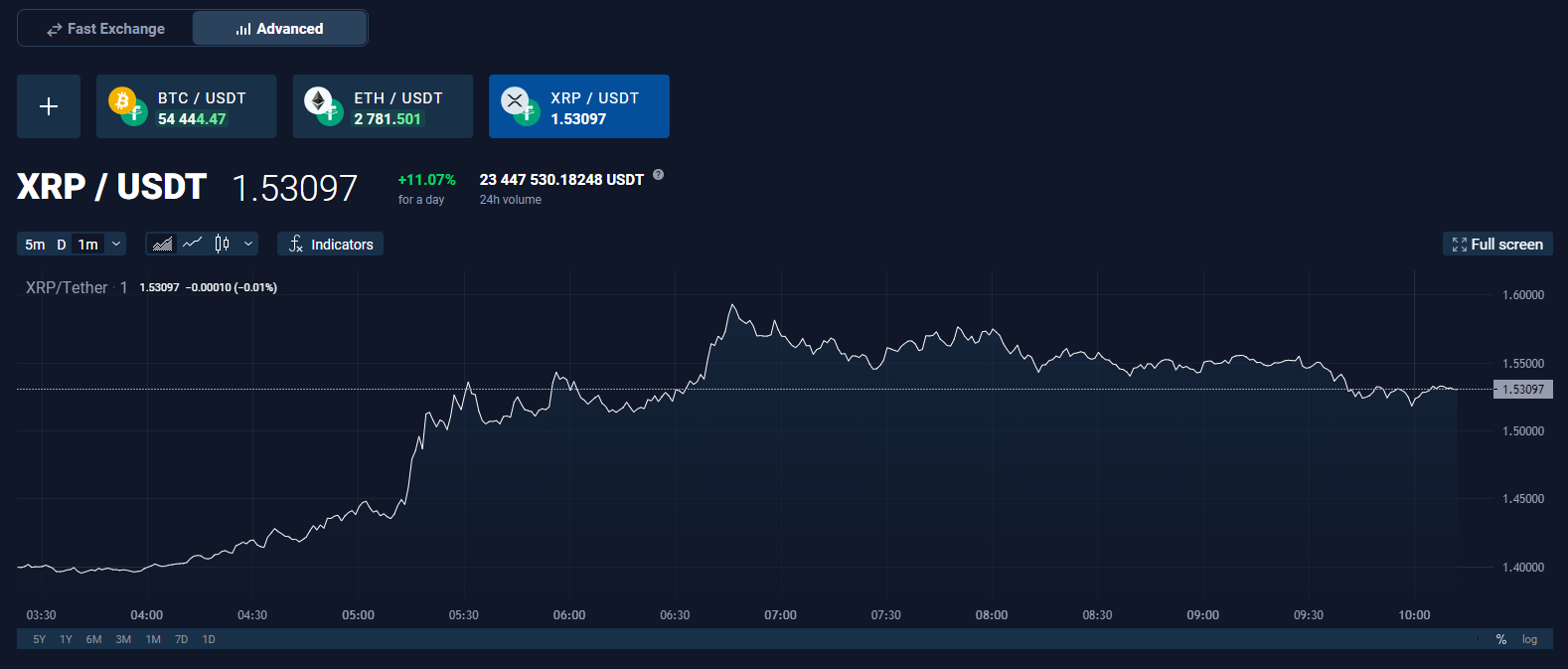 2. Next, navigate to the right-hand section of the interface to the "New Order" section. Now, you have two options when buying XRP — a limit or market order.
Market Order
Market orders are trades that are designed to be fulfilled as quickly as possible at the current market price. For example, if you wanted to buy XRP with a market order, the order will be fulfilled at the price of XRP when it was executed.
To buy XRP using a market order, simply enter the amount of XRP you want to spend and then select "Buy". Easy! Market orders complete instantly. Your XRP will be available on your account straight away.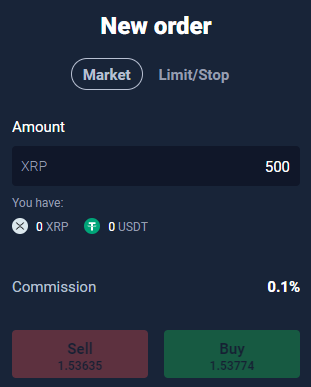 Limit Order
A limit order is an order to buy XRP for a specific price via an order book. Limit orders are ideal for buyers that want to buy XRP at a specific price and are in no rush to complete their purchase.
To complete a limit buy, enter the price you wish to buy XRP at using the "Limit Price" box, then enter the amount of XRP you want to buy in the "Amount" box. When XRP reaches your specified price, your order fulfills and your tokens will become available on your account.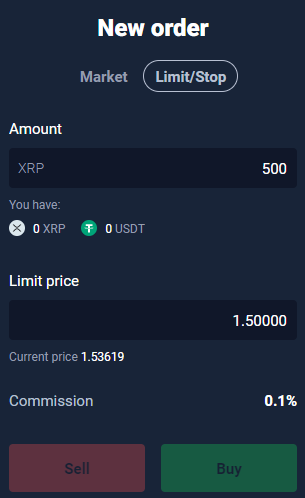 Congratulations, you've just purchased XRP using the StormGain exchange! Once your trades have been fulfilled, your XRP will now be available on your account wallet for you to trade, hold or send to an external wallet.
Now we've covered all of the ways you can buy XRP on StormGain, there's only one thing left to do — HODL! If you want to store your XRP elsewhere, you can check out our handy guide on the best Cryptocurrency wallets available on the market.
Buying XRP is a Quick and Easy Process
As you can see, buying XRP is a quick and easy process when using a top-tier exchange such as StormGain.
Now that you're an XRP investor, you can take part in community discussions, browse social media and read up on everything Ripple related. Whatever you do, remember to enjoy the journey and get involved in the fun!
< Previous In Series | How to buy Cryptocurrency & NFTs | Next In Series >
Frequently Asked Questions
What is the difference between XRP and Ripple?
Why does the SEC have a lawsuit against Ripple?
Disclaimer
In line with the Trust Project guidelines, the educational content on this website is offered in good faith and for general information purposes only. BeInCrypto prioritizes providing high-quality information, taking the time to research and create informative content for readers. While partners may reward the company with commissions for placements in articles, these commissions do not influence the unbiased, honest, and helpful content creation process. Any action taken by the reader based on this information is strictly at their own risk.