The world of cryptocurrency is attracting new interest every day. However, actually purchasing your first coin can be an intimidating process for new users. Not everyone wants to start with Bitcoin, some are more interested in the privacy offered by a coin like Monero. Therefore, BeInCrypto has created a helpful walk-through for those looking to get their feet wet and buy their very first Monero.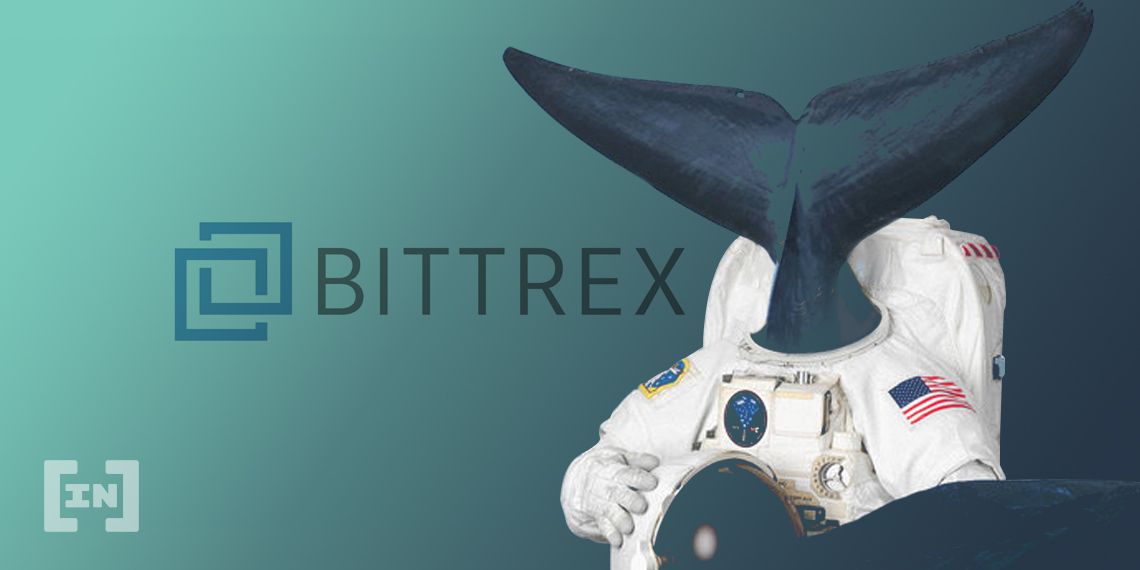 Sign up for an exchange
Generally, the easiest place to get your first cryptocurrency is going to be an exchange. An exchange allows you to trade between different assets, in this case, currencies. The first step is to find an exchange. You can use our exchanges ranking analysis to look at all options for all kinds of crypto.
There are several marketplaces that allow you to buy Monero in exchange for USD, including BC Bitcoin, BitBay, Bitfinex, EXMO and Kraken. Many offer Monero for euros also including BC Bitcoin, BitBay, EXMO, Kraken, Anycoin and Litebit. There are many different cryptocurrency exchanges available, but for today's walk-through we're going to keep it simple.
Often, an exchange like Coinbase is ideal for a first purchase. However, some coins like Monero are not yet available on that platform. Another fairly user-friendly crypto exchange option to get Monero is Bittrex. That will be what we use for today's tutorial.
However, this tutorial is slightly more advanced than our Bitcoin tutorial. That's because at this time, the easiest way to purchase Monero is using Bitcoin. Therefore, if you haven't already tackled getting some Bitcoin, we recommend you head over to our "How to Purchase Your First Bitcoin" guide. From here on, we will assume you are prepared to fund your Bittrex BTC wallet from somewhere.
Create an account
The very first time you access the Bittrex site, you should be met with a button that says "Sign Up," so go ahead and click there to get the ball rolling.
Enter your basic info such as account type (personal or corporate) and email address. Set a strong password and click "create account." After this you will be prompted to fill out some additional profile details, including some "Know Your Customer" information.
This is to verify your identity, keep the exchange compliant with regulations, and prevent the practice of money laundering. If you don't want to give this information, there are exchanges that don't require it. Generally speaking, any reputable exchange, in compliance with the law will likely require this before letting you take assets off of the platform.
Another important part of setting up your account will be to enable two-factor authentication. Two-factor authentication increases security on your account. This is by ensuring that even if an attacker has your password, they can't access your portfolio without your phone as well.
Using an authenticator app like Google Authenticator is preferable over simple SMS authentication. The latter still leaves the user vulnerable to SIM swapping techniques, but anything is better than nothing.

How to buy monero with bitcoin
Okay, you're all set up on Bittrex and you want to buy some Monero! The next thing you need to do is fund your Bitcoin wallet, as previously mentioned. From your home market screen, click on the "Holdings" tab in the top right corner of the screen.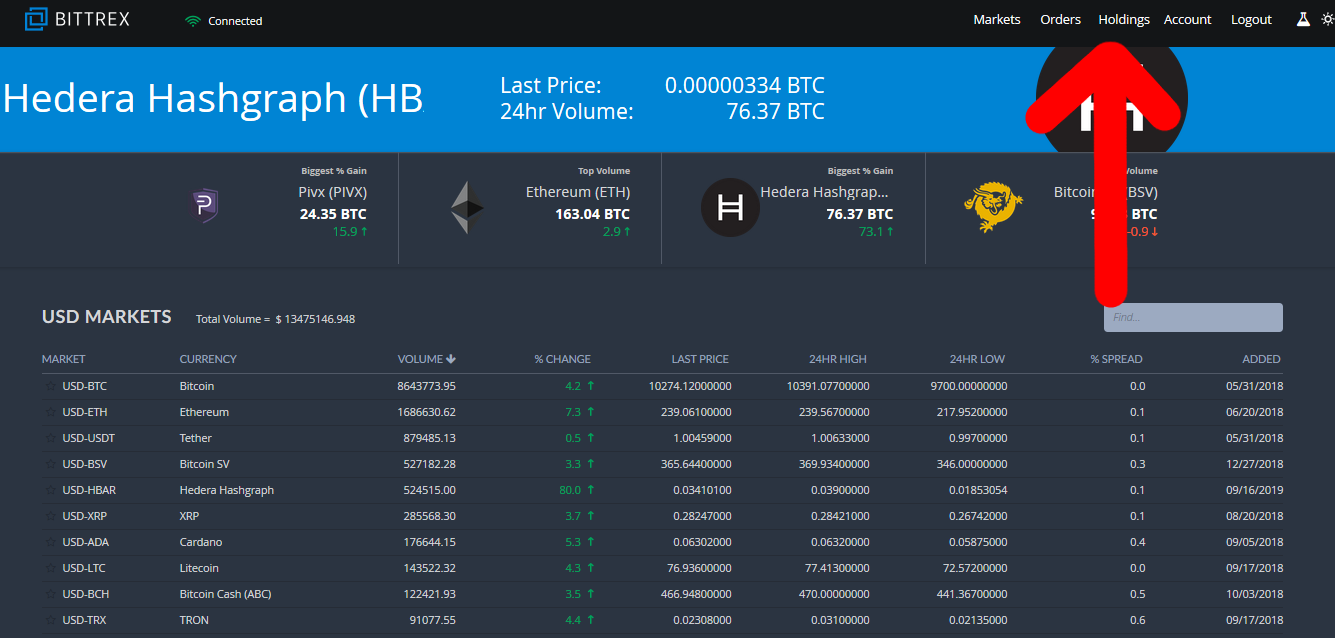 This will bring up all available cryptocurrency wallets. You should navigate to the "Bitcoin" wallet and click on the "Deposit" button on the right. This will bring up your BTC wallet address, and it is this address that you will want to fund.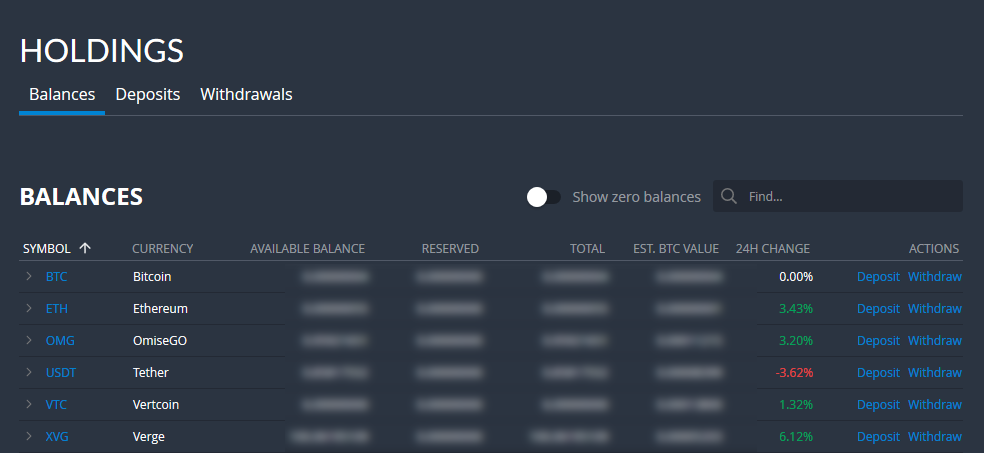 Send as much Bitcoin as you want, depending on how much Monero you want to purchase. You will have to wait a little while for the blockchain transaction to confirm, but then you will be ready to trade. Now you will want to go back to the "Markets" tab, and scroll down until you see "Bitcoin Markets." On the right hand side there should be a search bar, so go ahead and type "xmr" into it. This should bring the "BTC-XMR" pair, which you should then click on.

You should now see a terminal window, which shows a candle chart, live market data, and below has the order books as well as a Buy/Sell window.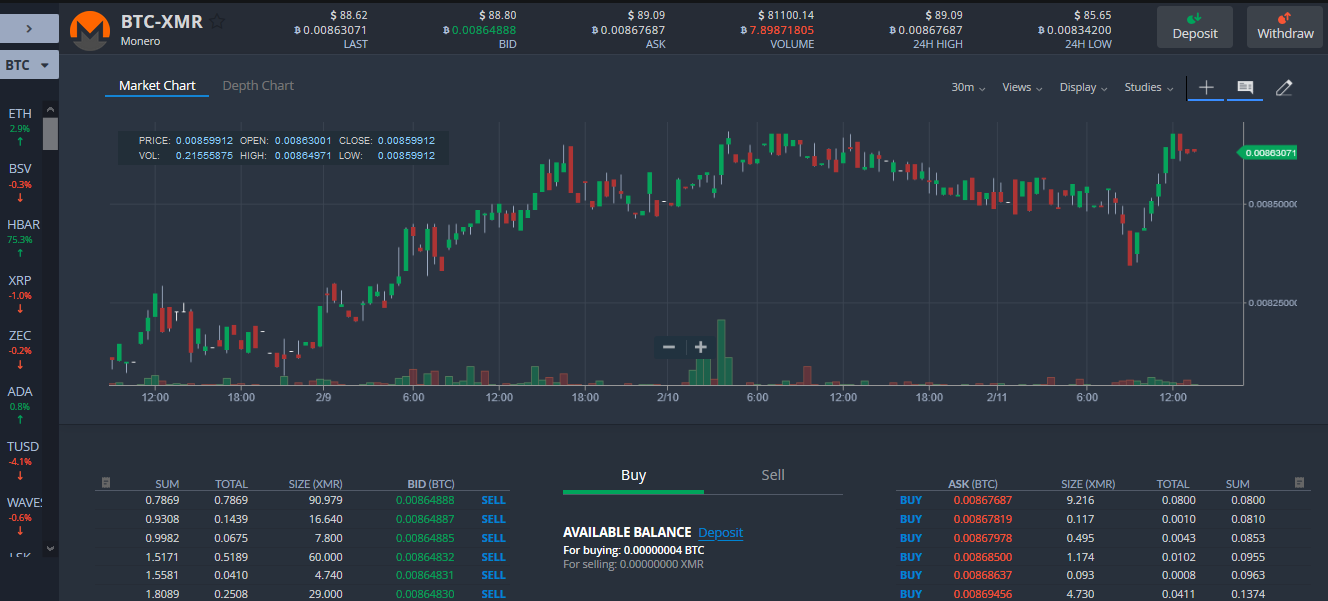 Scroll down to that window. Make sure the "Buy" tab is highlighted. Here you will see your available BTC and XMR balance, and below the parameters of the transaction. Set the order as a "Limit Order."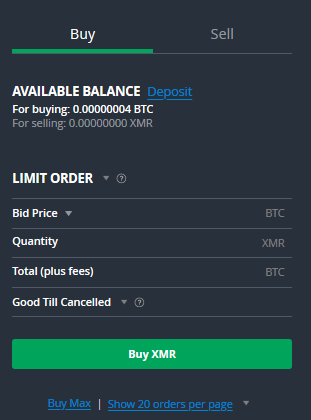 Buy monero with limit order
Bid price, when clicked on, brings up a slider between the current Bid and Ask, but you can also type in any value. For simplicity, keeping it set to the suggested default should be fine for now. Next type in the quantity of Monero you want to buy, and the total cost of the transaction (in Bitcoin) will be shown underneath.
Feel free to leave the "Good Till Cancelled" option as it is. Take note that Bittrex will take a fee for your purchase. This is generally true of most exchanges, and often the more convenient and streamlined the process is, the larger cut an exchange will take.
Longer-term buyers would likely want to use a service with smaller fees if they plan on making regular purchases. This is another spot where each user should do their own homework.
Complete XMR order
Review all of the details and if everything looks acceptable, hit the "Buy XMR" button at the bottom. This will generate your order. There is no guarantee that your order will get filled immediately, but for small amounts at near current market prices it is likely you won't wait long. You can track your order below in the "Open Order" window, which is also where you will cancel it if you decide you have changed your mind before it gets filled.

Assuming all goes smoothly, in just a matter of moments you will likely get an order confirmation, followed by the change being reflected in your available funds. At this point you are now the proud owner of some Monero!
You can feel free to buy or sell Monero as you like, or transfer it off of the platform to store in your own wallet or another exchange. Note that moving coin off of Bittrex may be subject to limitations depending on your level of verification, as previously mentioned.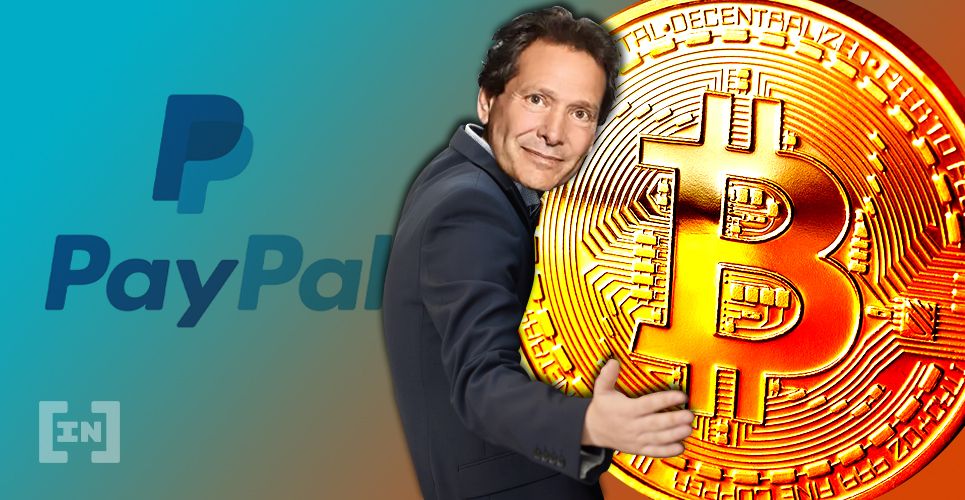 Buy Monero with Debit card or PayPal?
As for those of you who still would prefer to buy Monero using a debit card or PayPal, unfortunately, this is not possible at the time of this writing. The closest option would be to use an exchange that lets you fund a USD or USDT wallet directly with one of these methods, and also has a pairing for Monero.
One further avenue would be to use localmonero.co and find a seller who accepts your preferred payment method. While both debit cards and Paypal are supported, it is likely that this isn't as direct as some users might prefer. Outside of these avenues the method outlined in this article, using Bitcoin, is about your only choice.
Congratulations, you know how to buy Monero!
Congratulations! You know how to buy Monero! However, this is just the beginning. Depending on what interests you about cryptocurrency, there are many avenues for more education.
If you want to explore trading, there are many, many more options out there for buying and selling digital assets. Perhaps you want to help develop, well there's no shortage of information or projects out there to jump in on.
On the other hand, if you just want to be part of the conversation, there's plenty of people talking about XMR on social media. Whatever you do, welcome to the wild and exciting world of cryptocurrency!
< Previous In Series | How to buy Cryptocurrency & NFTs | Next In Series >
Frequently Asked Questions
How does Monero maintain privacy?
Is Monero better than Bitcoin?
Disclaimer
In line with the Trust Project guidelines, the educational content on this website is offered in good faith and for general information purposes only. BeInCrypto prioritizes providing high-quality information, taking the time to research and create informative content for readers. While partners may reward the company with commissions for placements in articles, these commissions do not influence the unbiased, honest, and helpful content creation process. Any action taken by the reader based on this information is strictly at their own risk.