The world of decentralized finance is fast expanding, and an increasing number of platforms are entering the fray, providing some of the best interest rates on cryptocurrencies like bitcoin and ethereum. These crypto interest accounts allow you to stake your coins in the same way traditional banks do for a certain amount of time to earn interest.
We examine the top seven cryptocurrency interest accounts and explain their features and interest rates to help you pick the best platform for investing. Continue reading to learn more!
Generating passive income with cryptocurrencies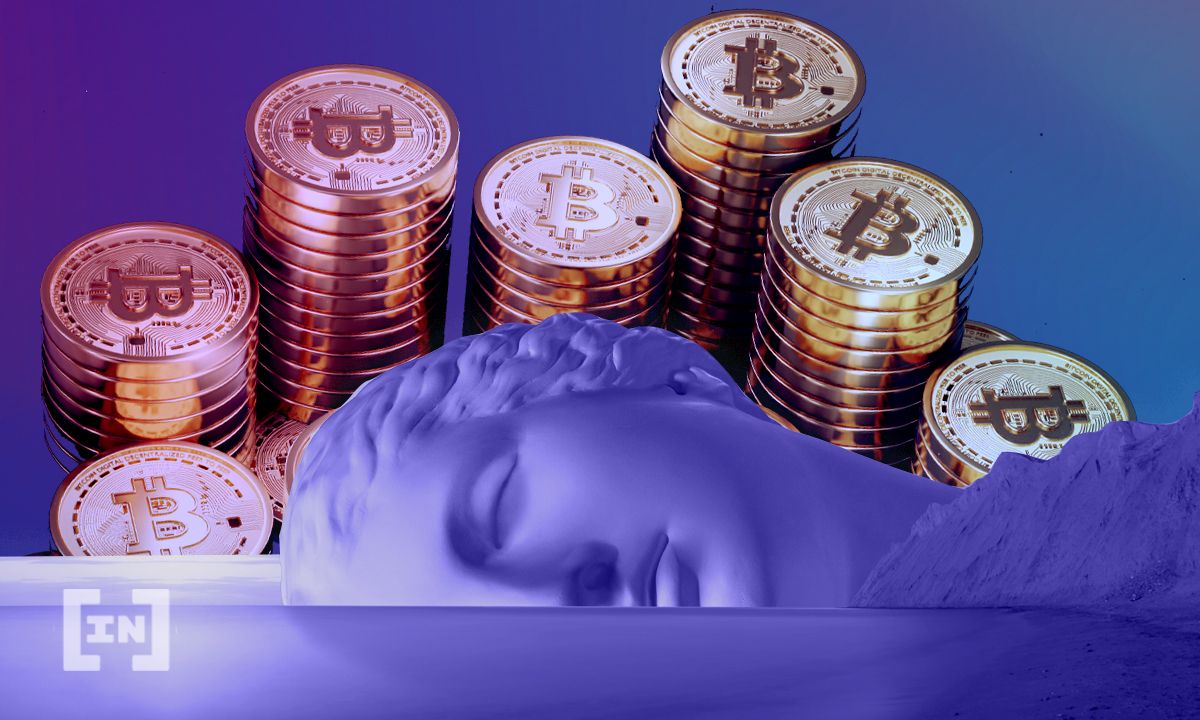 It's possible to generate passive income with cryptocurrencies. Still, the returns will vary depending on the strategy used and the quantity of cryptocurrency you have at the time of starting. Given the cryptocurrency market's volatility, there is no certainty that any crypto method will generate any profits.
Suppose you're interested in earning a return on a cryptocurrency and reaping its potential profits. In that case, you'll need to assess the risks and rewards of doing so against the risk/reward ratio of just holding crypto for long-term gains.
7 platforms with the best interest rates on bitcoin
Among cryptocurrency interest accounts platforms, there are a few significant leaders. These platforms often lend the assets for collateral, most commonly bitcoin, referred to as crypto-backed loans. As with savings accounts, the interest rate on a token varies according to the custodian you choose to safeguard your investment.
We've gathered brief reviews of the best cryptocurrency interest accounts to help you decide which one is right for you.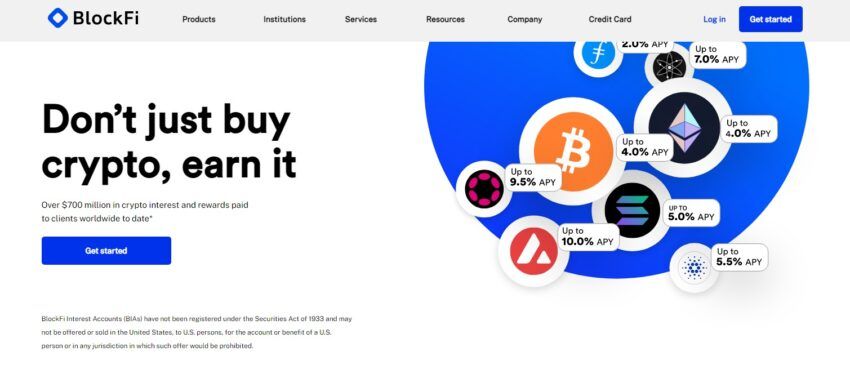 BlockFi was founded in 2017 by Zac Prince and Floria Marquez as a financial services provider for digital assets. The platform is a market leader, offering the first bitcoin credit card and financial consulting services for borrowing and lending crypto-assets. Additionally, the company's services and services are available in 48 states and around the globe.
BlockFi's most popular features are an interest-bearing savings account and crypto-backed lending. The crypto savings account offered by BlockFi provides clients with a safe and secure option to earn interest. Further, It fully supports and transfers 23 cryptocurrencies to savings accounts — bitcoin, solana, cardano, ethereum, and USD coin.
Certain assets, including bitcoin and ethereum, have lower interest rates when deposited into your BlockFi account. For example, BlockFi pays 6% up to 2.5 BTC and 3% over 2.5 BTC. The platform's best rates come from stablecoins, with up to 8% APY available. Furthermore, beginners may use BlockFi immediately since there is no minimum deposit amount.
BlockFi is an excellent alternative for smaller investors because of its attractive interest rates. It is a reliable service provider, and one of the finest crypto interest accounts for various supported currencies. However, compared to other platforms, such as Nexo, the range of digital assets is restricted.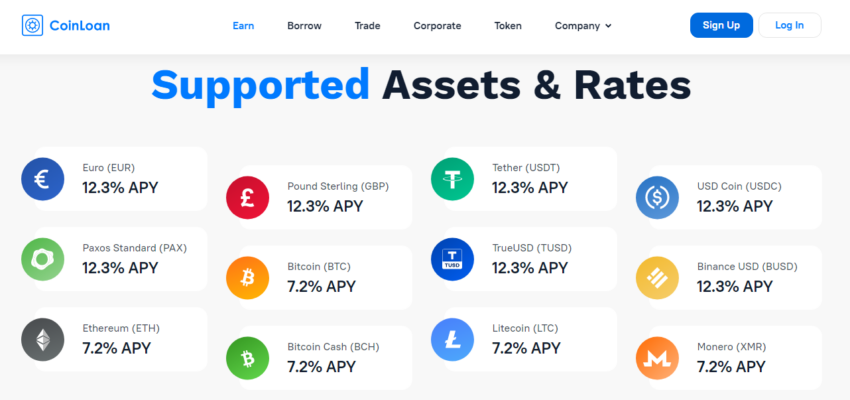 CoinLoan is a 2017 crypto lending startup. Alex Faliushin created the corporation in Tallinn, Estonia. CoinLoan's website states it wants to improve access to financial services for both borrowers and lenders. It also makes things easier for crypto enthusiasts who want to use one platform for trading and financing.
You can earn, borrow, and trade with CoinLoan. This makes the platform very flexible. Using many crypto exchanges and savings accounts might be confusing, but moving to CoinLoan can make the task easy.
CoinLoan also provides an interest account. It's free to open an account and deposit cryptocurrencies or cash to earn daily interest. The platform presently accepts over 20 assets for its interest account, including bitcoin and cardano. You may earn interest on euros, British pounds, and USD coin (USDC). The current CoinLoan interest rate for bitcoin is 7.2%, significantly more than any ordinary high-interest savings account.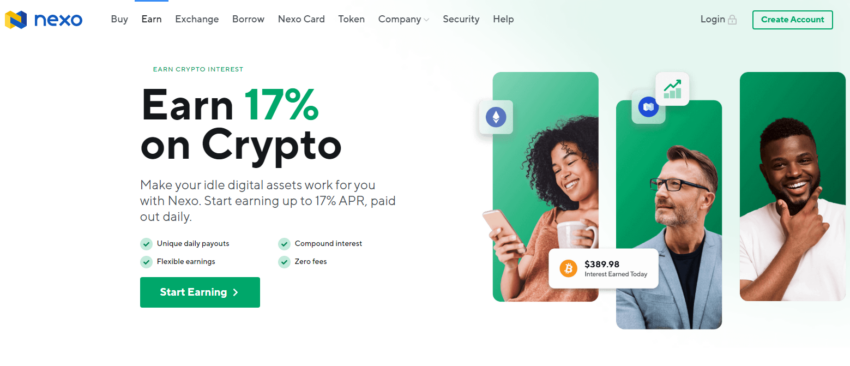 Nexo is an online cryptocurrency lending business that rewards users for depositing digital currencies, such as bitcoin. Customers with a high-interest account can earn up to 17% a year on cryptocurrencies.
Nexo's crypto-assets are subject to limited lock-up periods (less than 24 hours) and are backed by a third party. This makes it an enticing alternative since it offers very high payouts on U.S. dollars and some of the best cryptocurrency rates available. You may now earn up to 8% on bitcoin.
The lending system is licensed, regulated, and covered against theft of up to $100 million by BitGo. Furthermore, It is accessible in over 40 fiat currencies and 200 countries globally since its introduction in 2017.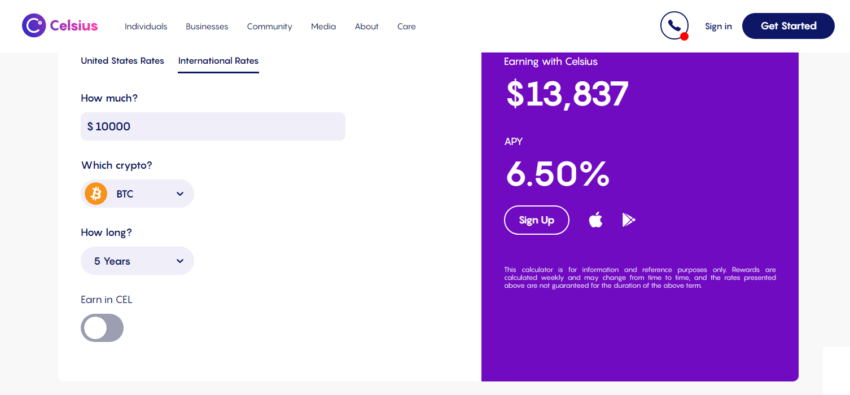 Celsius, a competitor to BlockFi, offers ones of the best bitcoin interest rates. Currently, the firm pays 6.5% yearly interest on bitcoin. Furthermore, Celsius offers far higher maximums for earning interest on the cryptocurrency. The platform is a digital asset network that provides users with financial services and perks unavailable via conventional financial institutions. As a result, Celsius aims to disrupt financial institutions worldwide by delivering services that will introduce the next 100 million individuals to digital money.
Celsius, founded in 2017, enables users to save their assets on a Celsius wallet and earn up to 17% each year.
The platform has a similar business strategy to the other providers, offering consumers a high-interest rate for depositing assets on the network to finance lenders. Certainly, there is no minimum deposit requirement, and you may withdraw money without incurring fees or penalties.
For investors unfamiliar or inexperienced with trading on leverage platforms, a 10% annual return is an excellent way to diversify and develop wealth without incurring trading risks. In conclusion, the platform now supports all major cryptocurrencies, including bitcoin, ethereum, litecoin, and the most stablecoins.
Crypto.com is a digital asset platform that provides a variety of digital currency-related services, including a cryptocurrency interest account. According to the team, the network's main objective is to encourage worldwide acceptance of cryptocurrency by making it accessible to people. Above all, their earnings module gives rates up to 8.5% on bitcoin. Reward payments are made weekly in USDC.
Additionally, it accepts 25 cryptocurrencies as collateral, including bitcoin, ethereum, tether, USDC, and others. Crypto.com also allows investors to lend crypto to others easily. The site offers up to 14.5% on 50 different currencies. You may select between flexible loans with no time limit and one and three-month lock-in loans. Crypto.com also offers weekly interest rates.
The platform's cryptocurrency interest account enables customers to earn up to 8% on regular cryptocurrencies and 12% on stablecoins. This effectively replaces regular bank savings accounts. Customers may put their selected digital assets into the app and immediately begin earning daily income.
You may have several deposits in your wallet to earn interest on various coins. Interest profits are added to your wallet every seven days and paid out in the same currency as the deposit. For example, if you deposit BTC, you will earn interest paid out in BTC.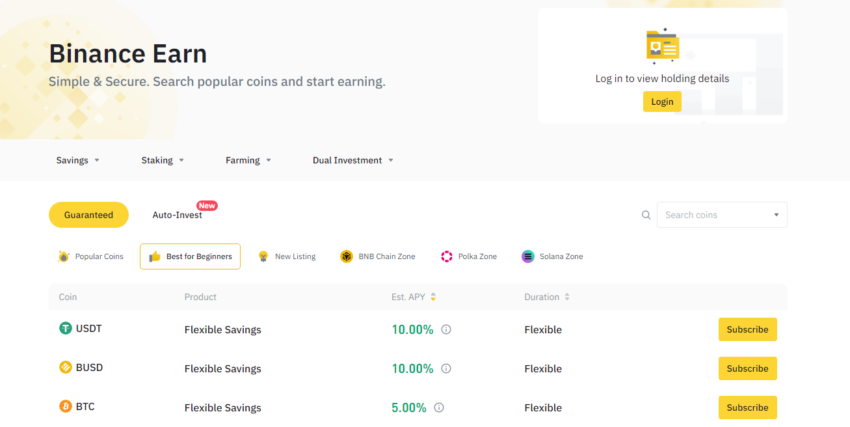 Binance is an excellent choice for anyone looking to broaden their crypto-earning objectives. It offers high-interest crypto savings accounts. A handful of supported digital currencies may now be deposited on Binance for annual returns of more than 100%.
Investors may earn up to a 7% on bitcoin for the most secure, flexible term option. Furthermore, Binance offers a diverse spectrum of crypto assets, including large and small initiatives.
Additionally, you have the option to pick from various lock-up durations, making Binance one of the best crypto savings accounts accessible. The platform may retain digital tokens for 30, 60, or even 90 days in certain circumstances.
You may also be offered the option of a flexible savings account, which enables you to withdraw funds anytime you choose. The Binance Bitcoin savings account, for example, is non-flexible yet offers a 5% yearly interest return. It has established a maximum allocation for various digital currencies that it supports. However, if you cannot identify a crypto savings account that meets your needs, Binance offers staking services. You'll be paid interest for securing your tokens in the same way.
AQRU is a good option when it comes to crypto savings account. Founded in December 2021, it is one of the newest crypto savings platforms. Accru Finance Ltd., a private limited company in London, owns AQRU. Moreover, the business is incorporated in England and Wales.
With Fireblocks, they'll keep your crypto savings account secure and sound. With AQRU, you may lend bitcoin and earn up to 7%, about double the typical savings account interest rate.
Decentralized exchanges (DEXs) also lend certain digital assets to aid liquidity and other issues. They do this by lending out users' crypto assets to institutional and retail investors, resulting in AQRU's highest-yield crypto savings account. Users may deposit and invest stablecoins, such as USDT, USDC, and DAI. As long as the crypto assets fulfill AQRU's tight rules, they expect to keep adding new currencies. As long as customers can pay the $20 withdrawal charge, the platform has no minimum withdrawal requirement.
Crypto interest could be worth it
Moving cryptocurrency holdings into an interest-bearing account is an excellent way to earn while holding. However, if you're contemplating investing in cryptocurrencies because of the attractive APYs, make sure you completely comprehend the associated risk.
Moreover, bear in mind that these are variable rate accounts that may fluctuate at any moment. Lastly, what is best depends on the investment amount, time frame, coin selection, location, and capacity to invest in proprietary tokens to improve profits.
Frequently asked questions
What is the best cryptocurrency to earn interest on?
It depends on several aspects. We recommend you decide which to choose based on interest rates and other features.
Does crypto pay interest?
Yes, you can earn interest on your crypto holdings. Many platforms act as savings accounts where you get interest on the amount you deposit.
Can you earn a yield on bitcoin?
Yes, you can earn interest on bitcoin. The platforms listed in the article will give you a clear picture on the interest earning opportunities. 
Disclaimer
In line with the Trust Project guidelines, the educational content on this website is offered in good faith and for general information purposes only. BeInCrypto prioritizes providing high-quality information, taking the time to research and create informative content for readers. While partners may reward the company with commissions for placements in articles, these commissions do not influence the unbiased, honest, and helpful content creation process. Any action taken by the reader based on this information is strictly at their own risk.