Cryptocurrencies have been the center of attention, with their potential to revolutionize financial systems globally. Cardano (ADA), a third-generation blockchain platform with a unique two-layered architecture, is among the numerous contenders vying for dominance in this domain.
Despite its innovative design and aim to redress the scalability, security, and sustainability issues, Cardano has experienced a turbulent journey since its inception in 2017. For this reason, it is worth exploring the potential factors that could significantly impact Cardano's future growth and adoption.
The State of the Market
Cardano has experienced significant volatility since its introduction in October 2017. ADA reached an all-time high of $3.10 in September 2021, an increase of 11,350% from its low of $0.03 in late 2018​.
However, external factors combined to exert downward pressure on the entire crypto market in 2022 led to a significant drop in Cardano's value. By mid-2023, the coin had depreciated by 84% from its September 2021 peak, hovering around $0.37​.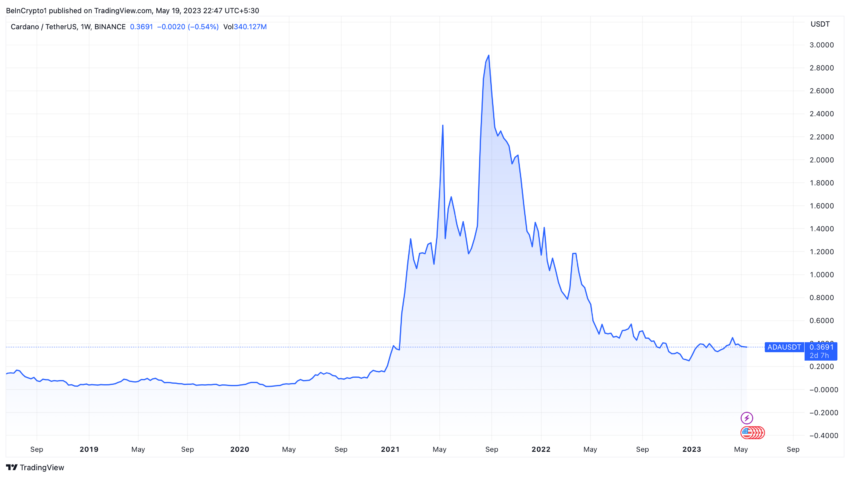 The performance of Cardano is intrinsically linked to the overall conditions of the crypto market. In 2022, the crypto market entered a downward spiral, largely due to verging on bubble territory by November 2021, with an eventual correction being almost inevitable. Terra-Luna and FTX, other significant crypto players, collapsed and added to the downward momentum​.
The geopolitical tension in Ukraine and rising global inflation dampened market sentiment, exacerbating the bearish trend. The global economic landscape significantly impacts cryptocurrencies, including Cardano, by affecting investor sentiment and the overall risk appetite​.
Network Upgrades
Despite the downward trend, Cardano has continued to innovate and develop its technology, which could significantly influence its future growth and adoption.
Cardano has planned several protocol upgrades to make the blockchain more attractive to developers. One of the most significant upgrades is the Hydra scaling solution, launched in 2023 after being announced in 2019​.
Hydra is a layer-two scaling solution designed to improve the network's speed, performance, and scalability by rerouting traffic to mini-ledgers.
With this implementation, the Cardano blockchain could eventually process up to one million transactions per second (TPS). This is a figure significantly higher than that of the Ethereum blockchain.
Despite the potential impact of Hydra on Cardano's performance, the release has yet to have a significant effect on ADA's price​​.
Future of Cardano: ADA Price Predictions
Market sentiment is a crucial factor influencing Cardano's future market value. While the ADA's price has suffered due to the broader market conditions, several market analysts remain hopeful about Cardano's future.
Coin Price Forecast expects Cardano to reach $0.60 by the end of 2023, representing a 29% increase from its current price. TradingBeasts predicts a trading range of $0.826 to $0.562 by year's end, while Digital Coin Price anticipates a range of $0.66 to $0.61.
In contrast, Gov Capital has a significantly more bullish outlook, predicting a price of $1.79, representing an over 300% increase from the current price. But not all forecasts are as positive, with Wallet Investor predicting a year-end price of just $0.0693​​.
AI-powered analytics tools have also contributed to price predictions for Cardano. For instance, AI model ChatGPT forecasts a potential upswing for Cardano, predicting a price increase to approximately $0.75 by the end of 2023, equating to a 106% increase from the current token price​.
Cardano's Future Challenges
Like other cryptocurrencies, Cardano's future faces challenges that could impact its growth and adoption.
Cryptocurrencies have been subject to increasing regulatory scrutiny worldwide. Regulatory bodies are becoming more interested in cryptocurrencies due to concerns about their potential use in illicit activities, their impact on financial stability, and the need to protect investors.
Any adverse regulatory changes could negatively affect Cardano and the broader crypto market.
The blockchain sector is highly competitive, with numerous projects vying for market share. Cardano is often compared to Ethereum due to its focus on creating a platform for decentralized applications. However, Ethereum already has a significant first-mover advantage and a broad developer community.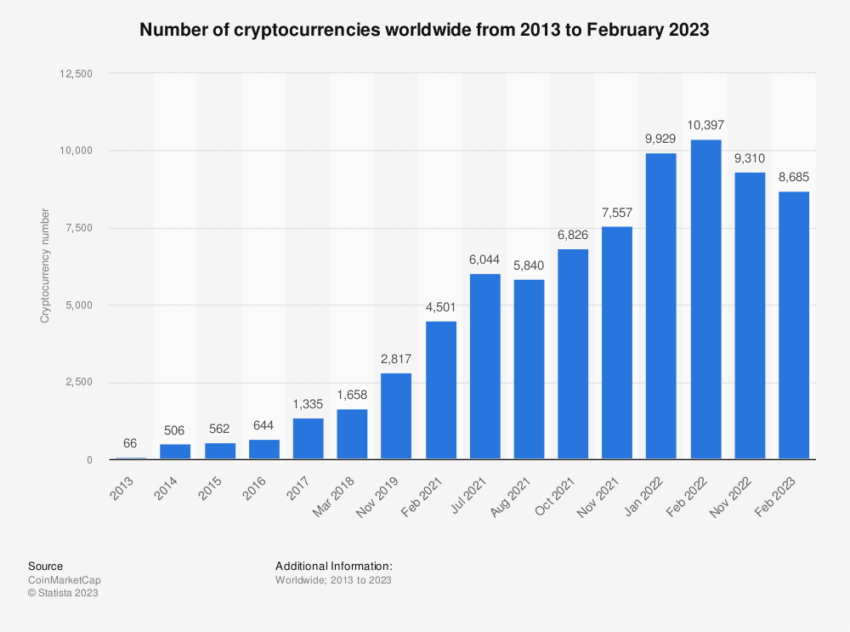 Other competitors, such as Binance Smart Chain and Polkadot, pose significant challenges. The success of Cardano will depend on its ability to differentiate itself and attract developers and users to its platform.
For Cardano to succeed, it will need widespread adoption of its technology. This adoption includes not just individual users but also businesses and potentially governments. Cardano has made some strides in this area. Still, the widespread adoption of blockchain technology is still in its early stages and remains uncertain.
A Bumpy Road Ahead
While Cardano's roadmap is filled with promising upgrades, the success of these depends on the execution of the development team.
Any delays or issues with these upgrades could affect investor confidence and Cardano's price. For instance, the recent release of the Hydra upgrade has not yet significantly impacted Cardano's price. This indicates that technological advancements alone may not be enough to drive price increases​​.
Although Cardano has experienced significant challenges, it also has potential opportunities for growth, particularly if it can successfully implement its planned upgrades and differentiate itself in the competitive blockchain sector.
It is crucial to note that investing in cryptos like Cardano carries risk, given the market's volatility and various external factors that can impact prices.
Disclaimer
Following the Trust Project guidelines, this feature article presents opinions and perspectives from industry experts or individuals. BeInCrypto is dedicated to transparent reporting, but the views expressed in this article do not necessarily reflect those of BeInCrypto or its staff. Readers should verify information independently and consult with a professional before making decisions based on this content.