Komodo is the next step in the DeFi evolution by freeing DeFi products from blockchain-specific ecosystems.
As the blockchain space matures, we are moving past individual blockchains that are competing for the piece of the DeFi pie as self-contained ecosystems. Instead, the future of blockchain-based products and platforms is clearly one in which each blockchain can interact with others. This forms an experience that is seamless for the end-user.
After many milestones, re-brandings, and transitions, Komodo is positioning itself as the major player in this future. Those businesses who need to create a smart contract blockchain to deploy their DeFi solutions can turn to Komodo. Developers can use its language-agnostic, smart contract, and multi-chain platform to create scalable and customizable blockchains and cross-protocol DeFi applications.
Let's explore how Komodo achieved this flexibility and what is in store for its future.
Komodo owes its existence to James Lee
Komodo's history is linked to the efforts of pseudonymous James Lee. He is popularly known on the internet as 'JL777.' He is a firm believer in safeguarding one's identity, hence Komodo is so privacy-focused. JL777 entered the blockchain scene in 2013, inspired by bitcoin's potential as a "freedom enabling tool."
His first project was the NXT platform. This was a nearly decentralized crypto exchange or peer-to-peer Command Line Wallet-based atomic swap. However, because other NXT developers disagreed on making it backward compatible, and significantly raised platform fees, Lee decided to leave the project in late 2014. After that, he became the core developer of the BitcoinDark (BTCD) project, effectively Komodo's precursor.
Komodo as BitcoinDark evolution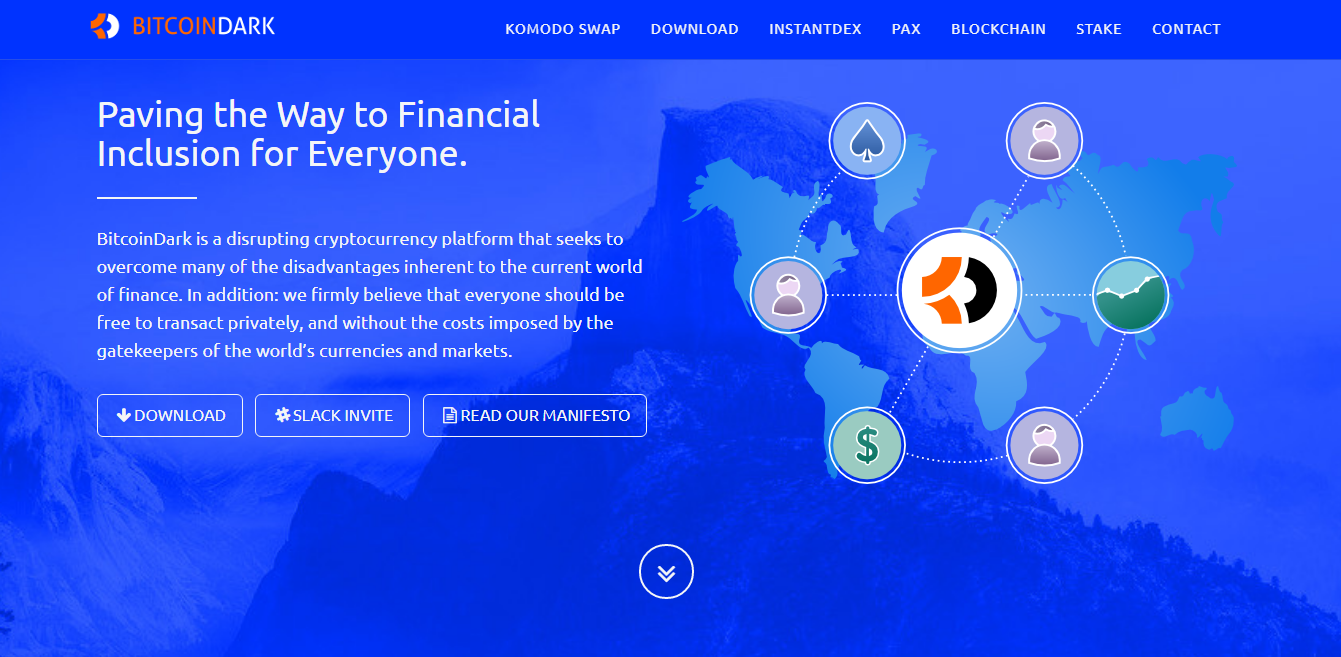 BTCD was a step-up from NXT, in terms of its privacy focus, lack of fee hikes, and compatibility. However, during the development, Lee came to the conclusion that blockchain interoperability with third-party protocols will be the stumbling block that needs to become a priority. In other words, one's assets should flow freely across blockchains as if they reside on a single blockchain.
Lee expressed this belief in his Declaration of Independence on Bitcointalk forum in February 2016. Soon after, in September 2016, Lee launched the Komodo project. He brought with him the BTCD team and swapping BTCD coins for KMD.
Komodo's Initial Coin Offering (ICO) launched over a month later, in October, and ended on November 20, 2016. It raised about $2 million.
Komodo reflects Lee's philosophy in three key aspects:
Exchange of crypto assets should be peer-to-peer (P2P).
It should be easily executed cross-chain.
It should be easily executed cross-protocol.
Komodo and developers
After pioneering native web-browser atomic swaps in 2019, Komodo now working on its third-generation DEX technology, with AtomicDEX as its main GUI product.
Komodo exerted a major influence on other developers to create multi-chain platforms for developing dApp-specific blockchains. The most popular such projects are Polkadot and Cosmos Network.
Komodo's CTO, Kadan Stadelman, says that cross-chain compatibility became highly sought during ethereum's skyrocketing gas fees during the first half of 2021.
"AtomicDEX is gaining attention because it supports dozens of blockchain ecosystems natively — no proxy tokens required. For example, let's say you want to have a decentralized bridge between ERC-20 tokens and BEP-20 tokens, AtomicDEX offers that not only to end users but also to developers."
With the recent rollout of the Komodo AtomicDEX API, the open-source Komodo platform is ready to deploy DEXs, multi-coin wallets, and other DeFi solutions.
These are both cross-chain and cross-protocol compatible. Down the line, the Komodo team plans to add multiple blockchains. These include Polygon and Avalanche, given the fact that Komodo is compatible with 99% of cryptocurrencies.
This includes the privacy-fortified Pirate Chain (ARRR), which now has the first-ever fully private atomic swap.
Komodo tech explained
A fork of Zcash, Komodo began as a privacy coin and is best understood as Zcash 2.0 or a hard fork from Zcash.
This privacy cryptocurrency originally drew its code from bitcoin but adds a layer of enhanced privacy features so that "crypto" in cryptocurrency becomes meaningful once again. 
In February 2019, the project removed all privacy features from KMD coin. KMD now only supports transparent addresses. Adding to Zcash, Komodo represents an evolution defined by the following concepts:
Delayed proof-of-work
Unlike Bitcoin's PoW, Delayed Proof-of-Work (d-PoW) is not a consensus algorithm per se. Instead, it acts as a security layer on top of traditional PoW by using the blockchain's hashpower to add security features.
From its inception in 2016 until June 2021, dPoW used the Bitcoin network for cross-chain notarizations. In June 2021, Komodo switched to the Litecoin network for dPoW notarizations, adding several major optimizations.
The first among them is zero-knowledge privacy. D-PoW creates an image of its blockchain within intervals of 10 minutes, storing it — through the process of notarization — into the Litecoin network.
With this backup of the whole Komodo saved, Komodo's nodes generate a block hash from the d-PoW notarized blockchain to the platform's ledger. Notary nodes then write the BTC's block data to other chains on Komodo's platform. Therefore, if a system failure occurs, all block data can be rapidly recovered, providing an extra layer of security against a 51% attack.
In other words, every chain linked to the KMD chain gains powerful protection from the Bitcoin network at a fraction of the cost. Although d-PoW itself is permissionless, Notary Nodes are permissioned in the sense that one must get in touch with the Komodo Development Team.
Komodo Smart Chains
Komodo's blockchain platform uses a multi-chain architecture. This means projects can build independent blockchains, known as Komodo Smartchain, that have a range of customizable parameters. Each smart chain can set its own:
Its own block rewards
Block time
Hashing algorithm
Own consensus rules
Pre-mine supply
Privacy settings
The size and frequency of block rewards' reductions
Smart Chains also have an integrated UTXO smart contract library, with each module becoming active based on the needs of the project. Some of these modules include trustless oracles, tokenization, stablecoins, instant micropayments methods, and others.
An example of these technologies coming together happened this March, with DogeDEX. Stadelman, says that interest has to do with the ability to tap into cross-chain/cross-protocol liquidity on a secure and permissionless network.
"Basically, any crypto community can use our technology to launch their own decentralized exchange. We're also working with Gleec Coin to create the first ever decentralized blockchain migration and to launch their own branded DEX called GleecDEX."
Komodo (KMD) token
With the current market cap of $87.8 million, Komodo's native KMD token is trading at $0.69 during press time. Its ATH price occurred on December 22, 2017, at $11.44.
At KMD's second peak in 2021, within a three-month period, from April 8 to July 12, KMD's price dropped by 83%. You can trade with KMD tokens on all major crypto exchanges: Binance, KuCoin, Huobi Global, Bittrex, WazirX, and others.
90 million of the total 200 million KMD went to the initial ICO investors in November 2016. Komodo development team holds 10 million KMD for funding and marketing purposes. If you hold a minimum of 10 KMD, you are eligible to earn a passive 5% annual payment.
This is why Komodo has been a popular choice of cryptocurrency mining pool, in which rewards are shared equally between the miner participants.
As far as the wallet of choice goes, multiple third-party wallets support Komodo, with AtomicDEX serving as both a multi-coin wallet and a decentralized exchange, making it an ultra-convenient one-stop crypto station.
Komodo represents the original cryptocurrency vision
Komodo revitalizes the vision of freedom by making atomic swaps a reality — exchanging cryptocurrencies without centralized mediators as busybodies.
Given the fact that all major central banks across the world are about to implement Central Bank Digital Currencies (CBDCs), it is safe to say that the future is one of total financial surveillance.
With the power of CBDCs comes the power of deplatforming for arbitrary reasons. Komodo counters that future with one that respects both freedom and security.
It offers a comprehensive blockchain-building platform and DEX solution with near 100% compatibility with every cryptocurrency in existence. In this light, Komodo's demand will likely start to snowball.
Disclaimer
All the information contained on our website is published in good faith and for general information purposes only. Any action the reader takes upon the information found on our website is strictly at their own risk.