Crypto Crash: The collapse of the Terra project ecosystem, along with the native LUNA token and the UST stablecoin, can already be considered one of the greatest historic moments in the industry. Nevertheless, such disasters are perhaps not so uncommon after all.
According to Coingecko data, last week, at least five assets considered promising saw a devaluation of more than 90% compared to their All-Time High (ATH) – the highest price the currency has reached since it entered the market.
Interestingly, some of the top digital assets in terms of market capitalization have also almost made it onto the list. Dogecoin (DOGE) lost 88% from ATH; Uniswap (UNI) saw a 87% drop and XRP (XRP) dropped 87%.
Crypto Crash 1: Internet Computer (ICP)
The Internet Computer Token (ICP) used to be worth $700 and is now worth $8.37. This means a decrease by no less than 98.8%.
ICP is a token of the Swiss non-profit organization Dfinity Foundation. It was launched in 2021 and immediately gained enormous momentum. In less than four days, it reached the rank of the eighth largest cryptocurrency in the world.
The project has been in development since 2016 by the Dfinity Foundation, an organization whose goal is to build a decentralized and scalable blockchain in the cloud for data storage and application support.
It is headed by an enthusiastic entrepreneur from the technology industry, Dominic Williams, and its aim is to create a public Internet, free from the "claws" of big tech, i.e. companies such as Google, Facebook or Amazon. ICP is the token of this network.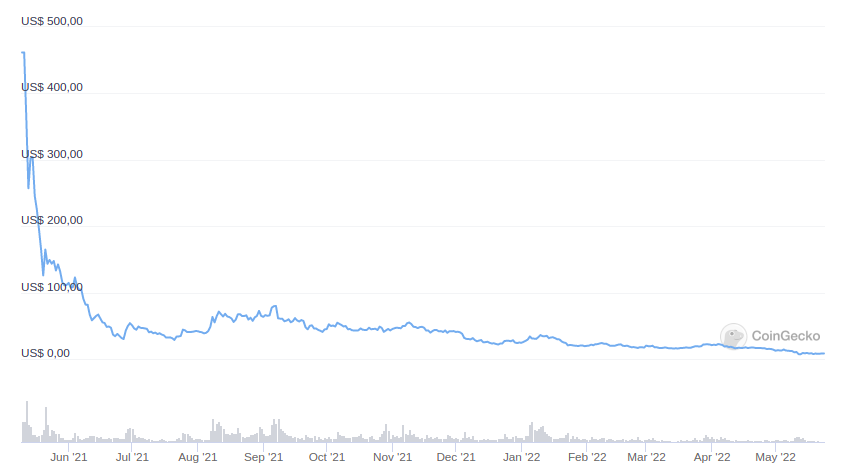 Crypto Crash 2: Filecoin (FIL)
Filecoin peaked at $236.84 on April 1, 2021. Currently, its rate is $8.94, down 96%.
When Filecoin was launched in 2017, it raised a record amount in the ICO. ICO stands for "initial coin offering" which is the term for the period during which a project collects investments before launching. It amounted to $257 million, thus exceeding the $232 million collected by Tezos, which was the maximum amount achieved so far.
Investors included giants such as Sequoia Capital, Andreessen Horowitz and Union Square Ventures.
Filecoin was launched to create a decentralized network of digital storage, thanks to which users could efficiently rent the available disk space. In return, they would receive Filecoins as payment.
Crypto Crash 3: EOS
The peak price of EOS was $22.71 and was recorded on April 29, 2018. Currently, the token is worth $1.39. This means a 93.9% loss.
The blockchain project was one of the first "Ethereum killers" and raised $4.2 billion in the ICO. After several test versions, it was officially launched in June 2018.
Supporters included, among others, UK hedge fund manager Alan Howard, CEO of Moore Capital Management Louis Bacon and co-founder of PayPal and Palantir Peter Thiel.
However, the euphoria quickly subsided. In June last year, Block.one, the cryptocurrency company behind the EOS blockchain, agreed to pay $27.5 million in a class action lawsuit. It had to do with an ICO worth $4 billion.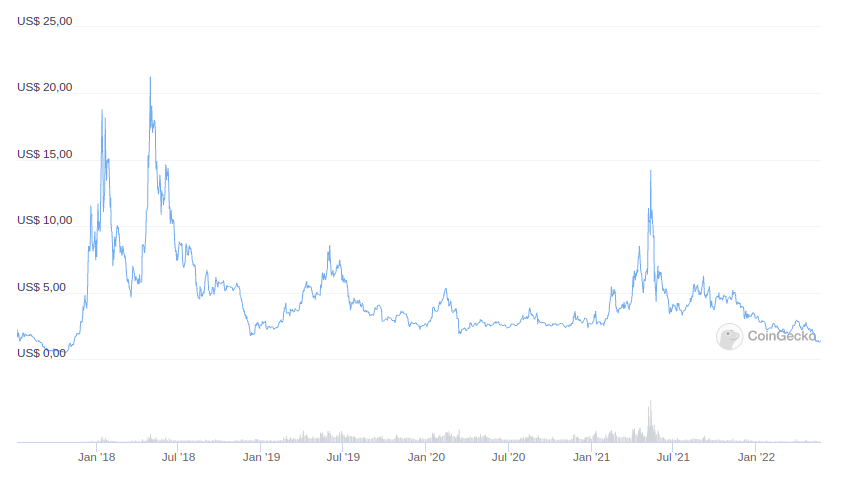 Crypto Crash 4: dYdX (DYDX)
The dYdX cryptocurrency is a token of a decentralized exchange with the same name. At its peak, it was worth $27.86, and is currently hovering around $2.21, down 92.1%.
The decline in value from the ATH occurred in September 2021 and was in part due to China's restriction of cryptocurrency trading. During this time, the trading volume on the stock exchange continued to increase and exceeded the $10 billion mark.
The volume of dYdX has increased sharply, reflecting the actions of the Chinese government towards the cryptocurrency sector. China assumed that any person or company that allowed digital assets to be traded in that country was breaking the law.
The tightening of restrictions meant that many companies operating in this sector, including centralized exchanges that still operated over-the-counter transactions in the country, reduced and eventually ended their services to the Chinese. As a result, this group of customers began to look for alternative solutions on the market, such as dYdX.
dYdX is a decentralized exchange which means it does not hold user funds. Transactions are carried out using smart contracts based on Ethereum. To avoid high gas charges on the main network, dYdX uses a layer 2 solution from StarkWare.
A major blow to the token came in April this year, when Binance removed the dYdX and Ethereum currency pair from its platform.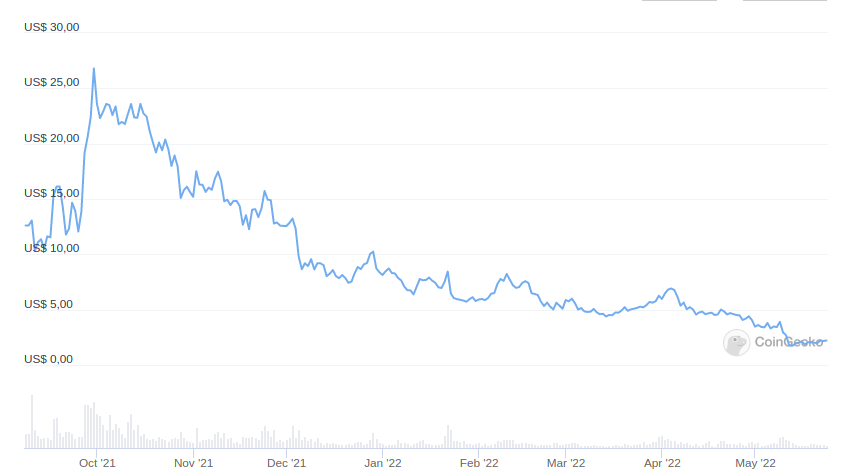 Crypto Crash 5: LooksRare (LOOKS)
LooksRare (LOOKS), the native NFT market token of the same name, peaked on January 20 this year. At that time, its value was $7.10. However, it is currently just $ 0.64, down 91%.
LooksRare appeared out of nowhere in the first month of the year to become the biggest rival of OpenSea, the main market for non-exchangeable tokens (NFT). However, there were doubts about the astronomical volumes that were allegedly supposed to come from this platform.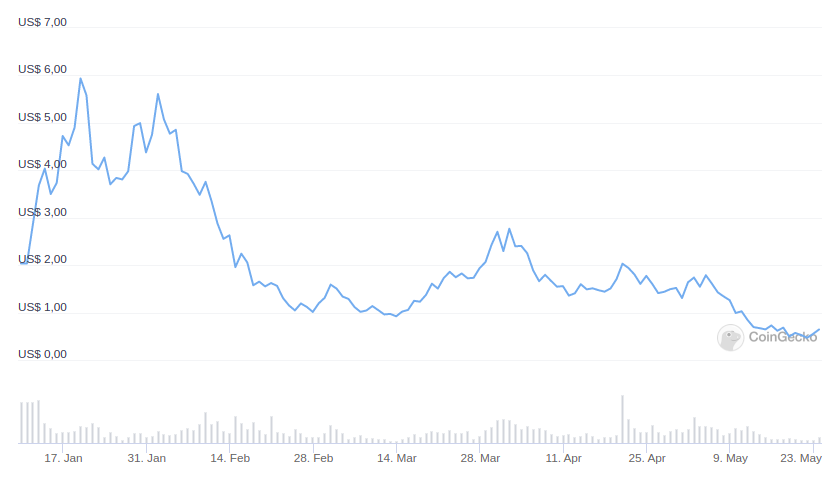 There were wash trading transactions. They involve users buying and selling NFTs between their own wallets, creating the artificial illusion that the platform is processing large volumes.
Analyst firm CryptoSlam announced on Jan 31 that it had identified more than $ 8.3 billion in wash trading deals involving LooksRare. Ultimately, this led to the devaluation of the token.
Got something to say about crashing coins or anything else? Write to us or join the discussion in our Telegram channel. You can also catch us on Tik Tok, Facebook, or Twitter.
Disclaimer
All the information contained on our website is published in good faith and for general information purposes only. Any action the reader takes upon the information found on our website is strictly at their own risk.