Big corporations are entering digital reality and it's no secret. Though does the entrance of market behemoths pose a threat to the rebirth of the online world?
As the metaverse manifests outside the pages of science fiction books, individuals, brands and companies rush for a place. Certainly it's no surprise that tech-related companies such as Meta or e-commerce giants like Amazon are at the forefront of this race.
Though, it's not just companies who already have a foot into the tech industry swiping up metaversal land. Spotify, Walmart, Shopify, JP Morgan and Gucci are among other big league businesses with an eye on the metaverse.
However does the entrance of commercial, financial, and tech giants mean a more robust online world, where anything is possible? Or does it mean a replication of the same entities being at the top, with the most control and influence over our digital lives?
Humble beginnings
The decentralized, digital world is a place for expression. It is a place for more freedom and creativity on many levels, not just financial and technological. For example, one's digital avatar in the metaverse can be the result of the imagination looking nothing like the physical self. One's digital abode can come in colors, shapes, and sizes unorthodox in the real world.
Online interactions turn into fully immersive experiences in the metaverse. Now, the Sandbox's music-themed world brings concert livestream to a new level.
Through a combination of augmented reality (AR) and virtual reality (VR), new environments – both preexisting and imagined- become accessible. While actual development in the metaverse as we know it dramatically accelerated in recent years, the idea of the metaverse has been around much longer.
Similar to the inception of the internet, Web3 technologies exist to circumvent centralized problems. Moreover, the internet was a place for free speech and expression. Early versions of the internet had less censorship, data harvesting, and privacy concerns.
However as "Big Tech" started to live up to the name, the internet and our interaction on the internet changed forever.
Initially the crypto and blockchain scene had almost an anarchist hint to it. Still these technologies and the products thereof are often reinventions of systems in centralized, physical reality already monopolized by the big guys.
Once again, we see the entrance and the rather quick domination of the decentralized space. Though, not only through tech giants. Major corporations in the real world realize the opportunity at hand and are joining. In tandem, corporations in the metaverse could just be another form.
Corporations: Who's already in?
With all this talk of "big corporations" entering the metaverse – who exactly are we talking about when we say this?
Certainly it's no surprise that four out of the five "Big Tech" companies invest heavily in the metaverse. This includes Alphabet (Google), Amazon, Meta (Facebook), and Microsoft. However, at the beginning of the year Apple denied any focus on the metaverse AR/VR for the moment.
Aside from tech-related companies other major market movers are finding their place in the metaverse. Here's two examples.
McDonald's
In February of this year, McDonald's filed 10 trademark applications for the metaverse. The iconic fast food restaurant plans for a "virtual restaurant, offering real and virtual goods." This would also include a virtual restaurant with home delivery.'
Aside from offerings more traditionally associated with McDonald's it also wants to expand to 'downloadable media files,' like art, audio files, video files, and non-fungible tokens (NFTs).
Currently, McDonald's is the largest contributor to the market share in the entire fast-food industry. It as a company is practically synonymous with globalization, as it is in 120 countries. Moreover, its turnover is close to 10.5 billion USD per year.
While McDonald's provides millions of jobs across the globe and is a cheap, quick food option for families, the impact of the corporation isn't only positive. Certainly the unhealthy food, loss of local culture, and of course market domination are of concern.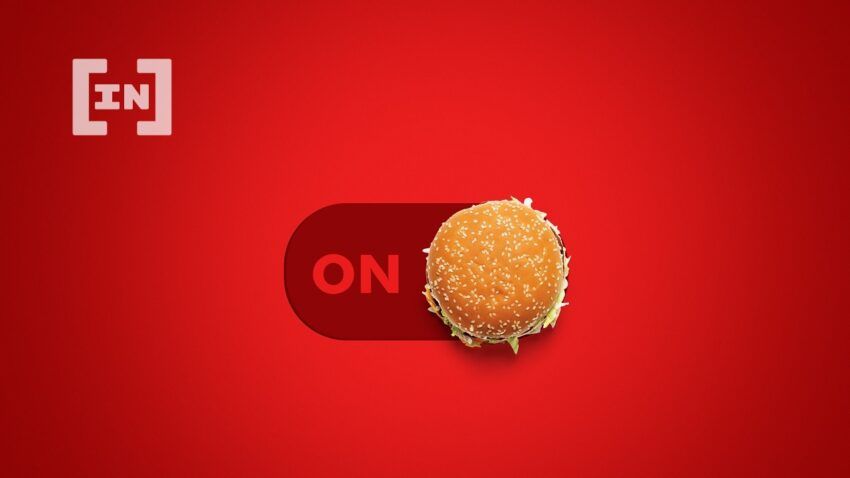 Walmart
Yet another mega corporation with big plans for digital reality. In December of 2021 Walmart filed metaverse trademark patents. There are not many details available on the specifics of the Walmart trademark patents. However, they relate to virtual goods sales, virtual currency implementation and NFTs.
According to statistics from Statista, "Walmart is the largest retail corporation of discount department and warehouse stores in the world." The company has operations in 26 countries and pulls in a global revenue of 573 billion USD.
When corporations of this magnitude and legacy enter the Web3 space, does their wealth encourage innovation and fund creativity or continue the monopoly?
Corporations: Here's what the experts say
Naturally the biggest concern when corporations enter the metaverse, or any digital space, is privacy. Additionally, in terms of the decentralized world, decentralization is at stake – something this community works very hard to maintain.
Be[In]Crypto spoke with Dr. Anish Mohammed, CTO of Panther Protocol, an end-to-end solution that restores privacy in Web3 and DeFi, on the topic. Mohammed has over 20 years in security and cryptography and co-founded the UK Digital Currency Association. He reviewed Ethereum's Orange paper, and serves on advisory boards for leading companies including Ripple.
For him, privacy is a serious matter in Web3. He says what will likely occur with the entrance of big corporations is, "a textbook example of the surveillance economy."
"Data unlocks power and money-making potential, and corporations have routinely demonstrated that they value profits over individuals," he said.
"This results in a net negative for end users, especially in terms of data privacy and security. After all, data harvesting is just the tip of the iceberg — once data is collected, who can access it, how will it be used, and where is it stored?"
Corporations in the metaverse: Positive and negatives
Mohammed gave two possible scenarios for outcomes of corporations in the metaverse for consumers and participants to have in mind while engaging with the digital world.
Negative: If the metaverse expands and masses adopt lives or at least partial lives in virtual reality there may be no privacy left. "Perhaps the most alarming outcome would be the erosion of the right to privacy. The bottom line is that corporations are financially incentivized to collect and monetize data, regardless of how this might impact individuals."
Positive: With big brands comes recognition by the masses. This could introduce people to the digital world and spark curiosity about other Web3, decentralized technologies previously unknown or trusted. "Think of the Amazon Effect and how the rise of eCommerce completely disrupted retail shopping habits. Now, imagine how metaverses might similarly change aspects of everyday life as we know it," says Mohammed.
"The vast amounts of capital held by corporations can fuel exciting new innovations on a faster, larger scale. Pairing strong funding with strong brand awareness, corporations have the ability to accelerate mainstream adoption of the metaverse."
The future is now
If big business is entering the metaverse in droves, now is the time to pay attention to how things are being constructed. While educational events pop up for corporations and metaverse real estate prices are dropping it's important to see who is jumping at the opportunity.
As mentioned, the entrance of corporations in the metaverse is double sided its once again in the hands of the developers and the people to make sure this new space, which is being built day by day, has room for the freedom, expression, and innovation for which it was created.
Got something to say about corporations entering the metaverse, or anything else? Write to us or join the discussion in our Telegram channel. You can also catch us on Tik Tok, Facebook, or Twitter.
Disclaimer
Following the Trust Project guidelines, this feature article presents opinions and perspectives from industry experts or individuals. BeInCrypto is dedicated to transparent reporting, but the views expressed in this article do not necessarily reflect those of BeInCrypto or its staff. Readers should verify information independently and consult with a professional before making decisions based on this content.