The video game industry may be the natural catalyst to bring blockchain technology into the mainstream. Most experiments have failed so far, but is that about to change?
After years of trial and error with Bitcoin, some video game platforms are finding a way to exploit distributed ledger technology. Is humanity witnessing the first wave of adoption on a global scale?
A Game of Big Figures
Video gaming is one of the largest growing sectors in the entertainment industry. According to data from Statista.com, by the end of 2021, there will be more than 2.7 billion regular players globally. The heart of the video gaming industry is in the Asia-Pacific region, with over 1.2 billion video gamers in 2018. This region alone generated revenue of $71.4 billion in that year, more than double the revenue generated in North America, the second-largest region.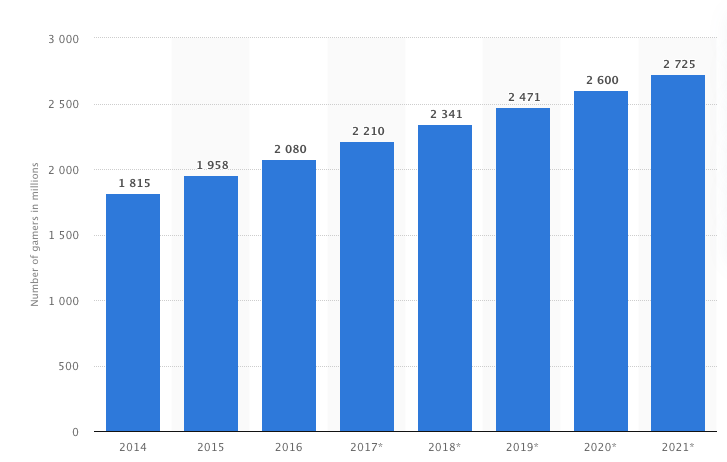 Of course, gaming doesn't just dominate in the Asian-Pacific. Research shows that in 2018, two out of three Americans counted as video game players, up from 58% from just five years earlier. The general perception is that gaming is seen as the pastime of young males, but data shows that young and old alike share the passion. Another curious data point involves the growth of female players in the United States, which grew from 38% in 2007 to 45% in 2018.
Gamers and Coiners
Perhaps there's nobody else more ready in society to adopt crypto and blockchain than the video game player. They're usually tech-savvy and familiar with in-game purchases and digital currencies. Above all, they look to create and exchange value in their digital worlds.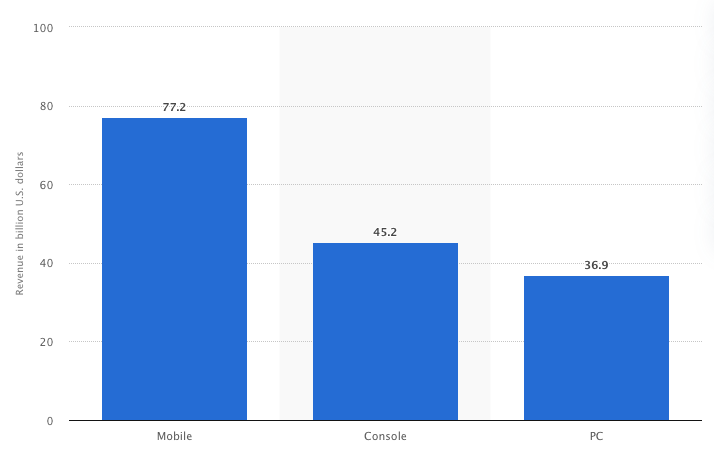 The bigger issue relates to when they try to transfer value outside of the game. Changes in a developer's business model or unrequested updates to a network more often than not cause a loss in trust. There are billions of dollars worth of wealth trapped in various gaming brands. Centralized parties often direct that wealth without input from the community. Video gaming is ripe for blockchain tech, but so far, it hasn't worked as it should.
Trial and Error
Blockchain and crypto have been around for over a decade now, but have yet to provide
a great use case for video game players
. It's not for lack of trying. Online distributor Steam, a platform with over 95 million monthly active users, tried back in 2016. They started accepting Bitcoin as a payment method but quickly removed the option in December 2017. That same year saw the great Bitcoin bull run where transaction fees skyrocketed to unacceptable levels, as Steam
explained
in a press release:
"Fees that are charged to the customer by the Bitcoin network have skyrocketed this year, topping out at close to $20 a transaction last week (compared to roughly $0.20 when we initially enabled Bitcoin)."
Livestream service Twitch, a platform that has 15 million daily broadcast users and in-platform currency payments, quickly followed suit. After initially announcing that it would accept both Bitcoin and Bitcoin Cash payments, the company changed its mind. These first experiments, mostly based on proof-of-work networks like Bitcoin, Bitcoin Cash, Ethereum, or Litecoin, have mostly failed. What's changed since then?
The New Boys on the Block
A new generation of projects may be more suitable for the video game sector. And blockchain networks with on-chain governance are winning that race. Nano and
Stellar
are two of the most exciting platforms, as they introduce rapid settlements at a low cost. But, perhaps, the project that's moving the fastest is Dash. It intends to become digital cash and fulfill one of Bitcoin's biggest promises. Dash recently announced the launch of a new, user-friendly payment interface. The interface will simplify long cryptographic addresses for readable usernames. This feature should be highly appealing for influencers and gamers alike.

Another interesting feature is Dash's Decentralized API (DAPI). This DAPI will enable the storage of verified in-game data and statistics in real-time. This means that the more gamers and platforms connect, the safer and more accurate the data will be. Last but not least, is Dash's instant settlement process, which could lead to video game developers tokenizing their in-game currencies. This feature will allow players to spend in-game currency in the real world as well. It's a remarkably interesting feature that may just take off.
Game-Changing Time
Dash is gaining momentum
in this space. Platforms like Whow Games, a social gaming network with 9 million users, accepts subscription services in Dash. An eSports gaming tournament platform called ReadyRaider uses Dash too. As founder Jacob Ballou
declared
recently:
"We required payment functionality for certain match types. The only viable cryptocurrency payment solution would be one that has instant settlements. I really do love Bitcoin very much, but for this purpose, it didn't make sense because of the higher fees and long wait times for transactions to complete."
He adds:
"For pay to play gaming matches when a player challenges another player, I need that transfer to be instant and secure with minimal fees. Players will not wait long periods of time for transactions to clear in order to play games with other players. It just didn't make sense for us to incorporate any other form of cryptocurrency payment, as Dash had everything we needed."
There's still a long way to go before mainstream adoption hits, though. Dash and other on-chain networks like
Tezos
, EOS, or Decred are ready for the race, but nobody knows yet who will win it. The platform that times this emerging market right will likely become one of the next crypto giants. Investors should keep an eye on the movements in the crypto video game sector, as it may trigger one of the most significant transfers of wealth in human history.
Disclaimer
All the information contained on our website is published in good faith and for general information purposes only. Any action the reader takes upon the information found on our website is strictly at their own risk.