Following one of the most anticipated airdrops in crypto history, XRP is under the scrutiny of the US federal government. With a plummeting price and exchange delistings, XRP is facing challenges like never before.
On Dec. 22, 2020, Ripple announced they were expecting a lawsuit to be filed against them by the US government. The Securities and Exchange Commission (SEC) was to argue that XRP, Ripple's token, was a security. Since Ripple sold their token without going through official channels, this meant XRP was sold illegally. Just a day later, the SEC officially charged Ripple of illegally raising $1.3 billion.
But whether the lawsuit is valid are not hinges on the definition of XRP. The lawsuit says XRP fundraising was the illegal sale of a security. If XRP can be proven to be a currency —  as Ripple claims — rather than a security, then Ripple could be exonerated.
While the surprise announcement made XRP's value plummet, there were warning signs.
Came out of somewhere
Ripple Labs officials had been warning of possible friction with US regulators for a while. In fact, on Dec. 3, 2020, Ripple CEO Brad Garlinghouse appeared on CNN and stated that XRP's regulatory status was not clear. At the time, Garlinghouse expressed concern about the company's ability to operate in the US. However, he added that only 5 per cent of Ripple customers are located in the US.
Other major cryptocurrencies, such as ether (ETH) and bitcoin (BTC), have been explicitly labeled as not being securities by the SEC. XRP, which Ripple says will be used for large financial transactions, could easily be considered a currency as well. Until the lawsuit became public knowledge, there was no reason to say for sure the SEC would try to designate XRP in this manner.
But it did. As a result of this announcement, the price of XRP plummeted 36 per cent in one day to $0.27, at the time of writing. Recent highs had been around $0.79.
Dumping, delisting, and ghosting
The price drop was fueled by fleeing institutional and retail investors. Bitwise, a crypto hedge fund that holds the top ten crypto assets, completely sold off their XRP in favor of other, unnamed assets. Before the dump, XRP made up 3.8 per cent of Bitwise's portfolio.
Besides Twitter users running around like headless chickens, there were also the delistings. A number of crypto exchanges delisted XRP in fear of facing scrutiny from the US government.
Suspicions flare up
The view of many crypto enthusiasts that XRP had "sold out" to centralized banks fueled suspicion about the timing of this announcement. Some feel that announcing after the Spark token airdrop but before the SEC went public was manipulation.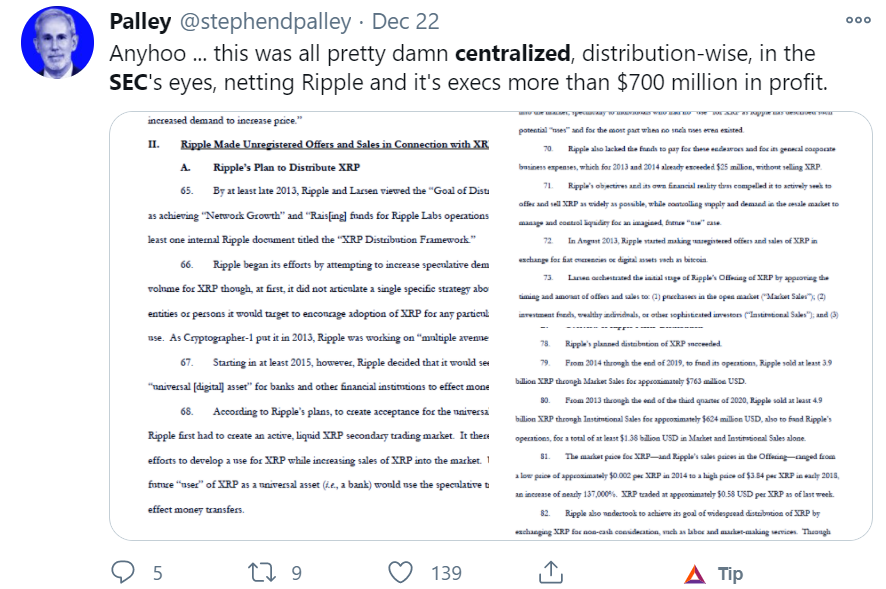 The fact that Ripple knew about the lawsuit early sparked suspicion that the company was holding back the announcement until after Dec. 11, 2020. That date saw a snapshot of XRP wallets for the Flare Network token drop.
Interestingly, there are claims that Jed McCaleb, Ripple co-founder, moved $49 million worth of XRP (133,152,655) before the worst of the price dump. After leaving XRP, the former programmer went on to become CTO of Stellar, a competing crypto asset. Stellar received 100 million XRP in a lawsuit with Ripple and the exchange Bitstamp.
In this case, the funds were moved from the settlement wallet to a personal wallet purportedly owned by McCaleb. The movement of these funds suggested a large sale, and this has fueled further accusations of XRP being a "scam" by frustrated users.
On the other hand, some believe that XRP is clearly a currency. Announcing the lawsuit before the SEC made it public may have been a machination by Ripple. In theory, going public would force the US government to define a security in a way that their legal team could fight:
What's next for XRP?
It is hard to say what's next for XRP, but history has seen similar situations that did not end in disaster. The lawsuit could be costly, but with crypto-friendly politicians in congress, it could get dropped.
Meanwhile, Jay Clayton, whose tenure saw the rejection of all crypto ETF applications, has resigned form his position as head of the SEC. President-elect Biden's administration could shake up policy.
On a similar note, some initial coin offerings (ICOs) faced legal trouble, lost their cases, but still landed on their feet. The Tezos Foundation faced a lawsuit this year, in which investors said the ICO was an unlicensed security sale.
Tezos settled the suit for $25 million in damages, and the court did not rule whether the asset was a security or not. Though a painful blow, the current Tezos market cap is about $1.5 billion and is apparently not hurting that much.
Likewise, in August 2019, messaging app Kik was accused of holding an unauthorized securities sale. In October 2020, the courts finally ruled that the tokens were indeed securities. They fined Kik a mere $5 million.
Even if Ripple loses their case, they could continue to operate outside of the US. They do not face such restrictions elsewhere, and if five per cent of customers lie in the US, then this is apparently not the end of Ripple Labs as we know it.
In the end, there are haters and there are evangelists. But if XRP gets out of this alive in the future, it may be trading at a discount right now.
Disclaimer
BeInCrypto strives to provide accurate and up-to-date information, but it will not be responsible for any missing facts or inaccurate information. You comply and understand that you should use any of this information at your own risk. Cryptocurrencies are highly volatile financial assets, so research and make your own financial decisions.