The worst could be over for the COVID-19-fueled stock market meltdown, according to major Wall Street firms. Not only that, but the bulls could be preparing to pick up where the stock market left off before the epidemic hit. But are they ignoring signs of trouble and putting the cart before the horse?
As the below tweet by
Hedgeye
reveals, Wall Street banks including Goldman Sachs, Morgan Stanley, JPMorgan and Piper Sandler have turned "bullish," with some analysts predicting that it's onward and upward from here for the stock market. Any way you slice it, these equity calls — which come on the heels of a stronger health outlook — are bucking the downward trend in the global economy, which for all intents and purposes remains
mired in a recession
.
We'll just leave this right here. pic.twitter.com/muwuRUF532

— Hedgeye (@Hedgeye) April 14, 2020
Investors have a fine line to walk between the signals that the economy is sending and the bullish calls by Wall Street banks. Earlier in the pandemic, economists were predicting a
U.S. economic recovery
in Q2, forecasts that have since been quashed by the closed economy. Just today,
JPMorgan
, the firm that is predicting stock market "all-time highs next year," reported a nearly 70% drop in Q1 profits. [Business Insider]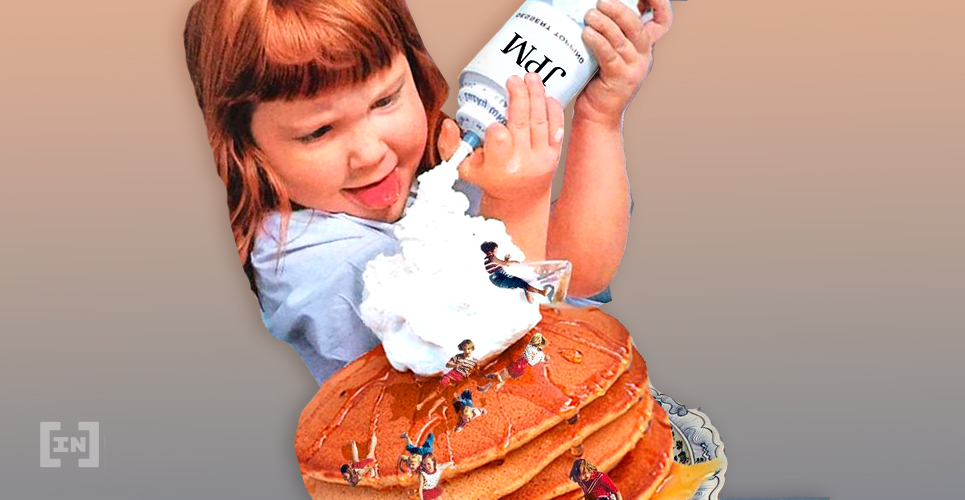 Nonetheless, Wall Street is using a,
'do as we say, not as the economy does'
script. Goldman Sachs, for instance, has set its sights on what it expects will be a robust economic rebound once the pandemic is over. The firm is therefore advising its wealthy investors to buy the dip.
Goldman Sachs is telling its rich clients to return to U.S. stocks on optimism for a strong economic recovery after the end of the virus lockdowns https://t.co/VcTgRDbfmg

— Bloomberg (@business) April 8, 2020
Stock Market Recovers Early
Investors might find some clarity from Thomas Lee, whose research straddles both the traditional financial markets and cryptocurrencies. The
Fundstrat co-founder
points to a 50% recovery in the stock market since the
coronavirus crash
. He uses the stock market crashes of 1987, 2002, and 2008/2009 as historical precedents,
telling Yahoo Finance
,
"The playbook that you have to use right now is not your common sense. You can't say 'oh we'll everything's [looking] bad so everything has to go down.' At the end of a downturn, the stock market recovers way before fundamentals turn."
Highlight: @fundstrat's Tom Lee: "The playbook that you have to use right now is not your common sense… at the end of a downturn, the stock market recovers way before fundamentals turn." Full interview: pic.twitter.com/7WGxp0N0QV

— Yahoo Finance (@YahooFinance) April 9, 2020
"Sentiment is too bullish, judging by price-earnings ratios and credit spreads."
El-Erian advises investors to pursue a flight to quality toward companies with strong balance sheets.
Cryptocurrency Spotlight
Meanwhile, the cryptocurrency market has been coming into its own during a time that many say was made for decentralization.
Bitcoin
's next halving event is right around the corner, and the leading cryptocurrency's
inflation
rate has never looked so attractive in view of the Fed's fiat printing press.
CoinCorner CEO Danny Scott
shared this relic on Twitter.
I wonder what Henry Ford would think of #Bitcoin right about now. pic.twitter.com/xyAn42drrX

— Danny Scott (@CoinCornerDanny) April 14, 2020
Bitcoin
sure has all the makings of that revolution Henry Ford foretold as investors grapple with the mixed signals that Wall Street is sending.
Disclaimer
All the information contained on our website is published in good faith and for general information purposes only. Any action the reader takes upon the information found on our website is strictly at their own risk.