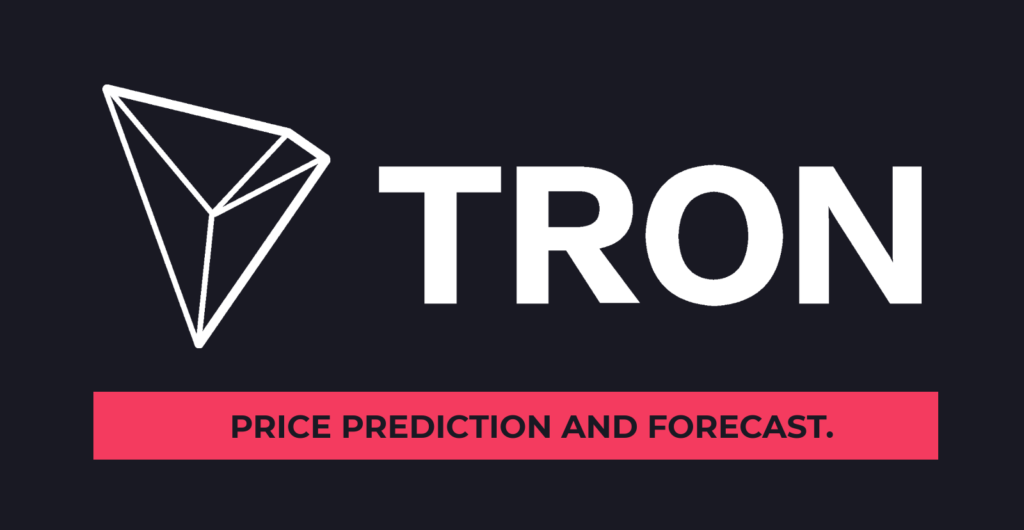 In the world of blockchain technologies, few cryptocurrency and blockchain projects are as proud of themselves as TRON, a blockchain-based operating system spearheaded by Chinese entrepreneur Justin Sun. Famous (or infamous) for making announcements of upcoming announcements for future announcements, TRON is a project which has largely been driven by hype — but, until recently, featured relatively few use case.

TRON is essentially synonymous with its founder, Justin Sun — who tirelessly beats the drum of his blockchain project without any respite. This is what the About section of the official TRON website looks like, front and center: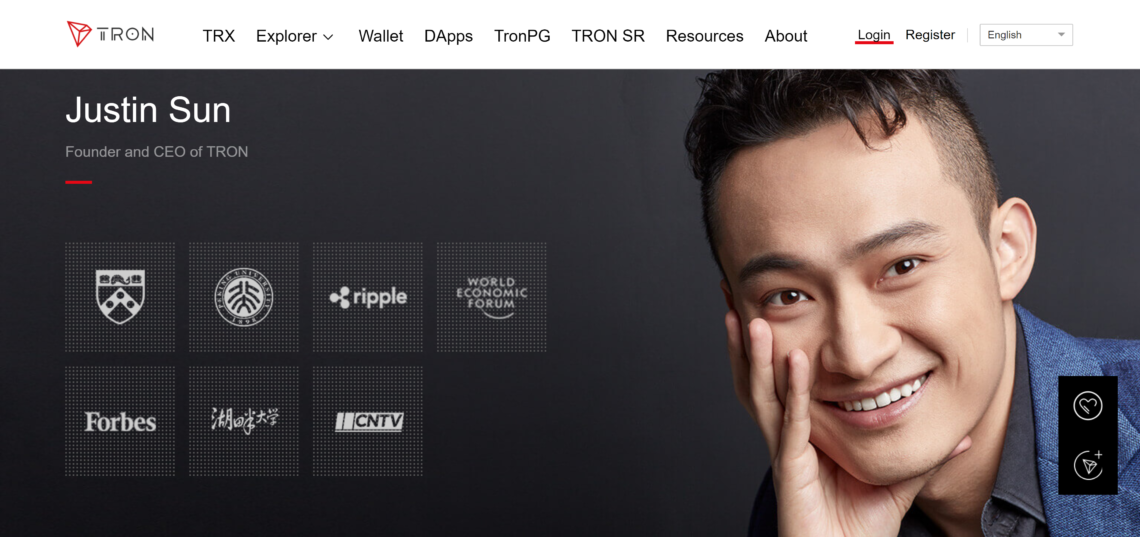 Sun maintains an almost hyperactive presence on Twitter, where he promotes TRON in a way that would make even the most skilled marketer jealous. However, not everyone is turned on by Sun's sometimes
over-the-top hyping
, including Ethereum co-founder Vitalik Buterin. When Sun listed the reasons why he believes TRON is superior to Buterin's creation, the latter responded:
8. Better white paper writing capability (Ctrl+C + Ctrl+V much higher efficiency than keyboard typing new content)

— vitalik.eth (@VitalikButerin) April 6, 2018
Buterin is not the only individual to accuse the TRON Foundation of plagiarizing its whitepaper. In fact, the project has also been accused of plagiarizing code. Plagiarism aside, one aspect which has plagued TRON's communications is the fact that — until recently — everything related to the project in English was very poorly translated. With the evident amount of financial backing behind the project, one would think Sun and crew could've hired a quality English-language copywriter a lot earlier than they did.

TRX
claims to a high throughput blockchain which regularly handles 2,000 transactions per second. TRON (TRX) has a dedicated
block explorer
. According to tronscan.org, there are currently 960 nodes in operation, with the United States holding the vast majority of them. China is holding down second place, with Singapore and Germany not far behind.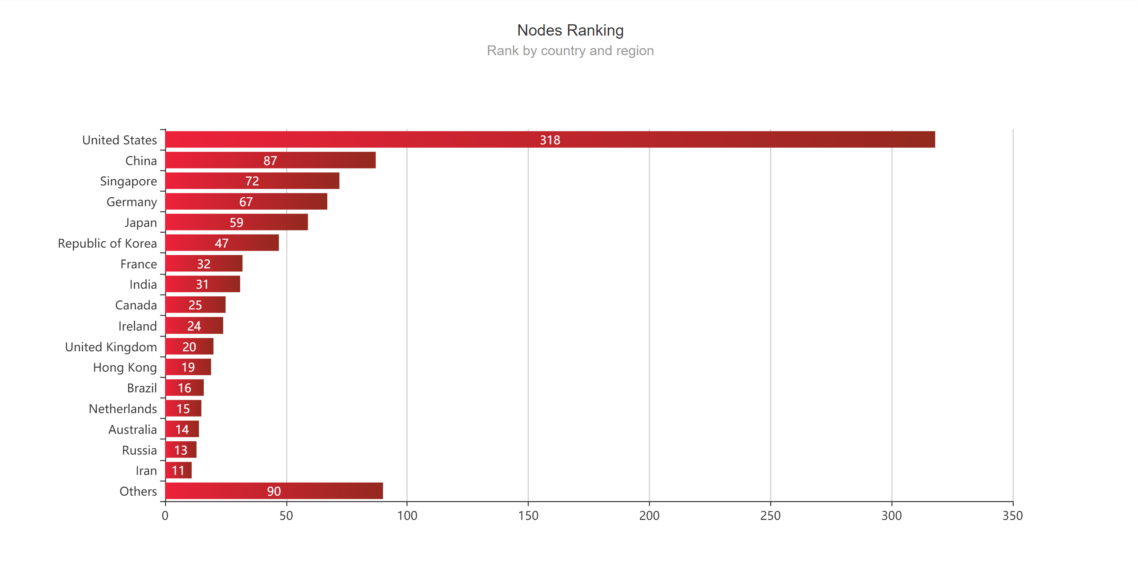 Addresses on the TRON (TRX) blockchain continue to grow, having recently surpassed the 450k mark.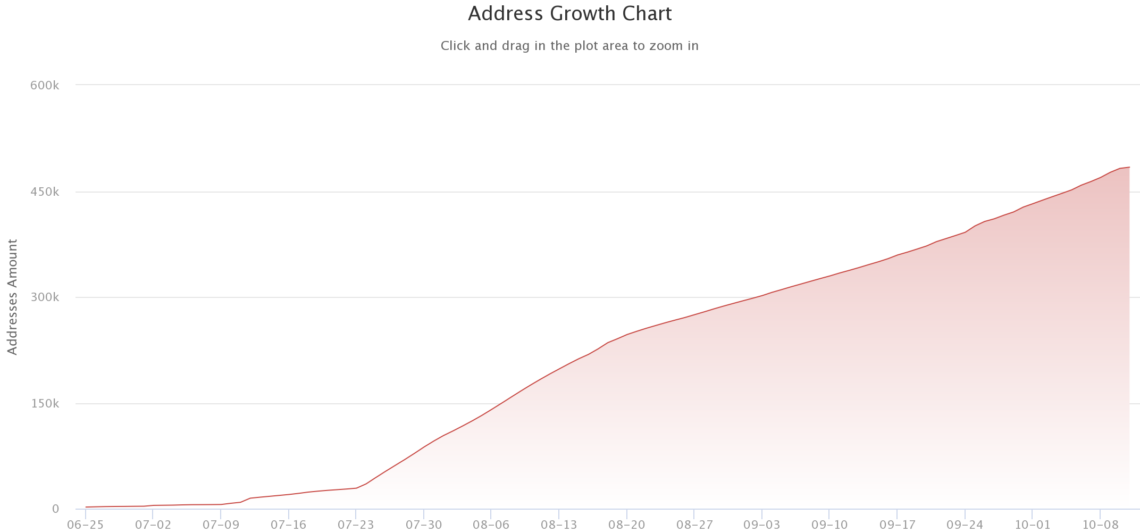 Transactions on the TRON blockchain have seen jagged growth — but growth nonetheless. Throughout recent months, the transactions-per-day count has put in a series of higher lows intermixed with spikes in volume.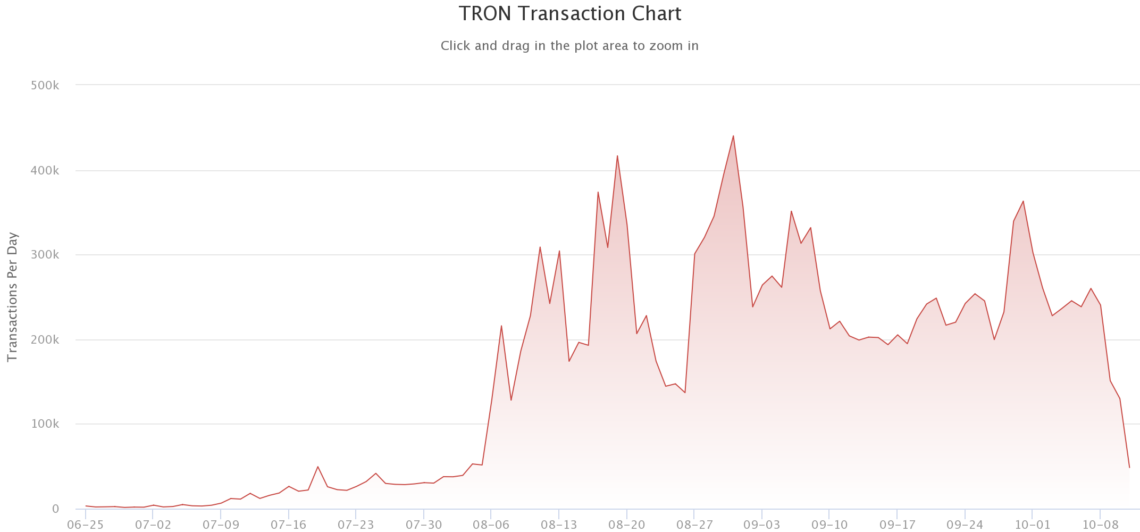 Wallet
There are a variety of community-developed wallets available for storing TRX. There is currently a
wallet
for Android, iOS, Chrome, desktop and online. There are also collaboration wallets for Cobo Wallet IOS/Android, Bitpie Wallet IOS/Android, Ledger Wallet Hardware, Freewallet, Atomic Wallet, BIXIN Wallet, and Exodus Wallet. Though we have not tested all of these wallets, investors and
hodlers
should have little problem finding a place to store their TRX.
[mcrypto id="1357″]
Decentralized Applications
TRON currently boasts a total of seven live decentralized applications (DApps), though only two of them are particularly noteworthy: social software Peiwo and
the newly-acquired BitTorrent
. There are currently two DApps in beta, four prototypes, two concepts, and one 'in progress.' The current DApp landscape isn't exactly something to write home about, but the potential is certainly there to grow significantly in the future. We expect the Tron ecosystem to grow in the coming months and years.
Exchanges
One would have to look pretty hard to find a reputable exchange which doesn't support TRX. Binance, gate.io and
KuCoin
are "permanent supporters" of TRON, according to the cryptocurrency's official website. Additionally, there are dozens upon dozens of additional exchanges supporting the altcoin.
TRON's 24-hour trading volume is currently $173,143,033
USD, with Binance unsurprisingly being the place where TRX is exchanged the most.
Technical Analysis
Tron (TRX) is a Top 15 cryptocurrency. At the time of this writing, the price of one TRX coin today is $0.022346. The 11th-ranked cryptocurrency by market cap is down nearly 11 percent over the last 24 hours. TRON's all-time high was approximately $0.28 on January 5, 2018. It's low since peaking came in at $0.016 — a difference of roughly -94.29 percent.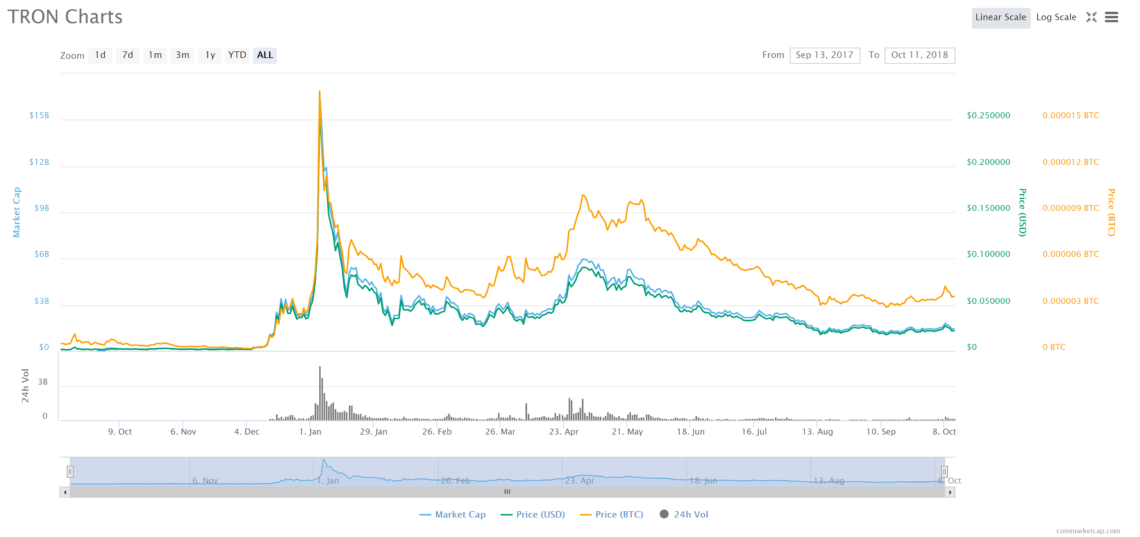 From a trading perspective, TRON (TRX) is clearly a momentum play. When the price moves up, it moves up fast. When it heads back down, traders can expect a slow burn. The price of TRX also performs similarly against the
price of bitcoin
.

Two industry experts expressed doubts about TRON's potential to BeInCrypto. Bitcoin Educator, Developer and Entrepreneur
Jimmy Song
said: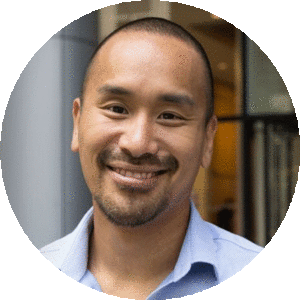 "The only thing of note from Tron is that they bought BitTorrent, the company. That doesn't mean anything, honestly. Most of these projects are people trying to print their own money. Obviously, these guys have been more successful than most by taking advantage of unit bias (each TRX token is very cheap, but there are a lot of them). Fundamentally, I don't see anything interesting and hope these attempts at printing money turn sour sooner rather than later."
Jimmy Song (@jimmysong)
Evercoin founder
Miko Matsumura
likewise stated: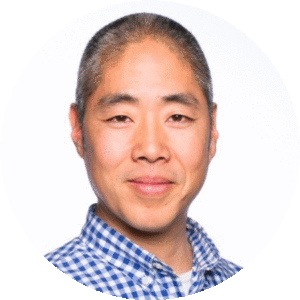 "To be brutally honest, TRON has no credibility for me. They artificially pumped their coin to 17B before shipping any software. This kind of behavior ruins the credibility of the entire market. I think their plans to establish an incentivized BitTorrent client are reasonable but this team's credibility is so lacking that, until they deliver traction, I'm going to continue to doubt anything they have to say."
Miko Matsumura (@mikojava)
WalletInvestor
, which uses
Machine Learning
& AI when making its predictions, believes TRX will slowly crawl upwards throughout the month of Oct 2018. However, in the long-term, it predicts TRX will cost 0.002093 USD in one year's time. We at
BeInCrypto
think this is highly unlikely, given the continual hype and behind-the-scenes work going on behind the project.
MCP Forecasts
holds a different opinion, claiming TRX will continue to scoop upwards in October and ultimately reach a price of 0.758586 USD in one year's time. We at BeInCrypto believe this is also unrealistic, and will only be achieved if the entire cryptocurrency market goes on a massive bull run and surpasses previous all-time highs. (Even more outrageously bullish, the website predicts a per-coin valuation of $2.86 in five years — representing a 12,910.00 percent increase. That would surely make millionaires out of many.)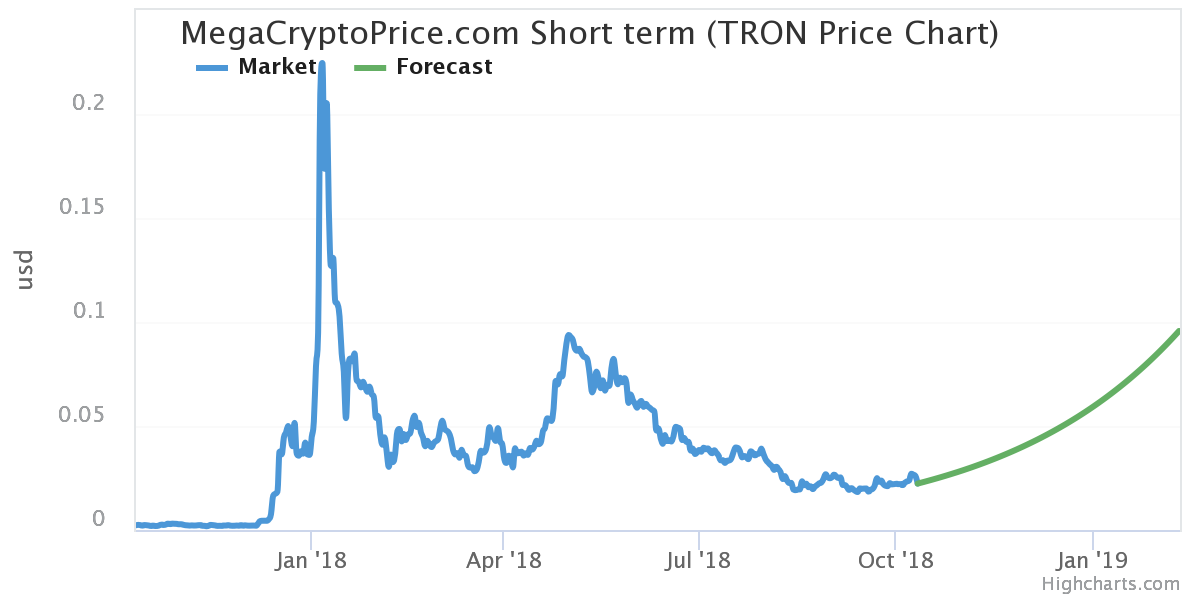 Conclusion
A look at the weekly chart on Binance shows that TRX is clearly in a state of stagnation — much like the rest of the cryptocurrency market. That said, there isn't a whole lot of room to go down, so the potential for both long-term and short-term gains is certainly present. As far as Oct 2018 is concerned, we do not expect significant gains to come from TRON (TRX). Short-term price swings are always possible, however — upwards of 10 percent in either direction, depending on Bitcoin's price action. Crypto markets are notoriously volatile, and TRON tends to be one of the most volatile major players. As far as long-term potential goes, we at BeInCrypto expect TRON (TRX) to stick around for many years and likely increase in valuation as it unlocks more of its potential and adds more DApps — and gains more widespread adoption. In a worst case scenario, we predict a minimum price for TRX no lower than $0.01. As always, one would be wise to keep an eye out on the most up-to-date Bitcoin forecast, BTC price forecast, and BTC to USD predictions before investing in an altcoin.
What do you think of our TRON (TRX) price prediction and forecast? Let us know in the comments below! 
Disclaimer: The contents of this article are not intended as financial advice, and should not be taken as such. BeInCrypto and the author are not responsible for any financial gains or losses made after reading this article. Readers are always encouraged to do their own research before investing in cryptocurrency, as the market is particularly volatile.
Disclaimer
All the information contained on our website is published in good faith and for general information purposes only. Any action the reader takes upon the information found on our website is strictly at their own risk.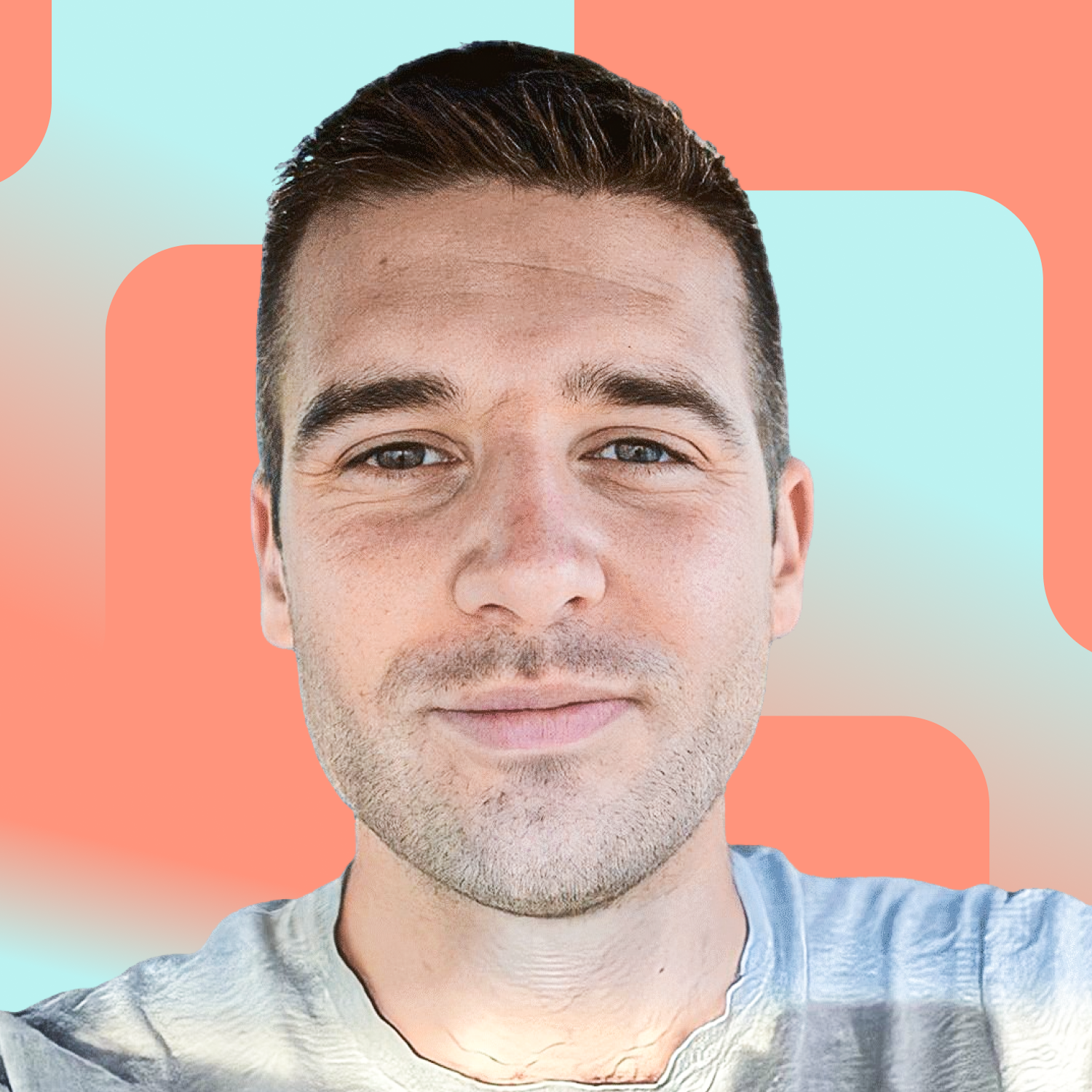 Dani Polo is the Head of SEO at BeInCrypto.com. For over seven years, Daniel provided SEO for companies ranging from small businesses all the way up to Fortune 500 corporations....
Dani Polo is the Head of SEO at BeInCrypto.com. For over seven years, Daniel provided SEO for companies ranging from small businesses all the way up to Fortune 500 corporations....
READ FULL BIO
Sponsored Sponsored