Gold bull Peter Schiff is at it again. The Euro Pacific Capital CEO has made his latest attempt to turn the tables on Bitcoin, gold's chief store-of-value rival asset. But Schiff has a habit of skewing the data in gold's favor, this time taking a short-term view that might make the precious metal appear shinier than it is in real life.
Five trading days. That's the range by which Schiff measures asset performance to reach the conclusion that
Bitcoin is not in the same camp as his precious metal
. He points out that the
Grayscale Bitcoin Trust
, which tracks Bitcoin's price movements, has shed 22% in the given period, while the gold-tracking GLD ETF has gained nearly 2%. While the
coronavirus has certainly spooked investors
, what Schiff fails to mention is the year-to-date tally, let alone a longer-term view. In the new year, the BTC price is up some 30%. Indeed, the Grayscale Bitcoin Trust has been battered as of late, but its value has similarly ballooned by more than 30% so far in 2020. Schiff is cherry-picking data. To be fair, the GLD fund has delivered a double-digit percentage return in the same period, illustrating that investors are fleeing other asset classes. The thing is, there's a new sheriff in safe-haven town that Schiff fails to acknowledge.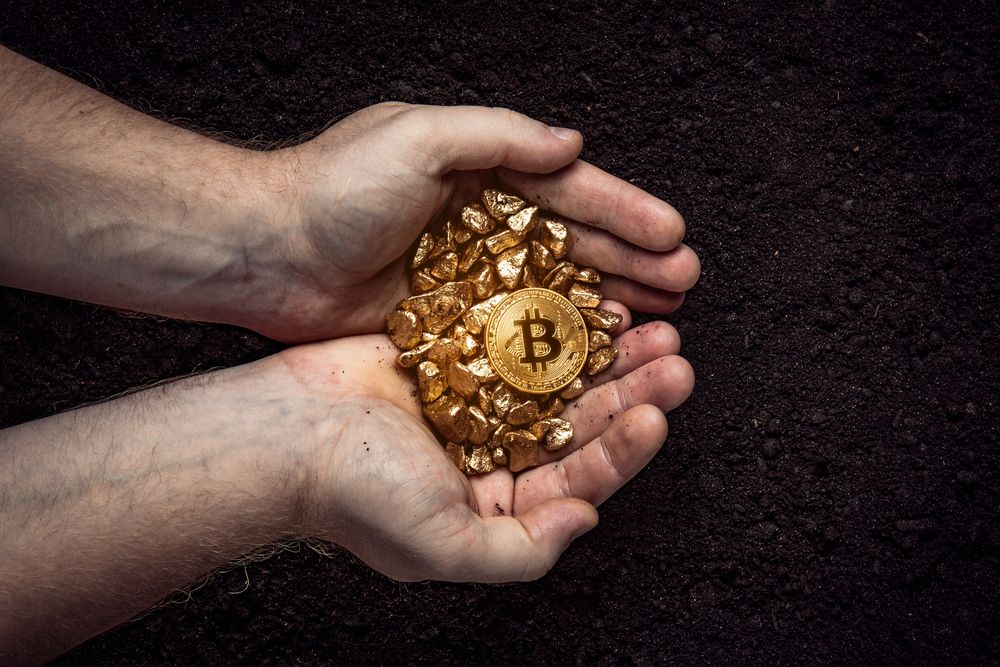 Bitcoin Outshines Gold in the Long-Term
Bitcoin's 93% returns last year
outperformed all other asset classes
, including gold and stocks. Gold delivered returns of just over 52%, which isn't too shabby, either, while stocks were up about 29%. The most recent dip below $10,000 notwithstanding, and it's safe to say that the Bitcoin bulls are seemingly just warming up in the months leading up to the upcoming halving. Nonetheless, Schiff, relentless in his pursuit to attempt to make cryptocurrencies look bad so that gold looks good, continues to knock it. He most recently declared:
Over the past 5 trading days the Dow Jones is down 7.3%, the NASDQ is down 7.9%, and The Grayscale Bitcoin Trust is down 22%. In contrast GLD, which tracks #gold rose by 1.6%. It should be clear to #Bitcoin bugs and @CNBC anchors that Bitcoin is digital risk, not digital gold.

— Peter Schiff (@PeterSchiff) February 25, 2020
Bitcoin-Averse Schiff
Schiff seems to have a love/hate relationship with the cryptocurrency community. He uses Bitcoin as a punching bag yet somehow became the recipient of
thousands of dollars worth of BTC donations
in a campaign that ultimately went bust. He takes shots at Bitcoin for only having a brief history while gold's been around for centuries.
Bitcoin promoters claim #Bitcoin has proven itself to be superior to #gold as a safe haven and store of value. This is nonsense. Bitcoin hasn't been around long enough to prove anything other than P.T Barnum right. There's a sucker born every minute and many of them own Bitcoin.

— Peter Schiff (@PeterSchiff) February 25, 2020
[jnews_block_28 second_title="Featured Stories" header_type="heading_5″ number_post="4″ boxed="true" show_border="true"]
But it's that narrow thinking that reveals the threat that a digital asset such as Bitcoin requiring no third-parties poses to other currencies and asset classes. The fact that Bitcoin's market cap hovers at more than $170 billion must send shivers down the spine of gold bugs like Schiff.
Richard Heart, who is behind the
controversial HEX project
and boasts more than 57,000 Twitter followers,
did the math
, and the results are embarrassing for the precious metal.
Gold has increased
less than 40% since Bitcoin came on the trading scene, while BTC, coming from a much lower base, has left the precious metal in the dust.
Perhaps Schiff may want to consider taking a look at the long-term performance of BTC vs. gold for the bigger picture.
Disclaimer
All the information contained on our website is published in good faith and for general information purposes only. Any action the reader takes upon the information found on our website is strictly at their own risk.