Ronin NFT sales fell below $1 million in August due to a steep decline in unique buyers of digital collectibles and dwindling interest in the market as a whole.
Ronin saw lots of positives in the first full week of September as Sky Mavis (the team behind Axie Infinity) added Google to its growing roster of firms helping to secure the gaming-centric Ethereum sidechain network. 
Aside from that, authorities in the United States helped recover $30 million worth of crypto from the Ronin Bridge Hack in which hackers stole around $600 million.
As one of the most successful NFT blockchains of all time, Ronin reached a new higher low in August by generating $939,432 in sales, based on data from CryptoSlam (an NFT data industry aggregator).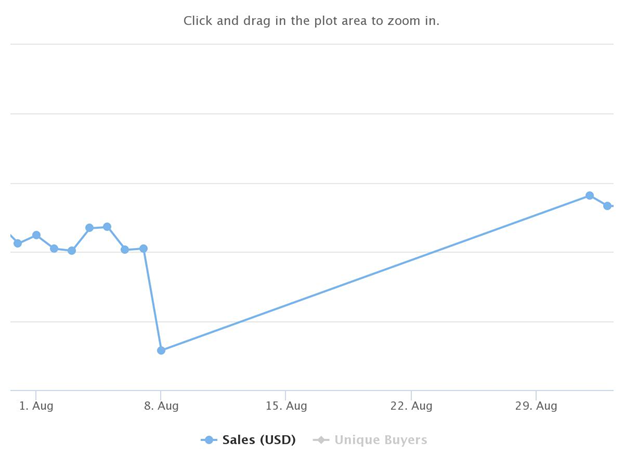 This may come as a surprise to NFT investors when considering Ronin generated over $3 million in sales in July 2022.
Coincidentally, the current figures came exactly a year after the blockchain reached an all-time high (ATH) in monthly sales volume of approximately $848 million.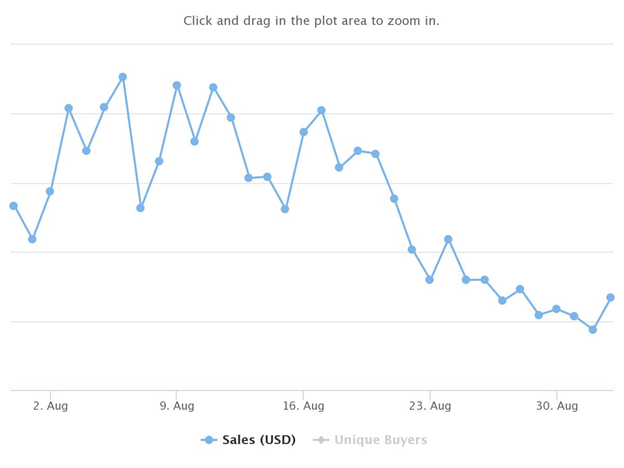 While several analysts have blamed the dip in sales on a decline in demand for Axie Infinity NFTs, others believe that the Ronin bridge hack was the primary reason. This is because several users of the sidechain lost funds in the attack, leading to a downward spiral in the demand for digital collectibles on the platform. 
Unique buyers, total transactions, and average sale value continue to plummet 
Millennials (people born between 1981 and 1996) are known to be the primary collectors of NFTs. The number of unique buyers on a blockchain is a metric used to assess the health of a particular project. 
Ronin soared to an all-time high in the number of unique buyers of 520,789 in November 2021. This corresponded to 3 million transactions, leading to sales volumes of approximately $755 million.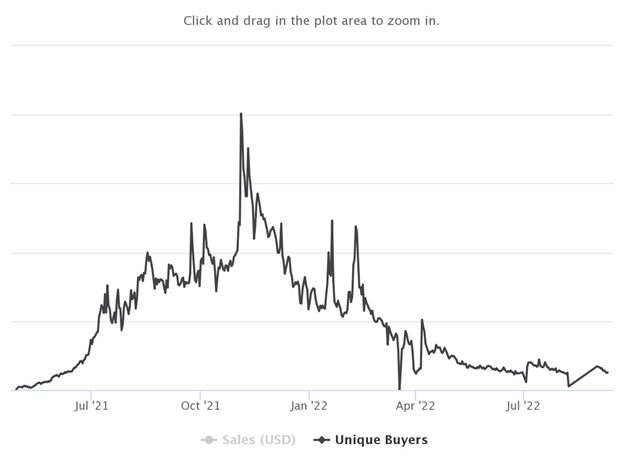 When unique buyers declined by 39% to 314,642 in January 2022, transactions dropped to 1 million and sales slipped to $126 million.
This means that unique buyers and total transactions in August 2022 were 94% and 95% below figures from the same period last year. Average sales value also fell by 97% year-over-year from $457.66 in August 2021 to $11.94 in August 2022.
In the last four months, the average sale value has failed to cross the $20 mark.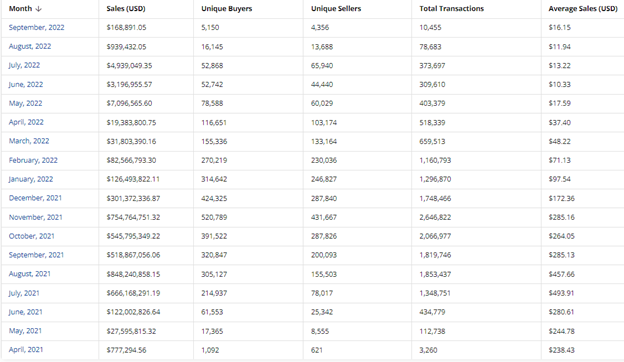 Is Ronin at risk of losing its position as the second-highest blockchain by NFT sales?
Ronin trails only Ethereum in the top NFT sales volume rankings with more than $4 billion. 
Solana, which is in third place needs more than $1.5 billion to flip Ronin while Flow, which is behind the hugely successful NBA Top Shot and the recently launched NFL ALL DAY needs to bring in more than $3 billion to become the main competitor of Ethereum. 
Polygon would need to generate more than $3.5 billion to cement itself as the second-largest blockchain by digital collectibles sales volume.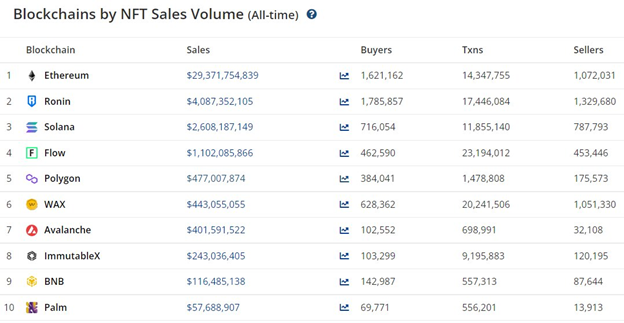 RON continues to trade below $1
After reaching a peak price of $4.32 on Jan. 27, 2022, RON has shed more than 90% of its all-time high in eight months. 
Throughout August, RON recorded less than $2 million in daily trading volume. 
The native asset of the Ronin ecosystem traded between $0.31 and $0.46 in August after opening and closing at $0.43 and $0.34 respectively. 
Within the period, RON dropped by 21% in market capitalization, CoinMarketCap data showed.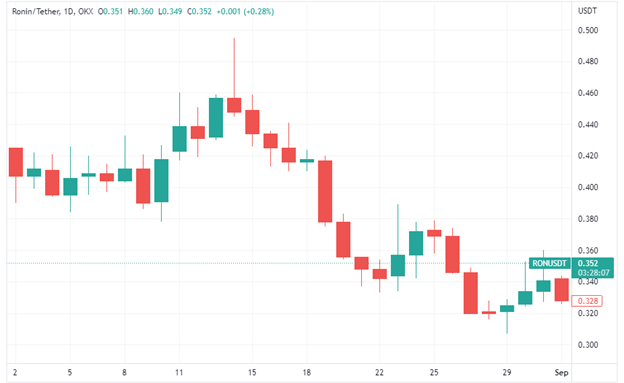 Disclaimer
In line with the Trust Project guidelines, this price analysis article is for informational purposes only and should not be considered financial or investment advice. BeInCrypto is committed to accurate, unbiased reporting, but market conditions are subject to change without notice. Always conduct your own research and consult with a professional before making any financial decisions.