The crypto market is once again in the grips of bearish sentiments. Monday's rally turned out to be a bull trap as major tokens plummeted again.
BTC prices slipped over 1.5% in the last 24 hours, reflecting a downturn in the wider market.
Bitcoin's struggles threaten to snuff out the meme coin season as major meme tokens face heavy correction. While $DOGE and $SHIB remain sluggish, the meme coin phenomenon $PEPE fell over 8% on Wednesday and 21% over the last week, while other tokens like $LADYS continue to slip following recent surges.
Despite the prevalent negative trends, a few new coins are continuing to show positive price growth. AiDoge ($AI), DeeLance ($DLANCE) and yPredict ($YPRED) are receiving enormous interest as traders look to tap into their innovative utility.
$PEPE, $TURBO Plunge as Bear Market Threatens Meme Coin Mania
Many investors recently generated significant growth from the explosive price movement of meme coins like PEPE, TURBO, LADYS, WOJAK, and others.
Pepe led the pack with an 8000% growth that delivered as much as $13 million worth of profits in certain instances. However, Bitcoin's slump combined with economic uncertainty is weighing down any bullish continuation. $PEPE has plunged over 21% over the past week to trade at $0.00000152.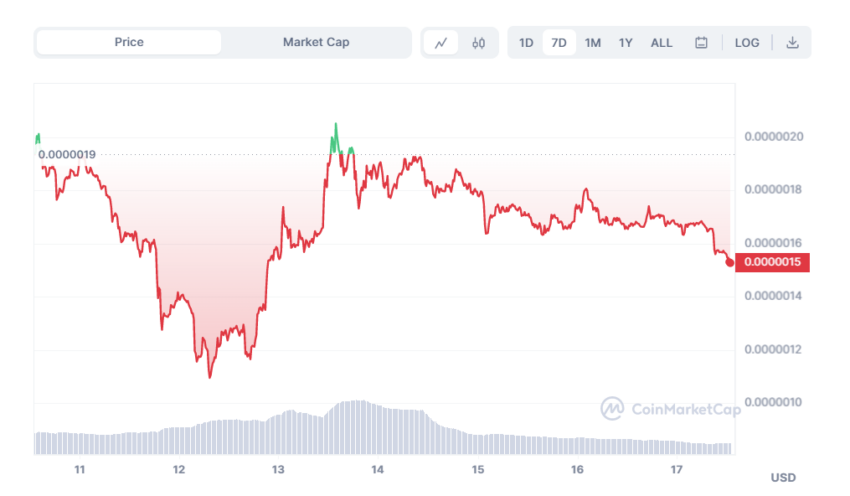 Meanwhile, TurboCoin ($TURBO) prices have dropped over 41% in the last seven days.
The Milady Meme Coin ($LADYS) got a huge boost last week from Tesla and Twitter CEO Elon Musk. The meme coin, which is based on the Milady Maker NFT collection, surged 8000% in the last 7 days after Musk posted a Milady Maker meme on Twitter. However, $LADYS has also succumbed to the bearish outlook as prices have tumbled over 22% in the last 24 hours.
Meme coins usually track the price of Bitcoin. Therefore, the bearish tendencies exhibited by BTC are hurting the entire meme coin market. Moreover, meme coins are particularly volatile, especially during an economic crisis. With the market uncertain regarding inflation and the oncoming recession, meme coins will have to provide real utility to attract investors to retain value.
While many coins are struggling, the following three tokens are continuing to grow despite the current market.
AiDoge Looks Set for Explosive Growth After Raising Over $8.5m in Presale
One token that is displaying continued bullish momentum is AiDoge ($AI), a cutting-edge meme generation platform that enables crypto projects to communicate with their customers using engaging memes. 
The project recognizes the importance of memes in reaching out to key demographics such as young crypto traders. AiDoge takes text-based inputs and uses advanced artificial intelligence algorithms to generate high-quality and relevant memes.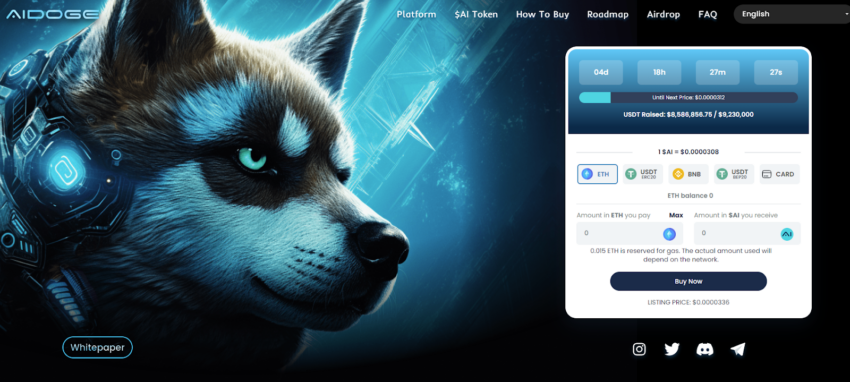 $AI, the native token of AiDoge, continues to smash through its presale. The token has already raised $8.5 million. The utility meme coin is currently priced at $0.0000304 and will launch on exchanges at the price of $0.0000336. 
$AI differentiates itself from other meme coins through its utility. Apart from being utilized to generate high-quality memes on AiDoge, $AI can help users can earn significant rewards by staking the token or voting on the AiDoge platform.
Supporters of the $AiDoge project are also eligible for a massive airdrop. Users who purchase the token during the presale will receive a shareable link. Depending upon the amount raised through the link, they are eligible for a share of 50 billion $AI tokens.
Users can purchase $AI by connecting their crypto wallet to the AiDoge platform and swapping ETH or BNB for $AI. They could also opt to purchase the tokens through bank cards.
yPredict's AI Analytics Platform Is A Game Changer, Token Surges In Presale
Another new token attracting huge interest is $YPRED, the native token of the yPredict ecosystem.
The crypto market remains an extremely complex and volatile industry. Traders, especially beginners, can find it difficult to navigate the intricacies of the market. However, cutting-edge AI analytics and signals platform yPredict ($YPRED) provides a wide variety of tools for traders of all levels.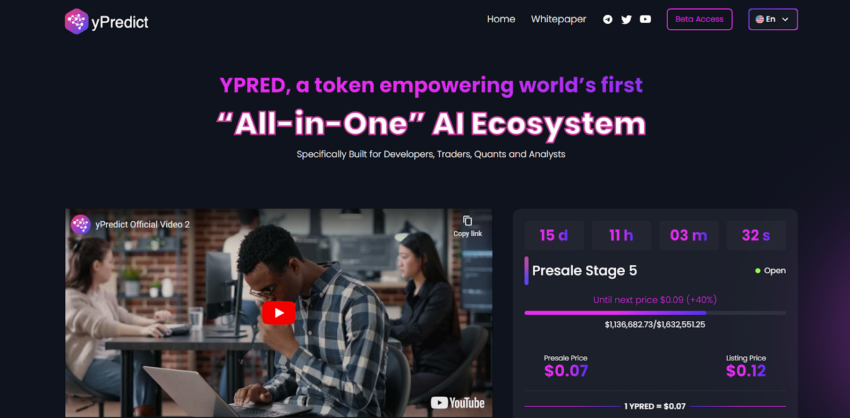 yPredict utilizes advanced AI/ML algorithms to provide an unbeatable edge to market participants in the fields of finance, healthcare, human resources, etc. Traders, developers, quants and analysts of all levels receive real-time market insights to help them navigate the volatility of the crypto market.
YPredict is an all-in-one portal to the crypto ecosystem. yPredict's Predictions platform provides free-of-cost price predictions for thousands of cryptocurrencies and securities. On the other hand, yPredict Analytics is a freemium service that utilizes pattern recognition, sentiment analysis, indicator analysis and transaction analysis to help traders make informed decisions. 
yPredict's flagship product, yPredict Marketplace, connects traders and investors with AI/ML experts and data scientists. Experts can sell their top-notch data models that traders can subscribe to as market signals. They can later use these signals to make real-time financial decisions.
Finally, the yPredict Terminal is a blazing-fast trading engine that lets pro traders execute their trades in a sophisticated manner.
Due to the enormous utility provided by the yPredict ecosystem, its native token $YPRED is garnering heavy interest in its presale. The token has raised north of $1 million and is currently priced at $0.07. Users can purchase the token either by swapping ETH or MATIC or by bank cards.
DeeLance Also Being Backed by Investors
DeeLance ($DLANCE) is another token that could be set to pump this year after generating huge investor interest. 
This new project utilizes blockchain technology to eradicate many of the frustrations that job seekers face in their search for the next opportunity.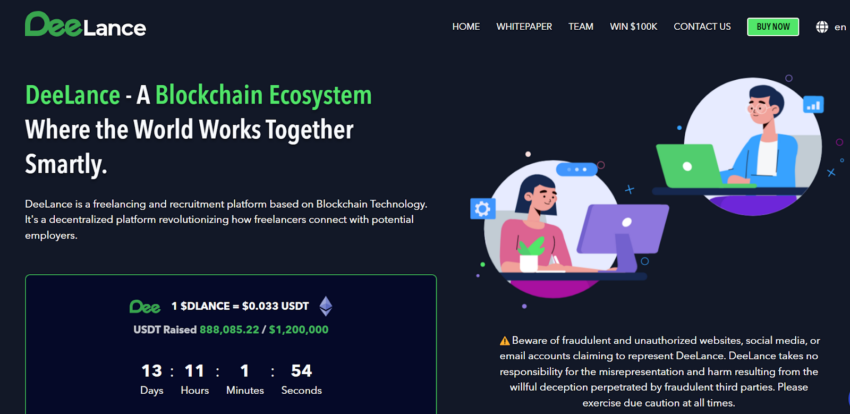 DeeLance is a decentralized platform that is set to revolutionise how freelancers connect with prospective clients. The use of blockchain technology enables the platform to offer significant upgrades over its competitors such as Fiverr and Upwork. 
For example, DeeLance charges 2% client fees and 10% freelance fees, a significant reduction from other platforms that charge as much as 3% client fees and 20% freelancer fees. Furthermore, the use of crypto payment methods enables users to instantly withdraw their amount without any withdrawal fee or minimum payout.
The platform also utilises efficient escrow mechanisms and scalable dispute systems to ensure a seamless user experience for freelancers. DeeLance has been thoroughly audited and verified so users can trust the platform with their funds.
$DLANCE, the native token of the DeeLance platform, has raised over $880k and is extremely close to its target of $1.2 million. The token is currently trading at $0.033 and will surge to $0.057 at launch.
Users can purchase $DLANCE by swapping ETH or USDT. Alternatively, they can also purchase the tokens through bank cards.
Disclaimer
This article is sponsored content and does not represent the views or opinions of BeInCrypto. While we adhere to the Trust Project guidelines for unbiased and transparent reporting, this content is created by a third party and is intended for promotional purposes. Readers are advised to verify information independently and consult with a professional before making decisions based on this sponsored content.