The XRP price could suffer in the coming months as the former CTO and ex-founder Jed McCaleb could dump nearly 3 billion of the tokens on the market.
XRP is battling to retain a top five spot at the moment. And the current possibility of ex-CTO and founder of Ripple, Jed McCaleb selling all his holdings won't help.
McCaleb, who left Ripple several years ago to start Stellar (XLM), still holds nearly 3 billion XRP tokens. Crypto analyst Leonidas Hadjiloizou recently tweeted that Ripple's ex-CTO could dump all his XRP holdings by the end of the year. Or quite possibly as soon as May. 
Hadjiloizou is an avid follower of XRP data and admits McCaleb could be looking to dump the rest of his bags this year. McCaleb currently holds 2.89 billion XRP. The tweet also estimates that McCaleb would be dumping over 38 million XRP daily this week, for a total of $166 million.
XRP Recovering From SEC Charges
XRP appears to be on the mend following charges set out against Ripple Labs by The U.S. Securities and Exchange Commission (SEC). A massive sell-off by the ex-CTO could diminish any decent recovery the project has had. 
Furthermore, it could see its market capitalization drop. This would potentially give it a slim chance of falling out of the top 10. McCaleb is said to have sold over $400 million worth of the token in 2020 alone. Even after the SEC charges were announced, McCaleb was selling over 28.6 million XRP, or $8.58 million at the time. 
The possibility of the Ripple co-founder market dumping nearly 2.89 billion coins over the course of several weeks could push prices down dramatically.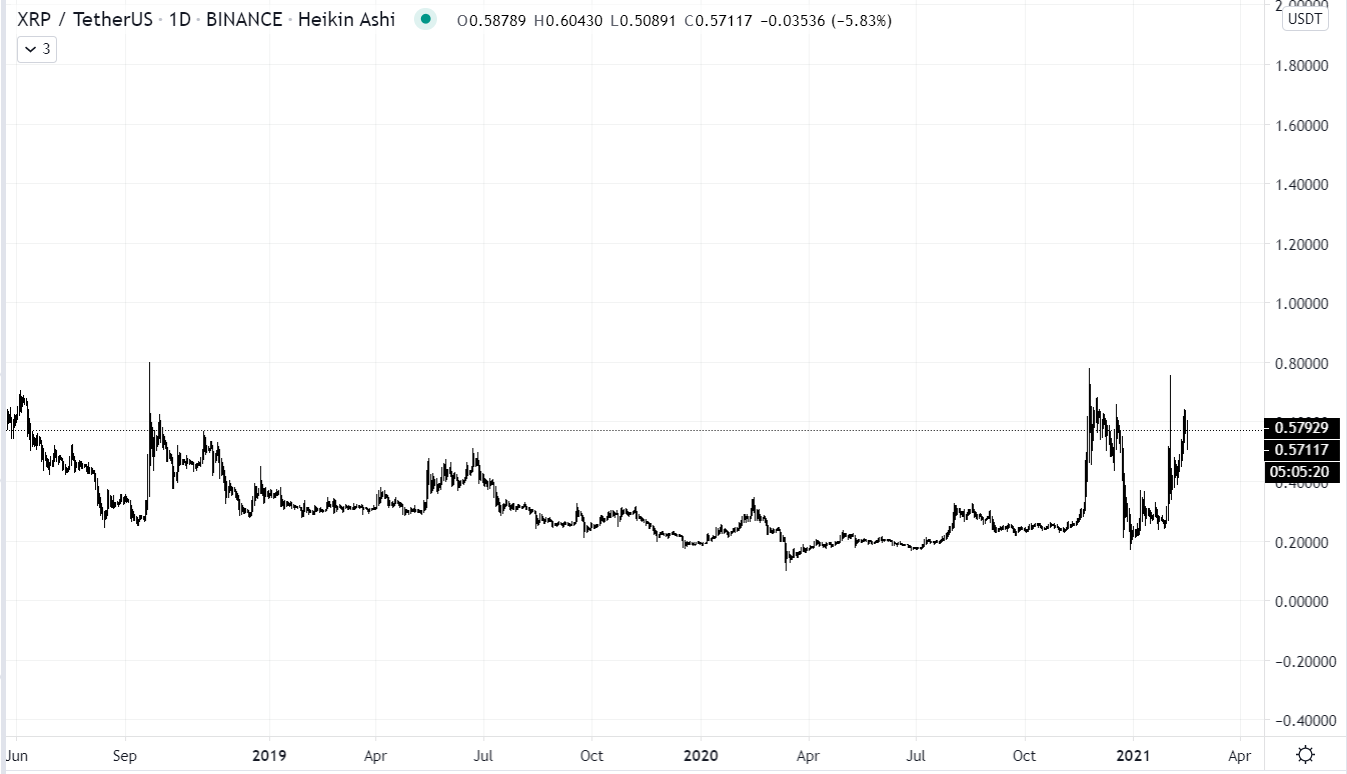 XRP has managed to recover over 200% following the December 2020 market sell-off. The SEC charges have led to huge fear in the market as exchanges such as Kraken delisted the token. Grayscale, a digital asset management firm with over $10 billion in digital assets under management, also removed the coin from its Digital Large Cap (DLC fund).
The impressive recovery could now be hampered by the co-founder, who no longer works on the project and still holds a sizable chunk of tokens. The SEC charges remain unresolved, and it's unclear yet whether the project can put the issue behind it. Further backlash would most likely see it drop out of the top 10 eventually. 
Disclaimer
All the information contained on our website is published in good faith and for general information purposes only. Any action the reader takes upon the information found on our website is strictly at their own risk.