The Luna Foundation Guard (LFG) has been battling to shore up its beleaguered UST stablecoin, which has crashed from its dollar peg yet again.
If a massive crypto market slump wasn't bad enough, the world's third-largest stablecoin ecosystem collapsing has certainly added fuel to the fire.
The Singapore-based non-profit that supports the Terra network, the Luna Foundation Guard, has been reaching out to investors in hope of raising funds to shore up the embattled stablecoin.
The LFG is looking to raise more than $1 billion to collateralize the UST stablecoin according to The Block, which cites "people familiar with the matter."
The move comes as no surprise as the stablecoin has decoupled from the U.S. dollar, plunging below $0.70 on two occasions this week.
Nobody panic
Terraform Labs founder and CEO Kwon Do has kept quiet about the fiasco and the funding has yet to be confirmed. His latest Twitter post at the time of writing was cryptic, to say the least:
This follows a post a few hours earlier stating "Close to announcing a recovery plan for $UST. Hang tight."
On May 10, the Luna team posted some clarifications to combat the torrent of FUD that has taken over mainstream media. It said that there will be no "death spiral" if the UST market capitalization is greater than that for LUNA, the token that collateralizes it.
It also stated that UST is backed by user on-chain activities and Terra economy demand such as network economic activity and corresponding cash flow. "Peg regaining takes time to do so given the parameters, but it bounces back," it added.
According to a Google analytics dashboard, nearly all of the USD reserve balance was used to shore up the stablecoin. It plunged from almost $4 billion to around $146 million where it currently stands.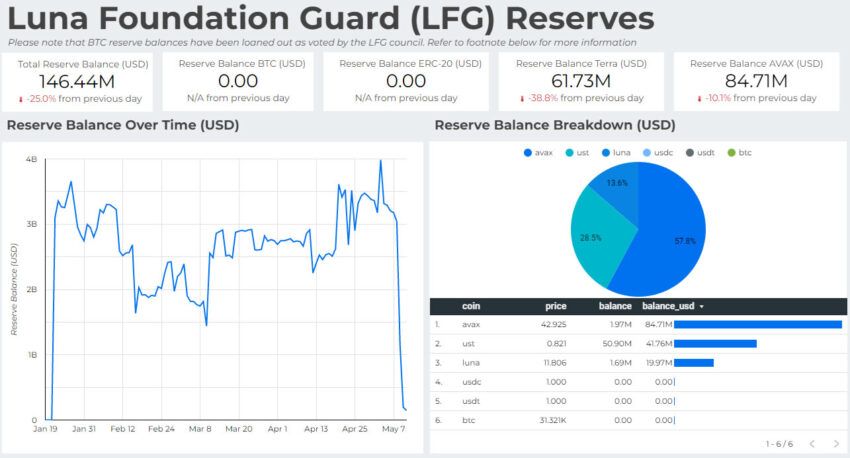 UST drops peg again
The stablecoin recovered to more than 90% of a dollar on May 10, but it has taken another turn south on May 11. A few hours ago, UST crashed for the second time hitting $0.696 according to CoinGecko. It has since recovered marginally to trade at $0.805 at the time of press.
The move has led to a number of arbitrage opportunities between LUNA and UST, and UST and other stablecoins. LUNA has been smashed nearly 60% on the day in a free fall to $11.21 according to CoinGecko. It has lost 86% over the past week and is 90% down from its April all-time high.
Disclaimer
BeInCrypto has reached out to company or individual involved in the story to get an official statement about the recent developments, but it has yet to hear back.