Litecoin (LTC)
, the clone and 'little brother' of Bitcoin (BTC), has historically tagged along with the price of BTC on a smaller scale. Will LTC ever be able to return to its all-time high levels?
At the time of writing,
Litecoin
is ranked seventh with a total market cap of $1.8 billion, which is under 3 percent of Bitcoin's total market cap of $67 billion. In April 2017, LTC made a huge move to the upside after remaining relatively stagnant for the year and a half prior — when it was trading between $3 and $5. Between April 2017 and the end of the year, LTC would blast off to closing at a new all-time high of $320. 2018 has been no treat, obviously, as Litecoin has corrected back to $30 — still mimicking the downward movement of Bitcoin. During the 2014 bear market, Bitcoin corrected a total of 82 percent, while its counterpart was gutted losing nearly 96 percent. Litecoin and Bitcoin look like they will remain a couple in the current
2018 bear market
as Bitcoin is down 82 percent yet again. This time around, Litecoin has shown more resilience, only losing 90 percent from its all-time high.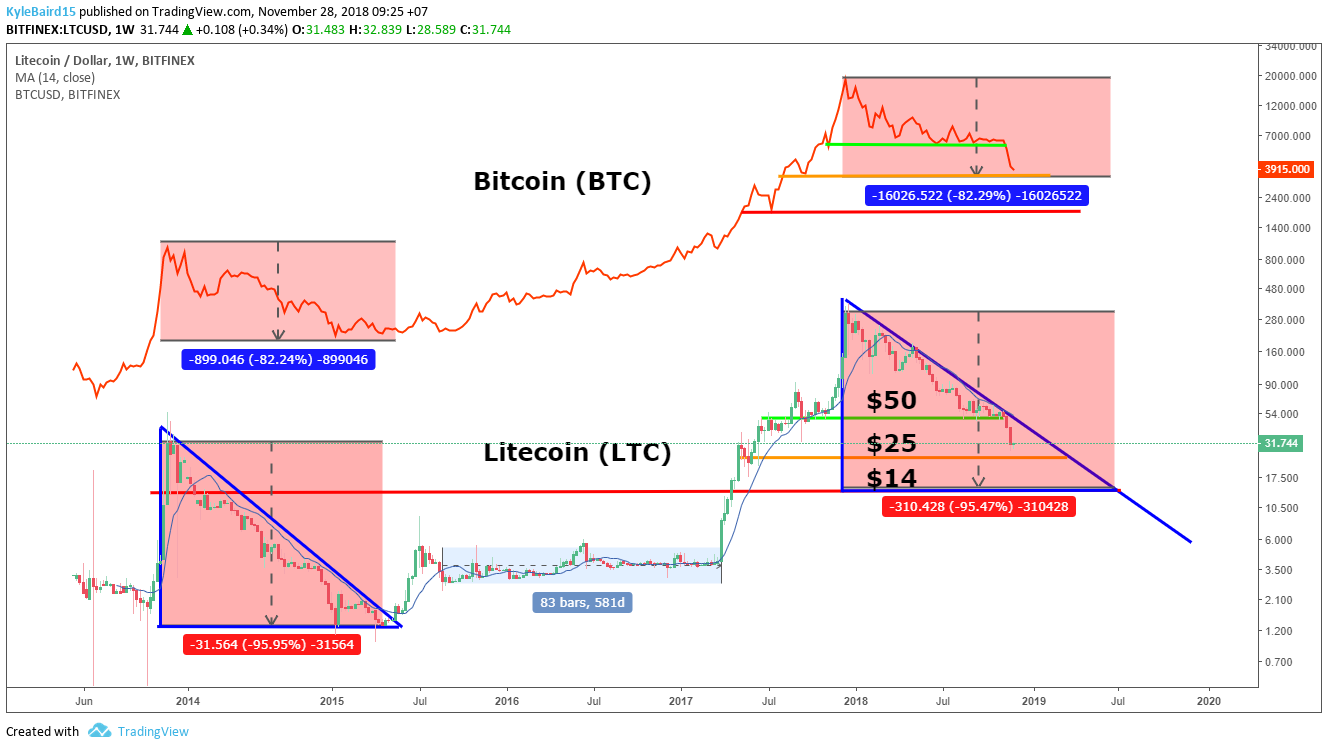 Stochastic RSI
The three-day and two-week Stochastic Relative Strength Index (
RSI
) shows a definite lower-high pattern emerging since the middle of 2017. At the time of writing, the index shows signs of LTC being heavily oversold (red line) and most likely prepped to make a bounce back up towards the descending line (pink) in the area of 30-40.
Reversal Scenarios
November
 has not been a particularly profitable month for Litecoin as the past three weeks have crashed the coin through the $50 support (green) down towards the $25 support (orange). The possibility for a reversal in Litecoin at this point is almost entirely dependant on a bounce in Bitcoin price. [bctt tweet="If Bitcoin is successful in holding above the $3,700 support then Litecoin should have no problem keeping its head above water between $25 and $30." username="beincrypto"] If the same pattern plays out as it did in 2014, where an 82 percent loss in BTC equates to a 95 percent loss in LTC, we could see a further dip in price to the $15 level before attempting to break out of the descending line again. There is a very small chance that Litecoin could return to single digits in late 2019 depending on the state of the cryptocurrency market. Predicting a bottom is never a sure thing and one should always be diligent in researching and monitoring any sort of short-to-medium term position taken in this bear market.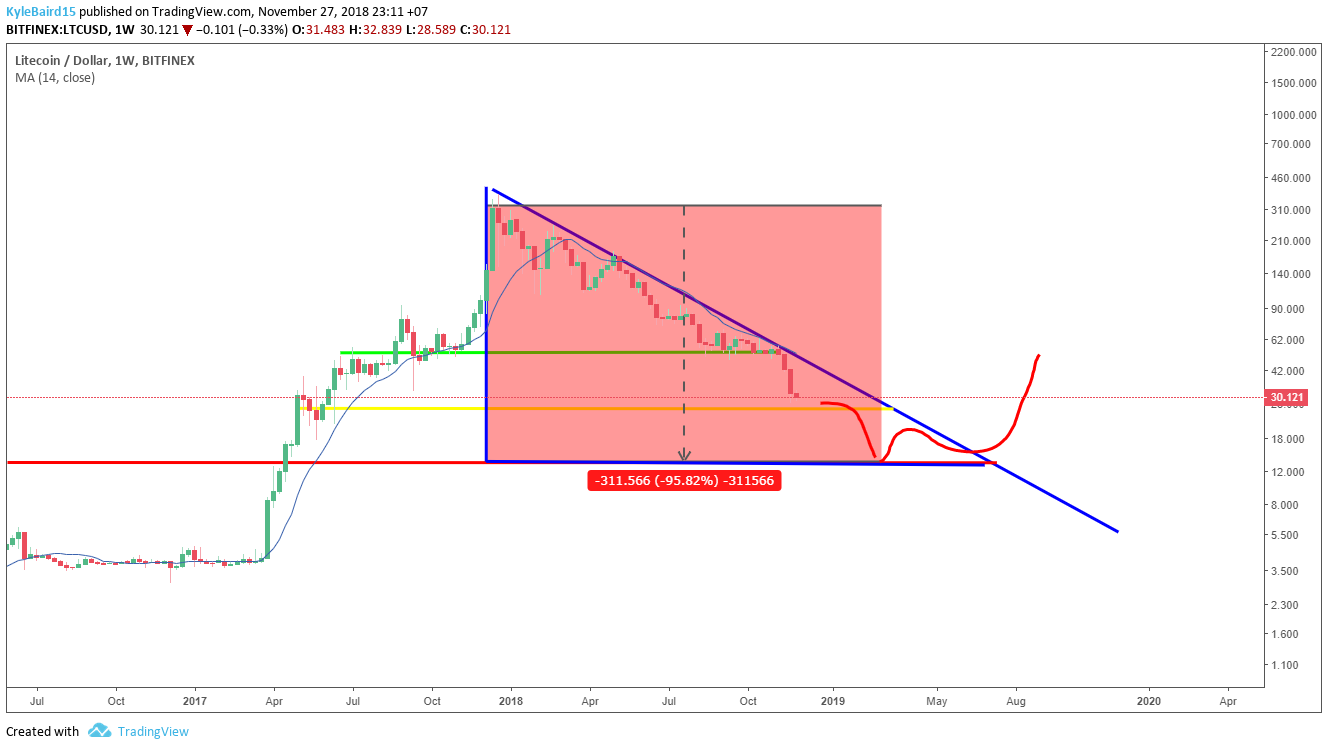 Will Litecoin (LTC) find a bottom before the end of 2018? How long before it reaches a new all-time high? Let us know your thoughts in the comments below! 
Disclaimer: The contents of this article are not intended as financial advice, and should not be taken as such. BeInCrypto and the author are not responsible for any financial gains or losses made after reading this article. Readers are always encouraged to do their own research before investing in cryptocurrency, as the market is particularly volatile. The author of this article does not hold LTC.
Disclaimer
All the information contained on our website is published in good faith and for general information purposes only. Any action the reader takes upon the information found on our website is strictly at their own risk.