Many dissimilarities and parallels can be drawn between the last two cryptocurrency market's bear cycles and 2018, thus far. Will the current Bitcoin bear market play out the same as the others, or is 2018 a completely different beast?
For many cryptocurrency investors and enthusiasts, 2018 has been their first real bear market experience — allowing them to truly see how volatile and unforgiving crypto can be. This current correction, however, is actually the third of its kind — in which the value of Bitcoin (BTC) has corrected 50 percent or more following a sharp increase in price that lasted more than 4 months.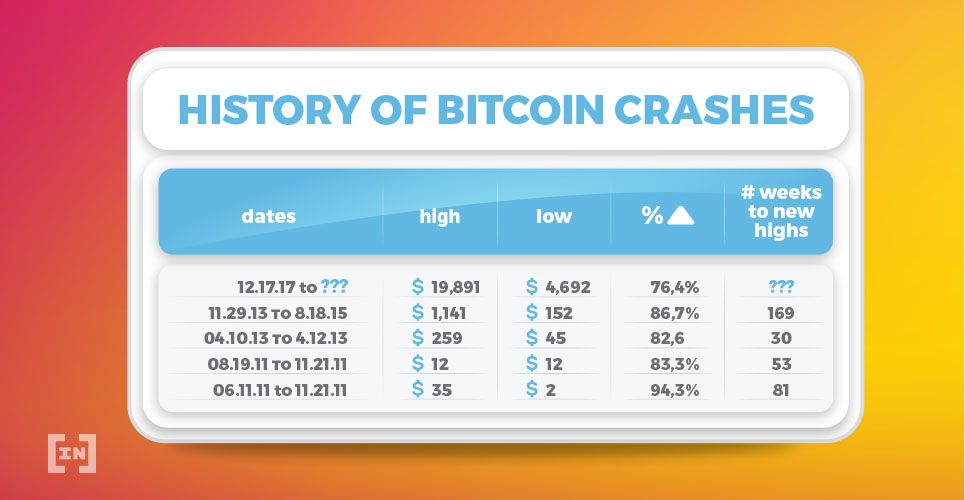 Mt. Gox
Bitcoin's first major correction occurred during the final half of 2011 and was kicked off by Mt. Gox — the largest Bitcoin exchange at the time — getting hacked and losing more than $480 million worth of digital assets and funds from its bank accounts. In the 161 days that followed its then all-time high of $20, the price sunk nearly 90 percent before bouncing off the floor at $2.15. The pattern carries out in an alternating lower-high, lower-low fashion — and is depicted below in a downward-arcing
curve
.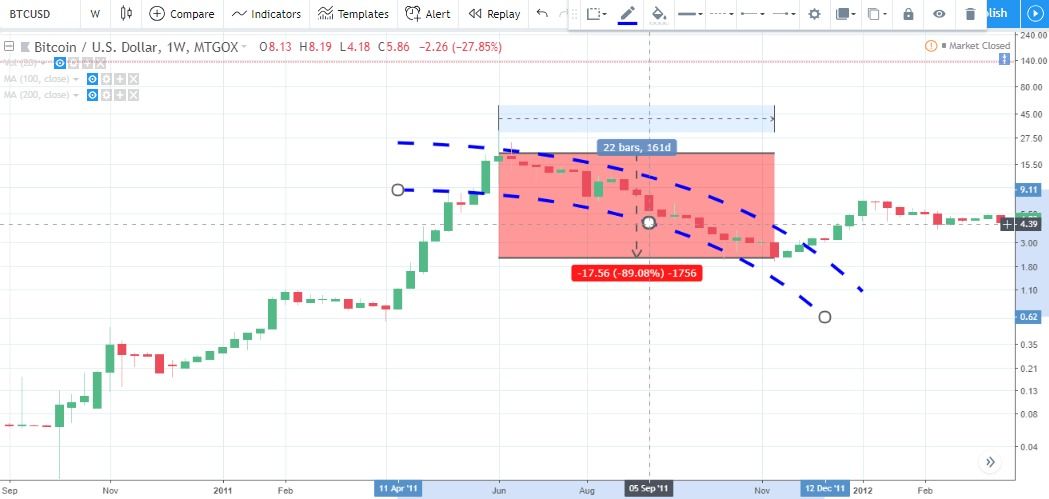 Crypto Winter
Fast forward to the years between 2013 and 2015 — most often referred to as '
crypto winter
.' It was during this time that the price of Bitcoin (BTC) dipped nearly 80 percent amid the shutdown of online black market The Silk Road by the Federal Bureau of Investigation (FBI) and increased scrutiny from other federal agencies linking cryptocurrency to criminal activities like money laundering and the anonymous purchasing of illicit goods. After launching off on a 900 percent rocket ride from $123 to over $1000 in the span of fewer than 2 months, the price of Bitcoin slipped in a similar fashion to the previous lower-high, lower-low downward-arcing pattern — this time lasting 413 days — and was followed by a further 231 days of relatively low-range sideways trading.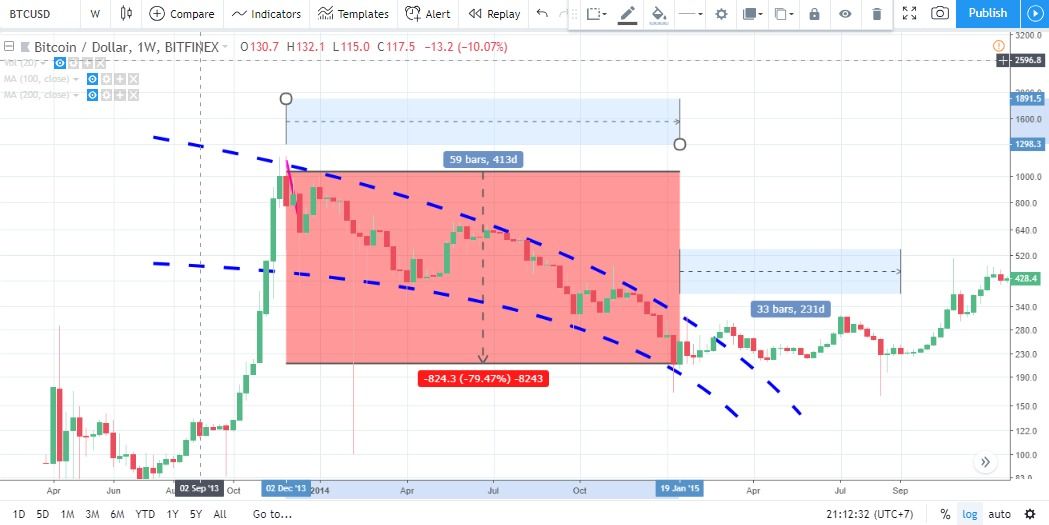 The 2017 Bubble
Beginning in September of 2015, Bitcoin would go off on
a bull run of unprecedented proportions
— steadily climbing from $230 all the way to $20,000, an increase of over 8,500 percent. Seeing
massive profits
from the final kick, investors started to sell their bags as the scales finally tipped just before the closing of 2017. 2018 has so far seen Bitcoin lose 70 percent at the yearly low in June when the price returned to the $5,800 level. At the time of writing, the 2018 bear market has been rearing its ugly head for more than 320 days. However, unlike the previous two bear markets which were seemingly caused by negative news, the 2018 bear market was a result of Bitcoin growing too big for its breeches. While also moving in a lower-high trend, the price since June has been making sideways movements and only recently starting putting in higher-lows — creating a curve that could potentially indicate that a
bottom has been set
.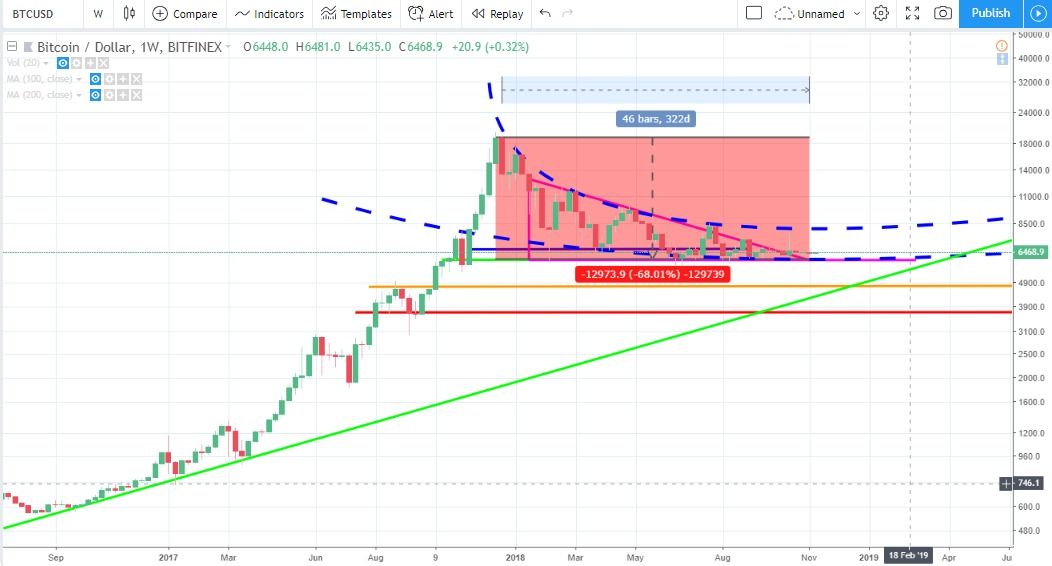 The question now pertains to whether or not this is just the
midway point of another crypto winter
, or if higher-highs will soon grace the markets in a reversal.
Do you think there will still be a move down in terms of price for Bitcoin and other major cryptocurrencies? Is this bear market really different than the others? Let us know your thoughts in the comments below! 
Disclaimer
All the information contained on our website is published in good faith and for general information purposes only. Any action the reader takes upon the information found on our website is strictly at their own risk.