The saga between the
ChainLink
community and a seemingly fraudulent investment firm keeps unfolding in unexpected ways. After releasing a 60-page report a few weeks ago, the investment firm copycat is still attacking LINK.
A Zeus Capital Twitter account imposter, going by the handle
@ZeusCapitalLLP
, has been attempting to rile up the ChainLink community to create more discord. Zeus Capital LLP claims to have a significant short position against LINK. In order to fight back against the attacks, the ChainLink community, often referred to as 'LINK Marines,' organized a price pump to try and liquidate Zeus Capital LLP's alleged short position.
In this article, please note that we will be referring to the fraudulent account as 'Zeus Capital LLP,' while the actual investment firm will simply be called 'Zeus Capital.' 
Stirring the Pot
As
BeInCrypto
reported recently, the dubious Zeus Capital LLP released a 60-page report
calling LINK a scam.
The document widely circulated in the crypto world, generating a lot of mistrust in one of the best-performing assets in the space. Three weeks have passed since the release of the report, but the beef is still hot. The original Zeus Capital, based in London,
communicated
that it doesn't have any relationship or affiliation with the report:
It has come to our attention that a company called Zeus Capital LLP has published a research report relating to cryptocurrency and Chainlink. For the avoidance of doubt, we would like to state that Zeus Capital Limited has not produced or published research on this subject and has no relationship or affiliation with Zeus Capital LLP whatsoever. The FCA regulates Zeus Capital Limited, operates in the UK, and only publishes research in the name of Zeus Capital Limited.
Fake Partnership Allegations
The phony Zeus Capital LLP openly admits that it holds a short position on LINK. This claim may actually be credible considering the fact that it has been investing serious money on promoting its content on Twitter. It shared one of its latest content pieces just days ago. In a long-form article titled 'Exposing Chainlink's Pump & Dump Scheme – The Fake Partnerships,' Zeus Capital LLP dissected every single LINK partnership to date. You can read the piece
here
, but please bear in mind that this account is being accused of impersonating a real firm. We advise readers to be skeptical about the information they find there. For instance, it called out the partnership between Google and LINK:
The Google 'partnership' is a clear case of the pump-and-dump schemes Chainlink regularly orchestrates. Bold, misleading statements are loudly announced, resulting in euphoria among the Link Marines and retail crypto investors. Blindly believing the 'news', these unsophisticated investors are buying the worthless LINK tokens in bulk without questioning the legitimacy of the information.
It follows this up with:
In the meantime, SmartContract is moving large quantities of LINK to exchanges that are almost instantaneously dumped to their own vulnerable community. Cleverly, though, SmartContract always let the demand outstrip the supply so that the price is going up while everyone is happy.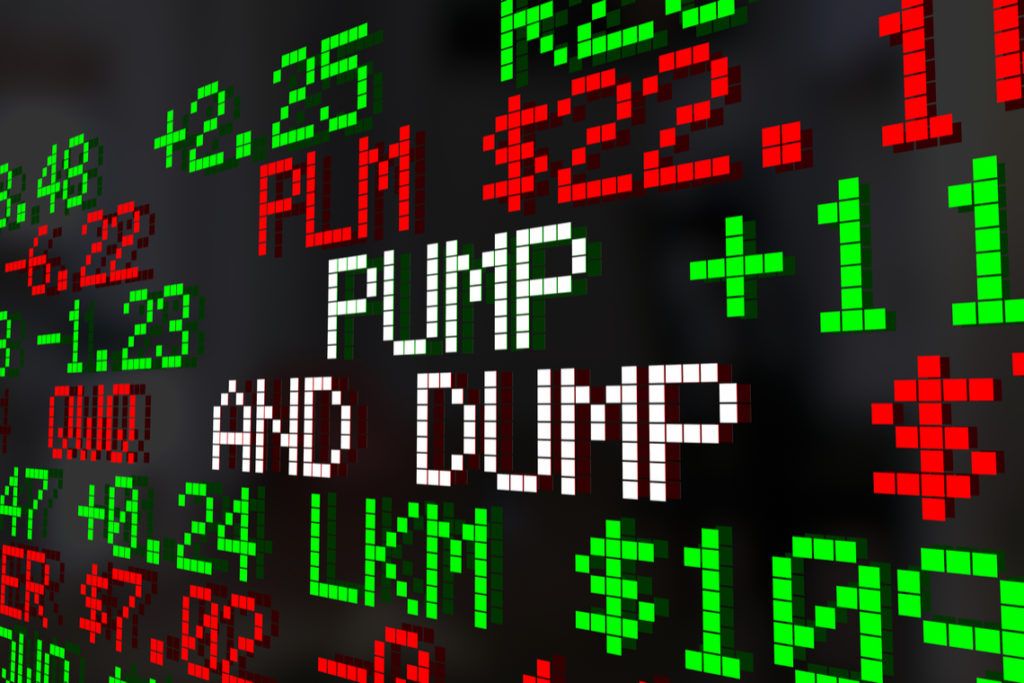 LINK Marines Strike Back
The constant attacks from Zeus Capital LLP haven't gone unnoticed by LINK's community, and LINK Marines are known as one of the most active crypto communities. They started scheming a coordinated investment that could potentially liquidate Zeus' alleged short position by scheduling an artificial pump for last Sunday at 1 PM EST when the LINK price was just over $7.60.
Zeus Liquidation pamp! Join us ! Buy $Link tomorrow! pic.twitter.com/PHFGLOv3V6

— Juha Soudunsaari🇫🇮 (@LinkFinland) August 1, 2020
Their price target seems to have been set to around the $8.50 mark according to many Twitter comments. Zeus Capital LLP didn't back down and challenged the marines by declaring that it has unlimited resources to short LINK. While
BeInCrypto
has not been able to corroborate the statement, it seems like a bluff. If Zeus Capital LLP had enough resources to take the price down, it most likely would've done so already.
We've unlimited resources to go after $LINK.
You can't short squeeze us.
The attempt to manipulate the market and save LINK from today's flash crash is being documented and added to the lawsuits.
Everyone involved will face the consequences.$LINK will drop to $0.0001 as in March pic.twitter.com/OHQe7Kz63H

— Zeus Capital (@ZeusCapitalLLP) August 2, 2020
Two days after the pump date,
LINK reached an all-time high of $10
. So far,
BeInCrypto
has not been able to corroborate if the Zeus Capital LLP short position ever even existed or has yet been liquidated.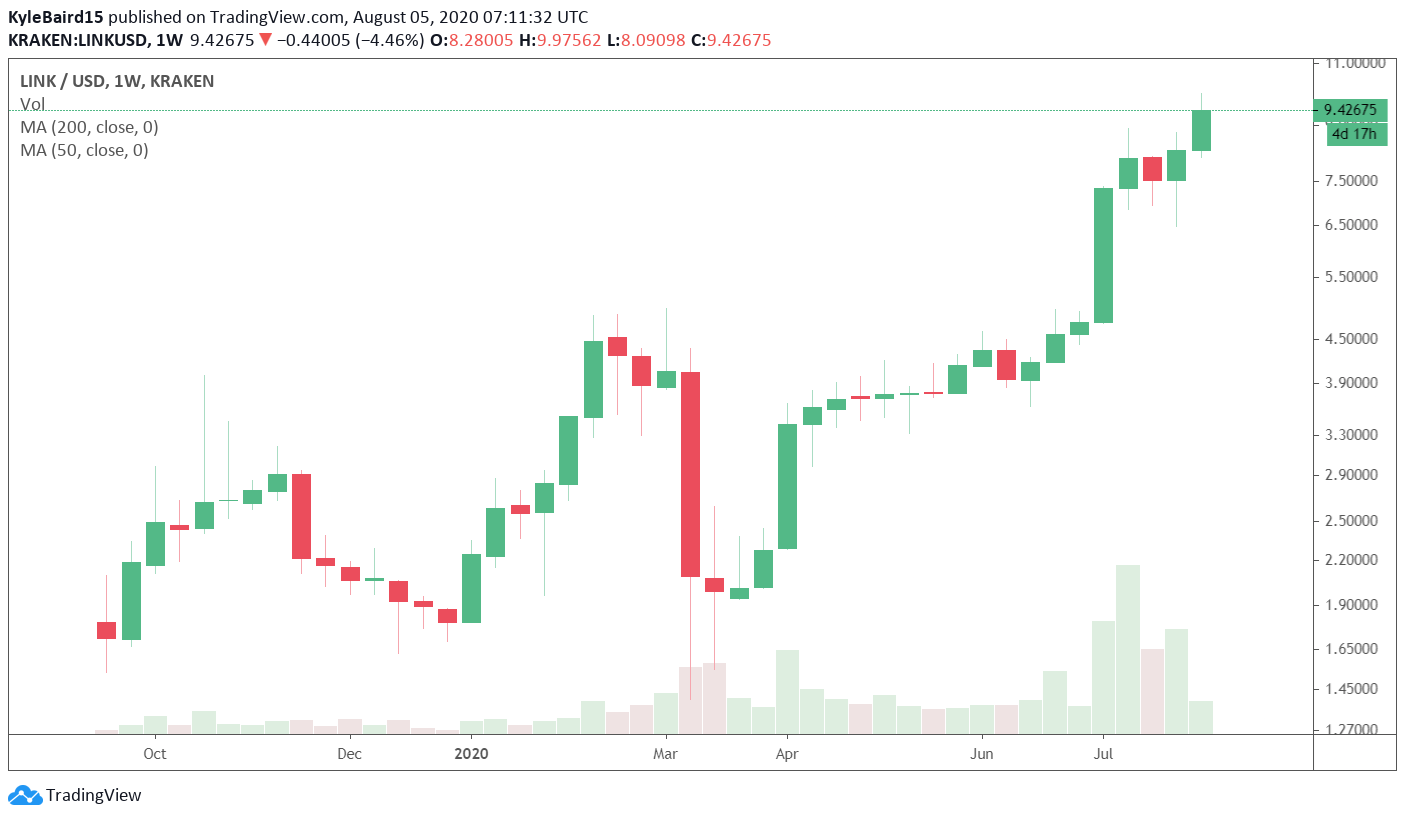 It seems that the LINK Marines have won this battle, but will they win the war? Zeus Capital LLP has yet to fulfill its threat of crashing the LINK price but is definitely generating concerns and fears around the project. We recommend readers and investors to be extremely cautious with this issue, as there are big interests playing against each other. We'll keep you posted with further developments as they come. If you find any evidence around this story, please
contact the author on Twitter
or send an email to
BeInCrypto
at
[email protected]
.
Disclaimer
All the information contained on our website is published in good faith and for general information purposes only. Any action the reader takes upon the information found on our website is strictly at their own risk.
Tony has worked for several financial companies in London during the last seven years, gaining experience in traditional finances and trading. Passionate about direct democracy,...
Tony has worked for several financial companies in London during the last seven years, gaining experience in traditional finances and trading. Passionate about direct democracy,...
READ FULL BIO
Sponsored Sponsored