Last week a dubious report about LINK surfaced titled 'The
Chainlink
Fraud Exposed – An Investigative Report on Why Chainlink is the Crypto's Wirecard'.
The report, published under the guise of Zeus Capital, recommended that it was time to short the popular cryptocurrency. H
owever, it appears that the report was nothing other than a fraud. Members of the Chainlink community have presented evidence that points to CeFi operator Nexo. In this article, we'll explore the timeline of the misinformation and how it's impacting crypto.
Disclaimer: details are still sketchy and new information continues to surface. If you find new evidence that helps clarify this story in any way, please contact the author on Twitter.
The Infamous Report
Last week, LINK
broke through previous highs
and entered new price discovery territory. The cryptocurrency went from around $4.5 at the beginning of July to an all-time high of $8.80 in two weeks, according to Coinmarketcap.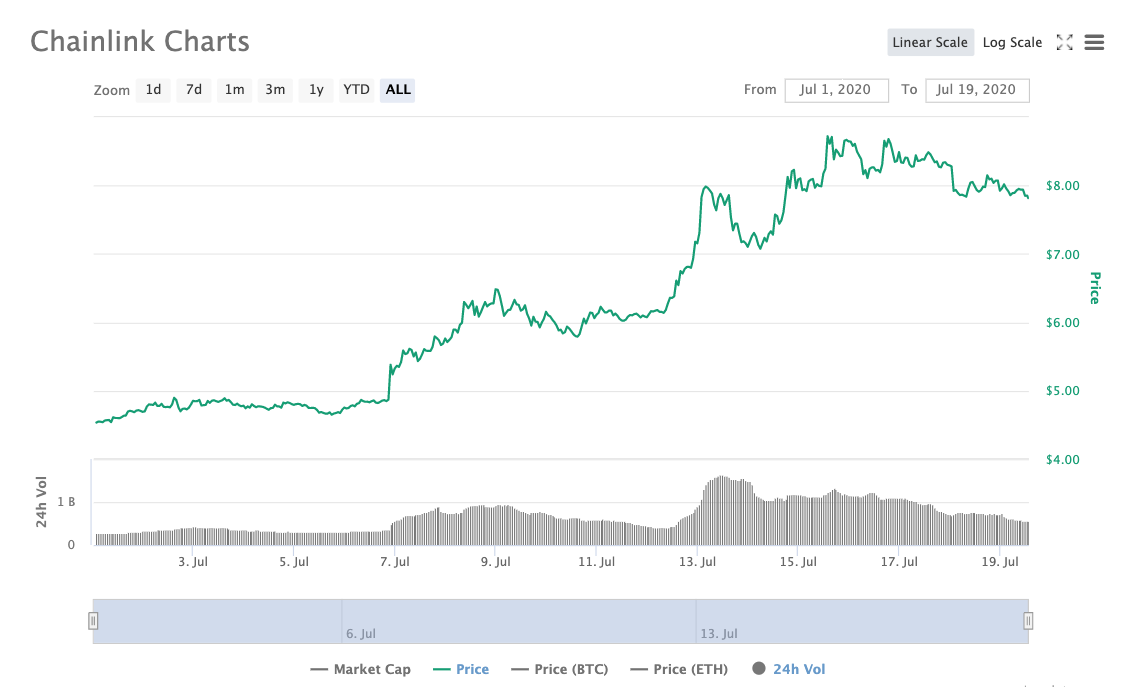 Just before that, the 59-page report surfaced. The report was delivered by email first to hundreds of people, and then on a
dedicated website
,
Reddit
and
Publish0x
. At the time of writing, it has been deleted from all of them.
ICYMI: Someone created a site & Twitter (https://t.co/jwv15GD8pU) for a non-existent co posing as a research firm. The purpose was to manipulate the price of $link. They did so by publishing, emailing & tweeting a "legit" research PDF shitting on link saying it was a scam. pic.twitter.com/4zBz7AaI4p

— Crypto₿uzz (@cryptobuzznews) July 19, 2020
The report is
still alive
on 'www.zeus-capital.com'. Please be aware that this website has been impersonating another company. Navigate at your own risk. The report claims to have come from Zeus Capital, an asset management and research firm based in the United Kingdom. However, after many users tried contacting Zeus Capital, the firm declared that they didn't know anything about the said report, as they "don't even work with cryptocurrency." The website of the legitimate company is located at
www.zeuscapital.co.uk
.
The Ultimate Chainlink FUD
The report overwhelmingly criticizes everything LINK related, accusing its leadership of dumping their tokens on retail investors. It further claims that there are no technical reasons to sustain the current price and that its fair price should only be around $0.07. Beyond the alleged research, the report openly recommends that readers short the high-flying crypto:
"We believe that the house of cards is about to collapse as operating activities on the network are fading, the pool of potential clients is quickly depleted, and the crypto community is realizing who the fool on the table is… Based on our findings we have opened a short position in LINK and recommend you do the same with a target price of USD 0.07 and potential upside of nearly 100%."
The first red flag, pointed out by many users, was the quality of the report itself. Several Twitter users said they received the report by email from Zeus Capital, without having any previous knowledge of the company.
That weird Zeus $LINK FUD article was sent to one of my email addresses. I've only used that email address on one platform – @NexoFinance 🤷‍♂️ WTF#chainlink

— lil bubble 📉 (@TheCryptoBubble) July 19, 2020
No Free Lunches
At first glance, the report passes for a well-researched document, using quotations, graphics, and good design practices. It's strange that a research firm would give away this sort of report for free. Indeed the business model of these firms usually revolves around selling such reports. This should be enough to caution readers against the intentions of whoever is behind the FUD.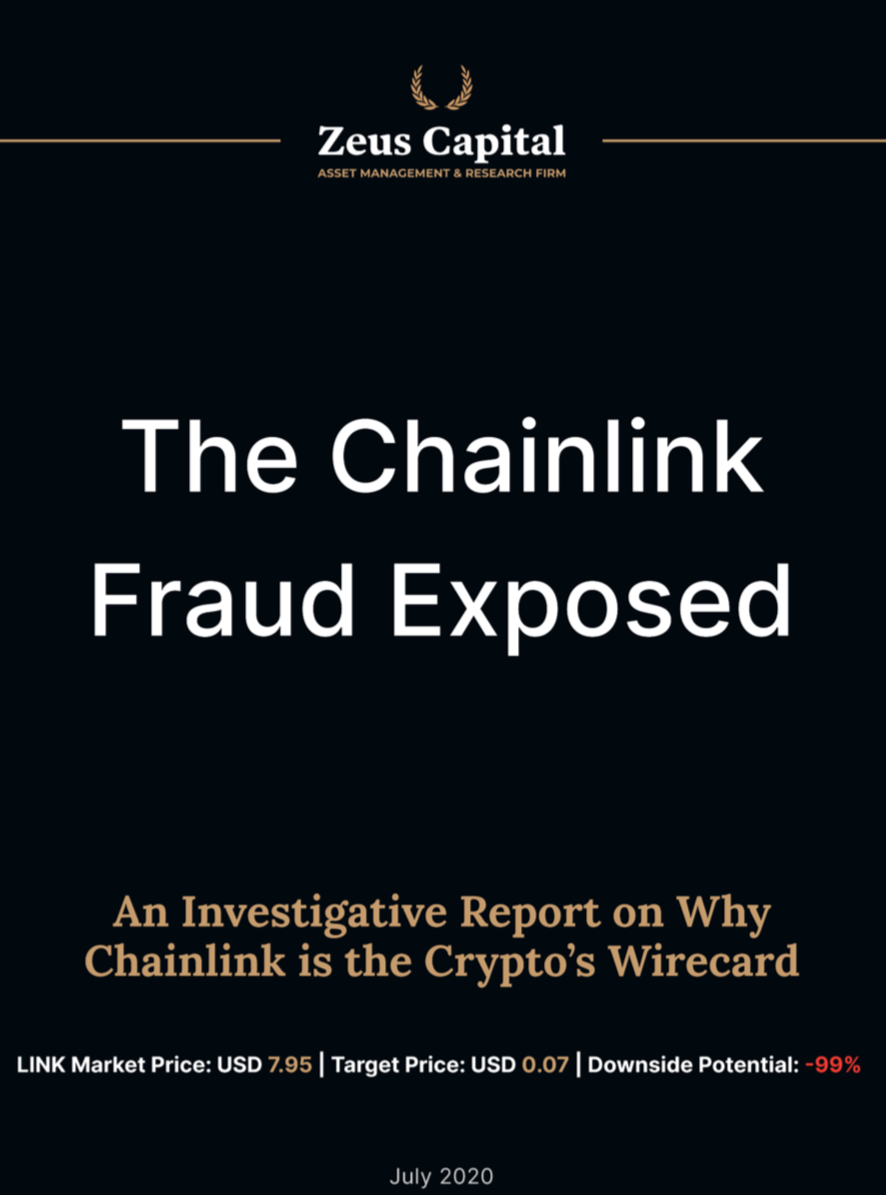 Spreading fear, uncertainty, and doubt is one of the oldest tactics in market manipulation. Typically it's done to entice sellers to jump on board and stop the immediate price rise, thus enabling cheap accumulation afterward. Chainlink has been one of the best performing crypto assets lately, and it has a strong community with faith in the project. It was just a matter of time before someone tested that faith.
Chainlinking the Breadcrumbs
Chainlink community members and other crypto users immediately decided to dig deeper into this report. The
first clue
came when one user discovered a faulty internal link in the table of contents. The link should help readers move within the report, but it doesn't work. Instead, it points to a file directory from a user called 'Simeon'.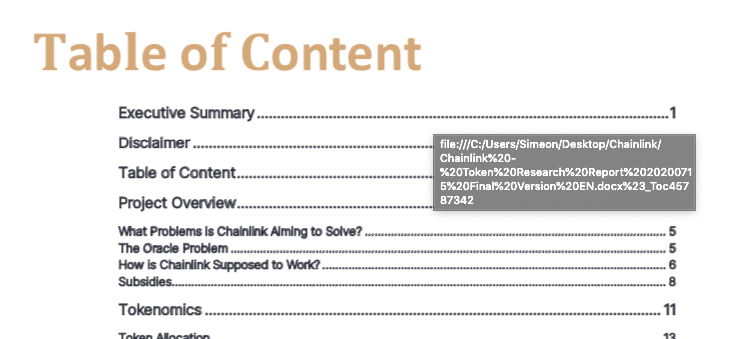 The
second clue
came from the source code of zeus-capital.com itself, where the report is still accessible. Remember that this website is impersonating the real Zeus Capital. When inspecting the website, one user detected that the email contact form uses Typeform. Curiously, Typeform contains several references to 'nexofinance', a Centralized Finance (CeFi) operator. This is the same Typeform account that Nexo uses on its own website.


The
third clue
came when some users pointed out that the Head of Digital Assets Research at Nexo is Simeon Rusanov. Simeon was subsequently swarmed by LINK community members, and temporarily closed his LinkedIn and Twitter profiles, which have since reopened. For some, this may not be hard enough evidence. For others, it's more than just a coincidence.
Searching for Clarity? Follow the Money
When a story seems too convoluted, it's always good to go back to the basics: follow the money. On the 8th of July, just days before the scandal began, Nexo announced a partnership with LINK. From the 9th of July, LINK lending was live on the Nexo platform.
Today we are announcing the strategic collaboration between Nexo & @chainlink. 🙌

A logical step based on our shared belief in #DeFi & common goal of driving the digital finance industry into the mainstream.

Read our joint statement:https://t.co/qFBuar4RNG

— Nexo (@NexoFinance) July 8, 2020
Just days later, when the LINK price went parabolic, Nexo tweeted again. This time, they sort of claimed that at least part of the rally was due to the new partnership. Although it's hard to prove which factors contributed to LINK's last bullish move, there's no real way to prove this.
One key factor likely pushing #LINK's price to a new record high is our strategic collaboration with @chainlink. We're very proud.✨

Nexo can help you make the most of your $LINK tokens in both bullish and bearish scenarios. https://t.co/q1yA3wGyfC

— Nexo (@NexoFinance) July 13, 2020
Another Twitter user, which is presumably a member of the LINK community, pointed out that Nexo Finance borrowed 350,000 LINK from
Aave
.
A Chainlinked #CeFi project (@NexoFinance) just borrowed 350,000 $LINK from a Chainlinked #DeFi project (@AaveAave)

Now this is Linkception, $aLINK APY just went from 0% to 0.04% kekhttps://t.co/bNAQkLV5qG https://t.co/eQ4omg4soM pic.twitter.com/58Gueqwmyd

— ChainLinkGod.eth (@ChainLinkGod) July 14, 2020
This transaction occurred almost at the exact same time the now-infamous report was published. It's been the subject of much debate whether those 350,000 LINK were, in fact, used to short it.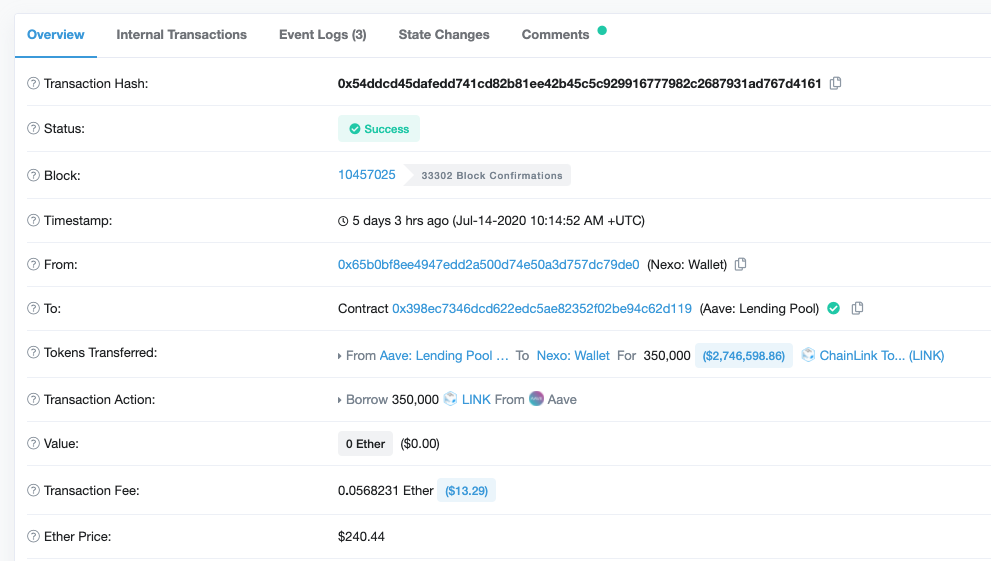 If the point of the report was to cause a crash in LINK's price, it'd be a logical strategy to borrow it first to short.
Nexo's Side of the Story
LINK marines are understandably quite angry at Nexo right now. Some are even gathering evidence to report Nexo to the SEC, Europol, and the Estonian financial authorities. Antoni Trenchev, co-founder and managing partner at Nexo, recently sent a statement via Telegram. He claimed:
"Nexo has nothing to do with it and its author is trying to insinuate such a connection through false flag stuff that Nexo is somehow involved."
He claims there is a cordial relationship between Nexo and Chainlink and defends Simeon Rusanov, who he says suffered attacks on social media. More info in the following screenshots: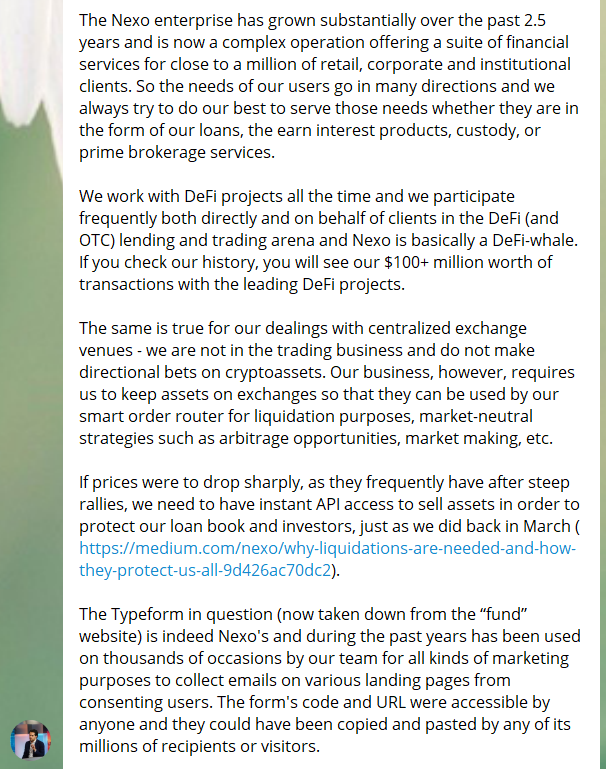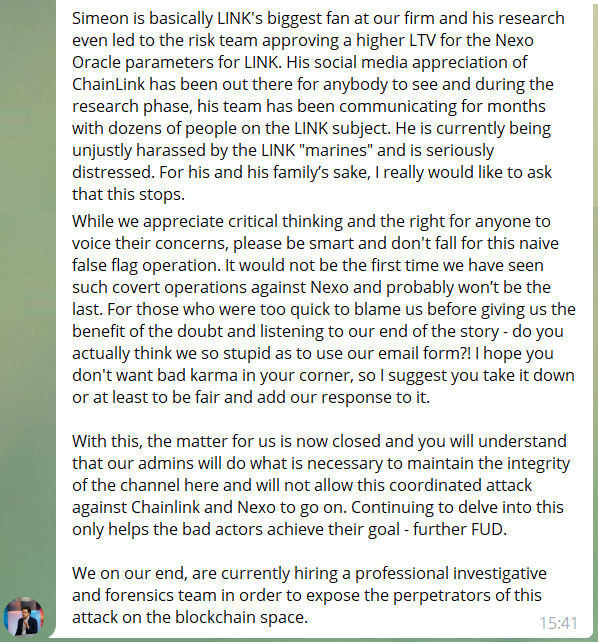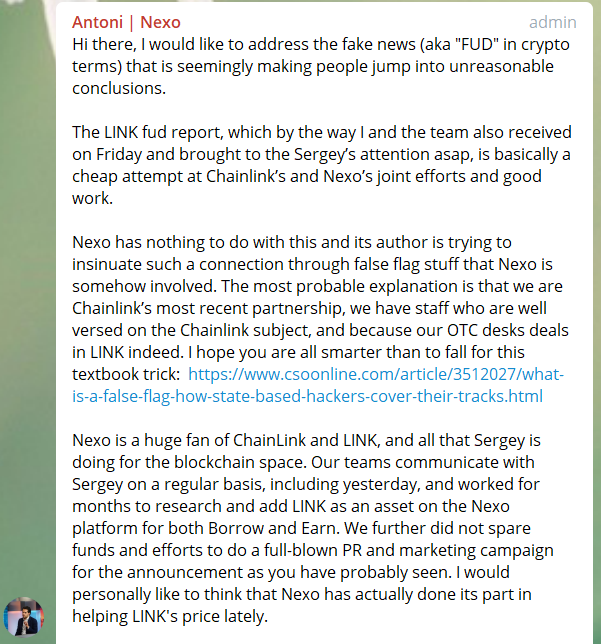 Trenchev finishes by saying that Nexo is currently hiring a forensic team and professional investigators to expose the perpetrators of this attack.
When Will the FUD End?
The whole situation smells fishy, to say the least. Somewhere, someone had a particular interest in halting the rise of LINK or at least planting doubts about the project. Antoni Trenchev claims that someone is framing Nexo and Simeon Rusanov. He still, however, hasn't addressed why Nexo borrowed 350,000 LINK from Aave following the announcement of the partnership. Some users report on Twitter that they've been banned from Nexo's telegram for discussing the issue, which flies in the face of Trenchev's statement:
"We appreciate critical thinking and the right for anyone to voice their concerns."
There are many questions that we still can't answer. Who's behind the fraudulent report? Is it Nexo? Was it an inside job? Is someone trying to frame Nexo? Maybe someone wants to watch part of the crypto world burn and discredit Nexo and LINK at the same time. Either way, the story continues to unfold. If LINK community members follow through by taking 'evidence' to the authorities, we'll no doubt be hearing lots more about it in the coming weeks.
Disclaimer
All the information contained on our website is published in good faith and for general information purposes only. Any action the reader takes upon the information found on our website is strictly at their own risk.