Innovative DEXs have evolved alongside DeFi, and are a gateway into the market. However, numerous DEXs with new technology have launched, putting off more novice investors. And one of these attention-grabbing DEXs is PancakeSwap. Now, many users may be familiar with the original market-shaking DEX that was Uniswap, but there are many still out there asking, "What is PancakeSwap?"
PancakeSwap and other decentralized exchanges are largely similar in their overall objective and features. However, they differ when it comes to the technicalities, and that is what we will examine here. We'll cover what PancakeSwap is, its history, the CAKE token, the several features it possesses, and a comparison with competitors.
What is PancakeSwap?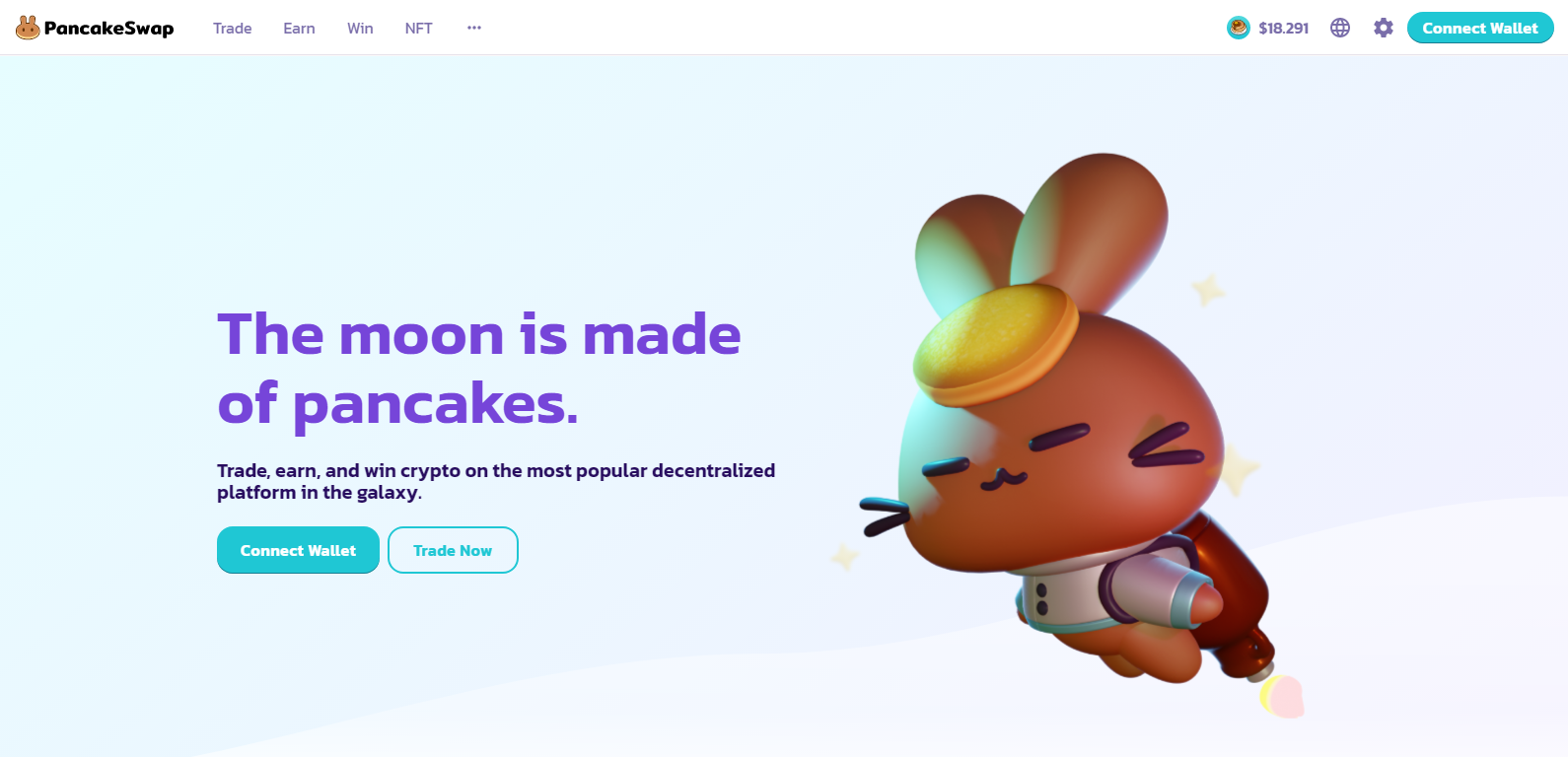 PancakeSwap is simply a decentralized exchange or DEX for short. But unlike Uniswap, which runs on the Ethereum network, PancakeSwap operates on the Binance Smart Chain. The latter is a creation of Binance, which offers much better transaction throughput and negligible levels of transaction fees.
The improved speed and lower costs of Binance Smart Chain have made it a popular choice for many new projects. But what's important to note here is that PancakeSwap has some technical designs that make it a more efficient investing experience for users.
So, the long and short of it is that PancakeSwap is a decentralized exchange that offers cheaper and faster trading without the involvement of a centralized authority. It is an automated market maker (AMM), like the other exchanges with whom it partially shares its name. That means it uses liquidity pools while rewarding liquidity providers for contributing these assets.
So if you've worked with Uniswap before, you should have some idea of how to operate PancakeSwap.
History
PancakeSwap was launched only as recently as September 2020, but has made tremendous headway since. This was when the DeFi market was already in full swing, leading to high gas fees and some congestion on the Ethereum network. The market had attracted so many investors to the Ethereum network that it could hardly keep up.
So, it was at this chaotic time that PancakeSwap entered the market, providing lower swap fees at 0.25%, as well as bridges to wrap non BEP-20 tokens so that it could work with the Binance Smart Chain. These features and improvements led to PancakeSwap and the CAKE token quickly becoming a mainstay of the market.
Having existed for just over a year, it has achieved a total trading volume of $23.1 billion. While this may not be as large as its main rival Uniswap, it still speaks admirably for a DEX and blockchain that is a toddler compared to its longer-lived siblings.
PancakeSwap features
PancakeSwap's growth would not have been possible without a series of appealing and useful features. These features come together to offer what is quite a wide experience for users, who can participate in some of DeFi's most celebrated services.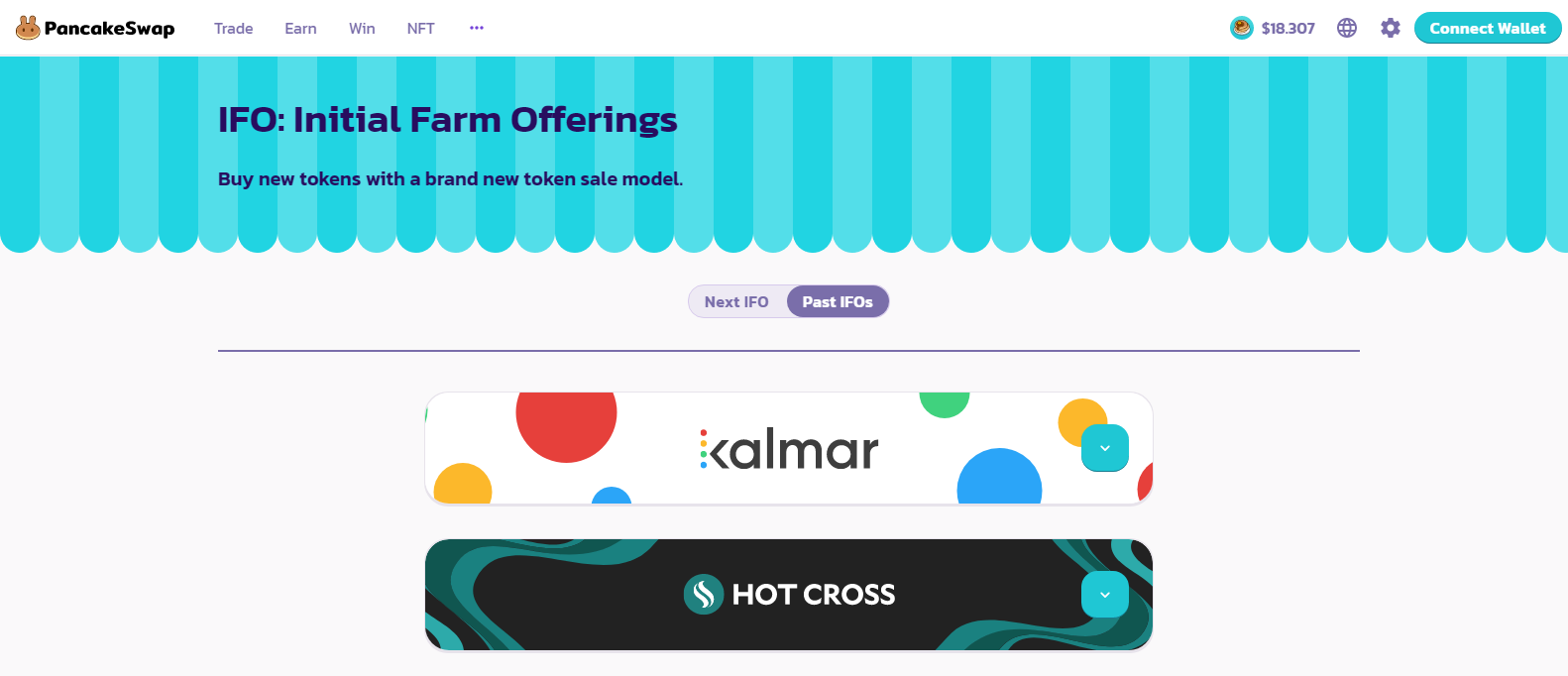 One of the most discussed features of PancakeSwap is its Initial Farm Offerings, or IFOs. This is a decentralized fundraising model but is quite novel in nature, making it appealing to daring investors. Pre-sales of vetted projects and tokens appear on the platform, and users fund these with LP tokens. The Binance team vets the projects that appear on the IFO platform to limit risk as much as possible.
You will need MetaMask to work with the yield farms.
Of course, yield farms are also very important to the investor who wants to earn passive income and is a staple of many DEXs. On PancakeSwap, you can earn CAKE tokens by staking your LP tokens. When working with these yield farms, you'll earn both the CAKE token and the LP rewards from providing liquidity.
The PancakeSwap lottery is another feature, which runs through two draws every day, which can be participated in by purchasing tickets. If someone matches all six numbers on the ticket, they earn 40% of the prize pool allocation. For some measure of the funds involved, the total size of the prize pool has exceeded $1.1 million in the past. This was why PancakeSwap moved to using Chainlink's Verifiable Random Function (VRF) to prove that lottery winners have been impartially selected.
NFTs are also available on PancakeSwap

And now, with the advent of NFTs, PancakeSwap is also foraying into the space with the PancakeSwap NFT market. This is the most recent major release of the DEX, launched in September 2021. Binance calls this the fourth main pillar of their blockchain ecosystem.
The NFT marketplace was met with a good response, with over $3.6 million in trading volume on the first day. To celebrate and mark the launch, PancakeSwap also launched a special collection of NFTs called PancakeSquad.
How does PancakeSwap work?
The PancakeSwap DEX runs on BSC, meaning that it works with BEP-20 tokens. But the exchange does feature a bridge that lets you bring in non-native assets.
For the most part, interaction with the PancakeSwap DEX is the same, and you'll be trading a cryptocurrency pair like any other exchange. As an AMM, the liquidity for the token swaps is provided by the users themselves, who are given LP tokens for liquidity provision.
There are also the features of auto-compounding and the much-discussed Syrup pools. The latter is what PancakeSwap calls the simplest way to earn free tokens on the exchange. All you have to do is stake CAKE tokens, and you get free tokens in return. There are several cryptocurrencies on these syrup pools, with an automatic investment function to boost.
But just think of it as Uniswap with some additional features, while also running on Binance Smart Chain. There are no considerable variations from how other AMMs work.
CAKE token and its tokenomics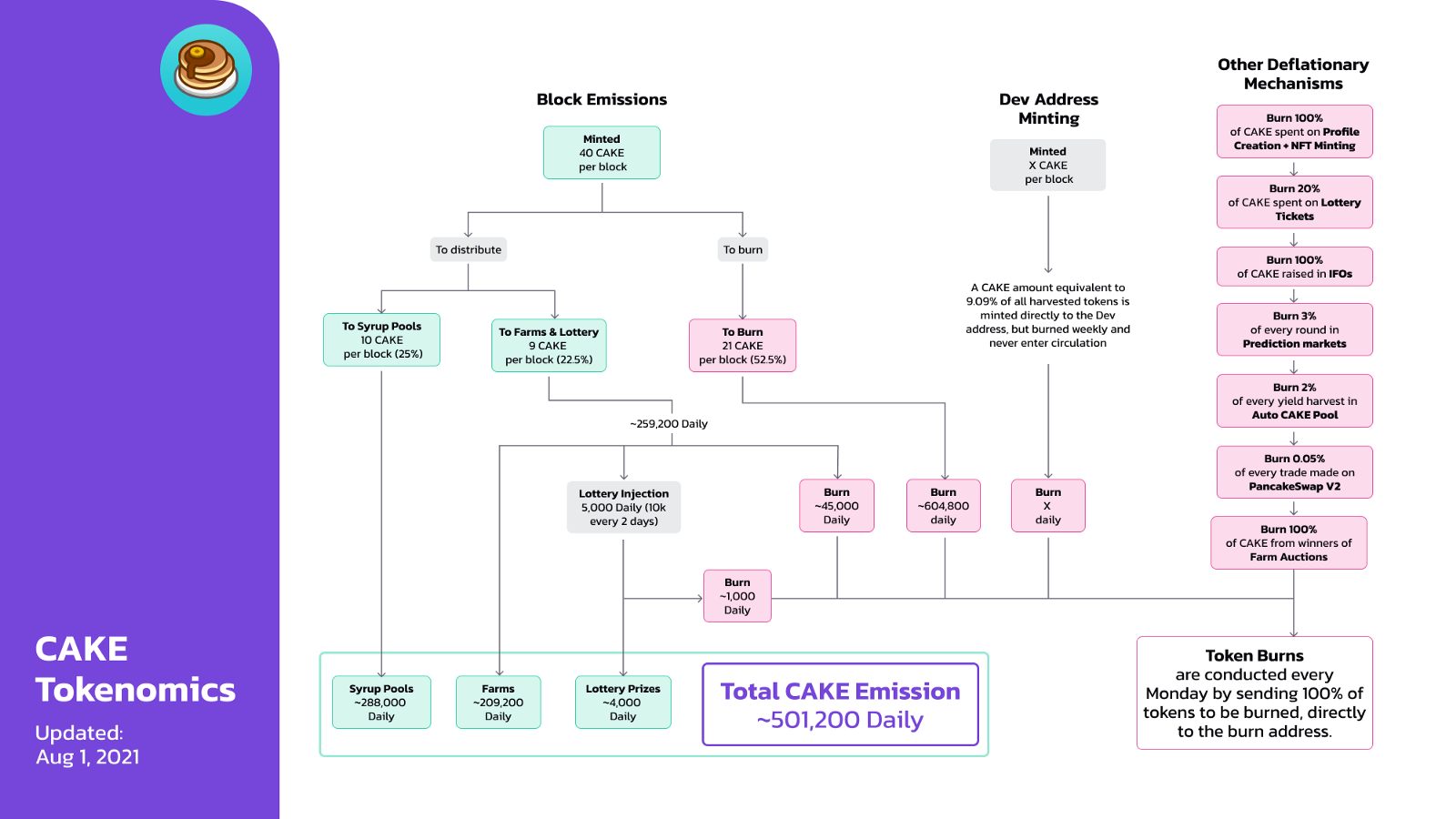 The CAKE token is central to how the DEX operates, however, as you receive CAKE for many of the interactions you make on the platform. It is an inflationary token, with newly minted CAKE being used for various initiatives, including new and existing products and general incentivization.
CAKE has a circulating supply of just under 237 million tokens, with the distribution going 75% to farmers and 25% to SYRUP token holders. The liquidity mining program works at 40 CAKE per block, which amounts to 501,200 CAKE per day. The image above, straight from the exchange, does a good job of explaining the role and presence of CAKE in the ecosystem.
The key takeaway from this is that the CAKE tokens serve a purpose in every product, resulting in increased demand as use increases. Strong incentivization also promotes demand.
Farming and staking on PancakeSwap
Farming and staking services on PancakeSwap are some of the most used products on the platform, as it's on a cheap and fast network. In order to do this, you'll need a MetaMask wallet that is hooked up to the BSC network. Click on the Network tab on the top (it may say "Ethereum Mainnet") and switch to the BSC mainnet. We have a guide for how to use MetaMask if you need it.
You will also need BNB tokens, which you can get from any exchange. Transfer this to your MetaMask wallet.
Next, head to PancakeSwap and choose the "Farms" tab on the panel on the left. You'll see a number of pools, so choose the one that you think suits you. We'll take the CAKE-BNB pool as for this example. You'll need both tokens in a 50–50 ratio. So, you're going to have to exchange some of your assets for CAKE on PancakeSwap.
Once you have an equal portion of CAKE and BNB, you can begin contributing liquidity. Make sure you have enough BNB for network fees, and then head over to the CAKE-BNB farm. Head to the liquidity tab and select add liquidity. Add equal amounts of CAKE and BNB, and click approve and then supply.
Now, you will get LP tokens which you can use in farms. Go to the "Farms" tab again, and choose a staking pool. Whichever pool that is, you'll see an option to "Stake LP." Approve your LP tokens for staking and click stake LP.
And that's all there is to it! You have now farmed and staked on PancakeSwap.
PancakeSwap vs. Uniswap vs. SushiSwap
There are lots of DEXs in the market, and PancakeSwap is by no means the market's definitive DEX. It competes closely with Uniswap, which has had comparable trading volumes recently. Some of that comes down to the fact that it is on BSC, while its several features also contribute to its popularity. SushiSwap is another hot contender, which is still a challenger to both Uniswap and PancakeSwap.
However, it is not a fair question to simply compare these three to see which is the best. They all have their unique benefits and design, so in the short run, it can be hard to tell if any are "better." The choice for you will come down to what features you want and what you would like to do with your capital. However, if there's one thing going for BSC, it's the fact that transactions are cheap and fast.
Despite late arrival, PancakeSwap looks strong
That's everything you need to know about the question "what is PancakeSwap?" The exchange has proven to be very lucrative for some investors. The steady arrival of new features has made it one of the top choices for those looking to find the right DEX for themselves.
In a comparatively short span of time, it has risen to good volumes, and the new financial services are bound to support further growth. If investors are looking for an exchange that provides multiple features to earn, then PancakeSwap is a solid choice.
Frequently asked questions
What is PancakeSwap used for?
What is PancakeSwap crypto?
Disclaimer
In line with the Trust Project guidelines, the educational content on this website is offered in good faith and for general information purposes only. BeInCrypto prioritizes providing high-quality information, taking the time to research and create informative content for readers. While partners may reward the company with commissions for placements in articles, these commissions do not influence the unbiased, honest, and helpful content creation process. Any action taken by the reader based on this information is strictly at their own risk.