Cryptocurrency exchanges are offering the opportunity to earn passive income by holding and staking cryptocurrency. While not a lot of people know about staking, it is very profitable. In this article, you will learn all there is to know about how to stake CAKE token on PancakeSwap, the Binance Smart Chain (BSC) DApp.
The CAKE token on PancakeSwap
PancakeSwap has become a popular exchange for users due to its extremely affordable trading fees. Binance Smart Chain (BSC) has low fees and is a great alternative to the Ethereum network.
PancakeSwap is an Automated Market Maker (AMM), which aims to be a top liquidity provider on the Binance Smart Chain. You can get $CAKE when you provide liquidity, staking, and from the lottery.
You can either provide liquidity in the individual liquidity pools, a process called stacking, or you can farm CAKE by providing liquidity pairs under the Farm tab.
PancakeSwap ($CAKE) token is tradable on Binance, Kucoin, PancakeSwap, and other cryptocurrency exchanges. Let's get right into how you can stake CAKE on PancakeSwap.
How do you stake CAKE on PancakeSwap?
Similar to Uniswap and SushiSwap, PancakeSwap offers its own token when users contribute to the liquidity pool. Its native token CAKE, can also be staked easily on the platform. Follow the step-by-step guide below to do just that.
Step 1: Set up your wallet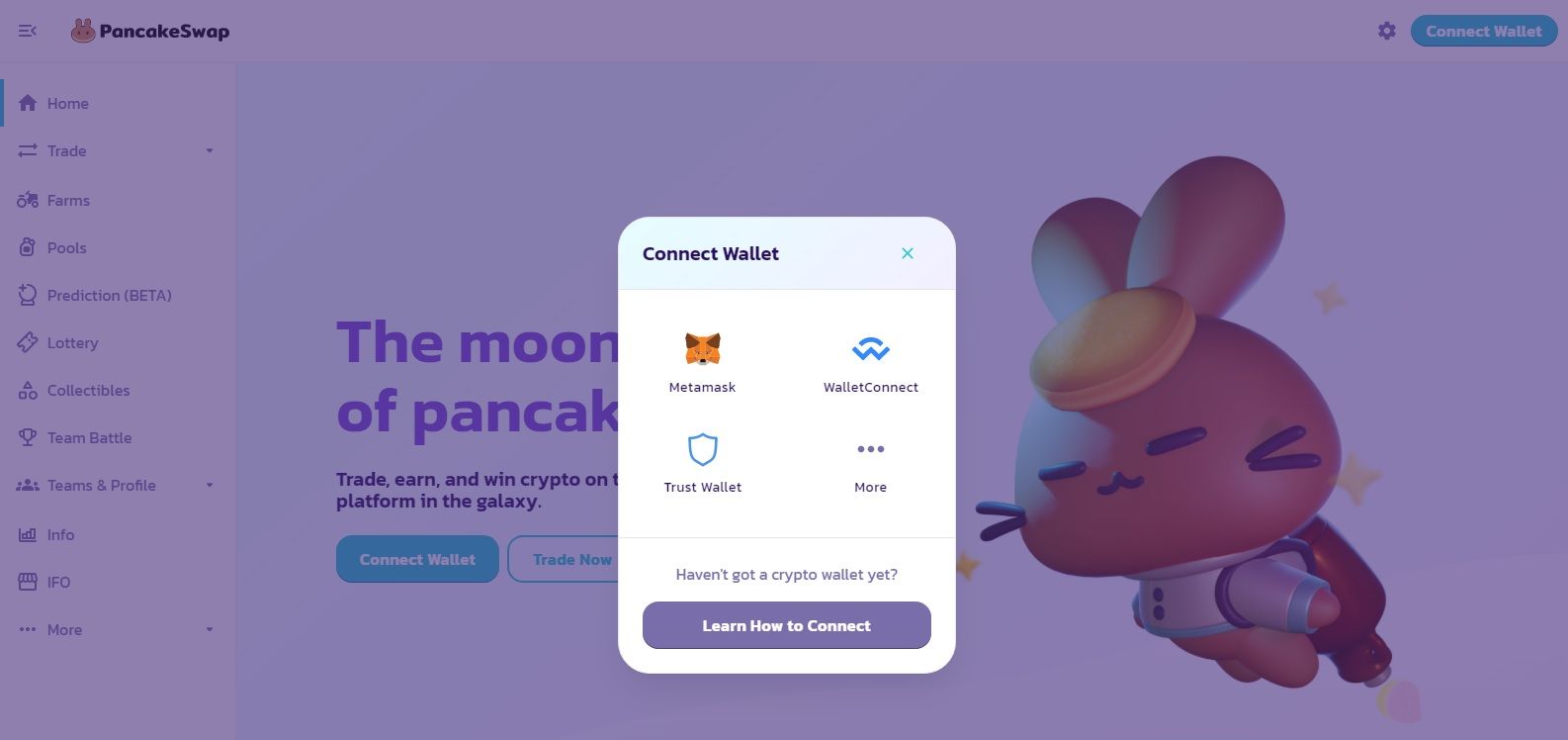 Before you can stake PancakeSwap tokens, make sure you have the $CAKE tokens on a cryptocurrency wallet that supports PancakeSwap. MetaMask and Trust Wallet are supported by the DEX, but there are others too. It's important to ensure you transfer tokens from Binance to your BEP20 (Binance Smart Chain) address to be able to trade and use them on PancakeSwap.
Make sure to have BNB in your wallet, for the network fees, which apply to all trades and swaps. Note that the minimum withdrawal amount from Binance is 0.1 BNB, but this will cover many rounds of fees.
Connect your wallet to the PancakeSwap DApp, where you can trade your BEP20 tokens (BNB, BUSD, BTC, etc.) for $CAKE. Once you've set up the wallet, it's time to access the PancakeSwap network.
Step 2: Access PancakeSwap network

You need to navigate to the "Pools" tab, where you will find all the available individual liquidity pools on the platform. To earn more CAKE, find the CAKE liquidity pool, click the "Enable" button to enable it. Thereafter, you can start staking CAKE to generate additional PancakeSwap tokens.
Step 3: Find the liquidity pool you want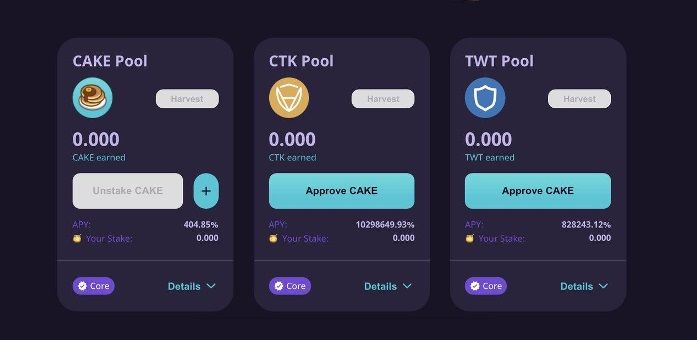 Find the CAKE liquidity pool from the list and join it.
If you want to reinvest the tokens you receive, click the "Auto"/"Manual" button, in the bottom left. Set it to "Auto" if you wish to automate the process of harvesting and staking the tokens. This process is called compounding.
These pools are constantly changing. You'll notice that the platform has many liquidity pools to which you can contribute and earn tokens. Usually, the new tokens have the highest rewards due to their low liquidity.
How much can you make staking $CAKE?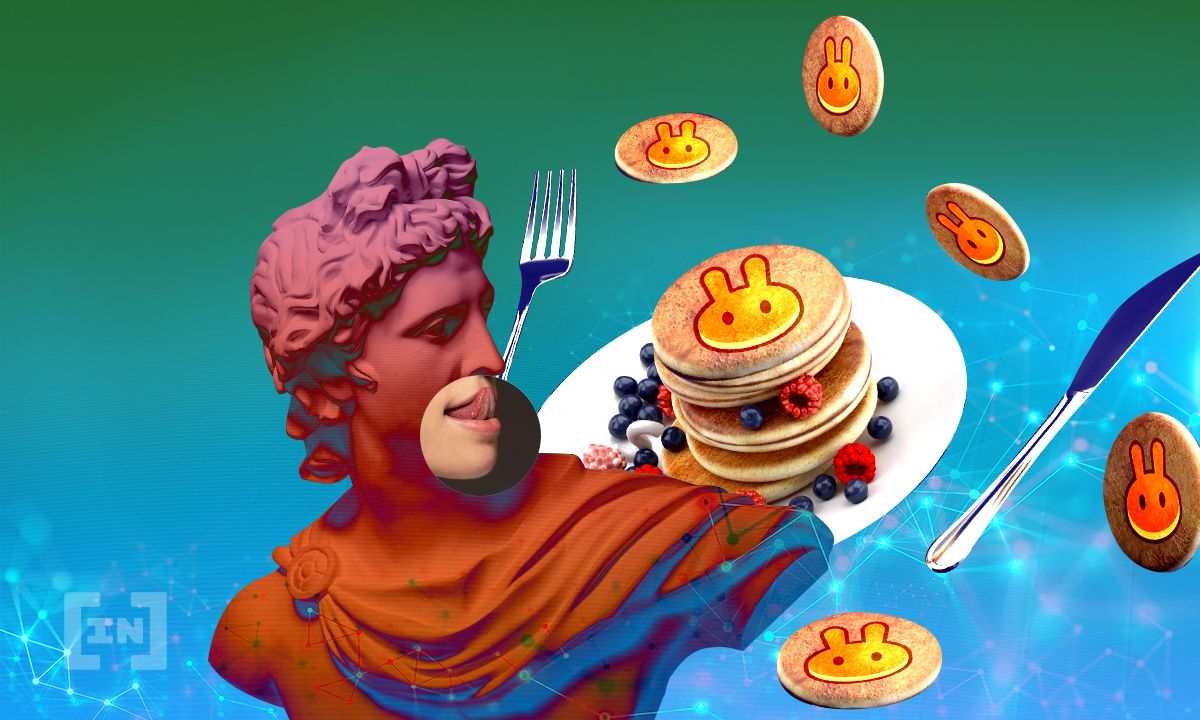 Users providing liquidity on PancakeSwap are rewarded with LP tokens and earn a part of the trading fees. The liquidity pools on the DEX allow users to perform instant swaps of BEP20 tokens on the blockchain.
To make sure you earn the most when you stake CAKE, check the "Farms" tab, to discover which liquidity pool is best for farming CAKE and offers the most tokens.
Now, how much can you make staking CAKE?
The reward depends on the particular pool, as they all have a different compound rate and performance feed. You have to look for the APR and APY rate to get the highest ROI.
It also depends on the amount of CAKE staked and for how long you staked it. You can stake tokens for 1 day, 7 days, 30 days, 1 year, and 5 years, and there is an unstacking fee if you withdraw your tokens within the first three days.
Another aspect you should take into consideration is the ARP and the impermanent loss when stacking coins. Each Farm has an ROI calculator where you can get an estimation for that specific liquidity pool.
Remember that you can also earn CAKE tokens, liquidity provider (LP) tokens, and trading fees (0.17%) when you provide a pair on PancakeSwap for liquidity.
First, you need to provide the liquidity pair (e.g., two different cryptocurrencies). That will reward you with LP tokens and part of the trading fees. Afterwards, if you decide to stake your LP tokens, under the Farm tab, choose the CAKE-BNB LP farm, and you will earn CAKE tokens.
How much CAKE do you need to stake?
There is no minimum amount of CAKE required. But the number of tokens staked and the timeframe for which they are staked will determine your ROI.
How do you stake CAKE using Trust Wallet?
Trust Wallet is one of the many cryptocurrency wallets supported by PancakeSwap.
After you transfer your funds to your Trust Wallet address, you will need to connect to the DEX from within it. You will find PancakeSwap under the "DApps" tab.
After you open Trust Wallet, connect it to PancakeSwap to be able to see your BEP20 tokens on the PancakeSwap network and start trading or staking them.
Is staking CAKE a good idea?
The APR for staking PancakeSwap tokens is extremely high, and it can generate a healthy passive income. Depending on the pool, you might need to manually harvest your tokens and restake them in the pool. Check the current APY rate directly on the PancakeSwap network to be able to see the expected ROI.
All the more reason to do it given that staking CAKE is easy. You only need to connect a supported cryptocurrency wallet that holds CAKE and BNB (BEP20). It only takes about 10 minutes, and it can be automated after the initial joining.
Frequently Asked Questions
Is PancakeSwap better than Uniswap?
Disclaimer
In line with the Trust Project guidelines, the educational content on this website is offered in good faith and for general information purposes only. BeInCrypto prioritizes providing high-quality information, taking the time to research and create informative content for readers. While partners may reward the company with commissions for placements in articles, these commissions do not influence the unbiased, honest, and helpful content creation process. Any action taken by the reader based on this information is strictly at their own risk.
Iulia Vasile is a seasoned professional in the cryptocurrency and blockchain industry, working full-time in the field since 2017. With a background in computer engineering, she...
Iulia Vasile is a seasoned professional in the cryptocurrency and blockchain industry, working full-time in the field since 2017. With a background in computer engineering, she...
READ FULL BIO
Sponsored Sponsored