There are millions of non-fungible tokens (NFT's) for sale, and it seems like thousands of upcoming projects are launching daily. How do you cut through all the noise to determine the best NFT projects to follow and potentially invest in?
To know which upcoming NFT projects will be worth following, we need a roadmap that points us towards tomorrow's hottest trends — a sort of crystal ball for the future. With their current trajectory, these projects should be on your radar if you want a piece of tomorrow's market before anyone else does!
It is highly recommended that you research the true purpose and functionality of NFT before deciding to invest. You don't have to be a seasoned investor to jump into the world of crypto tokens, but it's certainly something you should never do without first doing your homework!
Best NFT projects that went viral in 2021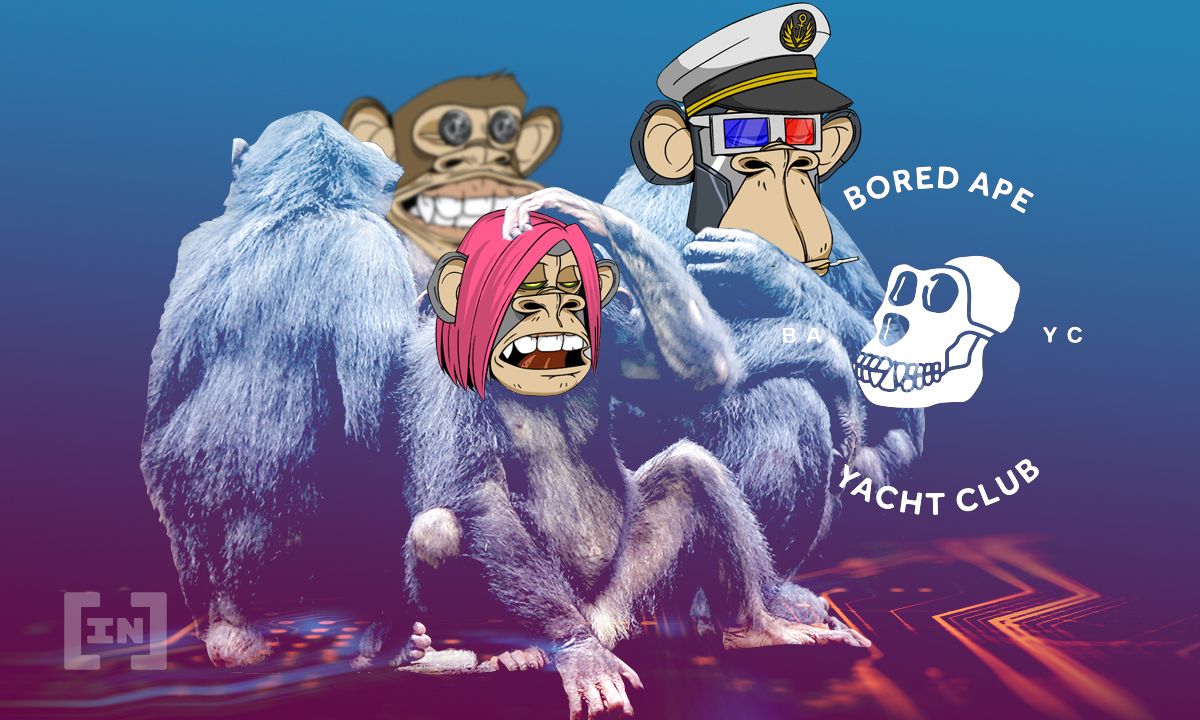 1. Beeple: "Everydays – The First 5000 Days"— A college of daily images Winklemann created in 2007 became the third most expensive artwork sold by a living artist in the NFT market's history. Auctioned in Mar., it was bought by a Singapore-based cryptocurrency investor for a staggering $69 million.
2. XCOPY: Known for his abstract illustrations NFTs, XCOPY gained much attention with his artwork "All Time High in the City." This artwork earned him 1,630 ETH, approximately $6 million at current prices. Later that same year, Snoop Dogg spent $4 million to own one piece, "Some Asshole." Under the alias name Cozomo de' Medici, he also purchased the artwork "Right Click and Save As Guy" for $7 million as well.
3. CryptoPunks: A series of digital art projects, CryptoPunks were created in 2017 by Matt Hall and John Watkinson. These 10,000 pixel portraits of punks are considered among the first NFTs made and distributed for free to the public.
In recent years, CryptoPunks became increasingly valuable, and some, such as CryptoPunk 1422, was sold for a whopping $1 million. Interestingly, one of these NFTs was even sold for more than $11 million; it was almost impossible to find them for anything less. The CryptoPunk trend became the face of NFTs in 2021, as the technology transformed into a status symbol.
2022 NFT expectations
One thing is for sure, the community expects more innovation and creativity from NFT projects. The projects looking to succeed will need to communicate more effectively and offer unique and innovative experiences to their users in 2022.
The community's main goal is to create an interface that allows people unfamiliar with cryptocurrency trading to access the blockchain easily. Also in the pipeline are more partnerships with payment platforms.
The top 8 upcoming NFTS
There are many great NFT projects to monitor in the coming years, but here are nine of the most exciting projects that you won't want to miss.
Veve initially designed the battle statue for Classic Confrontations from DC Direct. They quickly sold out and became highly prized collectible statues. As a matter of fact, the demand was so high that Veve collections were reintroduced multiple times in different paint schemes and sizes.
Veve's limited edition digital collectibles can be traded, upgraded, and customized in virtual showrooms, or by sharing on social media through the VeVe app for android and iOS.
Total supply: 8.888
Project team
The project culminated in a collaboration between DC Comics and VeVe to design DC Battle Statues and bring these premium licensed NFT collectibles to the market.
Blockchain
Veve assets are stored on the Ethereum blockchain.
Minting process
You can purchase NFTs during the main sale, starting on Jan. 23. In effect, prices might go up to 0.08 ETH for one card, so make sure to get yours as soon as possible.
Highly anticipated features
DC Battle statues are admired for their homage to their 87-year history, while also visualizing a future in which NFTs play a foundational role in unlocking new experiences and ways to interact with DC content.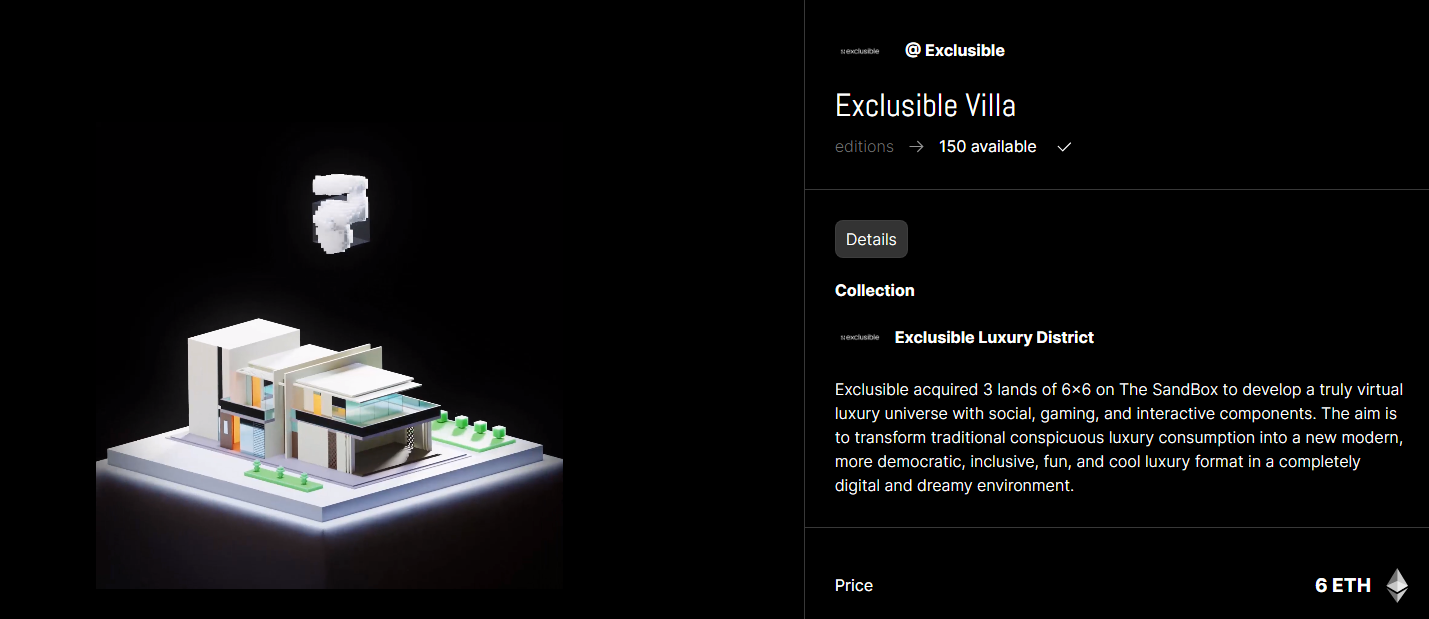 It is a virtual luxury universe with social, gaming, and interactive components. The aim is to transform traditional conspicuous luxury consumption into a new modern, more democratic, inclusive, fun, and cool luxury format in a completely digital and dreamy environment.
Total supply: 75
Project team
The Exclusible team is led by Olivier Moingeon, the company's co-founder, and Artur Goulão, the Chief Technology Officer.
Blockchain
Ethereum
Roadmap
Q1, 2022
Platform upgrades, integration of secondary market features, and expansion of AR and metaverse capabilities to accommodate the creativity of luxury brands and artists.
Q2, 2022
One is to enhance the technology capabilities across the metaverse ecosystem. Secondly, is to develop the NFT creative agency.
Minting process
Opening an account on OpenSea will let you buy these 75 villas, which will be sold to the public in the Exclusible Luxury District at a fixed price of 6 ETH each.
Highly anticipated features
The team strives to build a community that is fun and engages residents. In order to accomplish this, residents will have the option to monetize their time and earn money playing video games as part of a "Play-to-Earn" program.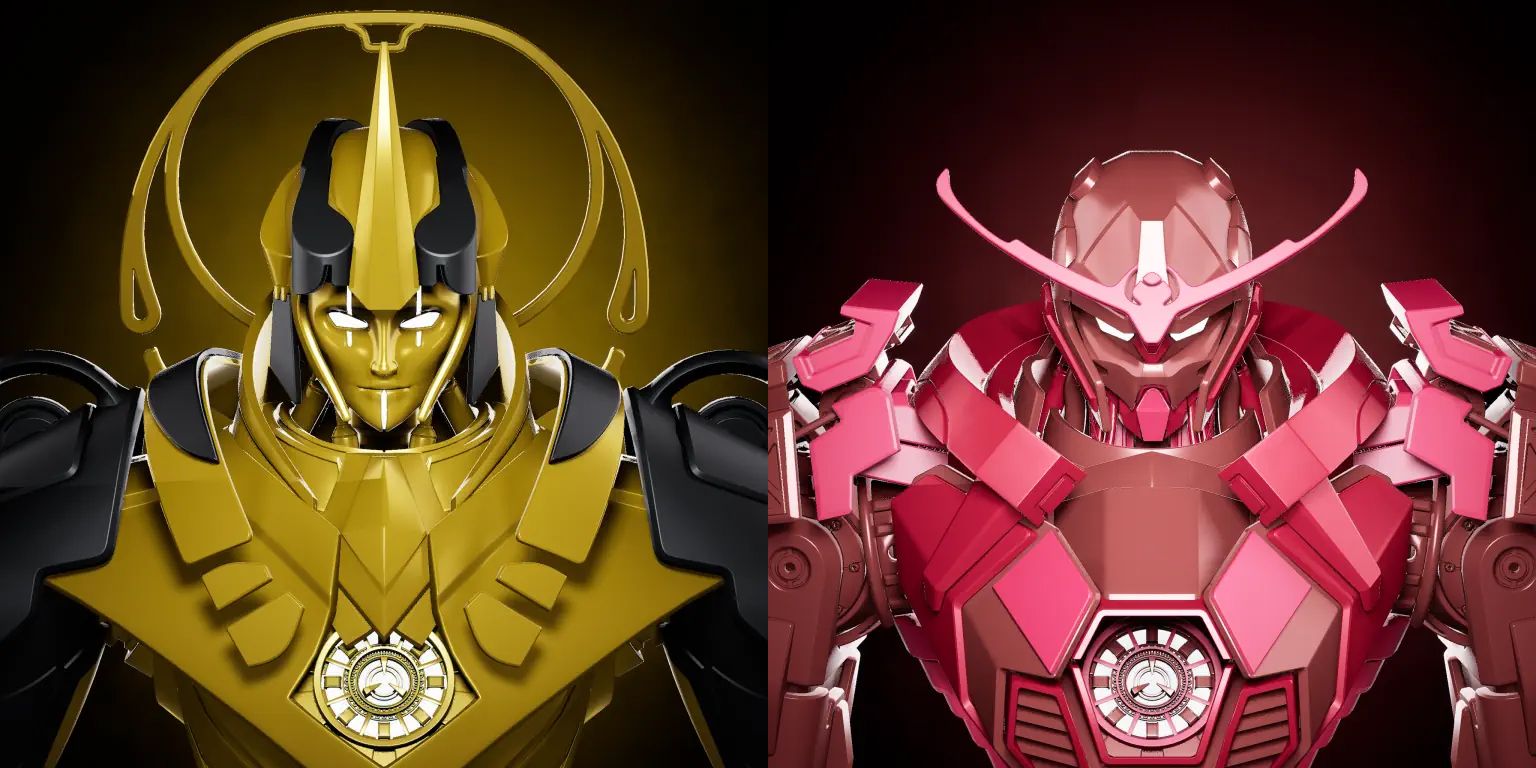 The SpaceWarriors Club consists of 7,777 distinct 3D NFTs developed using the Unreal Engine 5 engine and stored as ERC-721 on the Ethereum blockchain. These NFTs are hosted on IPFS. Its initiative is to allow anybody to develop their own video game without having to worry about code or design.
Total supply: 457 tokens so far
Project team
Among the members of the Space Warriors Club NFT development team are Ilan (The Artist), Mike (Project Lead Developer), and Florian (Solidity Developer).
Blockchain
Ethereum
Roadmap
20% – Early Q1, 2022 – GAME DAO's Space Warriors launch: You'll be able to vote and make suggestions.
40% – Early Q1, 2022 -The Space Warriors Club HQ will be established in a metaverse of your choice.
60% – End of Q1, 2022 – 5% of all secondary sales profits will go towards funding space warriors club activities such as the metaverse.
70% – Date: Q1, 2022 – The council will airdrop each faction's spaceship to its most devoted warriors.
80% – Date: Q2, 2022 – Upon releasing the official Army merchandise, users will receive goodies and access to a long-forgotten book that contains the last remaining archive of the Space Warriors' history.
90% – Date: Q3, 2022 – Metaverse hangout goes live. As a virtual territory, this will be a place for meetings and discussions. Among other things, the site will highlight upcoming e-sport events and gaming giveaways.
100% – Date: TBA – Warriors can compete from the army wallet or implement a variety of other features in-game based upon what they decide.
Cost of minting
The NFT token is worth 0.2 ETH.
Highly anticipated features
This NFT initiative will give users voting rights to shape Space Warriors through a DAO, which has attracted the attention of Space Warriors fans. The users will explore a new world full of benefits and utilities when they become members of a private community.
It's a global network of 10,670 well-trained rangers who have teamed up in the metaverse to save endangered species. As a result of the Danger Rangers' ability to yield crypto assets, they are looking for safety on the Ethereum blockchain before it's too late.
Total supply: 10670 items
Project team
The project team consists of Clark (Creative Director), Mike (Project Lead), and Nigel (project manager).
Blockchain
The Danger Rangers are kept secure on the Ethereum blockchain.
Roadmap
P2E development begins in Q1. Top holders can take part in alpha demos and participate in weekly development blogs.
Mutant Rangers in danger in Q1! All holders receive D1A/DZB serums. In addition, Danger Rangers reap more benefits from mutants, such as exponentially higher daily crypto assets.
3D models for Danger Rangers for the upcoming play-to-earn title will be released in Q2.
The Danger Rangers break into the Metaverse in Q2! Beta launch of PvP game and NFT stake.
Launch of the community merch store worldwide in Q3. 25% of the proceeds will go toward the preservation of endangered species.
Q4 – All Danger Rangers account holders will have access to the game! Besides playing and earning additional crypto assets, holders will be able to participate in educational activities, battle royale gameplay, private events, airdrops, and other interactive gaming opportunities! Additionally, there will be the launch of the Danger Rangers App.
Cost of minting
Mint price: 0.07 ETH + gas
Highly anticipated features
In comparison to any other NFT project, Genesis Danger Ranger is more likely to save endangered species.
Meka Ape consists of generative 3D apes. You can play the P2E metaverse shooter game as an ape in this collection, releasing Q4, 2022. Each ape has special abilities and perks. With this in mind, you can discover MAC by joining the Discord community.
Total supply: 10101
Project team
The project team is composed of Joh (Founder), Anou (3D Designer), and Lom (Developer).
Blockchain
Meka Ape NFTs are on the Ethereum blockchain.
Roadmap
Meka will have an exchange club and organize events multiple times a year. The first event will be held on a Maldives private island with crypto/NFT speakers.
Nine holders of the legendary Meka Apes will receive $1000 per month for one year. Holders of Meka Ape Master NFT will receive a gift of a lifetime!
The launch in TokyoO will be an exceptional event for all holders! The Meka Ape NFT grants you a unique character. The game Meka Ape, play to earn, offers this for free.
With the best value for holders, Meka Ape plans to partner with well-known gaming platforms yet to be announced and be a part of the biggest games.
Cost of minting
The presale price of the NFT is 0.06 ETH.
Highly anticipated features
Having ownership in Meka Ape will grant its holders privileged access to the game hosted in Meka Ape P2E.
Your Mom's House (YMH) is a digital-first brand by Sheldon Evans and like-minded people who are passionate about blockchain, crypto, and NFTs. A part of his vision is to reimagine the world through the lens of artists, dreamers, and misfits.
Total supply: 2723
Project team
Sheldon Evans (Founder and Art Director) and Pedram Ghozat (Brand Builder and Strategist) make up the project team. SRB with an MSC in computer science is the lead developer.
Blockchain
Ethereum
Roadmap
The NFT royalties for Feb. 2022 are set at 6%. YMH members vote on how the funds are allocated. 50% of all secondary sales fees goes to the Piggy Bank DAO.
The launch of Your Mum Kids Profile Picture will take place in Mar. 2022, with the release of 2D profiles in the first quarter of this year and 3D avatars not long after. If you want to receive the FREE mints, you'll need the Nostalgia NFT.
Your Mom's House will start collaborating with users in the Metaverse in Q2, 2022. Nostalgia Token holders will have exclusive access to this area and the extension to the Private Discord Community.
Highly anticipated features
YMH NFT will provide two exclusive free mints of the upcoming sets, access to the $1.2M Community Grant Fund, as well as participation in Sheldon Evans' private discord channel, YMH DAO voting access.
The Cyber Legends project is a decentralized collection of 8,888 unique 3D cyber heroes built to defend the metaverse! In brief, they each have hundreds of realistic details and elements. Meanwhile, joining Cyber Legends means you will become part of a community that believes in a decentralized future with NFTs and cryptocurrencies everywhere.
Total supply: 8888
Project team
Leo Alexander – Influencer booking
Aaron Bastin – Discord Community manager
Blockchain
Cyber Legends is on the Ethereum blockchain.
Roadmap
The launch of one of the most high-quality NFTs collections and a raffle of five Cyber Legends upon reaching 20,000 Discord members.
Following the completion of the whitelist, they will hold a Rolex raffle for the whitelist and Gold List members, along with presale access to the collection.
A brand-new Lamborghini Huracán or $250,000 in ETH are on offer following the public reveal of the collection. The ten owners of the ten rarest NFTs in the collection will also receive $10,000 in ETH each.
On their OpenSea account, Robot Cyber Legends NFT holders will receive an invitation. With this ticket, you will be able to attend events worldwide.
Cryptocurrency $CYBL – Every holder of the Cyber Legends NFT will receive an airdrop of the equivalent amount of $CYBL at the end of their holding period. The $CYBL will be allocated to a stacking pool to daily provide you with passive income.
Cyber Legends Metaverse – In the Cyberpunk-themed Metaverse, Cyber Legends NFT will be used as skin, and your long-term assets will give you special abilities.
Highly anticipated feature
With Cyber Legends, users will be able to enter into a virtual space, share information and even monetize their social media networks by purchasing land and creating valuable content like games, animations, or even articles.
Crypto Quest is a game set to be popular in 2022. It is due to its innovative nature, fantastic gameplay, and the way it is built on Binance's Smart Chain.
Total supply: 10,000
Project team
Crypto Quest is owned by NFT game studio 'Nautical Fantasy Titles.' The team is led by Zach Hopkins & Theo Thomas.
Blockchain
Polygon
Cost of minting
0.1 ETH
Highly anticipated feature
Players are looking forward to the zero gas minting planned in this project. In addition, stat upgrades and gear customizations will be available.
The future of NFTs
As the world of blockchain technology and cryptocurrency rapidly evolves, so too does the potential for new technology applications.
In this article, we've highlighted nine upcoming NFT projects to watch in 2022. From gaming to real estate, these projects are pushing the envelope in terms of what is possible with NFTs.
NFTs can be hard to keep up with, so why not join BeInCrypto's Discord server to ensure you're on top of everything?
Frequently asked questions
How do I find new upcoming NFT projects?
What are the best NFTs to invest in?
Disclaimer
In line with the Trust Project guidelines, the educational content on this website is offered in good faith and for general information purposes only. BeInCrypto prioritizes providing high-quality information, taking the time to research and create informative content for readers. While partners may reward the company with commissions for placements in articles, these commissions do not influence the unbiased, honest, and helpful content creation process. Any action taken by the reader based on this information is strictly at their own risk.