Solana projects are taking over the crypto market. Solana (SOL) is a fast-growing smart-contract blockchain that enables fast and cheap transactions and high throughput. It ticks all the boxes for developers looking to launch a scalable DApp.
We cover some of the top Solana projects with high potential here.
An ideal ecosystem for Dapp development
Solana is a programmable blockchain that uses the Proof-of-Stake consensus and Proof-of-History, a cryptographic clock to order the on-chain events.
Solana provides Dapp developers with an ecosystem for developing applications at a cost-efficient rate. Anyone can benefit from this open-source blockchain, on which more than 350 Solana projects exist.
Security and scalability are two key features that have driven its design. To that end, Solana's blockchain can handle 50,000 transactions per second (tps). Furthermore, when the maximum number of validators join the network, it can scale up to 710,000 tps.
Currently, the transaction fee on Solana is equal to $0.00025, and the speed of the network increases with the number of validators.
Overall, the decentralized finance (DeFi) space grew exponentially since 2020, reaching a Total Value Locked (TVL) of $174 billion in October 2021, according to DappRadar. Some of the fastest and most secure platforms support the Dapp space. Solana is one of them with $4.44 billion TVL in October 2021
The top 6 Solana projects
Solana has helped bring to life over 350 projects, but we will focus on the top 6 Solana projects here. Most of these projects focus on the hottest niches in the market, including DeFi, blockchain games, and NFTs.
Serum is a noncustodial, decentralized exchange (DEX) popular for its transaction speed and low fees. Created by FTX, Alameda Research, and other partners, it is an up-and-coming DEX with some standout properties.
Serum is the only decentralized crypto exchange running fully an on-chain central limit order book (CLOB) and matching engine. The exchange also supports cross-chain asset swaps, stablecoins.
The goal of the DEX is to help deal with the issues of DeFi, such as:
High gas costs
Slow transactions
Centralization
Low capital efficiency and
Liquidity segmentation.
Serum aims for a transparent and fully trustless exchange, with governance handled by users using Serum's SRM token.
Serum's native token, SRM, has the following functions:
Protocol fees payment
Award discounts for the traders
Grant voting rights for the holders
In November 2021, SRM was trading at $7.70 with a total market cap of $1,025,317,553. The current circulating supply is 133,231,781 SRM, and the total supply is 1,092,844,982. The Total Value Locked (TVL) is $1,831,587,056.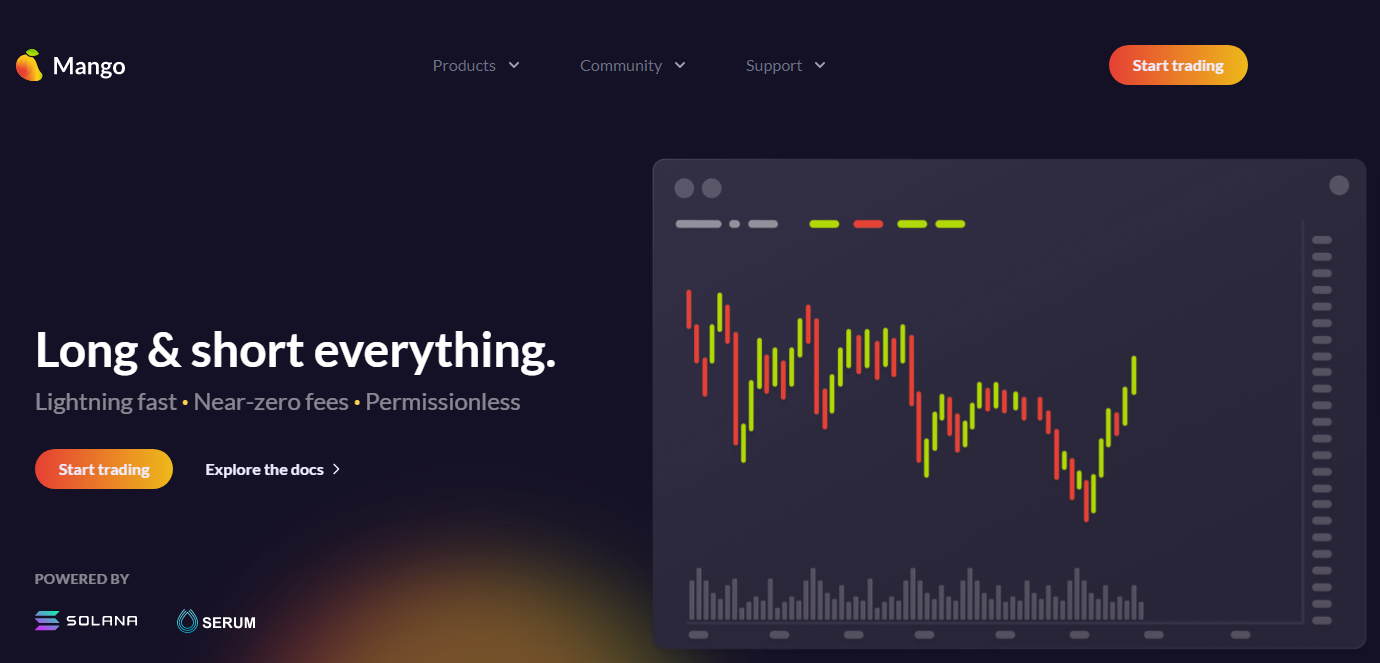 Serum-powered Mango Markets is a platform for DeFi derivatives, and it runs on the Solana blockchain. This lending, borrowing, and trading platform promises the lowest fees in the entire Solana ecosystem.
Mango benefits from Serum's fully on-chain perpetual features order book and spot margin. On Mango, every asset is cross-collateralized and used as collateral to open leverage positions.
The goal of Mango is to have the usability and liquidity available on centralized exchanges and pair it with the permissionless feature of DeFi. Traders using Mango can earn interest on their open interests, deposits, and collaterals.
Mango's native token, MNGO, is a governance token that grants holders the right to vote for any changes in the governance structure.
MNGO has a total market cap of $407,159,714. The current circulating supply is 1 billion MNGO. The maximum supply of MNGO is 10 billion MNGO.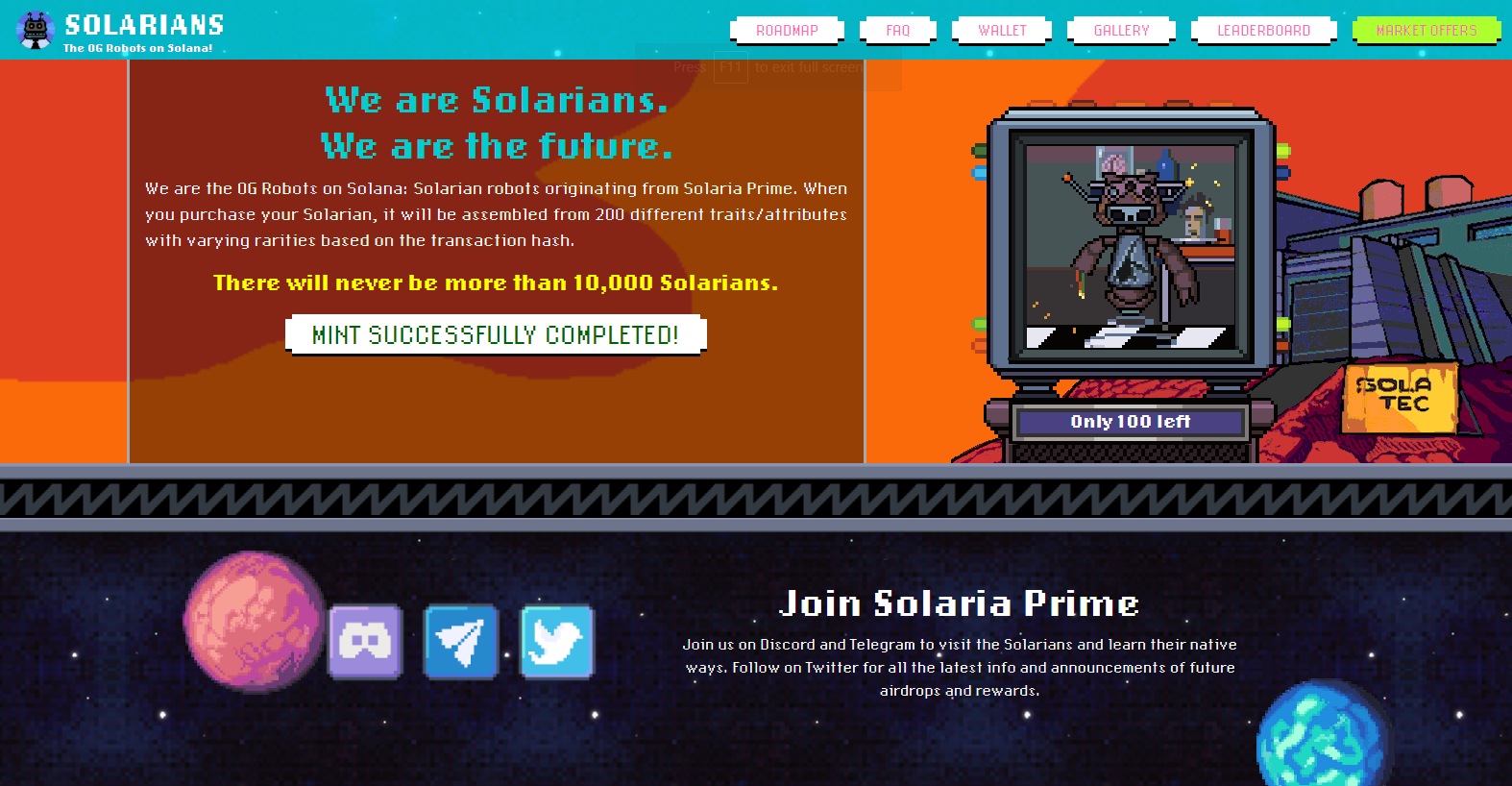 Solarians are a collection of 10,000 fully randomized, generative NFTs robots minted on the Solana blockchain. Each of the Solarians is an NFT, with their entire history stored on the Solana blockchain.
To ensure the uniqueness of each Solarian, there are 1800 body parts drawn by the team's artist. Each Solarian is different from the others, and some of these NFTs have Easter eggs that were specifically drawn by the artist.
The NFT marketplace for Solarians is available on DigitalEyes, where you can also see the rarity level of each Solarian NFT. These NFTs trade for Solana's native token, SOL, and prices vary from 4 to 999999 SOL.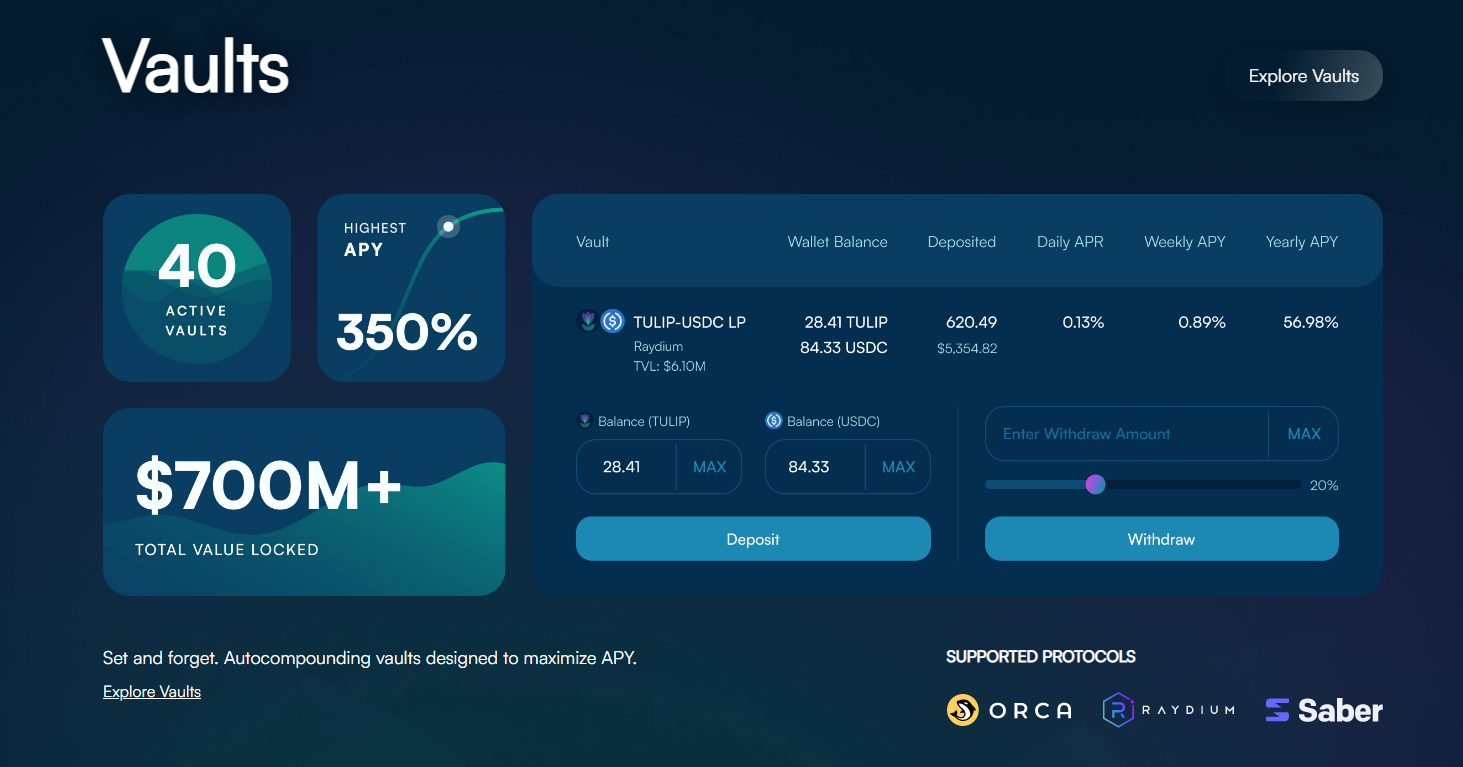 Tulip Protocol or Tulip Garden, formerly known as SolFarm, is a crypto yield aggregator that offers auto-compounding vault strategies. 
SolFarm's (TULIP) main features are:
Low fees
High-speed transactions
Additional profits from high APYs
Supported vaults on Saber, Raydium, and Orca
Leveraged yield farming
SolFarm was launched in the spring of 2021, by an anonymous team, and the members go under the nicknames of "Momo," "senx," "therealssj," and "post." They wish to keep their identity anonymous to preserve their privacy.  
SolFarm (Tulip) raised $5 million during a private token sale funding round led by Jump Capital and Alameda Research, and with the participation of Amber Group, Cadenza Ventures, CMS Holdings, FinTech Collective, and others.
In June 2021, SolFarm was the winner of the Solana Season Hackathon, establishing itself as one of the top Solana projects. 
According to DeFi Llama, SolFarm protocol (Tulip Garden) has a total value locked (TVL) of $1.03 billion. 
The platform's native token, TULIP, is designed to grant holders on-chain governance, and it is currently under development by the Solana Foundation team. TULIP will offer governance over the platform, and holders will be able to vote on matters such as:
Platform fees
Treasury usage
Protocol improvements
Pool reward weighting
SolFarm (TULIP)has a total market cap of $36,951,344. The current circulating supply is 815,205.78 TULIP. The maximum supply is 10 million TULIP.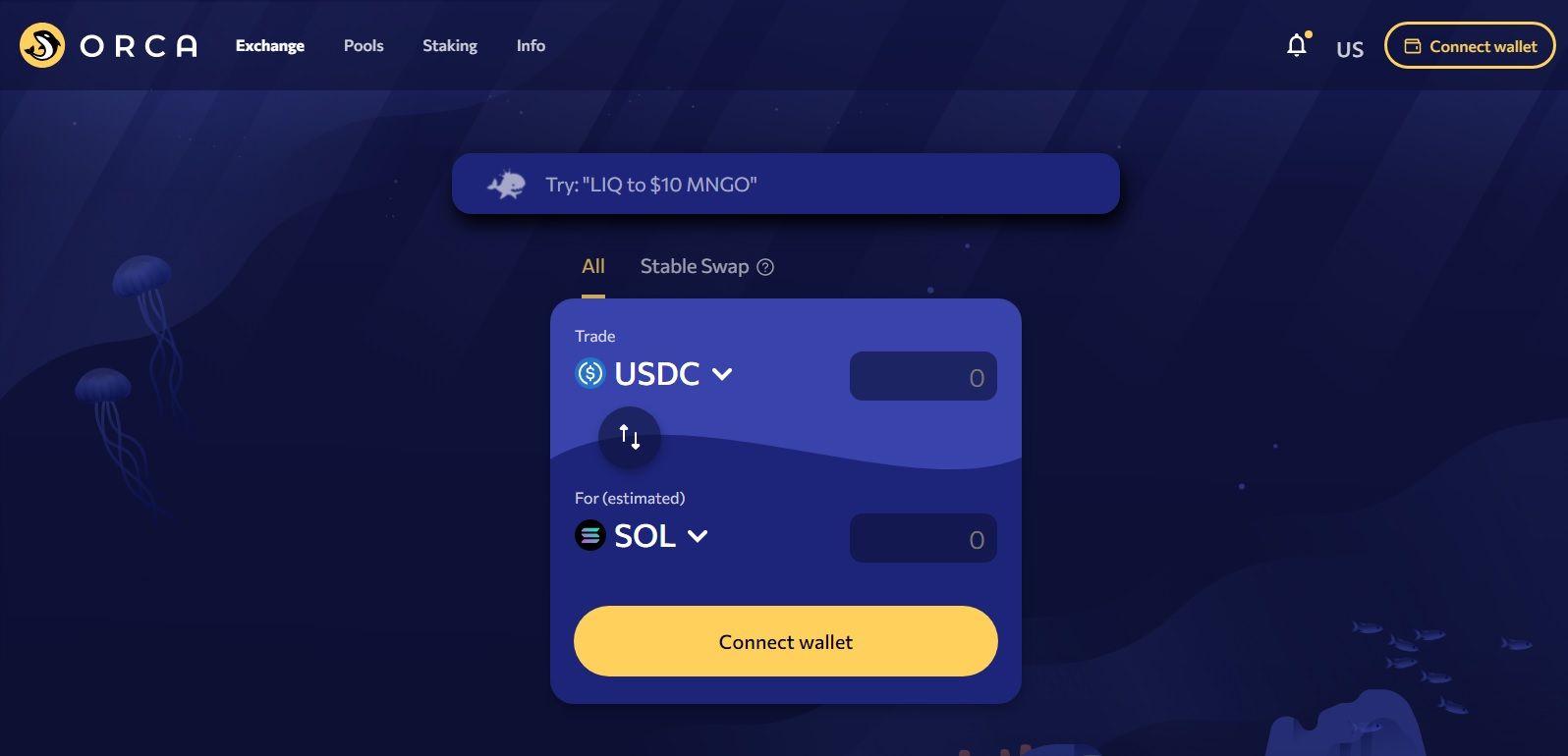 ORCA is an automated market maker (AMM) decentralized exchange (DEX) with its own liquidity pool. Traders can use Orca to swap tokens, and crypto enthusiasts and project supporters can create their own Orca liquidity pools. 
Orca is one of the top Solana projects and takes advantage of the inherent benefits of the network. The exchange allows fast trades that take less than one second, and the gas fees are around $0.00002. To incentivize liquidity providers (LPs), the exchange rewards 0.3% of the trading fee to the liquidity pool. 
Orca has three main features for cryptocurrency investors and traders:
Token Swaps: Users can use Orca to swap tokens, using the DEX's liquidity pools
Liquidity Pools: LPs can contribute to the pools and receive a percentage of the trading fees generated by swaps
Yield Farming (Aquafarm): Some of the liquidity pools on Orca will become Aquafarm, allowing LPs to earn trading fees and ORCA tokens. Other projects will be able to add their tokens in the future.
Orca's native token, ORCA, is a utility token. This rewards LPs in the liquidity pools and grants governance voting rights, which is a feature that is not yet released. ORCA has a total market cap of $203,460,826. The current circulating supply is 11,143,610.09 ORCA.
Star Atlas is a blockchain multiplayer exploration game built on the Solana ecosystem. The game aims to build a metaverse with an open economy, in which players can enjoy absolute freedom and earn ATLAS tokens while playing. 
The game claims to provide "a universe of opportunities." The game has a dual economy, relying on $ATLAS for the in-game currency and $POLIS for the governance of the Star Atlas DAO structure. Within the game, players are rewarded with ATLAS and NFTs. 
The game is set in the future, in 2620, and the control is split between three fractions ━ humans, androids, and aliens. What sets Star Atlas apart from other massively multiplayer online games is the fact that it is based on blockchain, and what you get and earn in the game, you truly own. 
While the game is still in its early stages, players can already enjoy parts of the vast metaverse of the game. Star Atlas will undergo a staged release, with the first token generation having taken place in August 2021. 
In November 2021, ATLAS was trading at $0.1877 and had a total market cap of $405,748,093. The current circulating supply is 2.16 billion ATLAS. The maximum supply is 36 billion ATLAS. POLIS was trading at $9.28 and had a total market cap of $200,390,848. The current circulating supply is 21.6 million POLIS. The maximum supply is 360 million POLIS.
Solana projects are disrupting the crypto market
Since the launch of the network's mainnet in March 2020, many interesting and viable Solana projects have been launched on the network. The hundreds of projects on Solana choose this platform because it is a scalable blockchain solution with cheap transaction fees.
The success of the Solana projects drove the price of SOL to a new all-time high price in November 2021. The cost-efficiency of Solana brings more Dapp developers every day to the network, widening its ecosystem and growing the overall Solana community.
As such, Solana remains in competition with Ethereum, the market's leading smart-contract platform.
Frequently asked questions
What projects are built on Solana?
What does Solana crypto do?
Disclaimer
In line with the Trust Project guidelines, the educational content on this website is offered in good faith and for general information purposes only. BeInCrypto prioritizes providing high-quality information, taking the time to research and create informative content for readers. While partners may reward the company with commissions for placements in articles, these commissions do not influence the unbiased, honest, and helpful content creation process. Any action taken by the reader based on this information is strictly at their own risk.