The ParaState ecosystem bridges the gap between blockchains that require technical improvements such as quicker speed and lower gas fees. But how does the protocol work, and who can use it?
This guide covers everything you need to know about Parastate — the pioneering interoperability solution — its native utility and governance token, STATE.
BeInCrypto Trading Community on Telegram: read reviews on the best crypto platforms & wallets, get the hottest news on crypto, read technical analysis on coins & get answers to all your questions from PRO traders & experts!
ParaState: empowering multichain development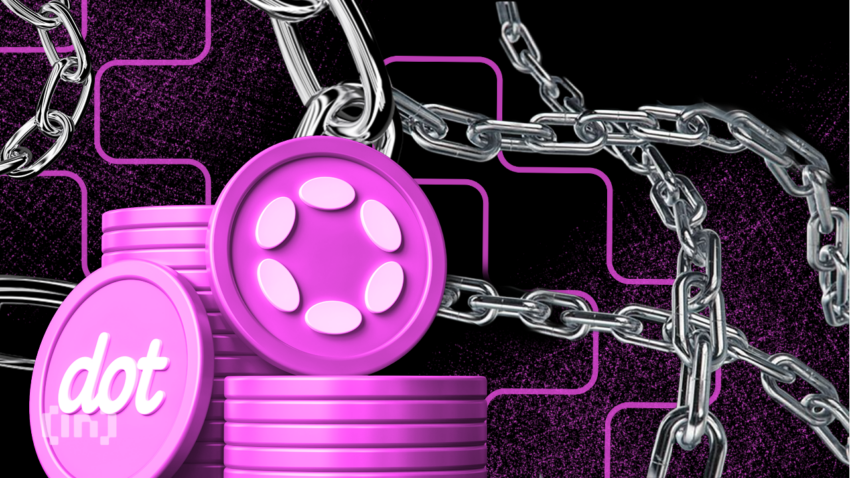 ParaState is a multichain smart contract platform that bridges Ethereum, Polkadot, and other high-performance Substrate-based blockchains. It is often called "Ethereum on steroids" due to its exceptional performance and enhanced capabilities.
ParaState supports the EVM pallet, ensuring seamless compatibility with all Ethereum applications. This essentially alleviates the scaling struggle from EVM when it comes to delivering optimal performance to meet new user demands.
Additionally, developers benefit from a next-generation smart contract implementation environment through Ethereum-flavored WebAssembly (Ewasm). These two infrastructures can communicate with each other and share the same account system on ParaState.
Ultimately, ParaState aims to provide a highly optimized and flexible smart contract execution environment while preserving Ethereum compatibility. It achieves this through a universal Substrate VM runtime pallet, enabling seamless integration with Polkadot parachains that use Substrate modules.
Additionally, ParaState can leverage cross-chain services provided by other parachains. By utilizing this technology, ParaState is able to provide an industry-standard platform that offers significant benefits to developers.
ParaState in the past and future
ParaState has been under development since 2019 and is nearing its public release. The ParaState team comprises highly experienced individuals from the open-source community and has received grants from both the Ethereum Foundation and Web3 Foundation.
The team's mission is to serve the developer community. Co-founder Marco Chen is notably a prominent member of the open-source community and the Rust Foundation. Co-founder Michael Yuan was also an early employee of JBoss.
Funding
ParaState successfully raised funds in three different rounds in 2021. The first round was a seed fundraising round that closed in Q1. In the second phase, which took place in Q2, ParaState launched its public testnet, Plato, and secured strategic funding.
The third round consisted of private fundraising and concluded in Q3. Additionally, ParaState received a grant from the ICON Foundation for its Substrate sidechain project.
In Q3 2022, the platform introduced the initial phase of Galileo Testnet. It invited registrations from all those interested in participating in large-scale testing of the solution.
Aims
Overall, ParaState aims to bring Ethereum protocol support to the Polkadot ecosystem. Further, it looks to future-proof the Ethereum protocol by bringing the LLVM and WebAssembly developer communities into the Polkadot ecosystem. It is a one-stop developing platform and a strong choice for next-gen web3 applications.
How does ParaState work?
ParaState is building a WebAssembly virtual machine that works similarly to smart contract platforms like NEAR, Oasis, and Cosmos.
One of the unique working techniques of the ParaState virtual machine is that it is compatible with Ethereum code. This means that projects that are already running on Ethereum can easily migrate to the Polkadot ecosystem without making too many changes to their code.
Substrate-based blockchain
To better understand how this works, it is essential to understand the concept behind substrate blockchains. In simple terms, Substrate is a powerful tool that enables you to create customized blockchains for virtually any purpose. It has been successfully utilized by Parity Technologies to build the Polkadot blockchain.
Although there are some options available on Polkadot that use Substrate to address the scalability issues of Ethereum, ParaState's multichain platform is unique in providing full compatibility with the Ethereum Virtual Machine (EVM) and Ewasm (Ethereum-flavored WebAssembly Virtual Machine).
ParaState achieves this through its pallet for the Substrate-based SSVM virtual machine, which enables developers to use Ethereum DApps across multiple chains seamlessly.
Ethereum compatibility
ParaState's platform provides a robust on-chain runtime module for Ethereum-compatible smart contracts, delivering superior performance. This means that developers can opt to deploy their products and services on the Polkadot ecosystem instead of Ethereum.
Furthermore, ParaState's solution allows developers to effortlessly migrate non-Ethereum projects to the EVM without compromising on speed or security.
With a vast community of developers providing support, ParaState is committed to enhancing the performance of Ethereum's DApps ecosystem rather than competing with it. Its versatile and highly scalable Ewasm architecture provides the foundation for achieving this goal.
WebAssembly support
WebAssembly has become an industry standard, with widespread adoption by various communities, including blockchains, cloud computing providers, and web browser application developers.
It is essentially a versatile virtual machine that can execute code written in any programming language within a web browser.
One of its significant benefits is its ability to adapt to low-level architectures without compromising performance. As a result, WASM can run exceptionally fast on most hardware, provided the system has a reasonably good CPU and at least half a Terabyte of high-speed storage.
Key features of ParaState
ParaState offers various unique features that set it apart from other blockchain platforms, including:
An innovative staking solution: SafeStake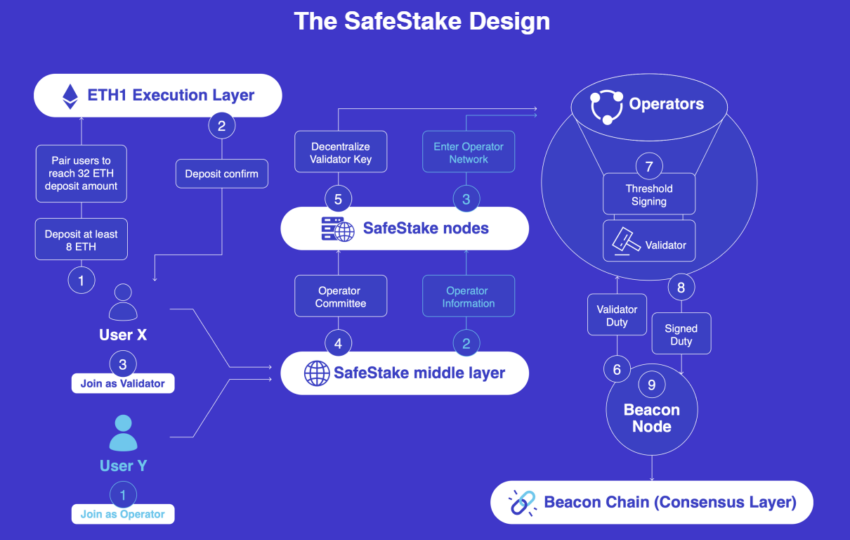 Launched in the first half of 2022, SafeStake is a trust-minimized middle layer that promotes decentralized ETH 2.0 staking.
It is the first DVT (Distributed Validator Technology) staking solution for Ethereum written in Rust. The solution is able to manage validator price keys securely while remaining decentralized by implementing HotStuff consensus and a threshold signing scheme.
The STATE staking contract was also implemented in early Q2 of 2022, with 25M tokens available in the first round for users who participate in the ParaState staking program.
ParaContract
ParaContract is a suite of innovative solutions empowering developers to build efficient, cost-effective blockchain applications with improved user experience.
Improved execution times of smart contracts
ParaStatre's SSVM-Ewasm Substrate module enables developers to leverage the benefits of Polkadot's high transaction speeds and low gas fees while implementing and executing Ethereum smart contracts within the ecosystem.
This module utilizes ParaState's virtual machine, the SSVM module, which is built on the Ethereum-flavored WebAssembly (EWASM) standard. As a critical infrastructure component for public blockchains, the SSVM-Ewasm Substrate module is empowering developers to build more efficient and cost-effective blockchain applications.
Cross-chain compatibility
ParaState's SSVM virtual machine is compatible with any blockchain platform. This includes non-ethereum platforms that want to integrate support for compatibility with Ethereum, providing multichain support.
Developers can use over 20 programming languages supported by LLVM, including C/C++, Go, Rust, and Java, to write smart contracts, which is increasingly attractive as developers seek alternatives to Solidity. Support for multiple programming languages is also essential for bringing new developers into the smart contract ecosystem.
Scalability and performance
The Polkadot ecosystem can support at least 10,000 TPS through its parachain architecture, with much of the heavy consensus lifting now done by Polkadot validators.
This makes it ideal for consumer internet applications, with ParaContract looking to help developers build scalable and high-performance blockchain applications.
Improved UX/UI experience
ParaState aims to improve user flow and user experience for DeFi-focused DApps via Ethereum-compatible blockchains. By deploying front-end UIs, ParaContract aims to make DeFi easier and safer to use than CeFi. With ParaContract, the challenge of UX resilience is successfully addressed.
The role of the STATE token
The $STATE token represents ParaState's commitment to decentralization and is deeply ingrained within the platform's runtime functionality.
For every transaction executed on ParaState's runtime, a small licensing fee is charged and paid to the ParaState DAO treasury, with 10% of this fee being allocated to the long-term development reserve and the remaining 90% directed to the treasury DAO.
As a self-sustaining model, the ParaState DAO generates revenue from transaction fees on other networks that use its technology, which further enhances the platform's ecosystem.
The $STATE token is issued on the Ethereum Network following the ERC-20 standard, with a total supply of 1 billion tokens.
Token utilities
The value of STATE is supported by a diversified basket of native cryptos from multiple blockchain projects, which strengthens the underlying value of the token. Licensing fees serve as ParaState's primary revenue stream, funding all developments on the platform to drive long-term success. Here are use cases of the STATE token:
Incentivize "Plato" node validators who maintain an experimental showcase for advanced technology features.
Reward decentralized applications (DApps) deployed on ParaState's infrastructure.
Encourage token holders who stake their tokens to participate in governance. This includes voting on whether to initiate a permanent L1, a parachain, or an L2 based on ParaState's technical infrastructure.
Grant participation rights in the ParaState developers' DAO treasury governance to token holders who hold and stake their STATE tokens.
This token distribution ensures the sustainable growth of the ParaState ecosystem. It provides incentives for validators, governance participants, developers, and the wider community to actively contribute to the platform's development.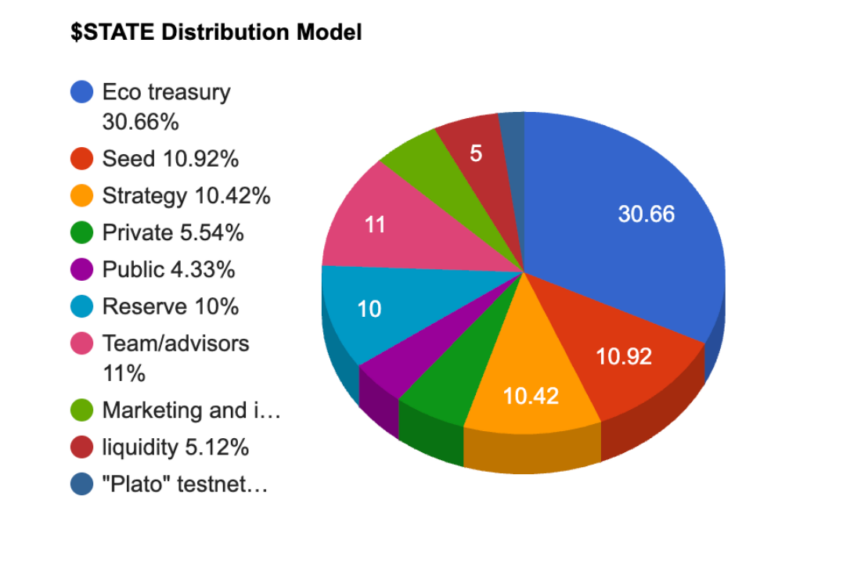 Staking
$STATE token holders have the opportunity to earn rewards by staking their tokens. ParaState aims to establish itself as a premier decentralized infrastructure option for ETH 2.0 staking. A total of 25,000,000 tokens have been set aside in the reward pool to incentivize community members to participate in governance.
By staking their tokens, participants can earn a competitive APY of 31% with daily compounding rewards for up to 360 days. This provides an opportunity for $STATE holders to actively engage in governance and contribute to the growth of the ParaState ecosystem.
To generate passive income with the $STATE token, you can hold your tokens in a compatible non-custodial wallet, such as MetaMask, and connect to the STATE staking website.
Governance
STATE tokens holders will wield decision-making power over the ParaState DAO treasury's utilization, community incentives, and the development and upgrade pathways that should be pursued.
Building on ParaState
ParaState's technology is expanding the use cases of blockchain technology beyond Ethereum and into the Polkadot ecosystem. ParaState supports popular domain-specific languages like Facebook's MOVE and Certik's DeepSEA, making it easier for developers to build complex DApps using their preferred programming languages.
Moreover, the SSVM-Ewasm Substrate module from ParaState is enabling the creation of applications for various sectors, including DeFi, gaming, and supply chain, as well as the potential for building metaverses on a multichain platform.
Developers can deploy their applications outside of Ethereum while still being fully compatible with the ecosystem through EVM, allowing for unique integration in ParaState at the best performance-cost ratio.
The ParaState SSVM pallet is at least 10x faster than the leading non-WebAssembly runtime solution, making it a top performer in the industry.
ParaState and the Polkadot ecosystem
ParaState's potential within the industry is demonstrated by the ability to bridge the application and developer ecosystems between Polkadot and Ethereum, as well as other chains seeking Ethereum compatibilities. This allows for low-cost access to parathreads on the Polkadot multichain through a cheaper pay-as-you-go model.
The increased interest within the developer community to generate decentralized applications on ParaState's multichain platform guarantees interoperability at all times with the main DApps ecosystems of the blockchain industry.
Uniting Ethereum and Polkadot with scalability and compatibility
Overall, ParaState has positioned itself as one of the most technically capable options for scaling the Ethereum ecosystem and establishing a natural bridge between Polkadot and other blockchain platforms seeking compatibility with Ethereum.
The possibilities for scaling decentralized applications and millions of smart contracts with Ewasm are virtually endless, and ParaState has natively integrated this technology to achieve optimal execution times.
What sets ParaState apart from its competitors is that Ewasm is natively embedded in ParaState's Substrate-based runtime Pallet rather than being executed by third-party extensions. As a result, smart contracts deployed in ParaState's infrastructure benefit from significantly improved execution times.
Frequently asked questions
What is the relationship between ParaState and Polkadot?
What makes ParaState different from other blockchains?
Disclaimer
In line with the Trust Project guidelines, the educational content on this website is offered in good faith and for general information purposes only. BeInCrypto prioritizes providing high-quality information, taking the time to research and create informative content for readers. While partners may reward the company with commissions for placements in articles, these commissions do not influence the unbiased, honest, and helpful content creation process. Any action taken by the reader based on this information is strictly at their own risk.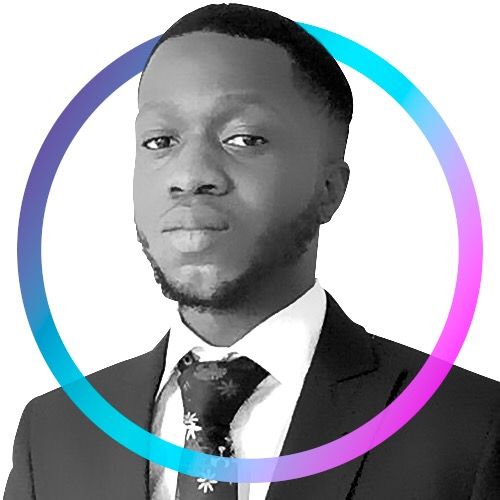 Ayotomiwa is a tech writer and marketer focused on blockchain, crypto, DeFi, the metaverse, and NFTs. Ayotomiwa works with a number of emerging tech startups and crypto exchange...
Ayotomiwa is a tech writer and marketer focused on blockchain, crypto, DeFi, the metaverse, and NFTs. Ayotomiwa works with a number of emerging tech startups and crypto exchange...
READ FULL BIO
Sponsored Sponsored