SafeMoon is one of the most talked-about "memecoins," having seen a lot of growth since its launch in 2021. It looks to capitalize on the success of tokens like Dogecoin or Shiba Inu. To some degree, it has seen some success, with many traders seeking to buy the token in the hopes of a similar price rise as those memecoins.
One of the places to buy SafeMoon is Trust Wallet, a non-custodial wallet that connects users to hundreds of thousands of cryptocurrencies. Here we explain how to buy SafeMoon, what exactly it is, and where to store it.
What is SafeMoon?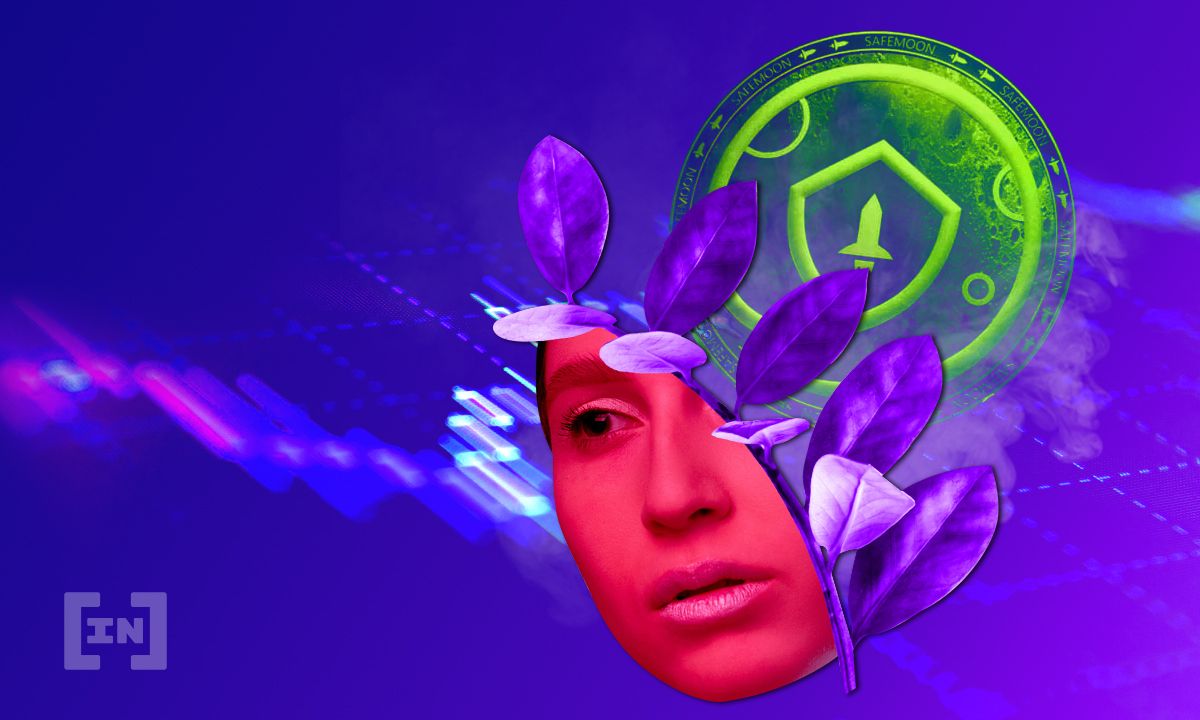 SafeMoon is a cryptocurrency that is seeking to reach the success of Dogecoin and other memecoins. But the success has been limited to early investors. Many purchased the SafeMoon for as low as $0.000000001 using TrustWallet.
At its peak, the token had reached an evaluation of $0.000011. While there are undoubtedly risks associated with finding the next big thing in crypto, these dramatic changes in prices are enough to get crypto users excited.
The token has been particularly hyped on social media and endorsed by celebrities like Lil Yachty, Nick Carter, and YouTuber Logan Paul. The team is trying to develop the underlying technical aspects of the token, in the hopes that SafeMoon can overcome its status as a memecoin.
Still, a word of warning is justified. With any investment in crypto, never invest more than you afford to lose.
Where to buy Safemoon?
The SafeMoon cryptocurrency runs on the Binance Smart Chain. The good news is that the popularity it has found on various social media platforms has made the token more readily available, though this might still be an issue on some of the biggest exchanges.
SafeMoon is tradable on numerous exchanges, however. After acquiring a bit of knowledge beforehand, you should have the ability to easily navigate these platforms. SafeMoon is available currently on PancakeSwap and is tradable using Trust Wallet. It is also available on Bitrue, Gate.io, MEXC, or Bitmart.
One of the key features of SafeMoon is its 10% anti-day trading transaction fee. The developers say that this encourages the long-term growth of the token. The fee is charged upon selling the token. This is a reward for the long-term owners of the token.
How to buy Safemoon on Trust Wallet
Trust Wallet is a non-custodial crypto wallet that supports a large number of tokens.
Purchasing SafeMoon using Trust Wallet is the easiest method to acquire this token. Let's look at the simple steps required to make the purchase quickly and safely.
Note that you are purchasing SafeMoon V2. The new version brings many improvements to the initial version of the token. V1 holders can migrate their tokens to Trust Wallet easily. SafeMoon, currently, has cross-chain functionality for the Ethereum and Binance Smart Chain.
Preparing the purchase
1. Download Trust Wallet
Head over to your Google Play or App Store. Search for "Trust Wallet" and download the app.
2. Set up an account
Next, you'll need to set up your account. Pay special attention to your security information. You will set up a 12-word recovery phrase. Furthermore, you are provided a private key. Make sure to keep this information safe and at hand. You can use this to recover your account in the event of losing your device, technical malfunction, etc.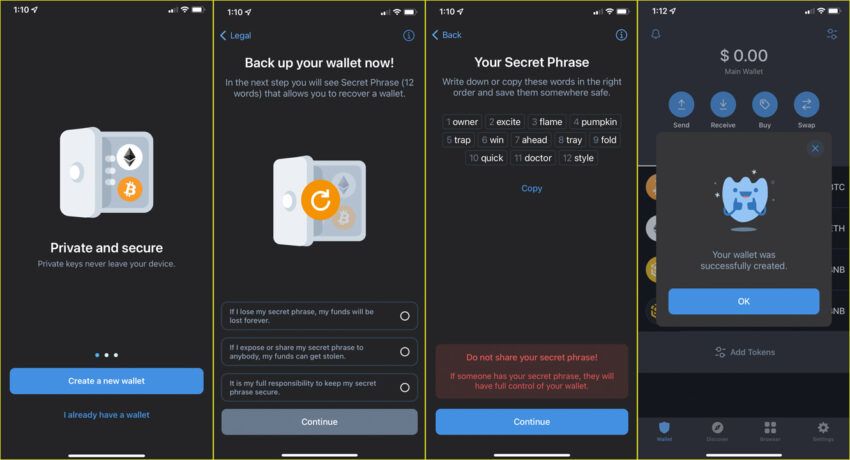 3. Deposit funds into Trust Wallet
You'll need BNB to make purchases on Trust Wallet. BNB is the native token of the Binance Smart Chain, the network that runs the Binance ecosystem.
BNB Chain is the rebranded name given to the chain in 2022. Binance Chain is another, an older network that runs in parallel with it.
What you need to remember is that you will be using Smart Chain (BNB) for all transactions on Trust Wallet. This means that you will need BNB for all trades, as you will require it, at least, for the fees. You can easily buy BNB from Binance. Alternatively, you can purchase it directly from the Trust Wallet app using your card via MoonPay, Ramp, or Transak.
Note that BNB and BNB Smart Chain have the same value. The first functions on the BEP2 network, the latter on the older Binance Smart Chain. If required, you can make the swap from the main page of the wallet.
4. Add Safemoon to Trust Wallet
Since Trust Wallet supports numerous tokens, most of them have to be added manually. Head over to the app's homescreen and type in "SafeMoon" into the search bar. If no results show up, enter them manually by choosing the option "Add custom token."
You will need to change the network first. Click on "Ethereum" in the upper-right corner. Change this to "Smart Chain." Next, add the name as "SafeMoon," the symbol as "SFM," and opt for nine decimals. You will also need the "Contract Address." This is available on the token's CoinMarketCap page. The current address, for SafeMoon V2, is 0x42981d0bfbAf196529376EE702F2a9Eb9092fcB5.
The same steps are needed to add any other token to Trust Wallet (Note that SafeMoon V2 can be searched for in Trust Wallet, while the older version must be input manually).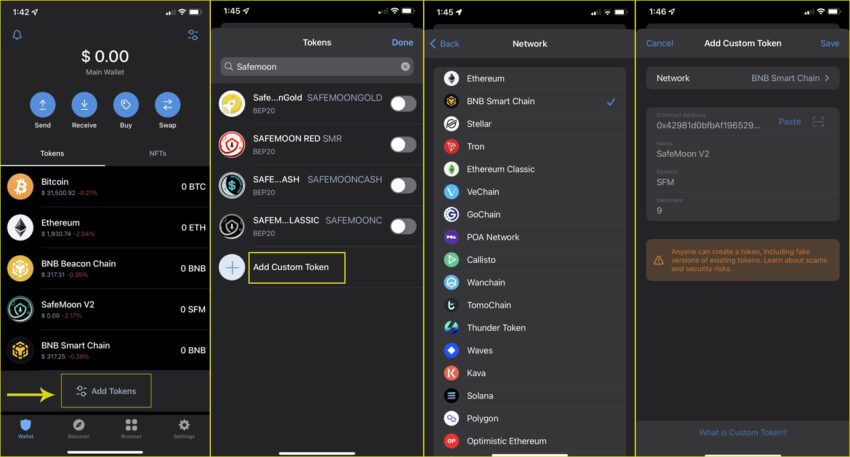 Purchase SafeMoon
You are now ready to purchase SafeMoon. You can use the PancakeSwap DEX to purchase SafeMoon through Trust Wallet.
To use Pancakeswap, you will need to go to the "DApps" tab. Search for "PancakeSwap," click "Connect," and then "TrustWallet". Once in DEX, you can exchange BNB for SafeMoon. You will need to either input the token's contract address or search for it from the dropdown.
Finally, you need to confirm Pancakeswap's safety notice. You will also have to switch the slippage fee to at least 12%, a buffer that facilitates the trade. You can change the slippage by heading to "Settings" in the upper-right corner. Once you are ready, confirm the transaction. Congratulations, you are now the owner of SFM.
Once purchased, SFM will show in your balance on the Trust Wallet home page. Alternatively, you can also download SafeMoon's own mobile app wallet and store your tokens there.
Can SafeMoon be a worthwhile investment?
Any asset in the market is subject to risks. You should do your own research and never invest more than you can afford to lose. SafeMoon is particularly vulnerable to volatility as it is a memecoin, and these have historically been volatile.
If you have decided on buying the token, then you should consider a non-custodial wallet — and we've explained here how to buy SafeMoon on Trust Wallet. It keeps the token in your hands and has a bevy of other features as well.
If you still have questions on how to buy Safemoon on Trust Wallet or any other questions, head over to the BeInCrypto Telegram channel. The friendly community members will answer all your questions.
< Previous In Series | How to buy Cryptocurrency & NFTs | Next In Series >
Frequently asked questions
Can you get SafeMoon on Trust wallet?
The SafeMoon cryptocurrency is a popular memecoin in the style of Shiba Inu or Dogecoin. It was initially only available on Trust Wallet using the PancakeSwap decentralized exchange. The token remains available on PancakeSwap, as well as Bitrue, Bitmart, or MEXC.
Can I buy SafeMoon with BNB on Trust wallet?
Yes, to purchase SafeMoon from Trust Wallet, you will need BNB (Binance coin). From the Binance exchange or using the MoonPay widget, you can purchase BNB. You will then need to transfer the BNB amount to your Trust Wallet using the Binance Smart Chain. Finally, you can purchase SafeMoon, at a 12% slippage, using BNB, on PancakeSwap, with the transaction recorded on the Smart Chain.
How can you buy SafeMoon?
SafeMoon is available through Pancakeswap. This DEX functions on Trust Wallet. To buy SafeMoon, you will need BNB.
How does Trust Wallet work?
Trust Wallet offers connectivity to various blockchain networks through its nodes. Essentially, it gives users access to crypto stored on various networks. It does not, however, store or encrypt cryptocurrency amounts.
Can you make money on Trust Wallet?
Trust Wallet includes a staking option. Users can stake cryptocurrency directly on the application. Several tokens are available, including BNB, Cosmos, or Tron. Yearly yields are typically between 5% and 9%.
Users can also earn rewards on Trust Wallet by becoming liquidity providers. Furthermore, tokens like LBLOCK function as a lottery system and offer daily rewards to lucky owners.
Is Trust Wallet a good Bitcoin wallet?
Trust Wallet is a popular mobile crypto wallet. It supports over 160,000 tokens and has solid security features. 
How good is Trust Wallet?
Trust Wallet is notable for its extensive security and user privacy features.
Disclaimer
In line with the Trust Project guidelines, the educational content on this website is offered in good faith and for general information purposes only. BeInCrypto prioritizes providing high-quality information, taking the time to research and create informative content for readers. While partners may reward the company with commissions for placements in articles, these commissions do not influence the unbiased, honest, and helpful content creation process. Any action taken by the reader based on this information is strictly at their own risk.