Why did Elon Musk, the world's richest man, push for his hordes of Twitter followers to buy DOGE on multiple occasions? Is the memetic Doge really worth investing or is there something else going on? Find out in this investing guide on how to buy Dogecoin.
In this guide, you will find the difference between DOGE's inherent value and its current popularity. If you are just starting with cryptocurrency trading, you will find out that Dogecoin presents an excellent opportunity to hone your trading skills.
How to Buy Dogecoin?
Knowing how to buy Dogecoin includes knowing where it's supported for easy trading. The most popular international crypto exchanges have it listed. Thankfully, Binance is among them, as a popular exchange that provides both ACH and SEPA payment methods.
This is important in order to avoid wire transfer fees. Try to use only those two payment methods for adding funds and withdrawals whenever possible. Binance also has one of the lowest trading fees compared to other exchanges — at 0.10%! Depending on the device you are using, get started by creating a Binance account in three ways:
How to buy dogecoin on StormGain
If you are in Europe, you will be pleased to note that the UK-based exchange, StormGain, not only added Dogecoin but launched a perpetual contract for Dogecoin (DOGE) with up to 30x leverage. After creating an account on the platform of your choice, you will have to go through KYC (know-your-customer) protocol. This involves sending over a government-registered ID, along with making a selfie according to the instructions you will receive.
After that, all you have to do is link your account to your bank account to add funds. Once that is in order, you are ready to buy Dogecoin. Take note that it would be easier to convert your USD into USDT.
Tether (USDT) is a stablecoin equivalent to USD, in use as a bridge trading currency for tokens. Accordingly, your DOGE/USDT trading pair will look like this.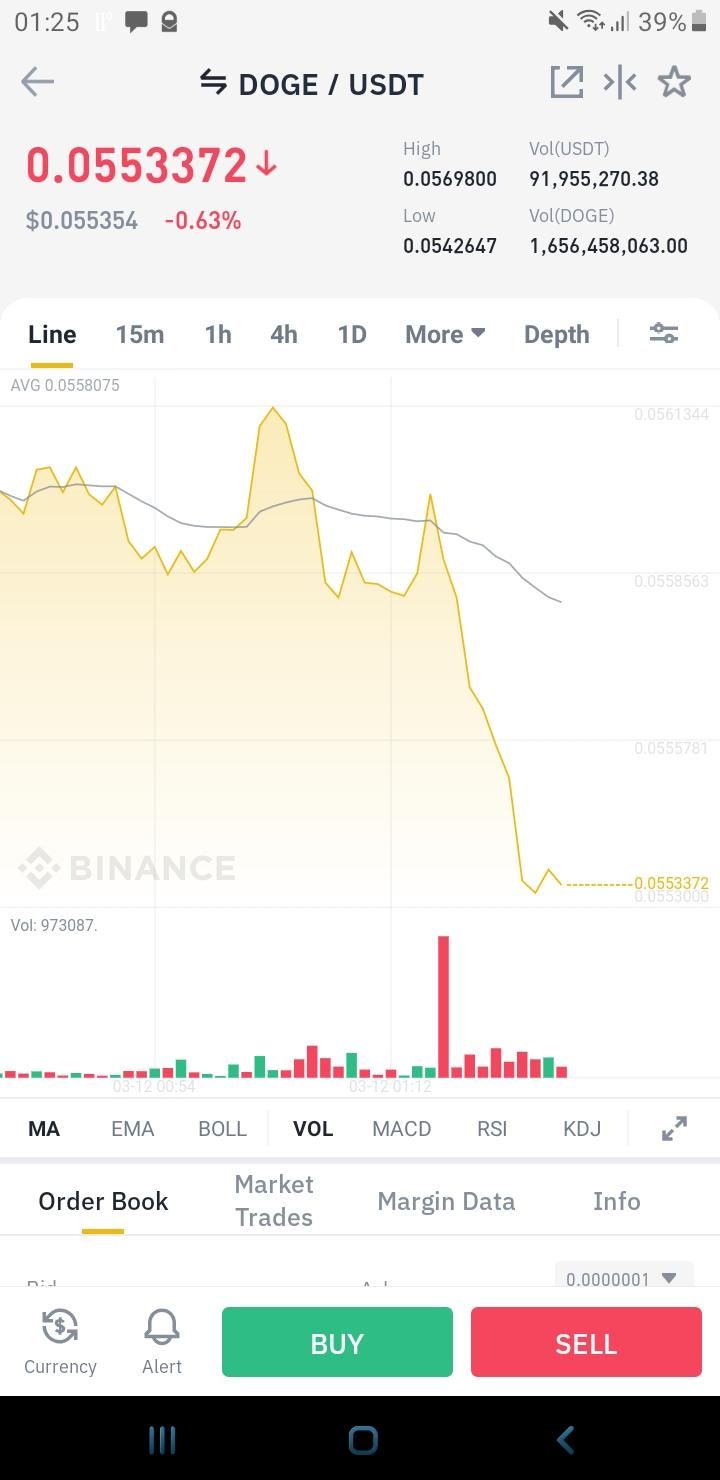 Otherwise, you can use EUR if you've linked funds from the bank in the Eurozone. Then, it all comes down to reading charts to pick the right time to either enter the market to buy DOGE, or exit the market by selling DOGE.
Dogecoin's History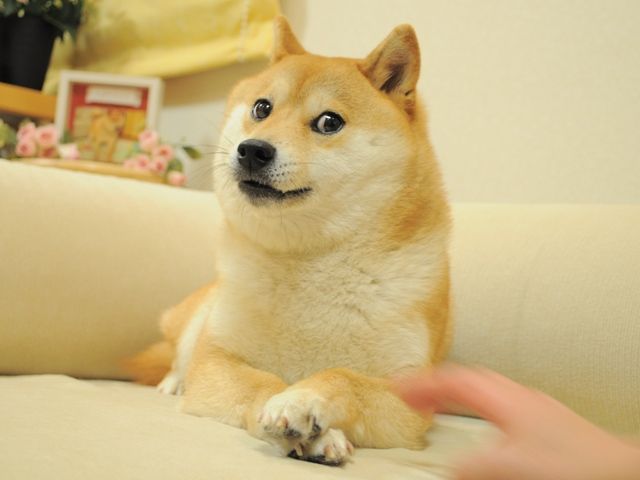 Although initially created as a joke on the back of the Shiba Inu dog meme, Dogecoin's creators were serious professionals.
Both were working as software engineers, Billy Markus in IBM and Jackson Palmer in Adobe. At the time of Dogecoin's launch, Bitcoin was still struggling with mass adoption.
To counter this and speed up the process of peer-to-peer (P2P) money transfer, Billy and Jackson launched Dogecoin on December 6, 2013, as a fork from Luckycoin — a fork of Litecoin (LTC).
They were hoping it would achieve greater crypto penetration thanks to its memetic potential. This worked for a while. Within a month, Dogecoin.com received a million visitors, and its price jumped by 300%.
After a couple of years, Dogecoin became the go-to cryptocurrency for the largest social media sites — Reddit, Twitch, and Twitter.
Users were able to easily send each other DOGE coins via simple Reddit commands thanks to Dogetipbot. However, it discontinued in May 2017 and declared bankruptcy.
Overall, Dogecoin never reached a single dollar value point. DOGE price has been a relatively flatline except on two notable periods:
Dogecoin reached its first all-time-high (ATH) price on January 7, 2018, at $0.017175.
Its second ATH can be attributed to Elon Musk's push on Twitter, making it reach $0.083745 on February 8, 2021.
DOGE achieved its latest ATH on May 8, 2021, where it reached $0.731578.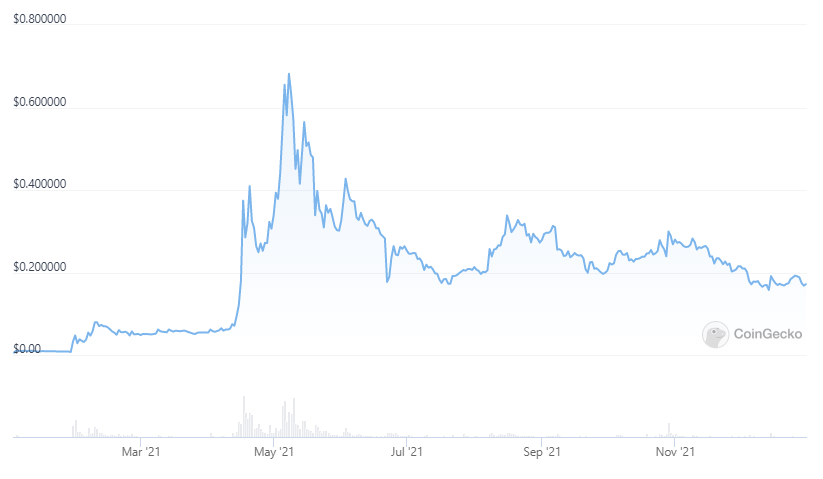 From first to second ATH, Dogecoin rose by 387%. Almost forgotten, it took Elon Musk, with his near-49 million Twitter followers, to resurrect it. One should understand this in more detail to figure out if Dogecoin is a good investment.
Elon Musk's Affair with Dogecoin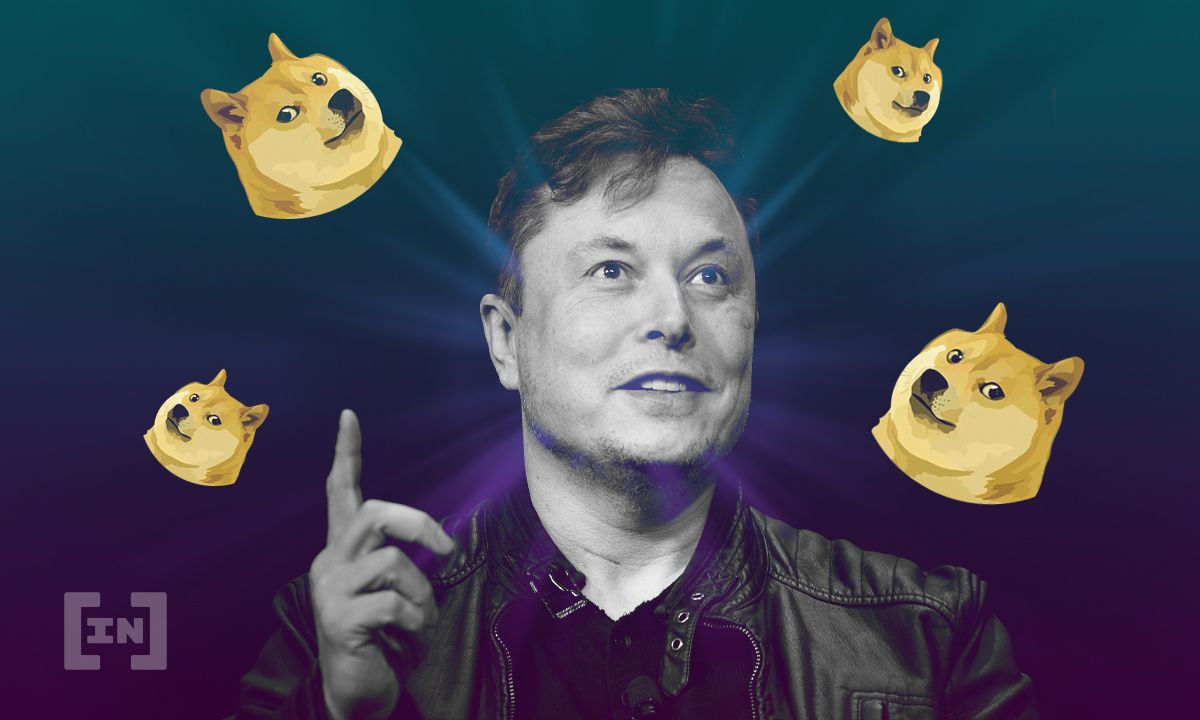 Viewed by many as a real-life Tony Stark from Iron Man movies, Elon Musk is indeed a unique character.
Already becoming rich in his native country, South Africa, Musk truly began his upward trajectory into the billionaire class after founding X.com — later becoming PayPal — the world's largest payment processor serving over 300 million merchants.
Building upon PayPal, Musk then focused on Tesla EV manufacturer, SpaceX, and Neuralink.
Each one represents cutting-edge technology, bringing Musk's net worth over $200 billion. This made him 1st or 2nd richest man alive, depending on the stock moves between Tesla and Amazon.
Elon's stake in DOGE
You may be wondering why the focus on Elon Musk when we are talking about Dogecoin? It turns out, he may be owning a large portion of Dogecoins.
Musk is no stranger to using the networked power of social media. In fact, the SEC (Securities Exchange Commission) fined him $20 million in 2018 for misleading Tesla shareholders with a tweet. Musk has been a vocal supporter of dogecoin on twitter. Many of the people that want to know how to buy Doge, were likely prompted by Elon Musk.
When it comes to Dogecoin, there are some indications that he may be in possession of a great quantity of Dogecoins, such as this tweet from February 15, 2021.
According to First Squawk's financial newswire, Musk may be in trouble again with the SEC. This time, over a series of tweets suggesting to his nearly 49 million followers buy DOGE.
This cannot be untangled from Musk's completed purchase of $1.5 billion of Bitcoins on February 8.
Many speculate that the Dogecoin tweet-spree was a distraction to lower the price of Bitcoin just prior to this massive purchase of BTC. Whatever the case may be, the fact remains that Elon Musk's Twitter activity around Dogecoin strongly stirred its price moves.

As you can see from the graph, Bitcoin was just recovering from the $40k ATH before going up again and breaking over $50k price resistance prior to Musk's purchase on February 8.
Of course, this is just speculation, but all factors have to be considered when faced with important market entry/exit decisions.
How Is Dogecoin Different from Bitcoin?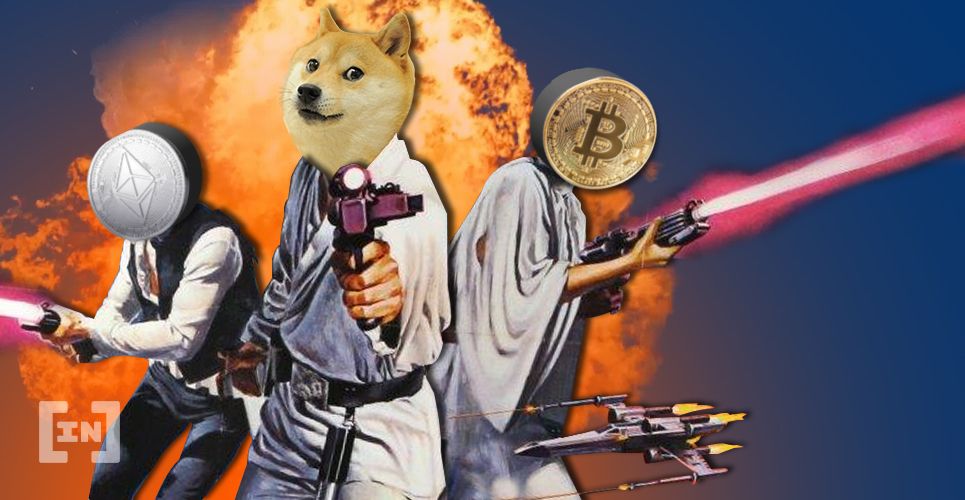 Now that the Elon Musk situation is clarified, it's time to move on examining DOGE's intrinsic value.
In other words, if Elon Musk had never been born, would it be wise to buy DOGE right now? Later on, we'll get into how to buy Dogecoin.
It is no secret that Markus and Palmer effectively copy-pasted Bitcoin code to create Dogecoin.
After all, Markus himself reported that it took him three hours to do it. However, there are critical differences that make it a completely different cryptocurrency to Bitcoin.
Unlimited Coin Supply
Unlike Bitcoin, which has a finite supply of 21 million coins, Dogecoin has an unlimited supply cap. Initially, the limit was a 100 billion hard cap, which Palmer lifted in 2014. Since then, every year, 5 billion more Dogecoins are released into circulation.
Currently, there are 127 billion DOGEs in total. This is an extremely important factor to consider as it means that Dogecoin can never become digital gold like Bitcoin. New traders that want to know how to buy dogecoin should beware of this fact.
If an asteroid would float by Earth filled with enormous quantities of gold, and we had a cost-effective means of mining it, the price of gold would drop drastically.
The economic law of supply and demand is always in effect. The more there is a supply of something, the lower its price.
This holds not just across precious metals or wages, but cryptocurrencies as well. This is why Dogecoin's price has effectively followed a flat line, barely reaching above $0.08 in spite of Musk's push.

In short, Bitcoin is a deflationary cryptocurrency gaining value over time as its rarity and mining cost increases.
In contrast, Dogecoin's supply consistently reduces its inflation-rate over time. This makes it useful as a payment cryptocurrency instead of a store of value that mimics gold.
Consensus Algorithm
While both Bitcoin and Dogecoin use Proof-of-Work algorithms, DOGE's is slightly different, but also big enough to make a significant difference.
Unlike Bitcoin that uses SHA-256 PoW, DOGE uses a scrypt version making it possible to be less energy-intensive. Dogecoin's mining — digging — employs specialized ASIC and FPGA computer rigs.
However, although there are diggers who validate DOGE transactions and add new blocks, digging is far less worthwhile.
After all, not even Palmer and Markus pre-mined it. The yearly issuance of 5 billion new Dogecoins further discourages it.
Should you buy DOGE?
Should you buy dogecoin? As you can gather by now, there is not much intrinsic, propositional value in Dogecoin. With that said, its ~1600% price spike cannot be dismissed. It indicates that DOGE can derive value from social networking, no matter what one may think of its source.
When saving becomes aggressively discouraged on an institutional level, cryptocurrencies become more attractive by the day.
The question is, why would DOGE supplant that investing priority over Bitcoin (BTC), Ethereum (ETH), Uniswap (UNI), Polkadot (DOT), and other tokens with unique utility and value propositions?
The main reason would be that Dogecoin is dirt cheap. Akin to penny stocks, this makes it more accessible for trading when big market fluctuations occur.
As such, DOGE presents a great entry cryptocurrency with which to hone your trading craft and reading of charts.
The experience can be quite educational. You can learn all about Japanese candlestick charts, bar charts, and line charts.
Such skills would go a long way to upgrade your trading fortitude, both in the world of traditional stocks and cryptocurrencies.
Dogecoin's Huge Supply Has Its Own Advantage
Not all cryptocurrencies are created equal. Dogecoin demonstrates this more acutely than most other blockchain tokens.
While it may be fun to engage in social media-spurred trading, one should always keep in mind DOGE's lighthearted origin.
With this in mind, use Dogecoin as it was originally intended – a cryptocurrency that introduces crypto beginners to the wonders of blockchain finance.
You can learn a lot by trading with it. Thankfully, for the price of one Big Mac, you can buy about 72 DOGE coins. Plenty enough for providing you with a priceless educational experience!
< Previous In Series | How to buy Cryptocurrency & NFTs | Next In Series >
Frequently Asked Questions
What is dogecoin's max supply?
Is dogecoin better than bitcoin?
Does Elon Musk own dogecoin?
Disclaimer
In line with the Trust Project guidelines, the educational content on this website is offered in good faith and for general information purposes only. BeInCrypto prioritizes providing high-quality information, taking the time to research and create informative content for readers. While partners may reward the company with commissions for placements in articles, these commissions do not influence the unbiased, honest, and helpful content creation process. Any action taken by the reader based on this information is strictly at their own risk.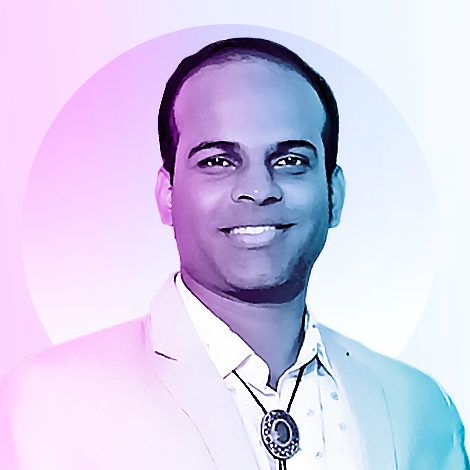 Rahul Nambiampurath's cryptocurrency journey first began in 2014 when he stumbled upon Satoshi's Bitcoin whitepaper. With a bachelor's degree in Commerce and an MBA in Finance...
Rahul Nambiampurath's cryptocurrency journey first began in 2014 when he stumbled upon Satoshi's Bitcoin whitepaper. With a bachelor's degree in Commerce and an MBA in Finance...
READ FULL BIO
Sponsored Sponsored