Meme cryptocurrency dogecoin (DOGE) has soared in January 2021, demonstrating the power of investor sentiment in financial markets.
2021 has been a year full of surprises for the world of finance. Between GameStop soaring 1,400% in January and bitcoin (BTC) reaching new all-time highs, dogecoin is now seeing increased participation from retail investors.
Over the past month or so, the cryptocurrency has witnessed stellar price growth outperforming nearly every other asset in the market.
At the end of December 2020, dogecoin was trading for a mere $0.004. Only a month later, each token is trading for around $0.08. That represents a nearly 2,000% appreciation, which is pretty much unheard of even in volatile crypto markets.
Dogecoin's buying pressure has become too big to ignore, with daily trading volumes routinely peaking above $10 billion as well.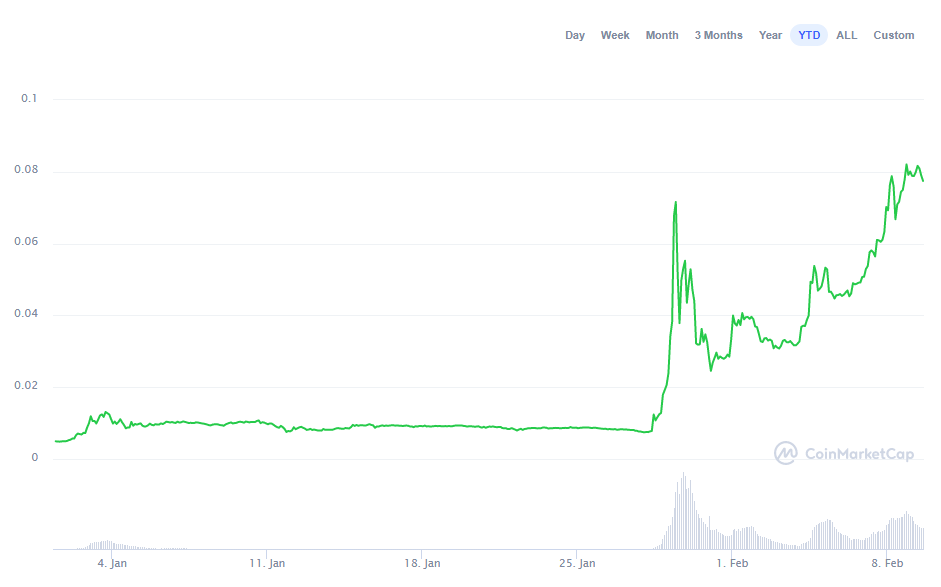 So how did dogecoin go from being a meme currency to dominating the news cycle alongside bitcoin and ethereum (ETH)? Will this particular cryptocurrency continue to see skyrocketing valuations throughout 2021?
What even is dogecoin?
Launched in 2013, dogecoin got its name from the then-popular "doge" meme involving images of a Shiba Inu. This is also why the official mascot and logo of the digital currency prominently feature the Japanese dog.
The biggest criticism of dogecoin has always been that it follows an inflationary policy. Traditional cryptocurrencies such as bitcoin have a fixed supply preventing inflation commonly seen in fiat currencies. For context, the supply of dogecoin is infinite, while there will only ever be 21 million BTC in total.
Dogecoin already has approximately 128 billion coins in circulation, with more expected to flow in over time. This is also why the cryptocurrency's market capitalization is in the billions despite its low, sub-$1 price point.
Dogecoin's recent price movements aside, its community has gone a long way towards making the token usable as a currency.
Back when bitcoin was released in 2009, crypto enthusiasts envisioned a future where money would be decentralized. By decoupling wealth from the state apparatus, Satoshi Nakamoto hoped to steer the world away from yet another economic crisis.
Over a decade later, and bitcoin has strayed away from its founding goal of serving as a peer-to-peer (P2P) transfer of value. These days, the asset is mostly regarded as an excellent store of value. The institutions that bitcoin sought to overthrow are now investing in it — as a hedge against fiat currencies such as the United States dollar.
Dogecoin, on the other hand, is still an asset that can be used to complete user and merchant transactions. Even better, dogecoin can do that for cheap, while cryptocurrencies such as BTC and ETH now have exorbitant fees.
In other words, DOGE has gone from being a satirical take on finance to an actual, usable cryptocurrency.
According to Cryptwerk, over a thousand merchants already accept payments in dogecoin for various goods and services. In contrast, around 6,000 merchants are known to accept payments in bitcoin. Still, dogecoin's rise from a meme currency to one of utility is proof that anything is possible with a coordinated community.
Individual investors shaping DOGE's success
Most of dogecoin's recent success comes at the behest of individual investors. This is unlike more mainstream cryptocurrencies, which have attracted significant investments from Wall Street traders and institutions. Bitcoin and ethereum, for instance, have seen inflows worth billions of dollars from entities such as Grayscale and Galaxy Digital.
Indeed, retail investors banding together is a phenomenon that appears to be increasingly commonplace. In January 2021, share prices of video game retailer GameStop surged by 400% amidst calls for a short squeeze.
The GameStop situation was a unique scenario wherein large hedge funds had shorted the stock to oblivion. By betting against the company, these funds expected to make money as share prices fell.
Once Reddit's r/WallStreetBets (WSB) community got wind of the situation, its users began aggressively buying up all available shares. This pushed GameStop's stock price upwards, forcing hedge funds and traditional finance firms to swallow an unprecedented loss.
According to data from S3 Partners, short sellers lost $20 billion to investors within the first month of 2021.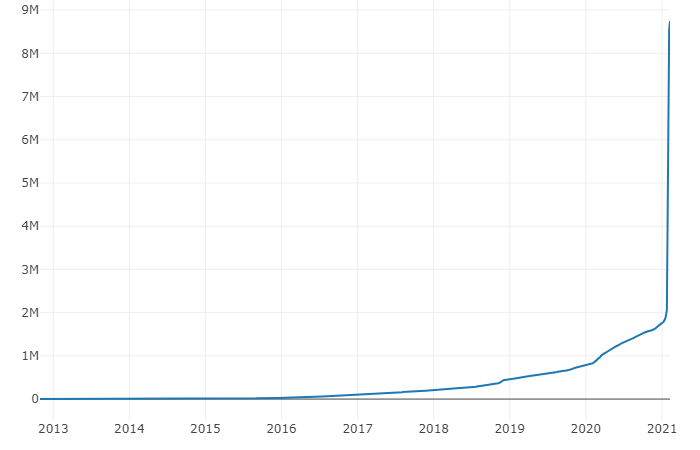 The WSB community caught the attention (and ire) of almost every entity operating on Wall Street. Mainstream media was rife with stories about how a bunch of Reddit investors were beating billionaires at their own game. Slowly but steadily, the community's sentiment managed to propel GameStop's stock to an all-time high price of $483.
Over the course of a single month, r/WallStreetBets gained six million readers, totaling a staggering eight million.
Even though dogecoin does not carry significant short interest capital, many retail investors are hoping for a similar success story as GameStop. Armed with nothing more than positive sentiment, the dogecoin community claims it is ready to shed the "meme coin" moniker.
r/SatoshiStreetBets, a subreddit pitched as the crypto equivalent of r/WallStreetBets, has amassed over 300,000 subscribers. Throughout January 2021, the vast majority of discussions within that community involved dogecoin in one way or another. For proof of their conviction and loyalty to dogecoin, look no further than some of the most popular content on the subreddit.
One user loudly proclaimed:
"It [Doge] will become the currency of the internet."
The post continued:
"You need to understand that DOGE coin is not a joke anymore, and it has a great future and is currently backed by the biggest influencers. If bitcoin becomes an alternative for gold as a way to store money, DOGE could become the internet currency by excellence!"
The post went on to garner over 1,300 upvotes, at the time of writing.
While WallStreetBets exploded in popularity only recently, dogecoin has been steadily gaining momentum for several months, if not years. With DOGE, users have an established platform that can be used for good and create an economy free of central banks and hedge funds. Even though WSB has attracted millions, the community does not have the tools necessary to create a decentralized economy.
Creating a cryptocurrency is no tall ordeal — after all, there are now over 8,000 of them on the market. Maintaining one and generating enough hype to be a top ten digital currency by market cap, on the other hand, is a feat only dogecoin has achieved. Starting from scratch is not an option for WSB, which is perhaps why many have chosen DOGE as their preferred asset.
DOGE for good: A history of philanthropy
Whether or not dogecoin enables wider crypto adoption, it has already succeeded in bringing public attention to the cryptocurrency market. In fact, the community has managed to hold its own for several years now.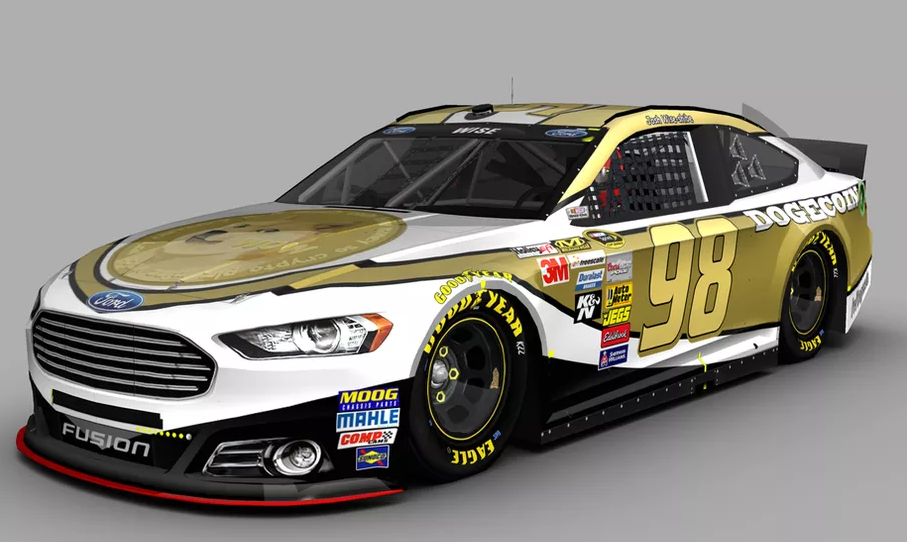 In 2014, for instance, a Reddit user successfully managed to convince the dogecoin community to sponsor a NASCAR race car. Through a Reddit-wide fundraiser amounting to over $50,000, racer #98 at Talladega in Alabama was eventually sponsored by Dogecoin. Over 65 million dogecoins were donated within the first week of the fundraiser — equivalent to around $4.2 million, at the time of writing.
Another time, the dogecoin community organized a fundraiser aimed at providing service dogs to special needs children. This Doge4Kids campaign reached its 20 million DOGE goal by September 2015.
In yet another instance of community service, the Dogecoin Foundation raised $50,000 to build two wells in Kenya. The African country was suffering from a severe drought and multi-year water crisis, at the time.
Thanks to its highly approachable premise and philanthropic efforts, dogecoin has grown in popularity as a people's cryptocurrency. Indeed, the cryptocurrency community has always pushed for democratization of wealth. What remains to be seen, however, is if dogecoin can fulfill the condition of sound money.
So far this year, dogecoin has experienced far greater volatility than any other cryptocurrency. Even then, most long-term DOGE holders are looking at a net gain as long as their entry point was in 2020 or prior.
Dogecoin and the Musk effect
An important factor to consider is the fact that dogecoin's recent price action was not motivated by a singular Reddit group alone. Elon Musk, of Tesla and SpaceX fame, has taken a newfound interest in dogecoin.
Musk's barrage of dogecoin-related tweets began in late 2020. On Dec. 20, 2020, he simply tweeted, "One word: Doge." These three words were enough to spark a 40% price bump for the cryptocurrency.
In a later statement on Jan. 31, Musk acknowledged that some of his past dogecoin comments were made in jest. Nevertheless, he continued:
"The most entertaining outcome and the most ironic outcome would be that dogecoin becomes the currency of Earth in the future."
By Feb. 6, 2021, Musk was back at it. He encouraged his Twitter followers to vote for "The future currency of Earth." The only two options were "Dogecoin to the Moooonn" and "All other crypto combined."
Musk is not the only high profile billionaire that has spoken favorably about dogecoin of late. Mark Cuban, famed tech entrepreneur, said that he would pick dogecoin over a lottery ticket.
Then, on Feb. 7, rap artist Snoop Dogg tweeted out an image of dogecoin's mascot with the caption "Snoop Doge." The rapper also tagged Musk, reaching millions of Twitter users between the two accounts. This event was enough stimulus to pump dogecoin to a new all-time high of $0.0872.
Snoop Dogg's tweet was also enough to propel dogecoin to the list of the top ten cryptocurrencies by market capitalization. With a valuation of over $10 billion, the token briefly became more valuable than litecoin (LTC) and bitcoin cash (BCH).
CoinMarketCap, a cryptocurrency price aggregation platform, also joined in on the dogecoin humor. The website now prominently features dogecoin's price and recent movements at the top instead of a more typical market-wide summary.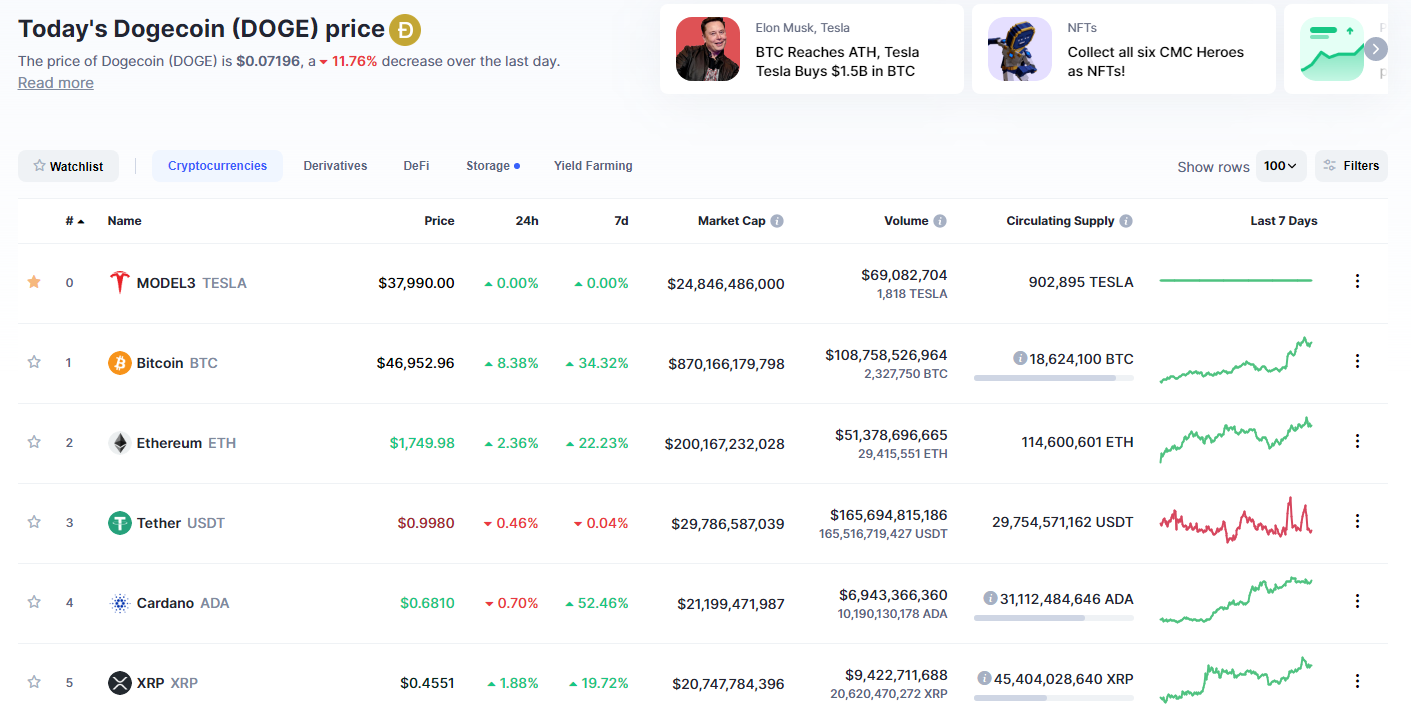 Then, Tesla revealed that it had been silently scooping up bitcoin throughout January 2021. With a portfolio amounting to a whooping $1.5 billion, Tesla's stake in the world's largest cryptocurrency sparked a new rally for the entire market. Bitcoin's price rose by 22% over 12 hours, peaking at $47,500 — a new all-time high.
Unfortunately for dogecoin investors though, Tesla did not purchase any cryptocurrency other than bitcoin. Nevertheless, news of the company embracing the asset class sent dogecoin prices soaring as well — allowing it to breach the $0.085 price point again. A few hours later, Musk was back on Twitter — this time, to post an "instructional video" on dogecoin.
On Feb. 10, however, Musk confirmed his DOGE purchase, though how much he has bought remains unclear.
With support for dogecoin pouring in from all facets of the world, it appears to be only a matter of time before the community realizes its target of $0.1 per DOGE. Still, for many within the dogecoin community, this will not be a victory. To them, the cryptocurrency is worth much more than its price alone.
Dogecoin creator speaks up on Its "true value"
On Feb. 8, dogecoin creator Billy Markus, published an open letter on Reddit denouncing the recent mania surrounding the coin. He stated:
"People are talking about dogecoin going to $1 — that would make the 'market cap' larger than actual companies that provide services to millions, such as Boeing, Starbucks, American Express, IBM. Does dogecoin deserve that? That is not something I can comprehend, let alone answer,".
Two years after creating dogecoin, Markus quit working on the project in 2015. He claims to have liquidated his entire dogecoin holdings at the time, which was only enough to "buy a used Honda Civic."
Markus somberly concluded:
"Joy, kindness, learning, giving, empathy, fun, community, inspiration, creativity, generosity, silliness, absurdity. These types of things are what makes dogecoin worthwhile to me. If the community embodies these things, that's True Value,"
Disclaimer
In line with the Trust Project guidelines, this price analysis article is for informational purposes only and should not be considered financial or investment advice. BeInCrypto is committed to accurate, unbiased reporting, but market conditions are subject to change without notice. Always conduct your own research and consult with a professional before making any financial decisions.