Cardano (ADA), a proof of stake blockchain, launched in 2017 by one of Ethereum's founders, mathematician Charles Hoskinson. To figure out if it is worthwhile to buy Cardano, it is important to understand this relationship because Ethereum was initially envisioned as the more scalable and eco-friendly proof-of-stake (PoS) blockchain, unlike Bitcoin's energy intensive proof-of-work.
Only recently has the Ethereum network made moves to transition into PoS. Not willing to wait for so long, Hoskinson not only made Cardano PoS from the get-go, but instituted a practice in which every change to the blockchain must undergo a rigorous academic process first. This has made Cardano one of the most robust and advanced PoS blockchains.
Is Cardano a Buy Now?
You may be wondering "should you buy Cardano," before you learn how to buy cardano. Although Cardano's native token ADA, named after mathematician Ada Lovelace, experienced a price spike in January 2018, its price moves have largely remained flat until January 2021.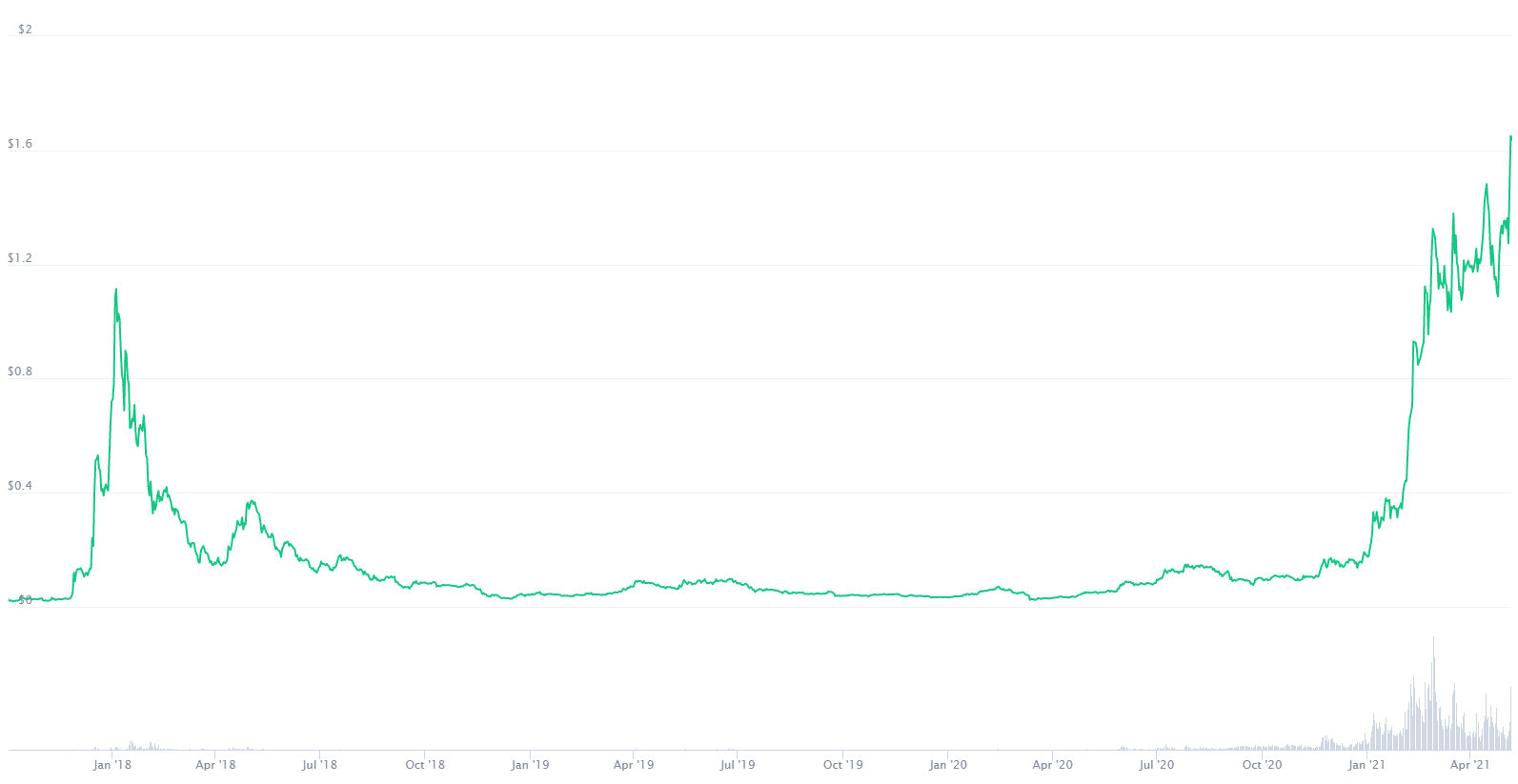 However, since its launch, Cardano implemented several important upgrades that enhances its value proposition. One of them is the Shelley upgrade in 2020, aiming to make the blockchain the most decentralized of all PoS alternatives. Moreover, Cardano is heading to implement smart contracts this spring with the Alonzo upgrade, which would make it rival Ethereum itself as the infrastructure for decentralized finance.
Alongside these critical upgrades that give it greater utility, and thus value, cardano was also listed on Coinbase Pro in March. This caused its price to surge to today's new ATH of $1.6. Likewise, this made the enterprising blockchain rise to 7th rank of all cryptocurrencies, with a market cap of $51.27 billion.
When combined with its upcoming Alonzo upgrade, it is likely that ADA token will rise in price further. Additionally, keep in mind that ADA holders can vote on important changes to the network.
Is Cardano's Fundamentals Sound Enough to Hit $10?
There are three major factors to consider when looking at a token's value:
Is the cryptocurrency inflationary or deflationary?
If it is inflationary, does its demand outpace the coin issuance?
Is its utility sufficiently meaningful to provide value in the future?
Fortunately for ADA, it checks positive on these critical value elements. The token supply is hard-capped at 45 billion ADA, making it a deflationary cryptocurrency. Out of that maximum supply, approximately 31.9 billion is currently in circulation. Much of ADA coin has been distributed to IOHK (2.5 billion) — Hoskinson's blockchain research organization, Emurgo (2.1 billion) — Cardano's founding investor, and 648 million to the non-profit Cardano Foundation.
Because Cardano was always about implementing the best blockchain research available, it is approximately 100x faster than Ethereum. Just like the king of programmable blockchains is soon to implement, Cardano network doesn't use miners but economic validators and delegators to secure the network. This means that Cardano is ahead of the game, not having to worry about legacy compatibility issues.
By the same token, Cardano is yet to implement smart contract programmability, which is what made Ethereum the second-largest crypto despite having PoW. Furthermore, Cardano has a relatively small pool of developers compared to Ethereum. These are the key factors that stifled its growth up until recently.
Where to buy Cardano (ADA)?
As of press time, you can buy cardano on the world's most popular crypto exchanges:
Out of these, StormGain offers something that others don't — cloud mining — so we will focus on this crypto exchange that has yet to experience a single hack. Something that cannot be said of other exchanges. To that end, follow these steps to buy cardano (ADA) on StormGain.
Simple Steps to Buy Cardano on StormGain Exchange
Here are a few simple steps that will show you how to buy cardano on Stormgain. As with every exchange, its account also serves as your cloud crypto wallet, which you can access from every device capable of connecting to the internet. Therefore, the first step is to open a StormGain account.
Step 1 – Creating Account
Go to StormGain.com and click on the "Get Started" green button.
A new window will pop up asking you for your basic info — email, phone number, and password. If you already have a dedicated password manager, you can use it to generate a very strong password and store it in its encrypted vault.
Additionally, based on your country phone code and current location, the checkbox on "I confirm I am NOT a US citizen" will be checked. If that is not the case, don't forget to uncheck this box.
Once you are done filling the info, the "Continue" button will become bright green. Click on it to create your StormGain account. This will open a new window asking you if you want to use a demo account to practice trading or go straight for a real account to buy Cardano with real money. Click on "Proceed to Real Account".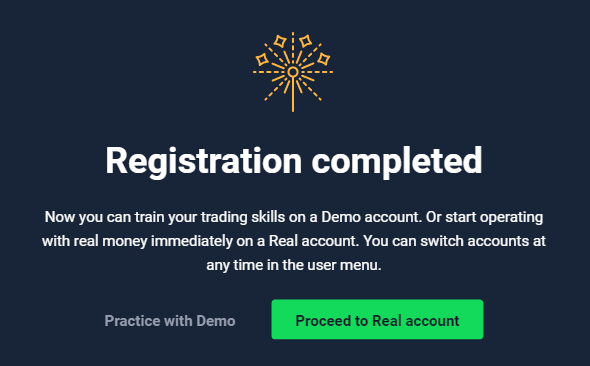 Step 2 – Depositing Funds
Now, in order to buy Cardano, you first have to deposit funds. Click on the "Deposit" button in the upper right corner.
This will launch a KYC (know-your-customer) procedure to which exchanges must abide by law. The first step is to confirm both your email and the phone number you entered when registering.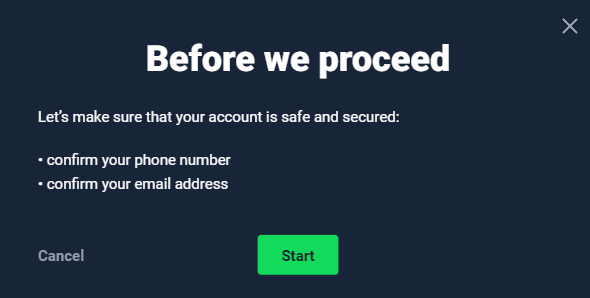 After clicking on the "Start" button, StormGain will send a confirmation SMS code to your phone. Likewise, it will send another confirmation code to your email. Enter the codes for both in the offered text boxes.
Once you click on the verify email link you received in your inbox, your account details will be verified to proceed to making a deposit.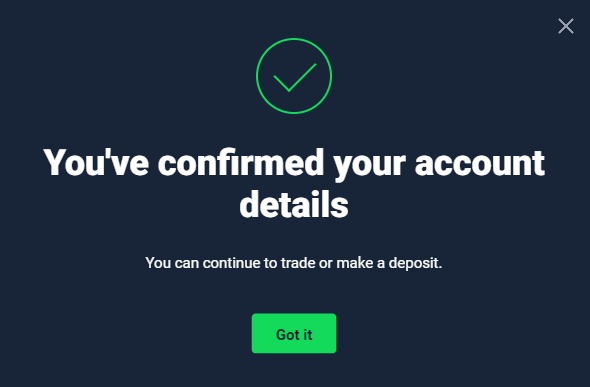 Step 3 – Fund Your Wallet
There is one last step to making your deposit — connecting your debit or credit card to a StormGain account.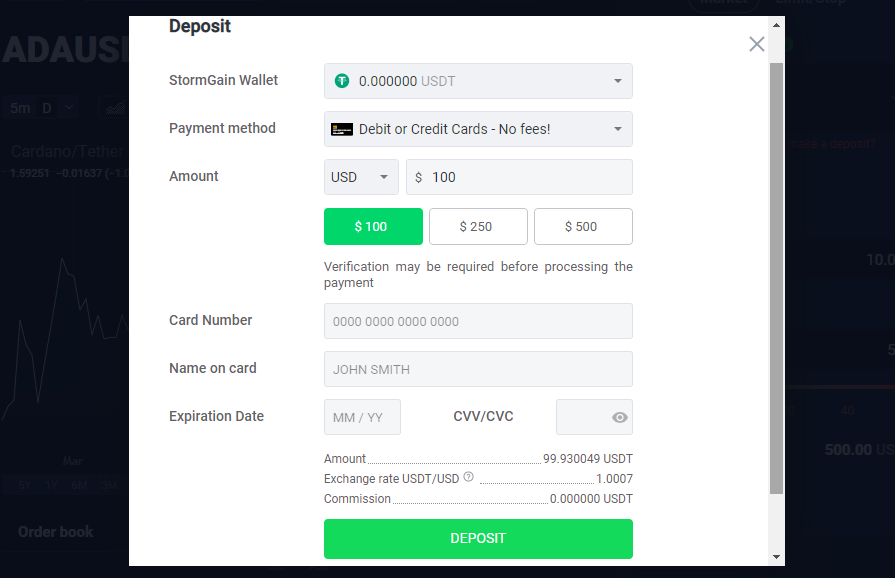 All of this info will be visible on your debit/credit card. After you copy it into the boxes, click on the sum of money you wish to deposit from your bank account — $100, $250, or $500.
And that's it, with the USDT deposit in hand, you can now proceed to buy Cardano.
Of course, the exchange will be done in ADA/USDT pair, not ADA/USD. Stablecoins like USDT — collateralized by USD fiat currency — serve as a bridge between the crypto world and traditional finance. Therefore, they are equivalent in value, and have near-zero volatility.
That is how you buy cardano on StormGain. Accordingly, you can use Tether (USDT) to buy any crypto asset on offer, with its value remaining the same, just as if you have real USD deposited.
Finishing up – Buying Any Crypto Token for USDT
With 100 USDT in your StormGain wallet, simply click on the bottom left corner of the screen to buy ADA at the given market price, in addition to placing the number of USDT to buy it for.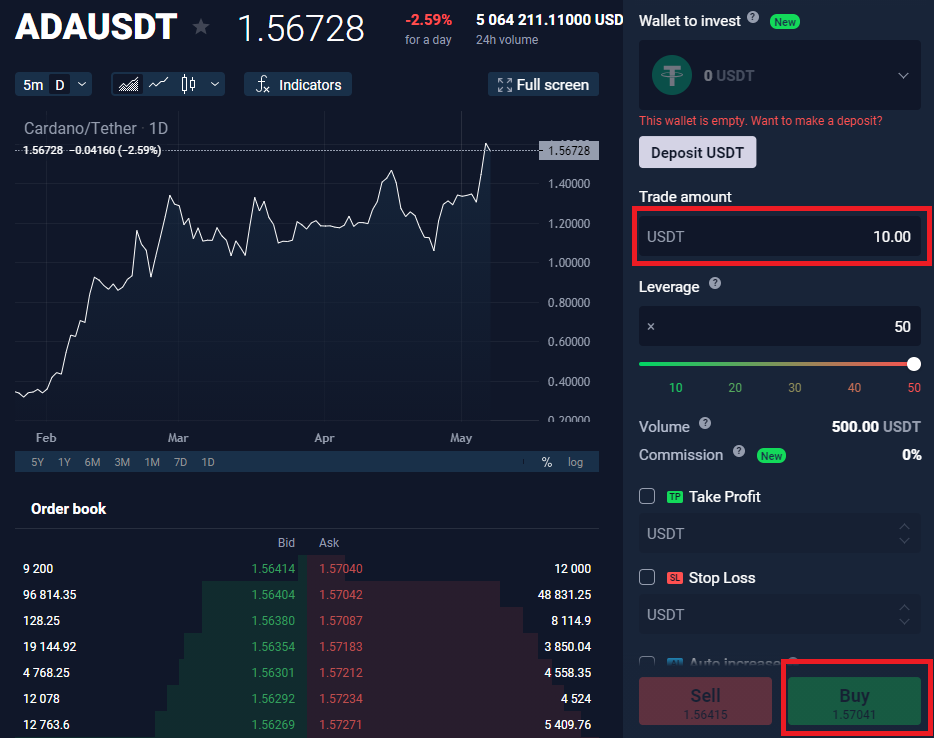 This concludes your Cardano (ADA) buying experience on StormGain. As you can see, all the essential tools are available at a glance. In particular, order books, charts, and indicators.
Knowing When to Buy Cardano (ADA)
Order books reveal the assets market depth, by listing how many are willing to buy and how many are willing to sell. In turn, this indicates at which point you should enter the market — buy the asset which in this case is ADA. A candlestick chart is an excellent tool to use for this purpose.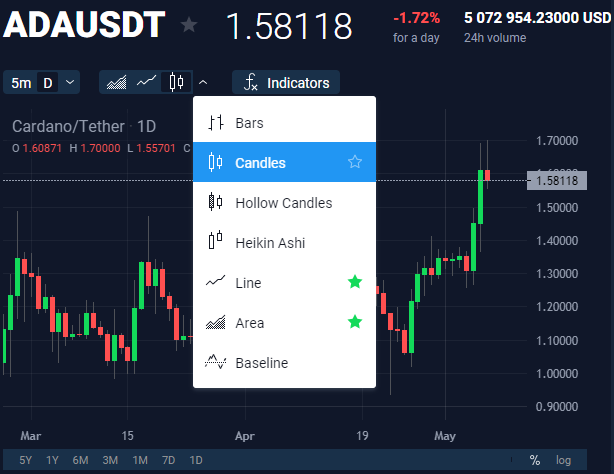 For reading crypto charts, follow this in-depth guide. In a nutshell, the green candlestick body you see in the above image indicates that ADA's price is in the bullish territory, having moved up from the previous candle's closing price.
The candlesticks help you decide where to buy cardano. Because you always want to buy the dip, it is better to wait for a particular candlestick pattern to occur, which you can find in the aforementioned guide on how to read crypto charts.
Consider Cardano
Millions of people have massive regrets for not buying BTC when it was under $100, or even under $10,000. However, at the time, buying crypto was a complicated affair. This time around, thanks to StormGain's effort to make the experience as smooth as possible, there is no excuse for missing out.
In addition to cardano (ADA) as a deflationary cryptocurrency soon to implement smart contracts, consider privacy coins like Monero (XMR). Given the social climate of increased surveillance, its value is bound to grow substantially as well.
Lastly, when you want to move cardano off of StormGain exchange into your crypto wallet, where you have the ownership of private keys, consider these Cardano wallets. Now you have everything you need to buy cardano.
< Previous In Series | How to buy Cryptocurrency & NFTs | Next In Series >
Frequently Asked Questions
Who created Cardano?
Cardano (ADA), a proof of stake blockchain, launched in 2017 by one of Ethereum's founders, mathematician Charles Hoskinson.
Where can you buy cardano?
Cardano can be purchased at many of the big-named exchanges, such as: Coinbase, Stormgain, Binance, Crypto.com, eToro, and many more.
Is cardano proof of work?
Cardano is a proof of stake (PoS) blockchain.
Is cardano deflationary?
Cardano's token supply is hard-capped at 45 billion ADA, making it a deflationary cryptocurrency.
Disclaimer
All the information contained on our website is published in good faith and for general information purposes only. Any action the reader takes upon the information found on our website is strictly at their own risk.
At Learn, our priority is to provide high quality information. We take our time to identify, research and create educative content that is useful to our readers.
To maintain this standard and to continue creating awesome content, our partners might reward us with a commission for placements in our articles. However, these commissions don't affect our processes for creating unbiased, honest and helpful content.