Ethereum Name Service is a domain naming service built on top of Ethereum. It produces fun names, with .eth as extensions, allowing better user interaction with blockchain services and wallets. While the project's vision is somewhat interesting, it's a detailed Ethereum Name Service price prediction that most investors are keen to hear.
Ethereum Name Service identifies itself with ENS crypto — a native token formed in 2021. If you hold ENS, you have voting rights corresponding to the protocol's growth and pricing.
In this ENS price prediction, we've traced a possible future of the ENS token. Fundamentals, project growth, and technical analysis are all taken into account.
#BonusHunter | Best bonuses you can get with ENS🔥
Ethereum Name Service price prediction: the role of fundamental analysis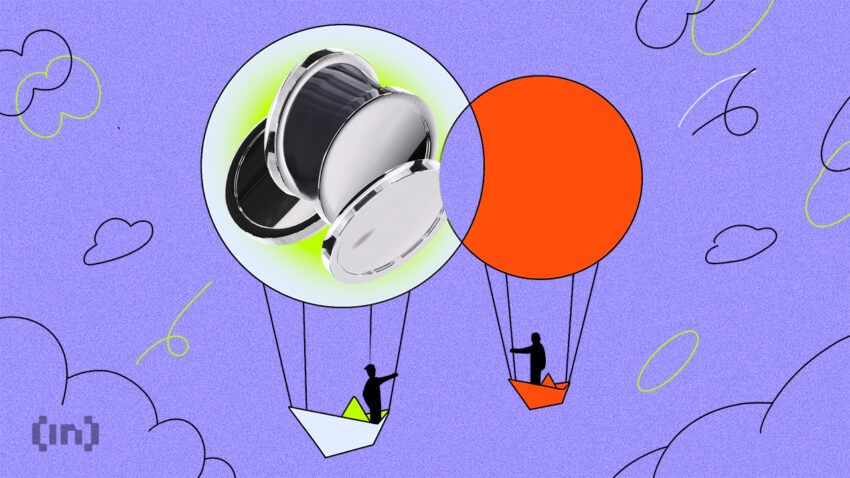 Before we look at ENS's historical price action, let's consider the fundamentals.
Here are a few important metrics:
The total supply of ENS tokens is capped at 100 million.
The ENS DAO treasury gets 50% of the total supply, focusing on linear vesting from 2021 to 2025. 10% of the 50% was assigned during the launch itself.
25% of the total supply goes to the .eth name holders as airdrops.
The remaining 25% belong to the contributors, including project integrators, discord users, and core contributors.
Users holding tokens can receive voting rights upon delegating the held tokens to the DAO treasury.
ENS token has a circulating supply of 20 million.
All ENS tokens will be circulating by December 2025.
ENS token is listed on some of the biggest exchanges like OKX, Binance, Bitget, and more, with several trading pairs.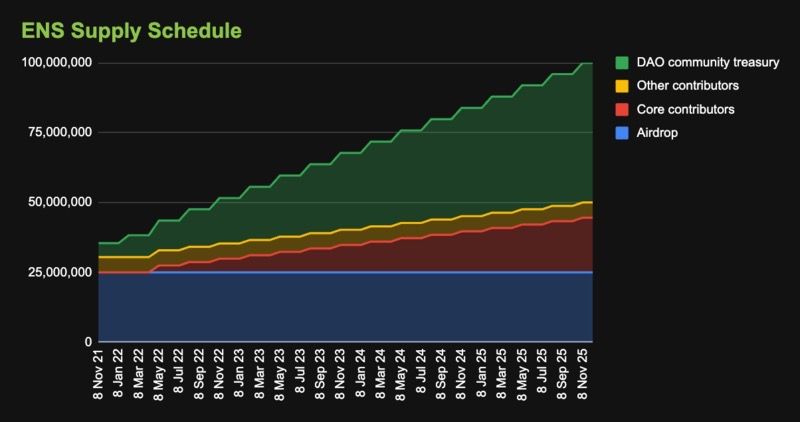 Here are the things we learned from the above insights:
ENS has a fixed supply.
Tokens offer governance rights — a very attractive use case.
There is a focus on building the community treasury.
Multiple exchange listings and trading pairs add to the liquidity.
Community-governed tokenomics with linear vesting that avoids massive sell-offs.
The fundamental analysis of the ENS token shows that it has most aspects working in favor. However, the service itself — the .eth naming service — doesn't use the ENS token in any form. The lack of correlation might be a reason, fundamentally, to stop the ENS token price from surging in the near term. But you never know!
Also, the top three addresses hold over 76% of ENS's total circulating supply. This makes ENS prone to dumps if these massive ENS whales plan on offloading.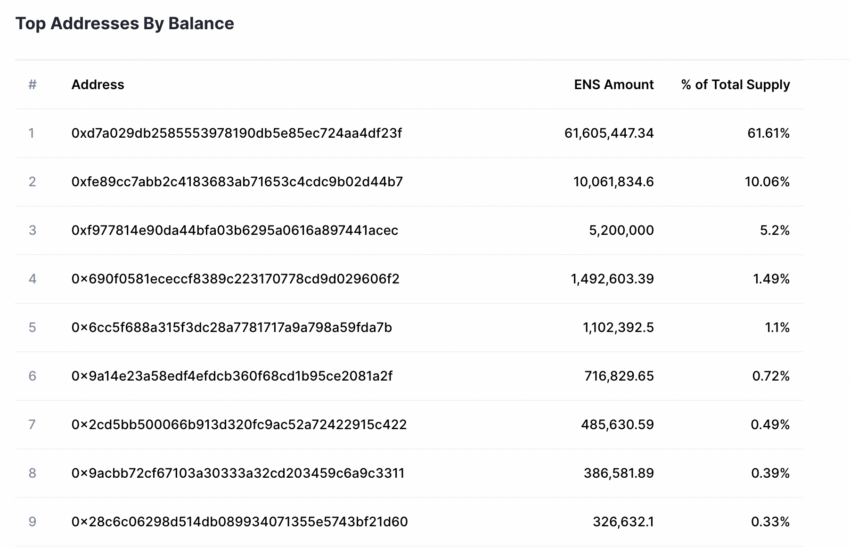 ENS price forecast: the role of performance analysis
So how has the token been performing in regard to quarterly metrics?
Q3, 2022 has been the best for ENS domains in terms of raw figures. As per the current price of ETH, Ethereum Name Service accrued 11,875 ETH in terms of revenue, beating Q2 2022 by 30%. Even the domain registrations reached an all-time-high figure of 1,117,862 in Q3, 2022. This happens to be a 71% growth compared to Q2, 2022.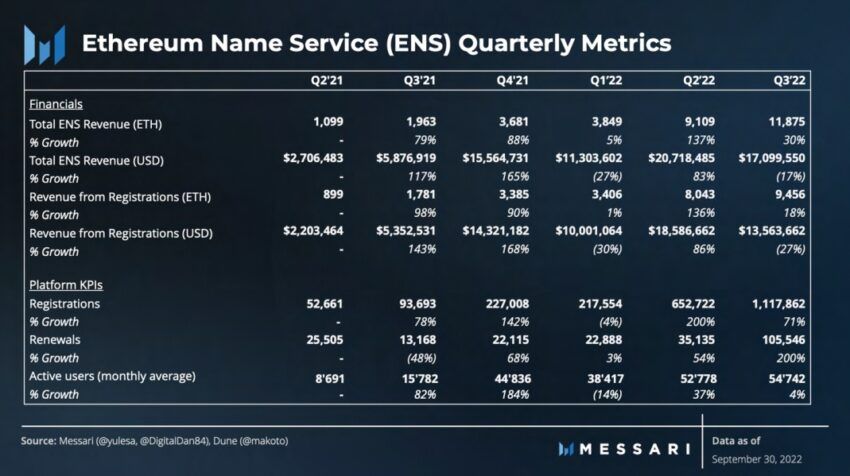 Despite the market downturn and prices of key cryptos falling through the floor, ENS revenue has been up. However, in terms of USD figures, registration revenue dipped by 27%, whereas renewal revenue increased by 66%.
While the registrations grew 71%, renewals were up 200% QoQ. This statistic shows that users aren't only getting new domains but are also sticking with the project.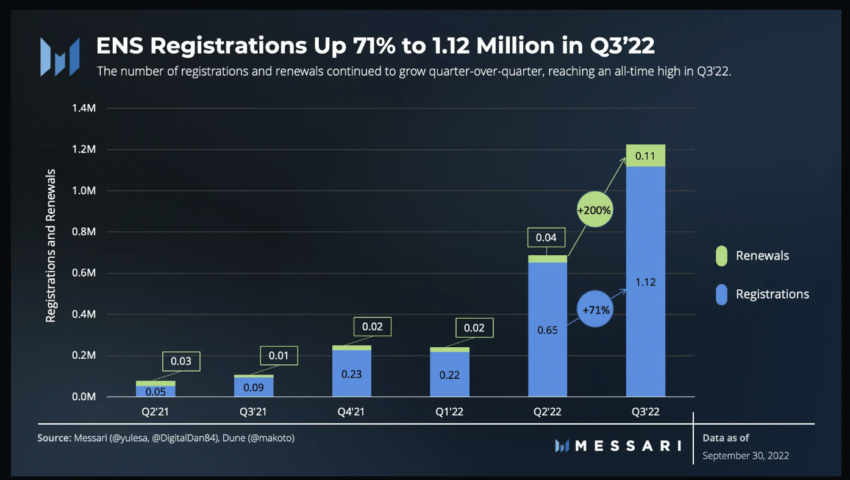 People perceive ENS domains as digital assets, which shows an increase in registrations and renewals. The 5+ character domain registrations — which are cheaper than three and 4-character names — are up 95% QoQ. This means people are looking for cheaper options and trying to gain exposure to this project in any way.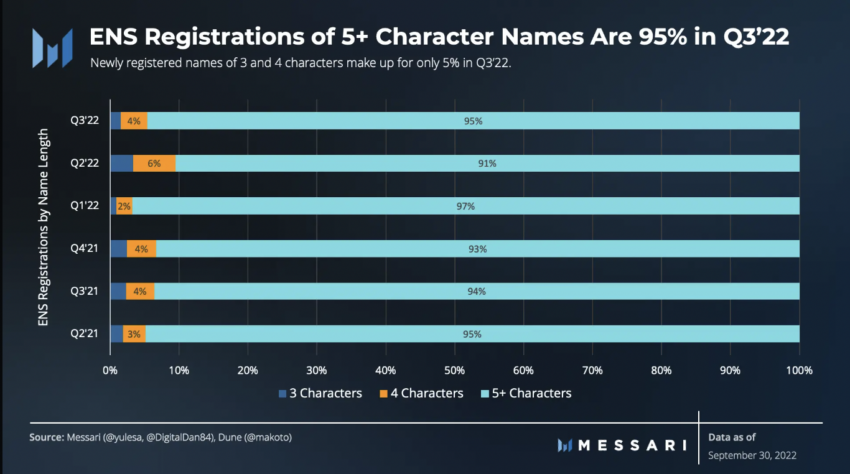 Renewal percentage of 3 and 4-character names have been higher in Q3, 2022 compared to Q2. This shows people are entering the ecosystem cheaply but aren't always renewing. Exclusively priced names, which cost a fortune, are being renewed more, showing the presence of a loyal user base.
Here are the 3-character name combinations that can still be considered:
ENS price prediction model and qualitative analysis
The price action of crypto assets is directly related to how their DAO and governance communities grow. The ENS DAO itself has three components: meta-governance, public goods, and ecosystem.
Major developments were seen across each, showing the DAO is rapidly moving up the global contention charts.
DAO treasury values are increasing, almost doubling since the lows seen in May 2022. This rise corresponds to a surge in the price of ENS tokens.
Another interesting observation is the ENS token's response to key events. ENS Labs, the body behind Ethereum Name Service, announced the onboarding of four new team members on 14 Nov. 2022.
These included a community manager, technical writer, developer, and community advocate. To correspond, this date also saw a marked price increase.
Here is the tweet mentioning the onboarding:
And this is the corresponding price action: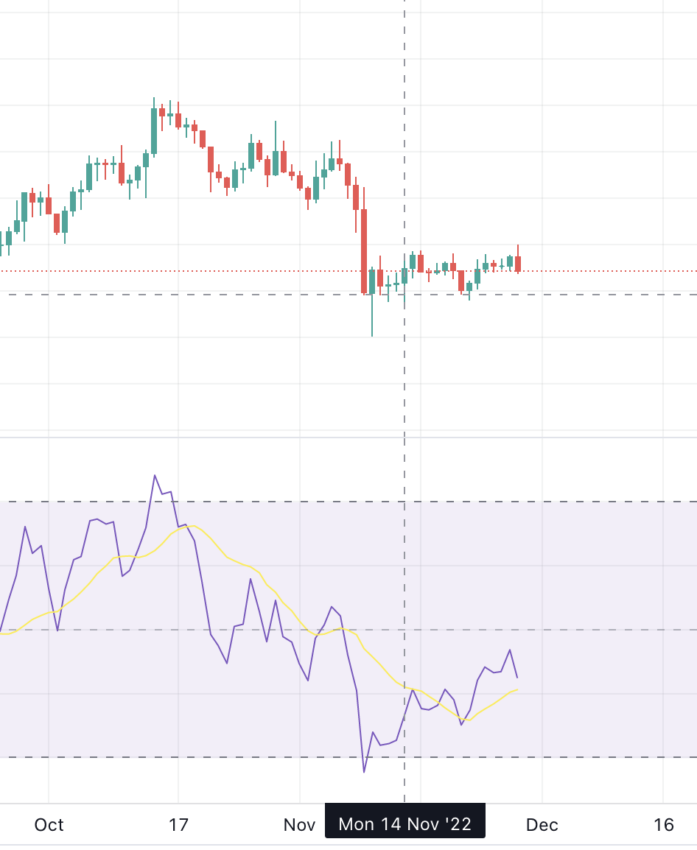 ENS Labs revealed the ENS stats for October on 2 Nov. 2022. Consequently, we even saw highs of $17+ on 3 Nov. 2022.
Here is the tweet and the corresponding price action:

An upcoming Coinbase-ENS partnership will allow users to connect ETH wallets to Coinbase-specific usernames. ENS will help Coinbase develop the new usernames. The announcement surfaced on Sept. 20. As expected, there was a corresponding surge in ENS token prices.

Here is an OpenSea statistic with the top NFT collections by volumes of the past seven days. Note that ENS ranks ninth on the list. Furthermore, on the 30-day list, it ranks seventh.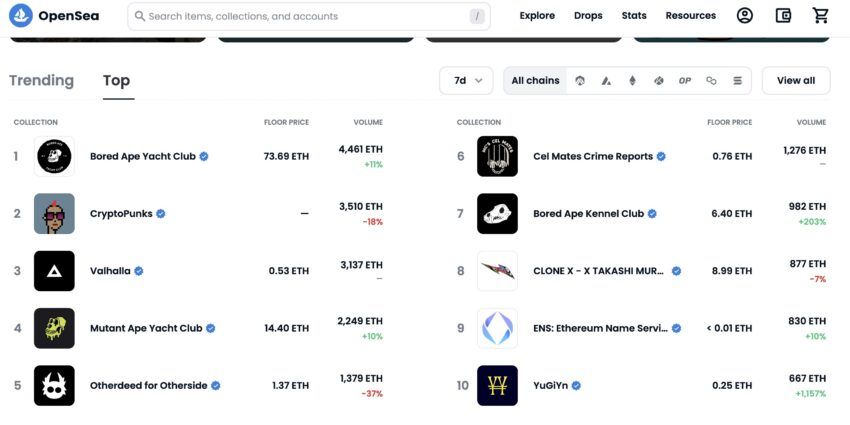 Ethereum Name Service price prediction using technical analysis
Now let's take a look at the historical price actions. This can help us identify trends that can assist with future ENS price forecasting.
Before we proceed, here are a few things you should understand:
ENS token was launched in November 2021. Therefore, we do not have a lot of historical data with which to prepare price-prediction models.
It has only existed during the bear cycle; therefore, it is hard to predict how high it could go during the next bull run.
As ENS is one of Ethereum's most popular projects, we can take a closer look at other popular Ethereum ecosystem protocols/tokens to gauge ENS's future prices. We will consider Uniswap (UNI), Chainlink (LINK), and The Sandbox (SAND).
Historical price action
Outlook: Neutral
ENS tokens were on offer starting 11 Nov. 2021. The open price was almost $120. That day, it settled at its all-time high price of $85.69. It has not since touched that high point again.

Currently, ENS is trading at $12.78, down 84.70% from its all-time high at press time.
Look at the daily chart, and some interesting price patterns will surface.
The encircled zones show that ENS is broadly in a downtrend, making a series of lower highs as we go along. To break out of this trend and attempt a broad-range up move, ENS first needs to breach the last high of $27.62.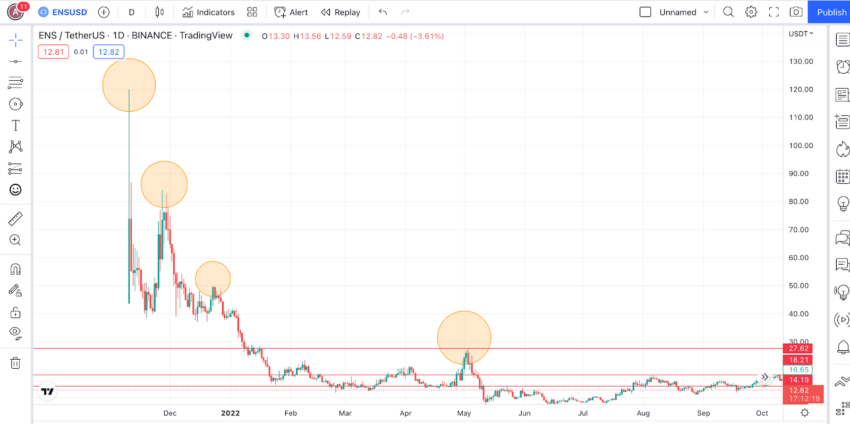 That's the first goal.
Price trends
Outlook:Bullish
Now, let us take a look at the price trends.
ENS's price action started with a swing high, only to bottom out and then make a new lower high.
Here is a table for reference:
| | | |
| --- | --- | --- |
| Higher high for this swing | Bottom zone | Next lower high |
| 11 November ($85.69) | 19 November ($38.48) | 27 November ($83.81) |
| 27 November ($83.81) | 15 December ($36.99) | 23 December ($49.81) |
| 23 December ($49.81) | 24 February ($11.80) | 3 May ($27.62) |
| 3 May ($27.62) | 12 May ($7.35) | 15 October ($20.42) |
| 15 October ($20.42) | NA | NA |
Here is the price chart with all the reference price points: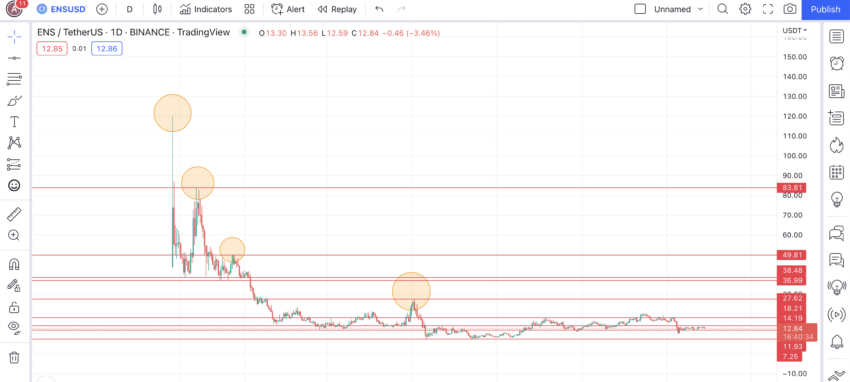 Now notice that the time taken from the 1st to the 2nd high is 16 days. From the 2nd to the 3rd high, it took 26 days. The time between the 3rd high to the 4th high is 131 days. Finally, the 4th to 5th high took 165 days.
It's clear that in the bear market, it is taking more time for ENS to make highs.
Subsequent highs and lows
Outlook: Moderately bullish
The first two highs happened back-to-back during the end of the bull phase. Therefore, we can take them out of contention for now. The time taken to move from one high to the other during the bear cycle is 131 days and 165 days, respectively.
Based on the pattern, we can assume that ENS will make its next high within the next 200 to 260 days. Let's take 230 as the average. Nevertheless, the next high could be around the end of June 2023.
Now let's look at the latest pattern since the 4th high was made on 3 May 2022.
The three red circles form a rough "triple bottom" formation, with prices moving up to $20.42 on Oct.15. A similar pattern can be seen between the 3rd and 4th high — marked by three red ticks.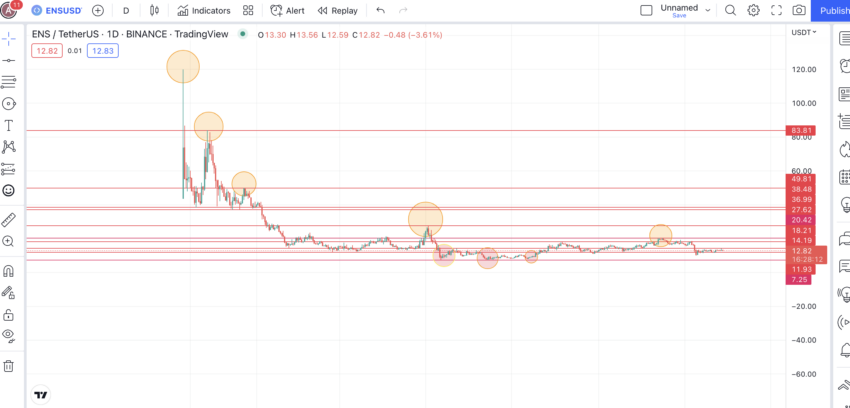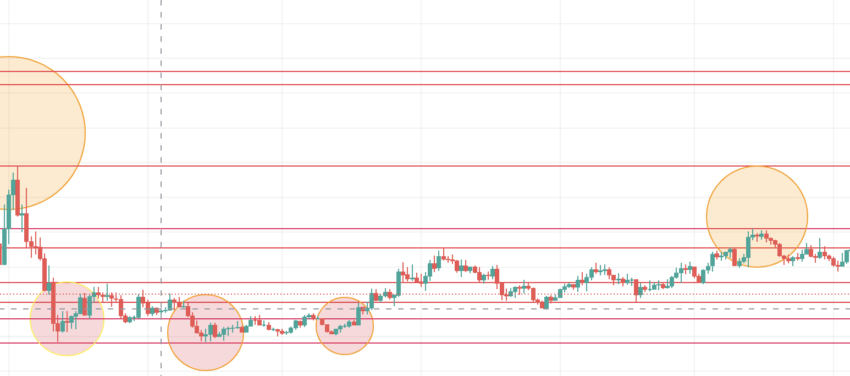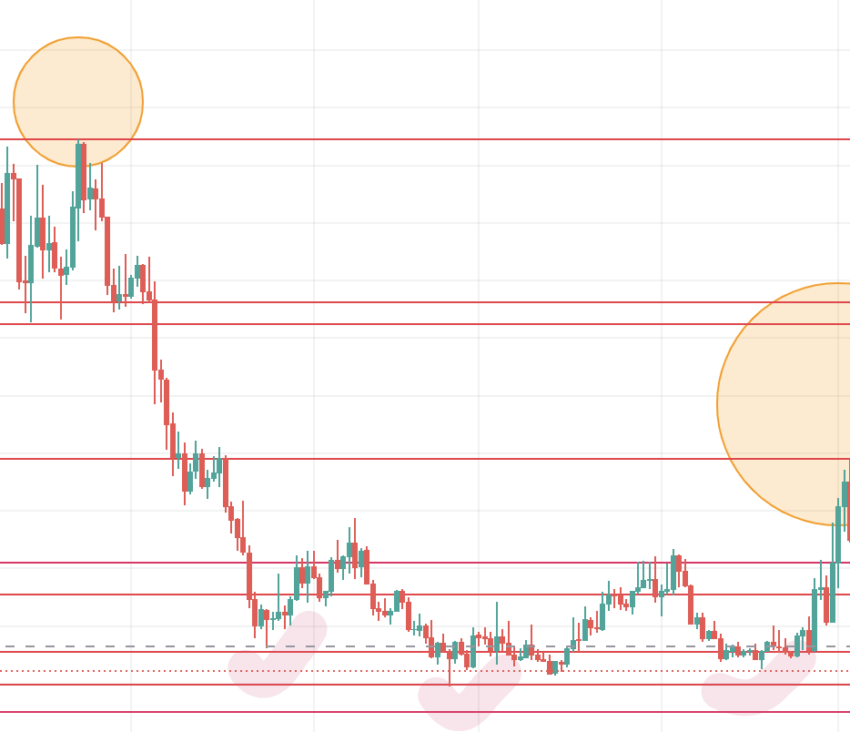 Therefore, we can presume that ENS keeps the pattern intact throughout the bear market and makes a triple bottom pattern before reaching the next high in June.
Also, the previous triple bottom patterns show that the deepest bottom is the second one. As per the current swing, ENS has already made the first bottom of $10.02. There is strong support at $9.90, which could be the bottom of this swing pattern. However, if the market corrects further and the support is breached, levels close to $5 also look probable.
For now, we will proceed with $9.90 as the projected low, as ENS is really making some performance-based strides.
But these are just the bear market projections. We need to consider more variables to see how far the next high (June 2023) goes.
Market cycles
Outlook: Long-term bullish
The crypto market moves in cycles. Based on this graph provided by Grayscale in July 2022, the market still had some good four to six months before the bear cycle would end. That way, we can see the bears moving out by early January or February 2023.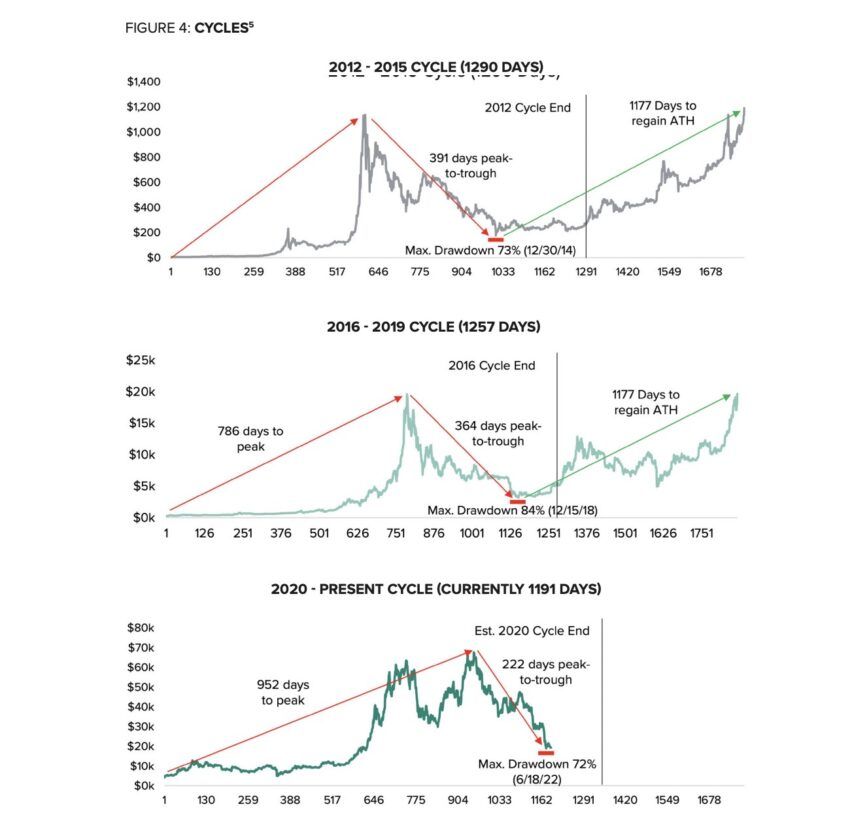 Also, the drawdown may be more, making it possible for ENS to touch the previously mentioned low of $9.90.
By June 2023, the market could be on the way up. Hence, the mentioned price action pattern might not hold. Therefore, we must look at how competing protocols on Ethereum survived the previous bear cycles and make price predictions accordingly.
The price action of competing protocols
Outlook: Bullish
ENS came into existence in 2021. By November 2023, the token will reach a two year mark. Currently, only 20% of its entire supply of 100,000,000 is in circulation, and its trading at $12.78 is down 85% from its all-time high.
Competing Ethereum protocols like Uniswap and Chainlink have 76% and 51% of their total supply in circulation. Both are still down 80+% from their all-time highs. Therefore, ENS, despite the fewer tokens in circulation, is showing similar price action to the likes of UNI and LINK.
The crypto price cycle graph from Grayscale show ENS might follow the 2021 price surges experienced by UNI and LINK by 2027. It could make a new all-time high only after that.
The actual ENS bull run may come post-2025. When all tokens are released, deflationary supply demand schematics will come into play.
Price changes
Outlook: Bullish
What price levels can be expected in June 2023, when ENS may try and reach new highs?
For that, let us take a look at the price changes from the last bottom. Furthermore, we will ignore the first two highs as they happened at the bull cycle's end.
| | | |
| --- | --- | --- |
| Higher high for this swing | Bottom zone | Next lower high |
| 11 November ($85.69) | 19 November ($38.48) | 27 November ($83.81) |
| 27 November ($83.81) | 15 December ($36.99) | 23 December ($49.81) |
| 23 December ($49.81) | 24 February ($11.80) | 3 May ($27.62) |
| 3 May ($27.62) | 12 May/ 14 June ($7.35) | 15 October ($20.42) |
| 15 October ($20.42) | Expected ($9.90) | NA |
Projected highs and lows
Take the 24 Feb. low — $11.80 — into consideration. The corresponding high is $27.62, which is 234.06% from the mentioned lows. Furthermore, the timeframe for the same is 68 days.
Now consider the 12 May/14 June low — $7.35 and an immediate high of $20.42, within a time frame of 156/188 days. The percentage growth, in this case, is 277.82%.
If we take the average of the above two instances, the percentage growth for the next cycle comes out to be (234.06 + 277.82)/2 = 255.94% or 256%.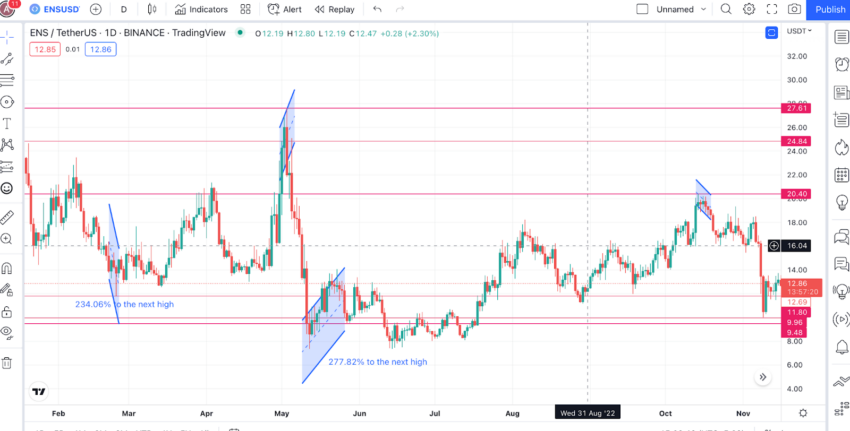 Now, if the bottom for the next cycle is $9.90 — as inferred previously — the next high should be at $25.34, approximately.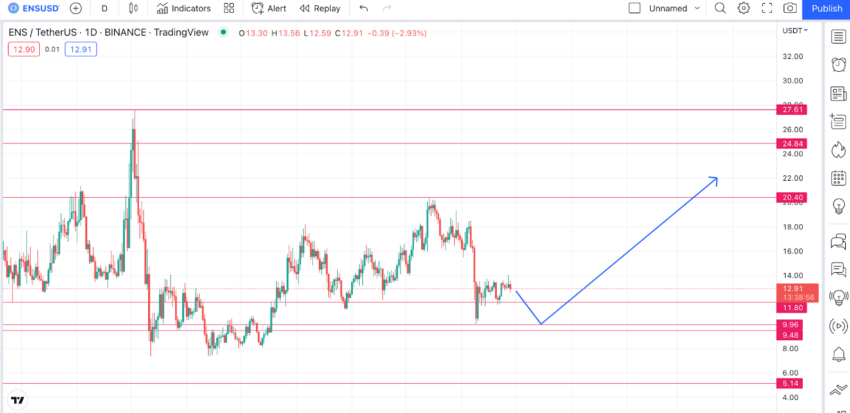 So, when would the next bottom be formed? If you check the time difference between the high and the immediate low, here are the patterns you notice:
63 days from 23 Dec. 2021 to 24 Feb. 2022
42 days from 3 May to 14 June 2022
The average comes out to be around 52 days. Therefore, the low for this swing cycle might happen anywhere between 10 and 15 Dec. 2022. Hence, some more corrections might be incoming. Moreover, if you see the last high on 15 Oct. and the support-line-based bottom of $9.90, the low comes out 48% off the highs.
Hence, the 2023 low could be $12.28.
So the June 2023 high may be around $25.34. But there is a catch. ENS has strong resistance at $24.84. If it breaches that next year, we can even aim for $27.62 — which is the high made by ENS on 3 May.
Do note these predictions are subject to change as per market conditions.
Momentum
Outlook: Very Bullish
If you look closely at the momentum indicator RSI during the highs, you will notice a pattern:
RSI on 2 May 2022 went beyond the overbought region and reached close to 74. Soon after, a new high was made, and ENS started correcting.
There is an outside chance that $9.96 is the low for this swing as it is one of the rare cases that RSI feels under 30 — the oversold zone.
ENS token prices respond well to divergences. Here is a bearish divergence where RSI was making lower highs, and the price was making higher highs. Soon after came a price correction.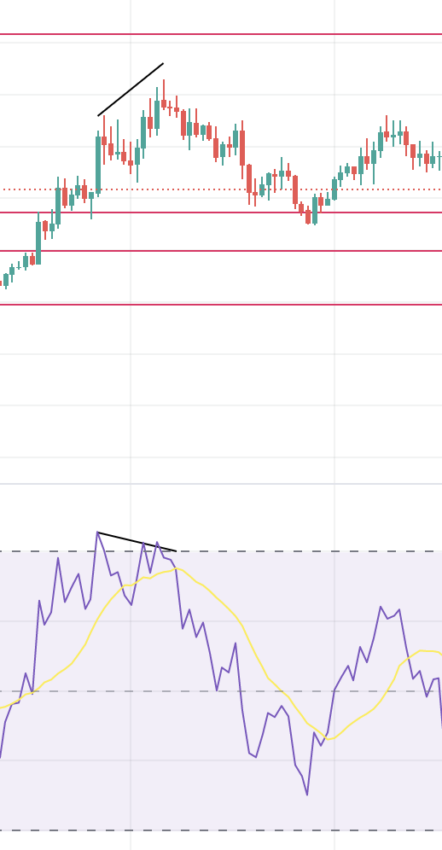 Two big encircled regions show that ENS price action mirrors that of the RSI. Check for the three higher highs in small intervals.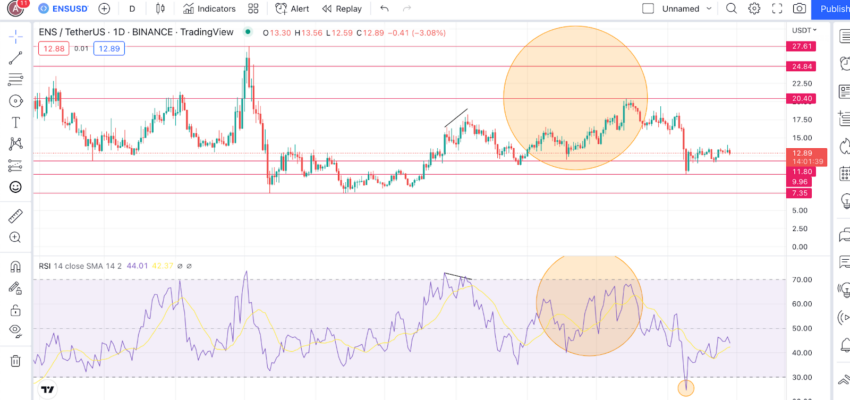 Ethereum Name Service (ENS) price prediction 2023
Outlook: Moderately bullish in short-term
If everything goes as considered, the table mentioned above should allow us to locate the average price of the ENS for 2023.
Here is what we know now:
The next high might be in June 2023, with $25.34 as the focus.
The lowest price of $9.90 might very well be breached in 2022.
For 2023, the lows might be close to $5 even if the bear market extends.
Here is the calculation for the same:
On 23 Dec., ENS reached a high of $49.81. It soon made a low of $11.80. That's a drop of almost 77%.
On 3 May, ENS made a high of $27.62 and soon dropped to $7.35. That's a drop of almost 74%.
Now keep the 15 Oct. high — $20.42 — in consideration. Understanding the average drop to be around 75% (from the previous patterns), the low could be around $5.105.
This scenario is only possible if new bottoms are formed across BTC and ETH and the market corrects even further. For now, a low of $9.90 looks probable.
Projected ROI from the current level: 84%
Ethereum Name Service (ENS) price prediction 2025
Outlook: Very bullish
2025 is the year that ENS's total supply equals its circulating supply. However, for the sake of linear price prediction, we will take the low and high in a given year to make projections.
For that, we will start with 2022 as the base year. In 2022, the lowest ENS price is expected to be $7.35. The year's highest price is $27.62, which is expected to hold throughout 2022.
In 2023, the highest price, as per June 2023 projections, would be $25.34. The lows will depend on whether the bear market continues or a bull ensues. As per calculations, it is projected at $12.28.
Now to find the maximum price for any year, look for the lowest high made in the previous year, only for bear markets, which is $20.42 in the case of ENS. So, the next year's projection of $25.34 is a 24% increment over the same.
However, by 2025, ENS would surely break past the strong resistance of $38.39 — after which there is not a lot of bearish force to stop ENS's ascent.
Projected ROI from the current levels: 179.40%
Ethereum Name Service (ENS) price prediction 2030
Outlook: Very bullish
By 2030, ENS tokens will have more use cases. Plus, the scarcity quotient will kick in. And by this time, we might already see ENS zoom past its all-time high price of $85.69, as per Grayscale's crypto market cycle graph. At this moment, the listing price of over $120 might already be breached or is on the verge of getting breached.
Projected ROI from the current levels: 523.65%
Ethereum Name Service (ENS) long-term price prediction
Projections for 2035 are highly subject to change. Yet here is a table to help us gauge the potential prices.
The projections take into account technical analysis, social sentiments, and ecosystem developments.
| | | |
| --- | --- | --- |
| Year | Maximum price (projected) | Minimum price (projected) |
| 2023 | $25.34 | $12.28 |
| 2024 | $31.42 | $15.08 |
| 2025 | $38.96 | $18.70 |
| 2026 | $48.31 | $23.19 |
| 2027 | $59.90 | $28.75 |
| 2028 | $74.28 | $35.65 |
| 2029 | $92.10 | $44.20 |
| 2030 | $114.21 | $54.82 |
| 2031 | $141.62 | $67.97 |
| 2032 | $175.61 | $84.29 |
| 2033 | $217.76 | $104.52 |
| 2034 | $270.02 | $130 |
| 2035 | $334.82 | $160.71 |
Do note this ENS crypto price prediction model is linear. It doesn't consider the sudden change in user sentiments or markets.
How accurate are these predictions?
The ENS token's maximum and minimum price projections can help us find the average price across a specific timeline. However, the ENS crypto price prediction model will require updating once we have more historical data at our disposal.
For now, Ethereum Name Service price prediction modeling depends a lot on the fundamentals, project performance, and technical analysis. The token only came into existence in 2021, so the technical analysis might lack years of accuracy. Still, it is not a bad reference point from which to start considering the ENS token.
Frequently asked questions
What will ENS be worth in 2030?
As per our calculations, ENS might reach close to $115 by 2030. The lows, provided there is a significant dip, should be restricted to $54.
What price will Ethereum reach in 2030?
Take the linear growth of ENS and even the compounding social sentiments into account. With that, Ethereum Name Service might make a new all-time high of $114.21 by the end of 2030. However, it may still be unable to breach the listing price of $120.
Is Ethereum Name Service a good investment?
With the ENS project growing in leaps and bounds with the domain registrations making new highs with every quarter, even the ENS token looks like a prudent investment option. However, the project's token use cases need to grow if ENS wants to succeed like other Ethereum leading protocols.
Will Ethereum Name Service go up?
The Ethereum Name Service project and its governance token ENS are most likely to go up. This is courtesy of increased web3 adoption, the shift from DNS to ENS, and the need to connect with wallets using a human-readable name. Plus, the price action might turn a new leaf in the bull market.
Should I invest in Ethereum Name Service?
Consider investing in Ethereum Name Service only if you have a DYOR (Do-Your-Own-Research) plan in place. Always take informed decisions, consider project fundamentals, and learn more about the technical analysis before investing. 
Disclaimer
In line with the Trust Project guidelines, the educational content on this website is offered in good faith and for general information purposes only. BeInCrypto prioritizes providing high-quality information, taking the time to research and create informative content for readers. While partners may reward the company with commissions for placements in articles, these commissions do not influence the unbiased, honest, and helpful content creation process. Any action taken by the reader based on this information is strictly at their own risk.